Love Outdoor Settings? You can do it! Let this 2020 guide to planning and organizing a backyard wedding help you!
Backyard weddings are lovely—they are intimate and often have a relaxed and sentimental feel. Besides, they have a lot of pros, some cash savings, flexibility and convenience. A backyard wedding is also a wise choice during the COVID-19 pandemic as you can easily scale down your guest list.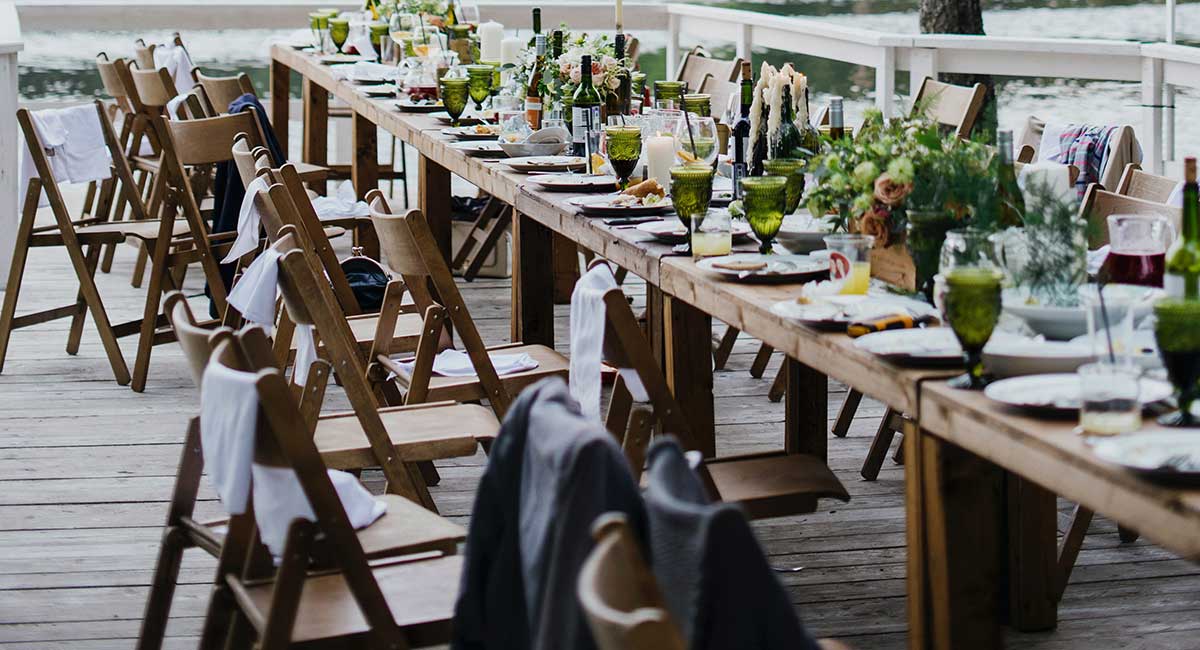 While there are plenty of advantages, planning a backyard wedding also has some cons, and like all special events, requires a lot of work and preparation. To help you start organizing your big day, we made a quick guide to help you plan your dream backyard wedding.
Also, it is good to mention that a backyard wedding isn't as cheap as what the "common" perception is. As a matter of fact, it can add up quickly and end up being pricey. This will depend on a lot of factors. If you already have a finished backyard and is ready for gatherings, you will save some cash. But if it is not, then there will be a lot of things to consider for it to be "event ready". But not to worry, we will guide you through steps and you can go over your options and what will work best for your circumstance.
Don't forget to pin this post for future reference!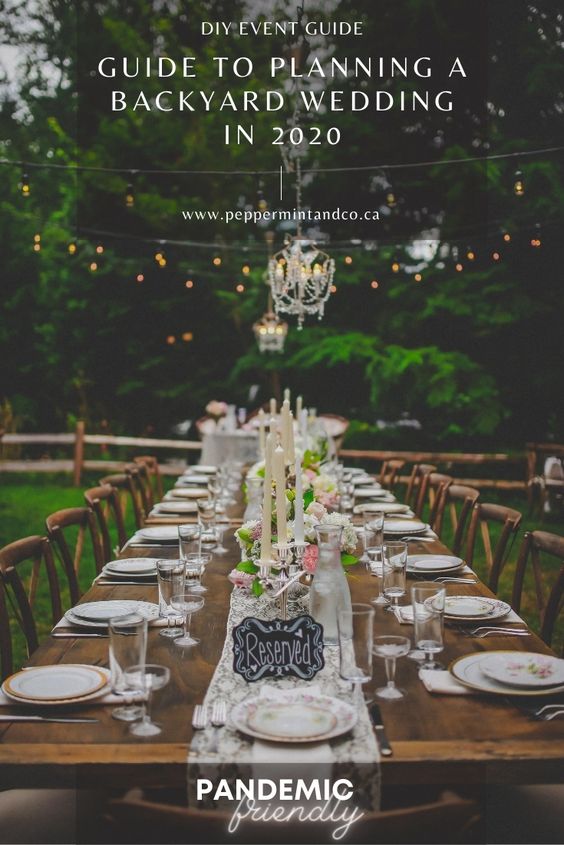 Thanks for pinning! Woot! Planning a Backyard Wedding: 2020 guide. Let's get started!
---
SPACE
The first major detail that you have to settle when planning a backyard wedding is the space or area that you are working with.
MEASURE – Does your backyard have enough area to hold your guests and have separate zones for the ceremony and reception? Will your space allow you to have a sit-down dinner or is it better to have a cocktail wedding? What are the areas that need to be cleared? Are you considering to hire a landscaper to prepare your lawn? or also have a company lay down a temporary flooring if needed.
FLOORING — Depending on your theme, it might be helpful to have a flooring to ensure guests can walk easily. There are rental floorings that usually comes along with tent rentals, which speaking of, tenting should also be considered. More about tents discussed later on.
PREP AREAS – Besides the space for the main event, you also need to allot a section for your vendors to set-up, such as a food prep area.
🥪 FOOD STATION IDEAS: EASY DIY DESSERT STATION 🍩
POWER – As you would be needing more power supply for your event (lights, sound system, etc.) you may need to rent a generator to carry the extra electricity load that you will need. SIDE NOTE: If you are doing a fall wedding in your backyard, you will need outdoor heaters and you will definitely need specific power requirements for that!
WASHROOM/S – Do you have enough facilities to keep your guests comfortable? Check if there is a need to rent portable potties (there are upscale ones) or if your guest room is nearby, you can also make use of that. You can add personal touches to the comfort rooms such as placing breath mints, sanitizers, or proper hand-washing reminders (very timely!).
WASHROOM TIPS: get automatic sanitizer misters that sprays the space/washroom. Also stock a lot of disinfectant and sanitizers. A working sink is very important as hand washing is still the best defense from viruses!
---
SECURE PERMITS
Before you set anything in stone and make deposits for suppliers, make sure that you have the required permits in order. There may be prior inspections (e.g. fires safety, electrical, etc.) needed and health protocols to meet before throwing a celebration in your backyard.
It is also a good idea that you notify your neighbors about you planning a backyard wedding well in advance.
Remember that if you are serving alcohol, you might want to consider having a coverage, like a wedding/event insurance to give you extra peace of mind.
---
CONSIDER TIMINGS
Speaking of neighbors, the timeline of your backyard wedding is also something to plan for. You don't want to draw ire from the people next door because your party lasted up to the wee hours.
Also, since you'll be outdoors, getting the best lighting (photographers call this as "the magic hour") during the most important part of your event is key to getting beautiful photos, so timing is something you need to consider.
---
SOURCE VENDORS
Besides hiring the essentials for a wedding (caterer, photographer etc.), also make a list of other rentals that you may need for your backyard wedding such as:
Ceremony/Reception Chairs + Linens
Decor (of course, we want to add gorgeous elements to really bring the event to life, here are some design guides that can help you)
Tables (dinner / appetizers, cocktail, serving, dessert, cake, gift, guest book tables)
Pool Decor (if you have a pool, it will be great to add some decor details like some floaties)
Photographer (we always say a great photographer is worth the investment!)
Bar Service (this does not have to be very elaborate, check out our easy sangria bar post!)
🍷 EASY SANGRIA BAR: DIY GUIDE 🍷
Cake + Desserts (these things can be as simple as a small one tiered cake or brownies for dessert! remember presentation is everything and will change the game!)
Ceremony/Reception décor (planning a backyard wedding and working with a space that is not a banquet, will require other decor elements that a typical banquet hall calls for.)
Lights and sounds (lighting at night is definitely a must! you can strategically have string lights hanging, that will double as decor!)
Outdoor Heater (as necessary, it does get breezy around night time)
Pest Control (this can come in different forms, whether it be bug repellants or putting up citronella candles around the tables/area that also doubles as decor!)
Dance floor (if you are having a micro or intimate event, this might not even be necessary, since you can dance anywhere around your group)
DJ (we need to make it a party!)
Tent (always a great idea to have, even if the weather says it will be a nice, cool and dry day, there still is no guarantee. Having a tent just makes it easier altogether to ensure that your guests are "protected".)
Portable restroom (there are nicer portable restroom option that you can rent, not the usual ones you see on construction sites, there are actually upscale) Don't forget to add sanitizing stations!
Electricians + Generators (as necessary, consult your local electrician when planning to plug in. Ensure to have all the vendors who will plug in accounted for, example, if you are hiring a small piece band that might need speakers, or if you are looking for outdoor lighting that might need more power than usual.)
Photo booth (something extra fun)
---
DIY WHERE & WHEN YOU CAN
Since this is in your backyard, you will most likely do not want people in and out. DIY where you can PRE-wedding. On the day of, have help than can easily go through the backyard, as opposed to inside the house.
Remember that even if you have done an amazing job planning a backyard wedding, you will still need help on the execution, to which we advise to hire staff to handle the rest on your wedding day.
📝 BREAKING DOWN THE STEPS IN PLANNING A WEDDING 📝
---
EXPECT THE UNEXPECTED
As with any other event, it is crucial that you have a back-up plan, especially because your big day will be outdoors and weather could be unpredictable. It would be wise to prepare a covered area, like a tent, or inside your home in case of bad weather.
If you opt out of hiring a wedding planner or coordinator, but need a server, set-up help and/or bartender, there are staffing companies like Staff Shop, where you can hire help directly and not worry about other things needed to be executed on the day of the event.
We can help through virtual consultations (available worldwide and the initial consultation is free!), to assist you in building concepts and overall design, whether it be mood board building, or assisting with step by step guides for your set-up. You can also download our complimentary wedding planning binder here to help you get started!
📝 PLANNING A WEDDING: DO'S AND DON'TS 📝
Also, POST WEDDING, consider hiring professional cleaners (and disinfecting!) to ensure your space is clean after the gathering!
---
SAFETY PROTOCOL EXTRA TIP: Together with having your guests and yourself wear a mask and practice social distancing, you can also rent stanchions together with signs, to ensure physical distancing is practiced. To take things further for extra safety, you can also rent clear dividers (you can also decorate it!) that you can put in between tables. Another option is to provide clear face shields that they can still wear, should they need to take the mask off to eat and/or drink. Adding extra preventative measures is always a good idea.
Check with your local government and public health officials about any guidelines, protocols, policies and/or regulations that you need to meet if you will be holding an event.
DISCLAIMER: We've rounded up suggestions that are pandemic friendly. Please note however, that it is still your responsibility to practice safety protocols, Covid-19 event guidelines and constant hygiene, and if need be, consult your local public health professional and abide by your government mandates. We do not guarantee that your event will be 100% safe, as all safety practices are ultimately up to you and your guests.

---
For design guides and product resources, we have a few of the most popular design choices to help you: Lush Greenery, Pastel Design, and Rustic Glam.
Let us know in the comments below what you'd like us to work on next!

covid19 backyard wedding how to plan a backyard wedding 2020 planning a backyard event 2020 tips in planning a backyard wedding