Wines and Fruits.. lots of it for this easy sangria bar DIY guide! Are you in the process of planning / organizing a wedding?
One of the things that makes weddings or any celebration awesome is great drinks. If you're planning to set-up a sangria bar (because everyone loves sangria!) for your next backyard, micro / intimate wedding or event, we've come up with a cheat sheet so you can build the best easy DIY sangria bar that would impress your guests.
Don't forget to pin this post for future reference!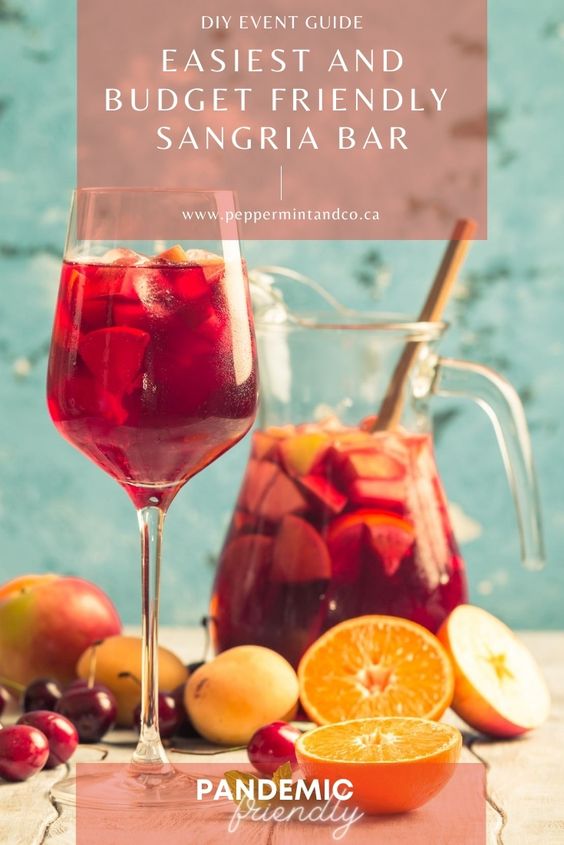 Thanks for pinning! Woot! Easy Sangria Bar: DIY guide. Let's get started!
---
PREPARE THE BASICS
Choose your favorite red, white and rosè sangria recipes and pour them in lovely glass dispensers. Place the dispensers on a table that will serve as your bar.
If you have kids as guests, you can also offer an alcohol-free version by mixing a variety of fruit juices.
---
GO CRAZY WITH FRUITS
Don't skimp on the variety of fresh fruit slices so your guests could enjoy more add-ons to their drinks. You can use berries, oranges, pineapples, kiwis, apples, grapes, lemons—sky's the limit!
A beautiful way to present this is to put the fruits inside a clear beverage dispenser (or any clear wide-mouth glass containers would do) and place them together in a deep serving tray with ice to keep them fresh.
PRO TIP: If you want to keep the sangria chilled but avoid watering it down, use frozen fruit slices as replacement for ice. This also makes it tastier!
You can also offer fresh mint, basil and other herbs that go well with fruity flavors.
You want your easy sangria bar to be extra sweet? You can make the easiest classic syrup: pour sugar in a cup and add water (just enough to cover the sugar) pop it in the microwave for 25 seconds. And voila! your ready to sweeten things up!
Typically we would be suggesting gorgeous serving trays etc. but due to the current situation (pandemic!), it's safer to choose to pre-make drinks like this.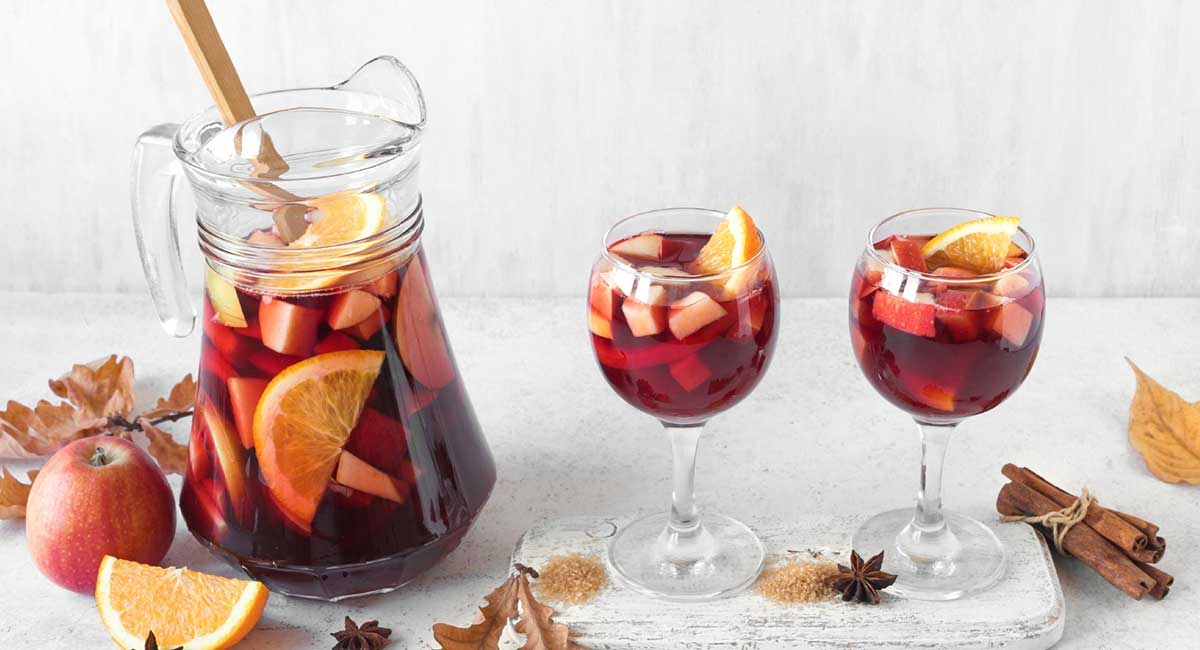 You can purchase diced fruits ahead of time, store them in the freezer, and on the day of, (we would suggest 30 mins before the guest arrives) pour it into the mix. The mix itself can be done earlier during the day.
Since it is safer to have this drink pre-made, you can make 2-3 variations to kick it up a notch. You can prepare white, red and sparkling sangria (these are my top 3 faves!)
So how you prep these is you can "pre-pour" them into individual glasses with the fruits already in them! A "less contact" approach to a DIY easy sangria bar!
You can hire a bartender for 4 hours (or however long you need!) to ensure that this sangria station is clean and stocked. There are companies like Staff Shop where you can hire a bartender and/or server for your event!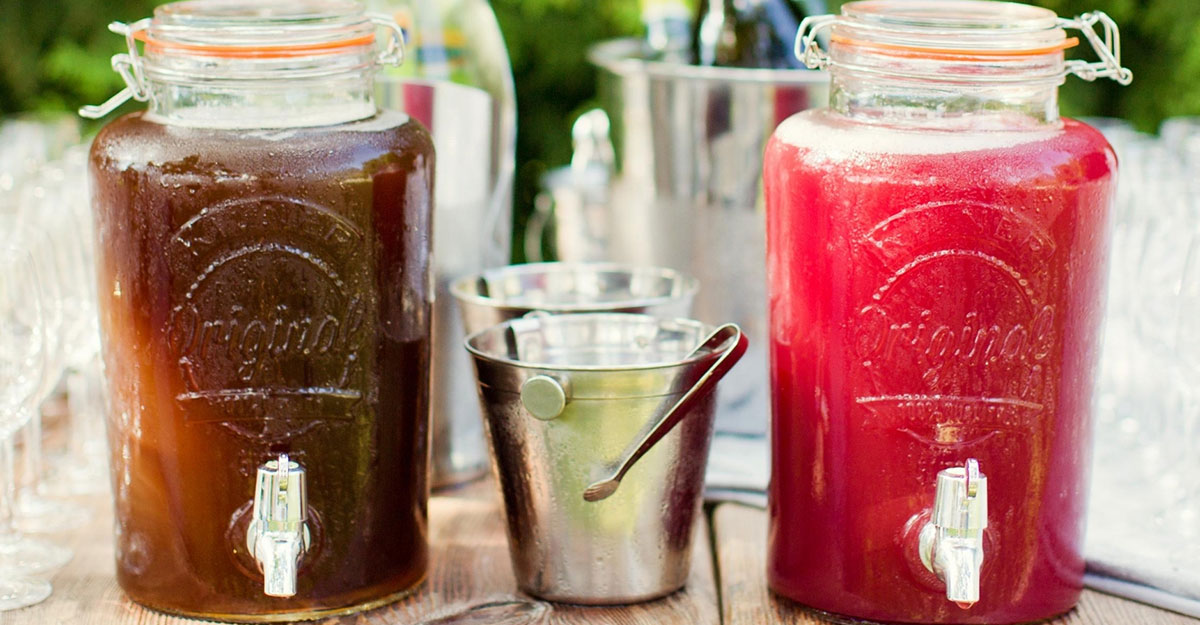 PRO TIP: If you are not interested in hiring a bar tender, use a one-hand beverage dispenser like this to limit touching. For the wines and liquor, there is also this one-hand liquor dispenser. Also, there are tasteful plastic wine goblets that is great to use. Ensure to put up a sign that says "NO REFILLS. PLEASE USE A NEW CUP EACH TIME". This limits contact of products and people and also just overall more sanitary for your easy DIY sangria bar.
🏠 PLANNING A BACKYARD WEDDING: 2020 GUIDE 🏠
---
STYLE (super fun!)
Serving sangrias on lovely jars is already a pretty sight, but if you want to elevate your DIY bar, you would have to add some touches here and there depending on your theme. We'd love to help you out with design! Email us!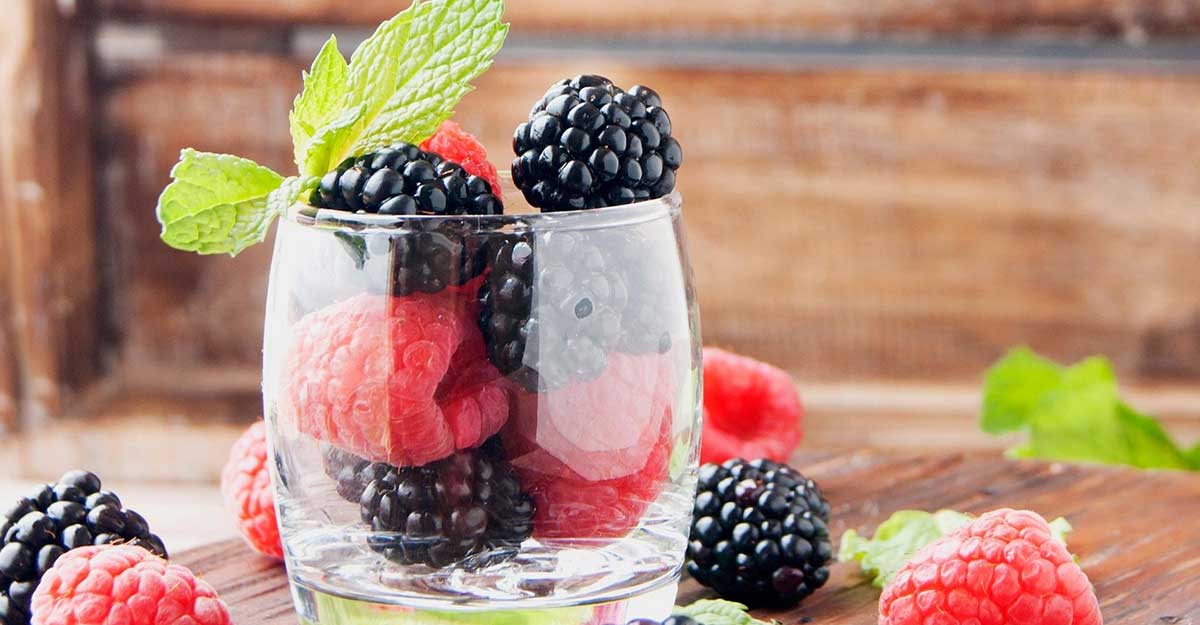 You don't need to break a sweat just so you can create a stunning DIY easy sangria bar. All you have to do is to get the basics ready and have a little creativity to add some flair, while keeping in tune with your theme.
If you're choosing for a more cocktail event, appetizers or mini sandwiches will be a great combination!
Remember that if you are serving alcohol, you might want to consider having a coverage, like a wedding/event insurance to give you extra peace of mind.
If you opt out of hiring a wedding planner or coordinator, but still need set-up help, there are staffing companies like Staff Shop, where you can hire help directly and not worry about other things needed to be executed on the day of the event.
📝 BREAKING DOWN THE STEPS IN PLANNING A WEDDING 📝
**The execution of your event using our guides, will depend on how open you are to alternatives, other options and unexpected products/design/ideas. It is suggested to do a concept trial and set your level of comfort to make it a much easier and faster execution.**
SAFETY PROTOCOL EXTRA TIP: Together with having your guests and yourself wear a mask and practice social distancing, you can also rent stanchions together with signs, to ensure physical distancing is practiced. To take things further for extra safety, you can also rent clear dividers (you can also decorate it!) that you can put in between tables. Another option is to provide clear face shields that they can still wear, should they need to take the mask off to eat and/or drink. Adding extra preventative measures is always a good idea.
Check with your local government and public health officials about any guidelines, protocols, policies and/or regulations that you need to meet if you will be holding an event.
DISCLAIMER: We've rounded up suggestions that are pandemic friendly. Please note however, that it is still your responsibility to practice safety protocols, Covid-19 event guidelines and constant hygiene, and if need be, consult your local public health professional and abide by your government mandates. We do not guarantee that your event will be 100% safe, as all safety practices are ultimately up to you and your guests.

---
Still in the process of planning your wedding? We can help through virtual consultations (available worldwide and the initial consultation is free!), to assist you in building concepts and overall design, whether it be mood board building, or assisting with step by step guides for your set-up. You can also download our complimentary wedding planning binder here to help you get started!
For design guides and product resources, we have a few of the most popular design choices to help you: Lush Greenery, Pastel Design, Rustic Glam and Backyard Wedding.
Let us know in the comments below what you'd like us to work on next!

DIY sangria bar easy and quick sangria bar how to set up a sangria bar