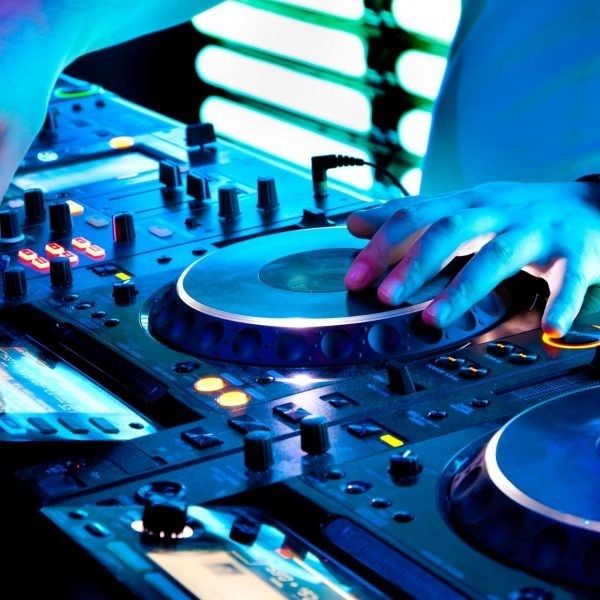 How to DJ your own Wedding! Keep on dancing! How to play your own music at your ceremony and reception? Looking for music for your wedding and not planning on hiring someone to do it? If you are planning to take wedding music matters into your own hands, then this guide is for you!
"Music is the essence of the soul," especially holds at wedding parties, or at any event for that matter!
The music sparks happiness and joy in the newlyweds and the guests. It creates a pleasant vibe for your big day and keeps the party in a flow. The importance of a good DJ to lift the whole event can not be overstated.
However, if you are budget conscious and not exactly into events for a large number of guests, then you can definitely try to be a DJ at your own wedding.
A decent DJ can easily consume up to 10-15%, and a pro DJ can be upwards of 20-25% of your wedding budget; this is how important they are in setting the mood appropriately at your wedding!
If you don't mind putting extra time into working on your own DJ-ing skills, this can actually be a great and fun idea!
Your playlist should match the vibe of the moment to make it more memorable or intense. It's quite a big job to do it by yourself, but if you are tight on the budget to hire a good DJ and don't want to spoil your day with any local DJ's antics/tricks (or lack there-of), then you should consider the following tips to DJ your own wedding.
How to DJ your own Wedding
1. Speak to a pro wedding consultant
Even if you are DIY-ing and handling most aspects of your wedding, it is still a great idea to speak to a Wedding Pro Consultant to help you get things in perspective.
Especially when you are DIY-ing many aspects of your wedding, speaking to a pro will help you understand expectations versus reality. Speak about how to DJ your own wedding.
Ask your consultant what the things to avoid and blind spots that might catch you off guard are. Event possible plan B that you can put in place should something go wrong. Remember, weddings have many moving parts, and it is important to have a clear and solid plan for scenarios.
2. Check with your venue
When figuring out how to DJ your own wedding, you must run these things by your venue. Ask them what sound system they have currently that you can plug into.
Some venue charges plugin fees when you are not using their in-house or preferred DJ.
Also, check where you will set up your booth/table/area/space. Do you need a specific type of table? How long are the extensions needed to get into your DJ table?
Will you have enough space if you are to bring your own speakers? Will you need ventilation for your from-home or rented equipment? Can you do a set-up test the night before the wedding?
These are the type of questions you will need to ask and go over with your venue coordinator. Ensure to add to your contract what the venue has agreed to – this way, there are no surprises when you pull in with your equipment and start setting up.

3. Make a checklist
Based on what the venue has told you about the current sound system, make a list of all the things required to set up a DJ booth/table/area/space as you can not take any risk for your big day.
Making a list will help you do your job like a pro. Make an extensive checklist of each piece of equipment required, such as DJ Turntables (both vinyl and CD), Mixers, Controllers, Software, Speakers, Headphones, DJ Accessories, extra cords, a mic, etc.
Generally, you would require:
An iPod, laptop, or any other music player (for the most part, this on its own works!), a couple of 12-15" speakers with stands, subwoofer, mixing console (can be rented easily), chord to connect the music player with the mixer (most likely a mini-stereo to a male dual RCA), microphone, either wireless or with a very long cable (if announcements are needed); PICK YOUR ESSENTIALS, you do not need to have them all!
Some of these products can be rented! Check your local entertainment rental companies, and check what they offer!
4. Make a playlist
Making a playlist is a fun thing to do. How to DJ at your own wedding is to create an amazing playlist. You can add all your favorite songs to the list, thus making it ideal for your wedding day.
Think about feel-good, upbeat, and "memory-provoking" songs that are personal to you. A DJ would not have otherwise covered all these inside jokes/memories tracks.
Spotify's $5 a month subscription can be a perfect starting point as you would have access to almost every song and record. Download the music just in case there is a chance of a bad internet connection.
Make sure your playlist is 2 to 3 hours longer than the event's timing so that you are not short on music and can enjoy the whole day without any repetition of songs. Make sure to involve your friends and family while making a list.
5. Make multiple playlists (important tip on how to DJ your own wedding!)
Sticking to 1 playlist is pretty risky. How to act like a pro DJ at your wedding is by making multiple playlists for every segment of your wedding so that the event's vibe matches the music.
Sit down with your partner and start thinking of music that means something to you for different stages of the events. Songs that you love, songs that the crowd would love, and songs will be great for the dance floor. Play a hit list of the year for the after-party to make everyone join you on the dance floor.
We suggest following playlists at different stages.
Pre-Ceremony
Ceremony
Cocktails
Reception
Dinner
Special Dances
Dance Party
After Party
PRO TIP: Create your wedding/event timeline first; once you have done that, you can plan your song choices accordingly.
If you are doing a cocktail or meet/greet for an hour, you can create a playlist during that time frame; it can be coffee house music or jazz (whatever you choose it to be!). Now moving to welcome speeches, you can find low soundtracks (or you can also edit a track and lower its sound for output).
Moving to the dining, you might want to consider a more upbeat soundtrack and not too loud, but something more conversational. (if you are doing parent dances, you can also add that to your playlist)
To transition to a party, you might want to make an announcement and start playing party tunes.
The goal of your playlist is to edit the soundtracks. How to DJ at your own wedding might entail that you download the mp3 version of the audio from YouTube or other streaming services and then edit the full audio. Cut accordingly to fit your timeline and lower the audio output as needed.
You can even go as far as pre-recording announcements like "welcome to our wedding.." or "please be seated, lunch will be served in the next 5 minutes.." When you set the tracks and continuous play right, you won't need to touch the volume or control this thing for the rest of the event!
SIDE TIP: When you make your announcements, ensure to do it in the future tense. "Please be seated. Lunch will be served in the next X minutes…" This way, you can cover any delays and give your guests time to comply.
This requires quite a lot of work, but this is also a true DIY brunch wedding move if you are up for it and will save you tons of $$$! This will help set the mood and keep your guests in the loop of what is up next and also entertained.

6. Test your speakers
Don't forget to test your speakers' sound, a very high sound at your home may be a mere whisper in a venue of 100-200 people chatting and laughing. You can always ask for the speakers from your venue as many of them have it too. But don't forget to test it out before your wedding day.
You can also arrange an amplifier if it is not working well for you. Amplifiers can be rented for the events too. If the venue has an in-house sound tech (most of them do!), they might charge you extra if you need their help plugging in.
7. Have a back-up plan
To be prepared for whatever unexpected scenario might come up, you should always have a backup plan ready to cope with the situation. Make sure to charge all your devices, bring extra cords, and copy your playlist to multiple devices too.
Since you are doing this on your own, speak to your venue coordinator about what options you have if you have unfortunately run into problems. They might have their own playlist or have a DJ or musician on their speed dial that can come and save the day.
8. Do a trial run (this is one of the crucial tips to follow on how to DJ your own wedding!)
We can't stress the importance of this enough. Test and re-test the playlist, equipment, and rerun all your playlists at the wedding venue at least twice before the actual event. Don't leave anything to chance, and definitely do not rely on the internet. Make sure you have all playlists downloaded and saved on a separate laptop/iPod.
Make sure you check and try out every instrument and equipment. Check the cords properly. Plan everything according to the wedding timeline and events of your wedding. You can call some of your friends and do a little rehearsal with them. Play a variety of songs so that everyone gets entertained.
9. Assign a music captain
Suppose you don't want to actually work on your wedding, assigning the role of music captain to one of your or your partner's close friends. If you have someone in your family or circle of friends who would like to volunteer and ACTUALLY has experience in sound technology, they can be a good candidate as music captain!
As you have done the groundwork and have a backup of everything, this person can come in and become the man of the hour, freeing your time to enjoy the event and entertain guests.
Another advantage of having a music captain is that they can safeguard your crafted playlist and music from being overly bombarded with extra-privileged guests who want to take over your playlists.
Just make sure that this person is responsible and tech-savvy – and also is present when you are doing set-up and trial runs!
Conclusion
Now we don't usually suggest for you to DJ your own wedding. But this task can apply to smaller, more intimate events. Something like a backyard, micro, or intimate brunch wedding, will be doable. But if you have a high-count guest list at a spacious venue, there is much more technology and equipment needed to be a DJ.
The truth is experience and expertise are needed to execute an amazing wedding flow with a high-count guest list. Hiring a professional is necessary, not just for the music alone, but also for safety, i.e., overheating equipment, wrong plugins, troubleshooting, etc.
There you have it! Top tips on how to DJ your own wedding! We made it super easy to follow. Make no mistake; this is a DIY task, so that means there will still be a lot of work needed to pull this off! But if you are a DIY warrior, you will definitely pull it off! We believe in you!
There you are lovelies! How to DJ your own Wedding!