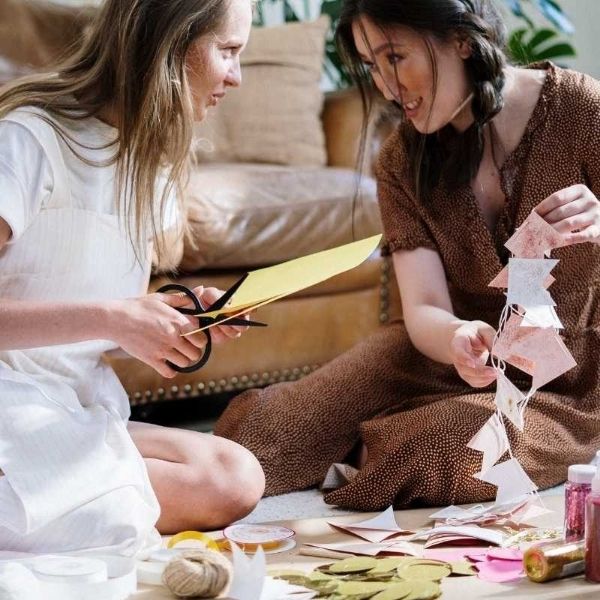 Let's do this! Tips for a DIY wedding.
This site contains affiliate links. For more info please see our full disclosure.
Well, hello there! Let me guess? Planning to DIY your wedding and looking for some tips? You got to the right place! We've rounded up TOP 12 tips that will help you plan your DIY wedding.
DIY-ing a wedding isn't really as easy as what everyone assumes it will be. DIY weddings require a lot of time and work, plus assistance and planning/logistics.
Do not worry whether you are a DIY enthusiast or an interested bride-to-be looking to see if DIY is actually for you; read further, and we will help you out!
1. Budget wisely
Budget restriction/s might be one of the main reasons you have decided to DIY your wedding. But it's not always all about the budget; you are also probably considering creating something that you did yourself to have a more personal impact, not just on your guests but also on yourself and your partner.
We would typically say to set a budget and stick to it. But we also know that this is not always the easiest to do. Also, this depends on how near your wedding day is. If you have time, you might manage more savings and stick to the budget better. But if you're 2-3 months before the wedding, there might not be enough flexibility.
20 CREATIVE WAYS TO SAVE MONEY ON YOUR WEDDING
Make a priority list and assign a specific range (low and high) of the amount you are willing to spend. Having a working spreadsheet to manage this is key to keep track of everything.
Based on your priorities, finalize which aspects are a DIY project for you. For example, a photographer is one of the wedding vendors that we suggest investing in. Once you've agreed to book a pro photographer, that is now something that is not part of your DIY list.
2. Consider the season and venue
Now, if you have already booked a wedding date and a venue, this might not apply to you. But if you haven't, you might want to consider looking at dates with no harsh weather. Why, you ask? Because if you are transporting lots of things that you have DIY-ed in the middle of winter with thick snow, it might not be the easiest task – not to mention, your products might be jeopardized by the weather.
In addition to that, consider venues where it will make it easier for you to load in and set-up, or better yet, the venues that allow you to set-up the night/day before. If they have an extra room they can lend you or even rent, that will be great!
3. Incorporate your theme, but be flexible
This goes without saying that having a theme, color scheme, and vibe are essential to finalize the details. Just because you wanted to DIY a wedding doesn't necessarily mean you will have to do everything. Knowing your theme but being flexible means, you have to consider other options that can produce, if not the same results, something very similar.
CLASSY FAKE FLOWER ARRANGEMENTS
Sticking to the budget is important, but so is your time. Choosing which part of your wedding to DIY should also be dependent on what your schedule can handle and how many people will assist you.
Speak to a wedding consultant and share your thoughts; they might have other creative approaches to share with you and share some set-up and logistical challenges you might not have realized.
GET YOUR FREE WEDDING PLANNING KIT

4. YouTube and Pinterest, then practice
Browse what is out there in terms of tutorials and creative ideas that match your theme. Check on YouTube and Pinterest – make sure you bookmark them and save them on a playlist.
Once you found your top tutorials, start checking out the prices of the materials needed, as well as the time it will take for you to complete it. Always practice first! "It looks easy!" means it only LOOKS easy because the person who you watched doing it has already done it hundreds of times. But if you have not done it before, well, it won't be easy. So give yourself time and get those muscle memory going.
5. Choosing vendors
Why this is important is, let's be honest, not all vendors will be 100% comfortable with a fully DIY-ed wedding. The best example is that if you are working with the venue coordinator and might need assistance setting-up or packing things after the wedding, don't be surprised if the venue coordinator might not be very open.
This is not because they are not helpful, but because it is hard to assume responsibility for things you have not built or have no idea how it's built. For example, if you DIY-ed some geometric shapes and candles as table centerpieces and asked someone to set it up and accidentally drop or break one of them, they won't know how to fix it because they didn't make it.
PLANNING A BACKYARD WEDDING GUIDE
Another tip to consider for a DIY wedding is the stress factor. Compare this if you have hired a vendor who rents candles and geometric shapes; if they accidentally drop or break it, they would know how to fix it, or better yet, they would have extra inventory to replace it. So you won't need to "stress" or think about it. Go back to your priorities list and determine what is most important to you and your partner.
The point that we are making is that if you are to DIY a wedding, ensure that you communicate these to your vendors from the get-go. If you have some favors or assistance needed that is not usually part of their contract, be prepared to hear some noes. But don't worry, we got some more tips in this article on navigating around this challenge.
6. Your DIY Projects
This part is a longer discussion, and we have broken it down based on what is usually DIY-ed at a wedding so that we can address each of them and discuss tips for it.
CENTERPIECES. Now, this is the most common part of the wedding that is DIY-ed, as flowers can add up pretty quickly and get pricey. When choosing a DIY centerpiece, ensure that it is straight forward and easy to repeat. Meaning, whoever it is that is helping you set it up will follow the instructions easily.

Now we didn't say floating candles; we mean regular candles, preferably votives in different sizes. Don't underestimate the work needed to execute a vase centerpiece with a floating candle! To fill vases with water and then put the candle on top. To fill the vases with water, you will need multiple trips to the kitchen/bathroom to fill water, and after, you will have to wipe them individually, so there's no dripping. It can get pretty labor-intensive. Yeah? Lots of work, right?
PRE-BUNDLE AND PRE-CUT your choice of arrangement, whether it be faux, dried, or fresh flowers, the key to speed up and not stress is to pre-bundle and pre-cut them beforehand. MEANING cut them to the vase's size that you will put them in, and pre-bundle them using a pipe clear to make it easier to set-up on-site, NO FUSS, NO MESS. Faux and dried flowers, you can pre-arrange months before. Fresh flowers will have to be assembled 1-2 days before.
THE CAKE AND TREATS. Now you might have to bring your own cake, whether it's store-bought or you baked them yourselves, transporting them might be trickier than you think. A great tip for a DIY wedding cake/treats is to ask your venue if you can leave the cake in their fridge the day before for storage. If you are transporting these baked goods together with the rest of the DIY-ed things will be a major challenge. (remember we said to choose a venue that can accommodate DIY weddings?)
EASY DIY + BUDGET FRIENDLY COOKIE DESSERT BAR
PROPS AND OTHER DECOR. Whether you've planned a DIY wedding booth, or a DIY bar, or something similar, always speak to your venue and see what they can hold or keep for you beforehand. Choose pretty sturdy props.
For example, if you plan to do your own wedding sign or seating chart, make sure to choose thick cardboard so it will hold up on its own when you stand them or place them into an easel. If this sign is set-up beside the door, there might be a lot of breeze and traffic coming through that might knock it over. If it is sturdy, it won't be blown away easily. Add extra safety measures by taping it (on the back) to the easel.
ENTERTAINMENT. You might have considered DJ-ing your own wedding, which we think is fair; depending on your wedding vibe and number of people, this is doable.
HOW TO ENTERTAIN YOUR WEDDING GUESTS
FAVORS AND GIFTS. You can get these pre-packaged gifts before the wedding. It will be much more manageable if you have favors that are non-perishable, so you can check this off your to-do list as soon as possible and store it away.
WEDDING WELCOME BAG IDEAS: DIY TOP 10
INVITATIONS AND STATIONERY. Depending on the detail you want on your invitations and stationery, this part might be the easiest to DIY. You can DIY the design and browse templates from websites like Vistaprint, Minted, and Zazzle. If you like to support local, Etsy has listings within your area. You can custom design yourself, but you can also print it and cut it to size. Cutting and trimming stationery is much more labor-intensive than we assume it will be!

7. Supplies and emergency kits
This is probably the last thing that you would like to worry about at your wedding, but a tip for a DIY wedding that you don't want to ignore is to have the necessary kits. If you are DIY-ing your wedding, it means there won't be a lot of wedding pros hanging around to check on things and fix them. Having a craft and emergency kit will help you assign fixing to someone and have them use your kit.
Supplies kit can include glue gun, tape, masking tape, green tape (this is important if you are taping something to the wall!), scissors, mini sewing kit, safety pins, etc. It will be best to include some supplies you used in your DIY projects; it can be pipe cleaners, pliers, wires, etc.

An emergency kit can include bandaids, alcohol, sanitizers, etc. Especially when you are fixing your DIY things, anything can happen.
Now for the box of extras, we don't always suggest this but have an extras box. DIY-ing requires more back-ups than usual. Extra dress, shoes, nail kit, hairpiece earrings, rings, anything that you can get extra but at a much lower cost (craft store). The extra dress can be a regular white dress you found that's under $50, just something to have just in case.
Another good tip for a DIY wedding is to have an "Extras Box." For example, if you have DIY-ed your bar, you might want to have some extras or a few things. Same with treats will help to have some of those lying around. Towards the end of the wedding, when you think you are good with everything, you can either serve them as well or keep them for yourself or your family!
8. Detailed timeline and lists
Creating a timeline for each DIY task will help you get organized. Same with listing all you need to bring/do/finish.
HOW TO CREATE A WEDDING TIMELINE
If you have people helping you, you can clearly assign their tasks on the timeline to know when they should be arriving and what they will be doing.
Share this timeline with your venue coordinator and other vendors. This way, they know how to work around the set-up.
For example, if the venue loading is through the back of the kitchen, schedule enough time to load everything in before you schedule the next vendor to load in to avoid crowding at the loading area.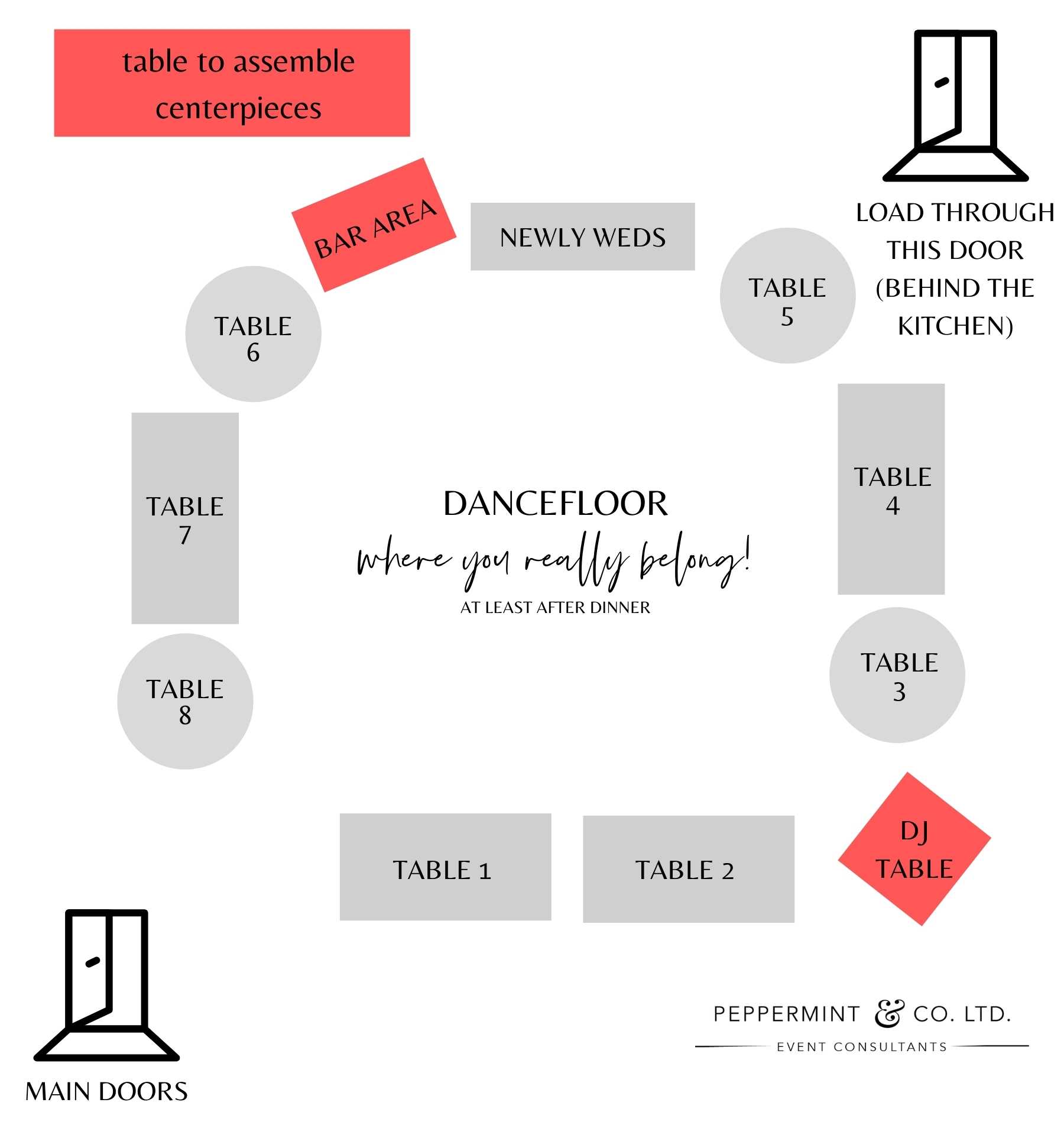 It will make your life 10 times easier if you have these guides to make people you are working with and help you independent enough to set up and help themselves so you won't have to babysit.
If you have the same DIY items that you would like to take home after the wedding, be sure to include this on your timeline and detailed lists. So nothing valuable gets left behind.
HOW TO MAKE A WEDDING SEATING CHART
9. Make it stackable
When packing your finished DIY projects, it will be easier if they are stackable. Even if they are not, put them in a box where it will be easier to stack. When loading and unloading, stacked boxes are much easier to navigate around.
Renting or using a van with a flat floor area will make your life and the people helping you out much easier. Of course, you have to label the fragile items accordingly and even make another trip for them if needed.
10. Label, instruct and create visuals
You will most likely have people helping you, and to avoid chaos and tons of questions, having a detailed label with instructions and visuals, will make other people easier to "get" what their task is.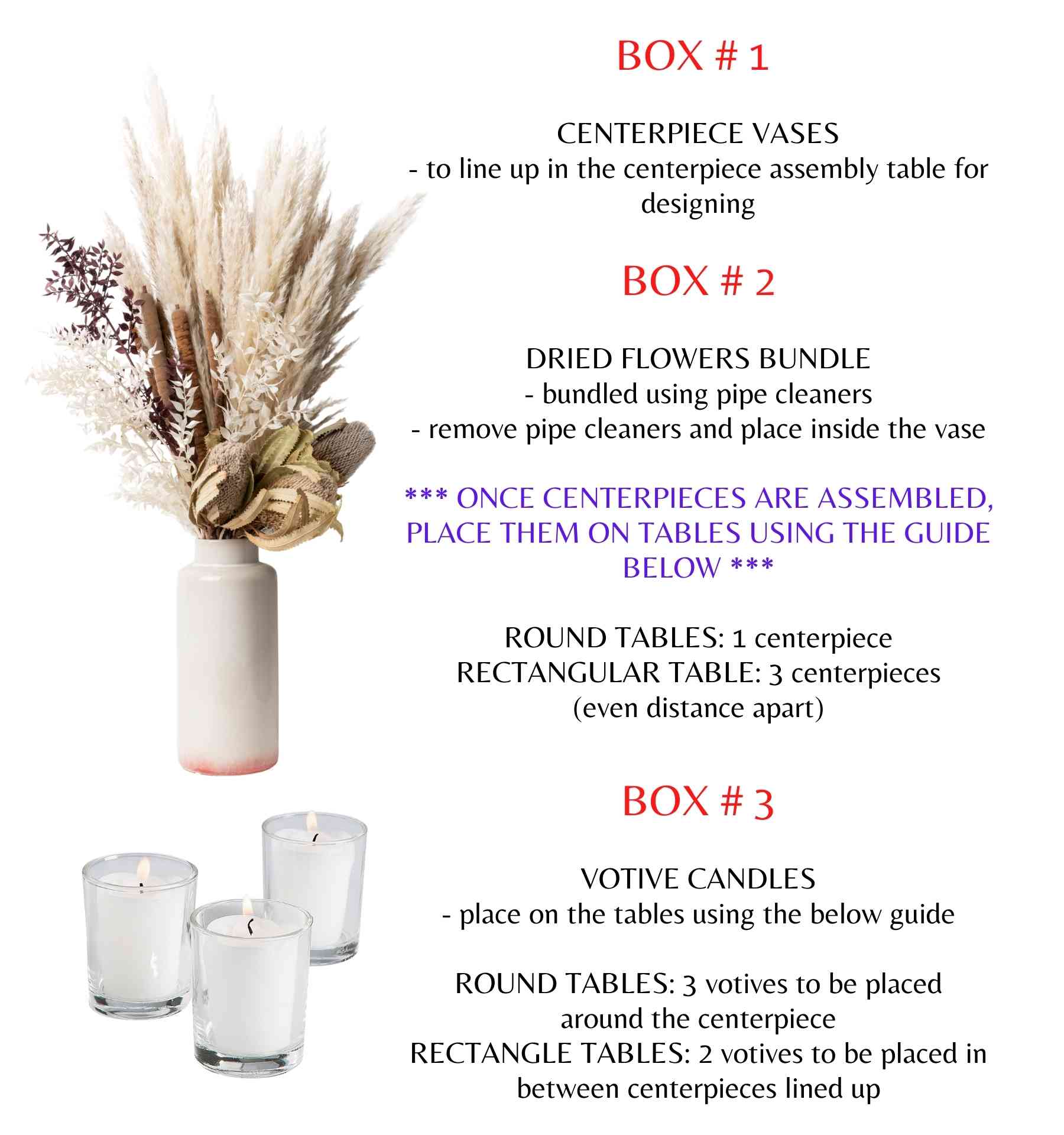 Your label should look like this. It should have a visual of what's inside the boxes, as well as the final product.
Note that we also mentioned exactly how many centerpieces per table and how they are placed. Make your instructions as easy and as clear as possible.
Now to light up those candles, you can assign a specific person to light it up. Don't forget to add this detail to your timeline.
11. Speak to a pro
Yay! You got everything done, and all details, timeline, and instructions are planned! Woot! Cheers to you!
As your wedding day is almost here, it will be great to have a wedding pro (consultant) have a look at your current plan. They can provide you with insights into what process can be made better or more efficient and even go as far as giving you ideas on possible challenges and how to tackle them.
PRO TIP: Create your own wedding email. Create an email account specifically for your wedding – "the.wedding.joe.and.jane@gmail.com" (this is just an example). This will help you put everything together in one place. Also, manage the calendar for bookings and deadlines. When you book appointments on your wedding email calendar, invite your personal email so you can also see on your personal calendar! Having a separate personal/work and wedding email will make you more focused and organized!
12. Hire help
Of course, friends helping are great! Especially on DIY projects before the wedding. But on the day of the wedding, it gets trickier.
Another good tip for a DIY wedding is to hire help. There are staffing companies like Staff Shop that will enable you to hire day-of set-up help, bartender, or even a server only (usually minimum 4 hours) specifically for your wedding, to also lift off some load from your friends. You don't want them and also yourself, to be exhausted on your wedding day! You want them to have high energy and ready to party!
If you have a more detailed day, a day-of coordinator will be able to get your day organized. Your day-of coordinator can lead and ensure that everyone who is tasked to do something (based on your timeline) is done as you expected it to be.
Choose a day-of coordinator that works with DIY weddings. Let your potential day-of coordinator know your plans and expectations in what you are looking to DIY and execute from the get-go.
There you are! Top tips for a DIY wedding!