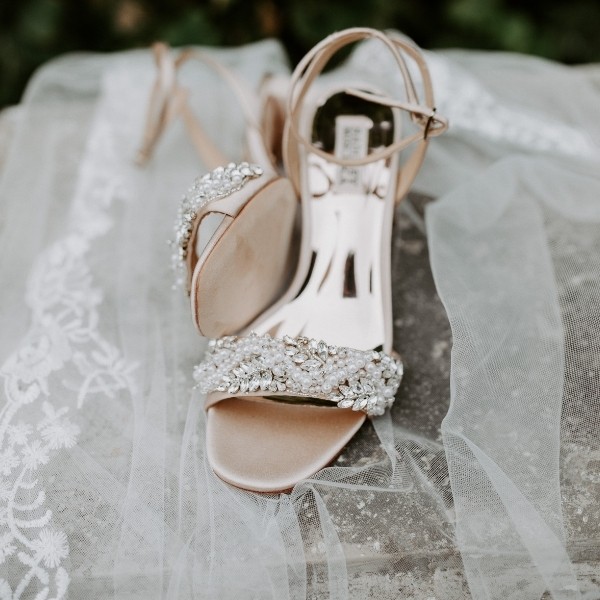 How to find the perfect wedding shoe. The shoe fits! Looking for the best wedding shoe? Wondering how to choose wedding shoes? Shoes to wear with a wedding dress? Wedding shoes for lace dress? Deciding on your perfect bridal shoes? Wedding Shoe Shopping? How to choose your wedding shoes?
Great wedding shoes are the key to a confident walk on the aisle in front of the crowd of guests gathered all around the aisle. It would help if you bought your wedding shoes sensibly as you have to wear them for hours on your wedding day.
Think about all the problems that you could face on your wedding day and make a purchase accordingly. Here are a few tips that can help you choose THEE perfect pair of shoes for your wedding day.
This site contains affiliate links. For more info, please see our full disclosure.
How to Find the Perfect Wedding Shoe
1. What's your vibe?
What's your wedding theme? Are you into a specific style? Stilettos? Open Toes? Or whichever it is that you are into!
Once you narrow down your style/vibe, it will be much easier to move forward with your shoe shopping.
2. The "ground" work
Check your venue/s and the lay of the land. Are you outdoors? Indoors? Or hard cement? These things will and should matter to you. This will affect the type of shoe/heel that you will choose to ensure you are comfortable.
This goes along with checking the weather and how it will affect your wedding flow. Even if you want to choose "THEE SHOE" regardless of the weather, you can plan around it and have accessories/backups accordingly.
BRIDAL LINGERIE: TOP 10 PICKS FROM BHLDN

3. Egg or Chicken?
What came first? Egg or chicken? Well, usually, we suggest buying the dress first and then buying the shoes after. But what if you've bought a symbolic shoe or a shoe that has sentimental value already? Will you still be able to use it?
Yes, you can. You can also have multiple wedding shoes depending on your circumstance (weather, venue, preference, etc.)
i.e., if you have an outdoor wedding, opt for a flat shoe or a blocked heel – and as you move on to the reception where you are indoors with a more "stable" and "non-slippery" flooring, you can change into your heels.
Another example is that you can wear boots outside as you get married, especially in the winter or rainy season, then change into your "actual" wedding shoes as you settle indoors.
4. Shop online and read reviews
Start by shopping online and going through reviews. Reviews are not 100% reliable as every circumstance is different. But it can give you some insight and perspective on what to expect.
From these choices, you can narrow them down accordingly.
You can buy multiple pairs online and try them on at home, and check which one works for you best.
PRO TIP: Stick a paint tape on the sole of your shoe to ensure you don't scratch it, and you can return them in an unworn quality. Try them on as if you are trying them on in-store, and be cautious when doing so, so you can return them with no problem.
PRO TIP #2: When you order online, and you are unsure if you want to keep it or not, set a calendar reminder 10 days before the return window policy expires. This way, you are forced to decide and not be stuck with a shoe you won't wear.

5. Be yourself
The best way to find the perfect wedding shoe is to not limit yourself to only having white or classic pumps! (although they are classic and gorgeous!)
Your personality is what will make your shoe, and not the other way around.
Converse type of person? Don't be afraid to incorporate it. You can wear them as your dancing shoes!
Blocked heel or stiletto pumps type of person? Then that's exactly what you should wear!
If you hate heels, don't wear them! Be happy, comfortable, and true to yourself by wearing the most gorgeous flats!
Of course, it is sensible to choose comfort, but sometimes we fall in love with the shoe. It's like a dream shoe that we've always wanted to wear, and we've decided to wear it at the wedding, you still can!
Change shoes around at your wedding as necessary! You can also make your shoes a little bit more comfortable with these tips.
There you are! How to find the perfect wedding shoe!