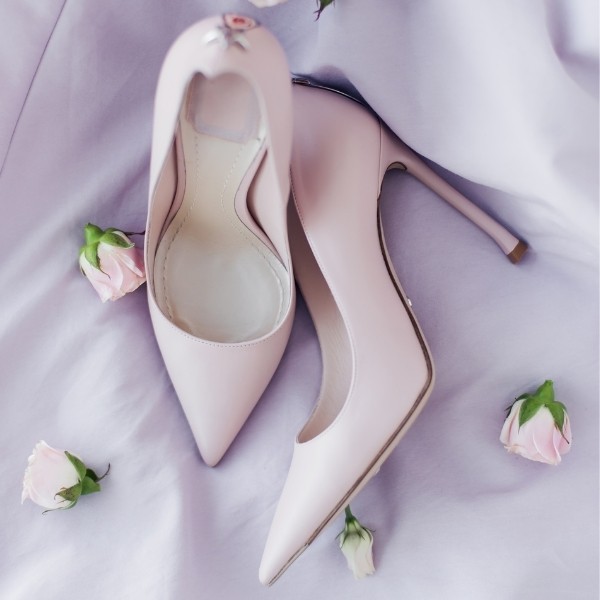 Make your wedding shoes more comfortable. Your Cinderella moment! Finding ways how to break into your wedding shoes? Comfortable wedding shoes with low heels? Looking for the most comfortable wedding shoes? Tips on breaking in heels? In this guide, we are sharing tips on how to make your wedding shoes more comfortable!
Wedding footwear shopping is as important as wedding dress shopping. Your wedding shoe should be comfortable enough to make you feel at ease the whole day to let you enjoy the day to your fullest. You may need to stand, walk, and dance for a long time on your wedding day, so you should make sure it doesn't hurt you and make you feel tired early.
Buy your wedding shoe carefully, don't try to fit in something which makes your feet swell later on. Make sure you think about your wedding venue. If you are having your wedding at the beach or a garden/outdoor, you should consider other options like the blocked/thick heel or perhaps even flats.
This site contains affiliate links. For more info, please see our full disclosure. This post has Amazon links and as an Amazon Associate, Wedding Planning Resources earn from qualifying purchases.

Check your shoe closet and look for the shoe that you reach for the most, the one that you can stand wearing over a long period of time, the one that also gives you that extra "oomph" feeling; WHAT DOES IT LOOK LIKE?
Based on your fave pair of shoes, you can build from there and search for a somehow similar shoe in construction and comfort but has a bridal style.
1. Walk the runway at home
This is basically you, breaking in your new shoe. Walk around your house in it! Better yet, walk on hard gravel or cement with it. The flooring will make a difference in how you will feel and walk in them.
In between your runway sessions, you can use shoe stretchers so that your shoes will keep the form better.
PRO TIP: Stick green painter's tape on the sole of your shoe to avoid scratching the sole. This will make your shoe still look brand new at your wedding!
You will also notice that the way you walk in your "shoes" might be a bit different. Play around and find the most comfortable stride for you.
2. Consider gel insoles, arch support, corn cushions, and/or toe spacers
Who does not love a little bounce? Consider getting gel insoles to add that "layer of cushion" that will support your heel. You can also find custom gel insoles that will serve you well.
Not feeling the full gel insert? You can choose to support just your arch with a gel arch support.
Now, if you are using a shoe that is open on the sides, these gel insoles might not work for you. You can consider something like corn cushions to help you with comfort still.
If you are wearing narrow and pointy shoes, consider taping your third and fourth toes (from the big toe) together to even them out and stop them from wiggling or rubbing against each other while you are walking.
If you have chosen a little bit of a wider front shoe, you can use toe spacers to also stop your toes from wiggling around.
3. Consider a different dancing shoe
Because you want to party too, right? You probably want to bring down the house and really dance your heart away! It is your wedding after all!
Why not consider having a different dancing shoe? Especially if you already considered a second wedding dress?
Something that you will not be nervous dancing in after a few drinks. Something that will not break your ankle or make you slip and fall.
If you want to keep the same shoe (which is obviously understandable!), consider sticking an anti-slip rubber on the sole of your shoe to add some grip and avoid slipping as you dance the night away!
4. Straps will be your friend
Add straps to your shoe! This will help support your walking and your stride!
If you have purchased your shoe and it does not have straps, do not worry; you can purchase kits like this so you can add straps to your wedding shoe!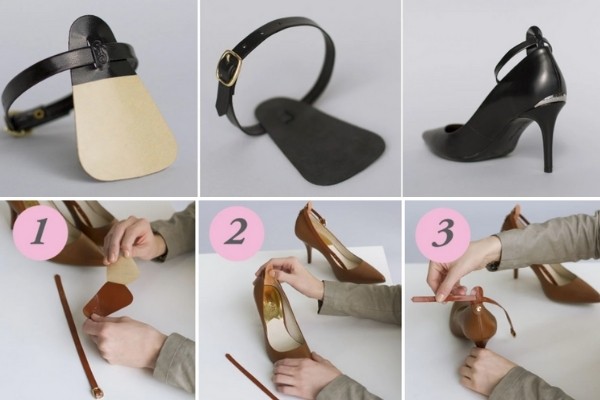 5. Avoid using adhesives around your shoe
Don't use bandaids on your heel or anything that might accidentally pop out. If you have sweaty feet or feel like you will sweat a lot, having any adhesives on or in your shoe will not pan out nicely.
The sweat will rub off on any adhesives you have, and it will risk it hanging out or fully coming off your shoe – a sight we don't want to have at your wedding.
If the adhesive is "in" your shoe, meaning on your heel or your arch, as long as your body weight is pressing on it, it will be less likely to pop out of your shoe.
6. Socks and foot deodorant will help
Ankle socks and foot deodorant will definitely help you! If you have sweaty feet, you will definitely start feeling all that icky uncomfortable feeling when the sweat starts to build up in your shoe.
Ensuring your feet are dry is one of the things that will help you through the day.
There you are! Tips on how to make your wedding shoes more comfortable!
**This post has Amazon links and as an Amazon Associate, Wedding Planning Resources earn from qualifying purchases.