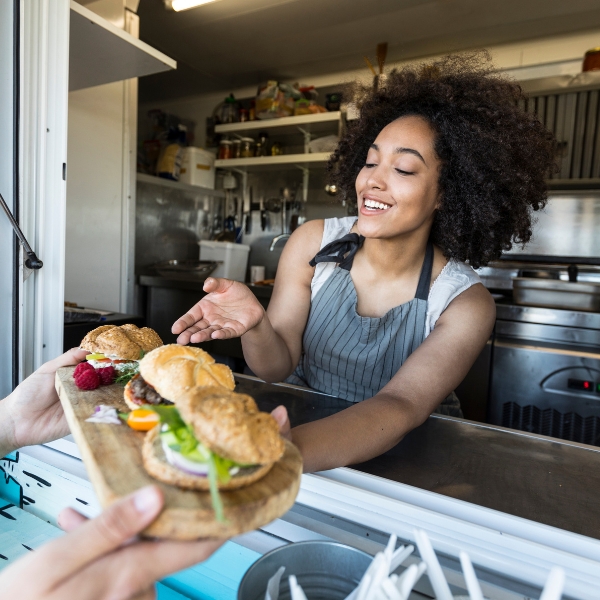 Food Truck Wedding: How to Plan a Deliciously Unique Celebration. Culinary adventure. Love in every bite. Unforgettable dining experience for your wedding guests. Comfort and fun. Save money and embrace new experiences. Taste the love and experience the food.
If you're looking to break away from traditional banquet-style receptions and infuse your special day with a dash of creativity and fun, a food truck wedding might be just the perfect fit for you.
Imagine a lively atmosphere filled with feel-good and comforting mouthwatering meals, as your guests savor a fun culinary journey, all while celebrating your love and creating fun memories that will last a lifetime.
Whether you opt for savory street food or gourmet treats, a food truck wedding is a celebration of love, flavor, and togetherness that promises a truly unique and unforgettable experience for everyone involved.
This site contains affiliate links. For more info, please see our full disclosure.
Food Truck Wedding: How to Plan a Deliciously Unique Celebration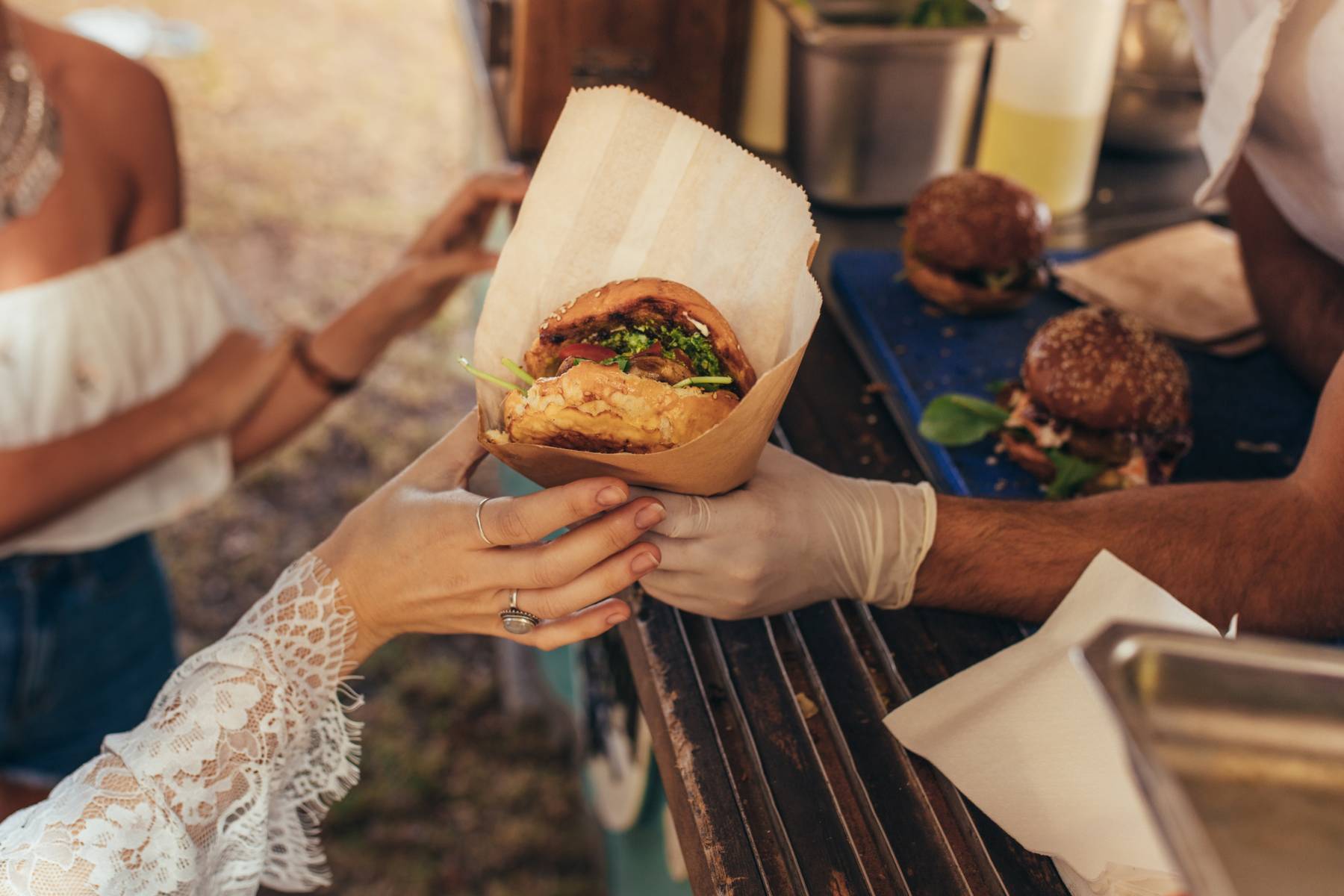 Work With the Right Venue
Look for wedding venues that allow food trucks or have ample space to accommodate them. Outdoor locations, such as parks, gardens, or private properties, are great options for food truck weddings.
PRO TIP: Industrial areas where there is an option for a garage opening are a great way to surprise your guests with the food truck.
PRO TIP #2: Ask the venue for suggestions. They might have an in-house relationship with specific food trucks that can fit and work with their venue. They might even have an option for you to create a "make-shift" food truck from their own in-house catering.
Research Food Trucks
Search for local food trucks that offer a variety of cuisines and fit your wedding theme. Consider popular food options like tacos, burgers, pizza, or gourmet desserts to cater to different tastes.
Remember that depending on where you are, food trucks are not always available in every season.
Unless your venue allows or is open enough for a drive-up option, there are certain seasons when food trucks are not able to set up outdoors.
Also, check what is included in their packages. If you can select serving plates and napkins or have them help you get some things personalized, the better experience the guests will have.
Coordinate All The Details with the Venue (important when planning a food truck wedding!)
As mentioned, ensure that the venue has enough space for the food trucks to park and set up. Discuss logistics, parking arrangements, and any permits or licenses required for the food trucks.
Always coordinate and communicate with the venue first before booking the food truck. If you can, have the agreement in writing signed by the venue to ensure that everyone is on the same page.
If there are any venue restrictions, communicate those with the food trucks that you are planning to book so that they are aware.
This also means that you will need a lot of areas for throwing garbage or placing plates – which means the venue will need to provide bussers to help ensure that no garbage is lying around.
Having napkins or bibs lying around readily available for use can help your guests (and yourself!) preserve their outfits for the rest of the night.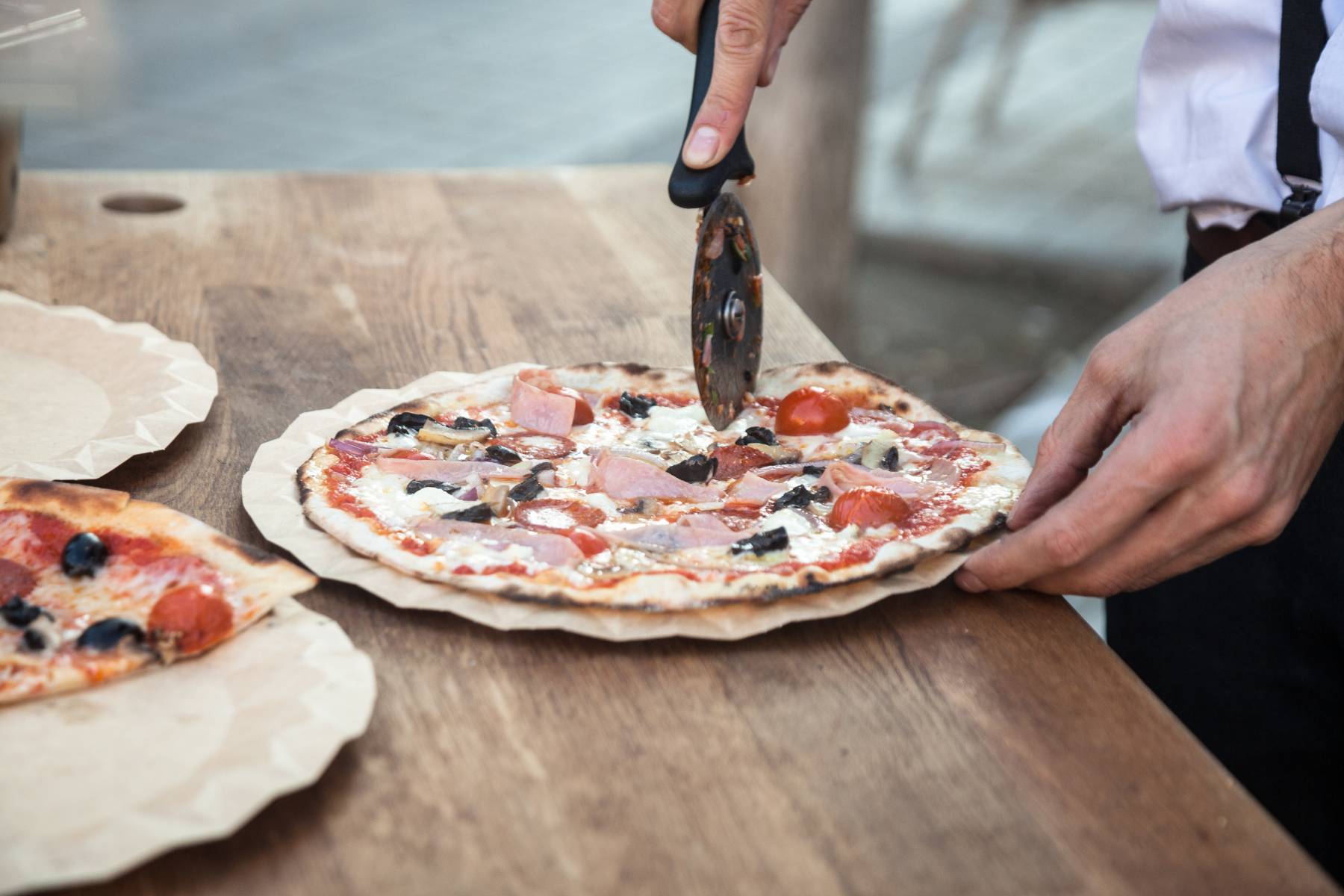 Book Food Trucks Way Ahead Of Time
Reach out to the food trucks you want to feature at your wedding and secure their services.
If you have some dietary restrictions, communicate this with your food truck vendor and see if they can make something ahead of time specifically for the individuals who require this.
Plan the Schedule
Coordinate with the food truck vendors to create a schedule for service during your wedding.
Decide if you want them to serve throughout the event or during specific hours, such as cocktail hour or dinner.
PRO TIP: You can add the "opening" or "serving" times of the food truck on your wedding website or invitation (printed or digital)- or even on the wedding stationery (signs) so that your guests are aware (so they won't get hangry waiting!)
Discuss your schedule plan with the venue coordinator so they can help you with transitions.
For example, when to walk out for the food truck, when to walk back in to cut the cake, when to walk back in for dancing, when to walk back out for late-night snacks – all these will need support for a seamless transition while still keeping the fun.
Put together a detailed day-of timeline that all vendors – including the wedding venue can follow and help you execute.

Communicate with Guests (this will help a lot in ensuring your guests enjoy your food truck wedding)
As mentioned earlier, adding this detail to your wedding stationery can help your guests plan ahead. Maybe they can have a light snack before heading to your wedding if there is a little bit of a wait between cocktail hour and dinner.
Also including a "closing" time will help your guests not miss the opportunity to line up.
If you have a DJ or emcee, have them announce these schedules so your guests won't miss anything. Venue staff can also help usher the guests along if they need any help.
Informing your guests in advance that you're having a food truck wedding, can help them come prepared to enjoy the unique dining experience.
Consider creating food truck menus or signs to display the available options. This will help the lineup move along more efficiently.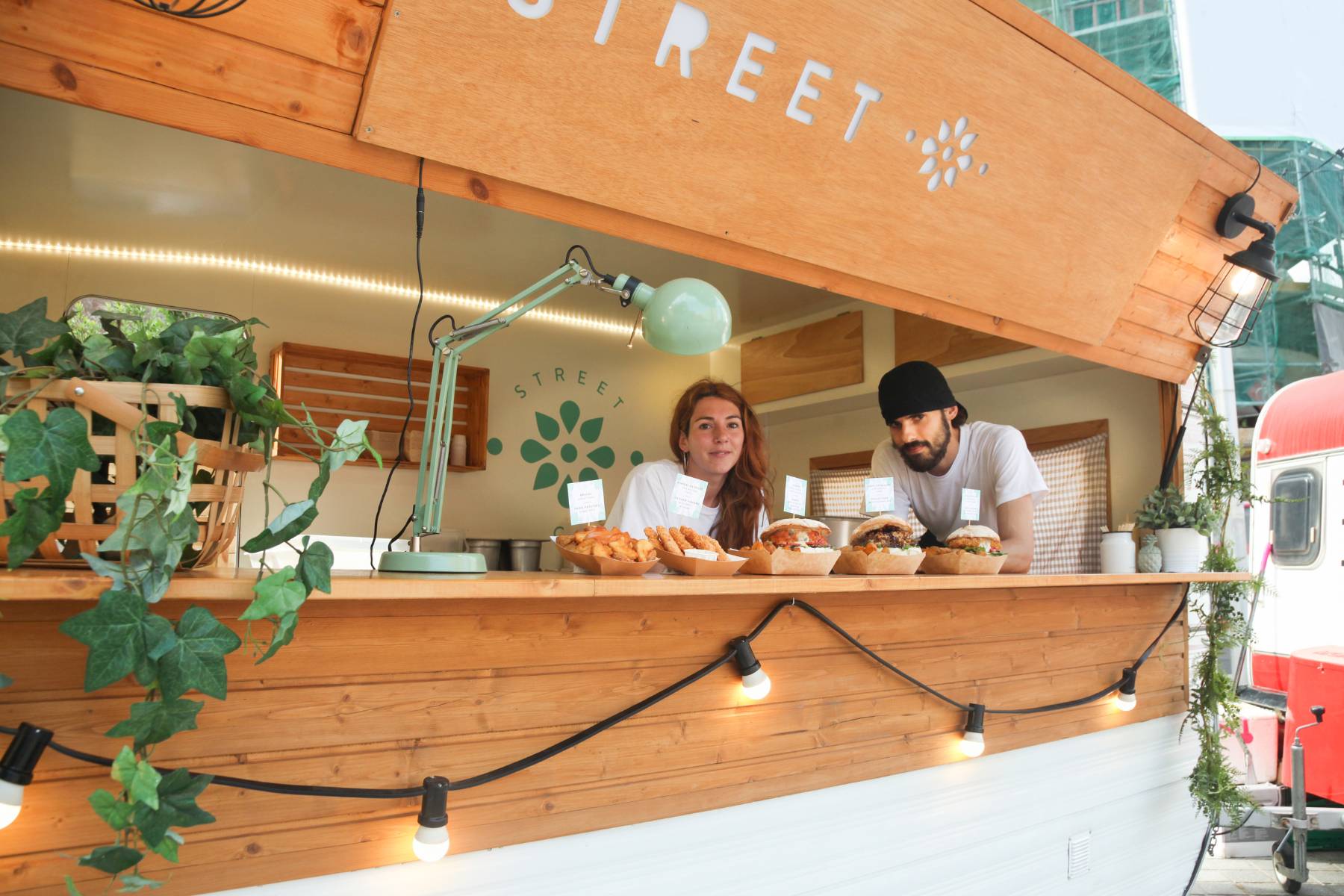 Create a Lounge Seating Area
Set up a designated area for guests to enjoy their meals. Provide enough seating and tables to create a comfortable dining experience.
Depending on what you are serving, you can have high tops scattered around will help with lighter meals or finger foods.
For heavier meals that need utensils and a solid plate, you can stick to the original venue floor plan with tables and chairs to give your guests a more comfortable dining experience.
Dessert Options
If you opt for savory food trucks, consider having a separate dessert truck or a dessert table with sweet treats for guests to enjoy after the main meal.
Or if you are planning to save money, you can consider a wedding cake alternative dessert spread for your guests to pick from.
The Plan B (a food truck wedding must!)
Rain. Snow. Too much heat. You know the deal. We have to prepare.
Tents are always a good option but we also know that it will give a big dent in your wedding budget.
Coordinate with the venue and see if there is staff available that can help "take the orders" from each table then they can be delivered accordingly.
Again, a venue with a drive-up option is also a great idea!
Coordinate with Other Vendors
Inform other wedding vendors, such as photographers, coordinators, and videographers, about the food truck setup and schedule to ensure smooth coordination.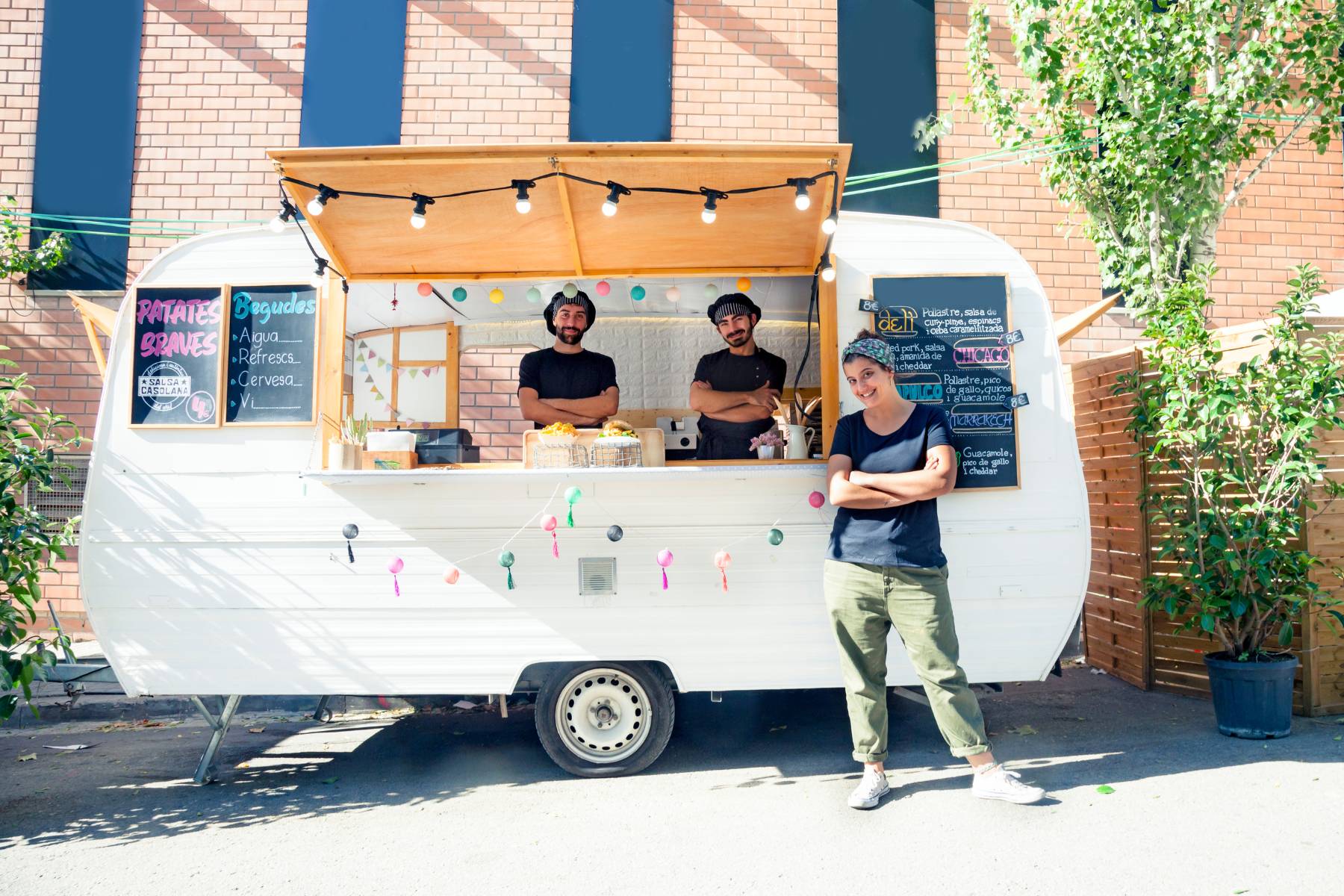 DIY Wedding Bar
You can also consider a DIY wedding bar to help you put together that "engaging" vibe.
A sangria bar or serving wedding signature drink/s are great ideas not only to complement the food truck but to also save you money!

Decor, Placement, And Lighting
Enhance and elevate the experience by adding decor that will help your guests engage and feel the "vibe" more.
Hanging Edison bulbs or Christmas lights, perhaps mini fireplaces to keep everyone warm if it is a little chilly out, flameless LED pillar candles spread all over the space to set the romantic mood, and acoustic entertainers to get your guests jamming and singing are some ideas you can incorporate to complement your food truck wedding.

〰️ A food truck wedding offers a delightful and unconventional way to celebrate your love with an array of delicious meals and a joyful ambiance.
Good thing to remember food trucks are more experiential. If you are expecting a major saving by choosing food trucks, you might be disappointed.
Although there are some savings, it's good to know that you might not see a big difference in price compared to a buffet or a basic sit-down menu.
Embracing the charm of food trucks allows you to create a memorable experience that reflects your personality, taste, and style.
Whether you opt for savory street food or gourmet treats, a food truck wedding is a celebration of love, flavor, and togetherness that promises a truly unique and unforgettable experience – perfect for your wedding day!
There you are lovelies! Food Truck Wedding: How to Plan a Deliciously Unique Celebration!