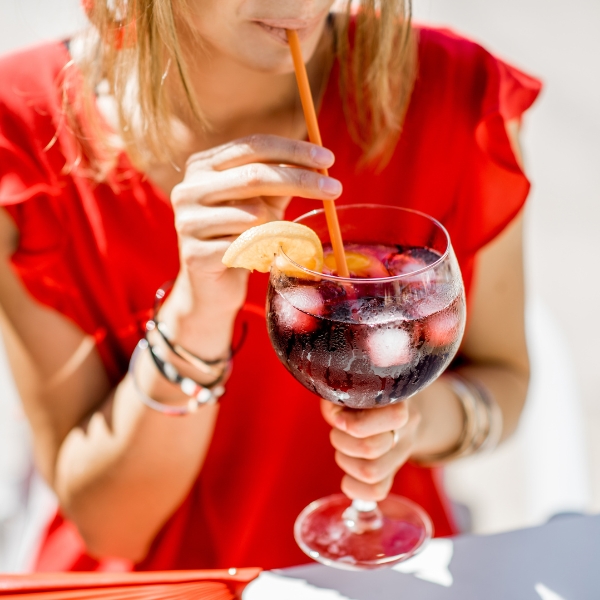 DIY Sangria Wedding Bar. Wines and Fruits! Fruity and fun. Sip, savor, and celebrate. Budget-friendly bar ideas for your big day!
Welcome to a celebration of love, laughter, and delicious sips of joy!
If you're looking to add a touch of fun and flair to your wedding reception, a DIY Sangria Wedding Bar is the perfect way to delight your guests and create unforgettable memories – AND ALSO SAVE YOU LOTS OF MONEY!
Sangria, with its refreshing blend of wine, fruits, and a splash of spirits, brings a vibrant and festive atmosphere to any gathering. With a customizable DIY Sangria Wedding Bar, you and your guests can indulge in a variety of fruity concoctions that cater to different tastes and preferences.
We're sharing ideas on how you can DIY a sangria bar without being Martha Stewart! Easy recipes and set-up great for your party (even at home!) Perfect for a DIY wedding or event!
One of the things that make weddings or any celebration awesome is great drinks. If you're planning to set up a sangria bar for a wedding, bridal shower, summer celebrations, or simply entertaining, we got great tips for you!
We're playing with sangria coolers, modern sangria recipes and set-up, and even a make-ahead sangria bar!
You can also add a signature wedding drink station for your wedding guests for extra fun!
In this guide, we'll show you how to set up a charming and budget-friendly Sangria Bar that will be a sure hit without breaking the bank- yes, your wedding budget and guests will love this!
This site contains affiliate links. For more info, please see our full disclosure. This post has Amazon links and as an Amazon Associate, Wedding Planning Resources earn from qualifying purchases.
DIY Sangria Wedding Bar. Let's get started!
Let's go over these steps in detail!

1. Prepare the basics
Start with choosing your favorite red, white, and rosè sangria recipes and pour them into lovely glass dispensers. Place the dispensers on a table that will serve as your bar.
You can also offer an alcohol-free version by mixing various fruit juices if you have kids as guests. Non-alcoholic wines also work!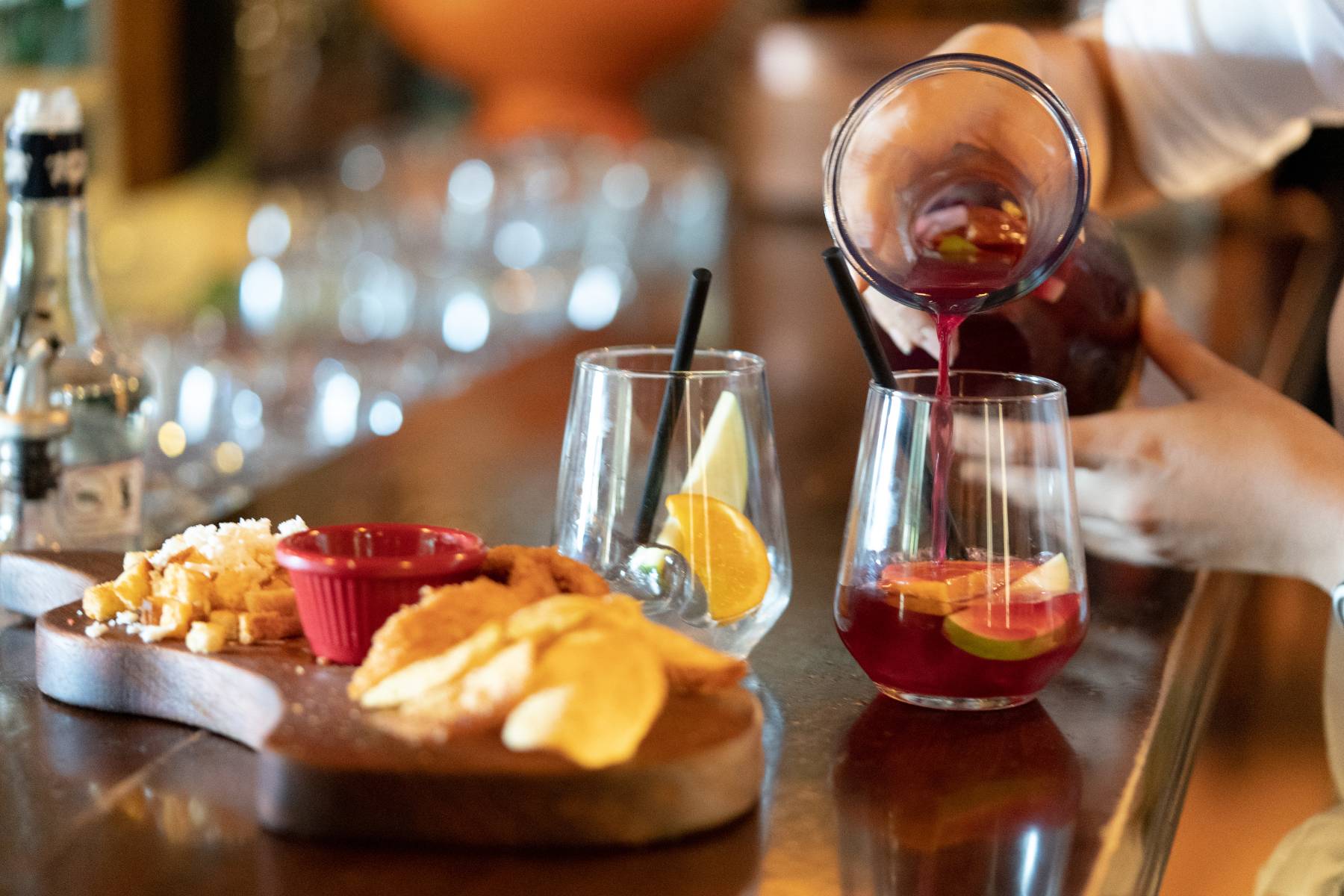 2. Go crazy with the fruits
Please don't skimp on the variety of fresh fruit slices so your guests could enjoy more add-ons to their drinks. You can use berries, oranges, pineapples, kiwis, apples, grapes, and lemons—the sky's the limit!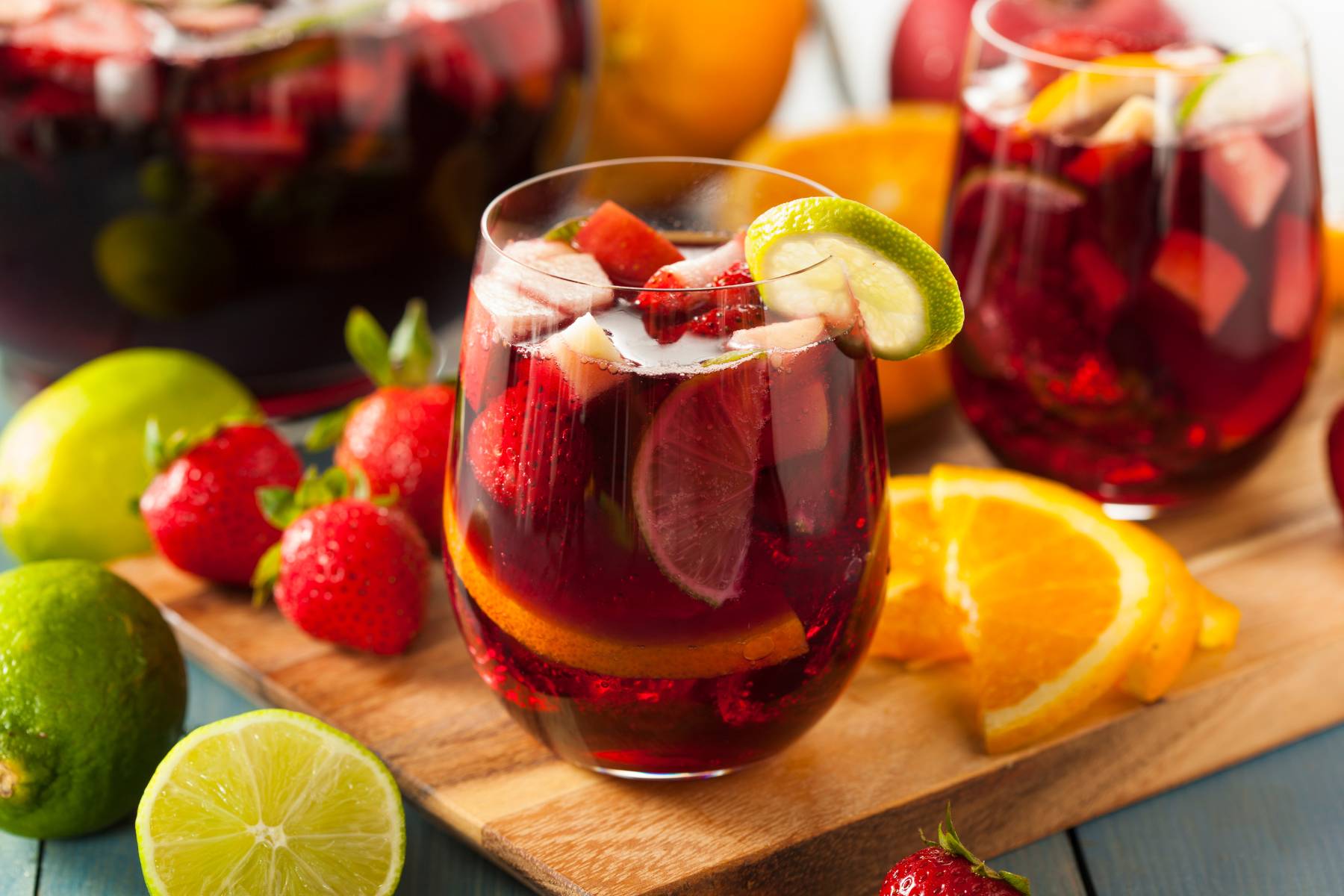 A beautiful way to present this is to put the fruits inside a clear beverage dispenser (or any clear wide-mouth glass containers would do) and place them together in a deep serving tray with ice to keep them fresh.
PRO TIP: If you want to keep the sangria chilled but avoid watering it down, use frozen fruit slices to replace the ice. This also makes it tastier!
You can also offer fresh mint, basil, and other herbs that go well with fruity flavors. Perfect for that fresh sangria!
TRICK: If you want extra flavors but do not want to purchase more fruits? Purchase fruit flavors instead and stick to only one type of fruit – the best choice is apples!
TRICK #2: Do you want your easy sangria bar to be extra sweet? You can make the easiest classic syrup: pour sugar into a cup and add water (just enough to cover the sugar); pop it in the microwave for 25 seconds. And voila! You're ready to sweeten things up!
Typically we would be suggesting gorgeous serving trays, tiered platters, or even setting up your own sangria dispenser.
You can purchase diced fruits ahead of time, store them in the freezer, and pour them into the mix on the day of (we would suggest 30 mins before the guest arrives). The mix itself can be done earlier during the day.
Since it is easier to have this drink pre-made, you can make 2-3 variations to kick it up a notch. You can prepare white, red, and sparkling sangria (these are my top 3 faves!)
So how you prep these is you can "pre-pour" them into individual glasses with the fruits already in them! This can help a lot if you are trying to ensure every guest gets only one glass.
PRO TIP: You can also use this "glass" as a "place card" so your guests are sure to only consume one glass!
You can hire a bartender for 4 hours (or however long you need!) to ensure that this sangria station is clean and stocked. Some companies offer bartenders and servers to help you out on your event day!

3. Styling (super fun!)
How to serve sangria is a fun and creative play on bar display ideas! Lovely jars are already a pretty sight, but you can also be modern and stylish!
You don't need to break a sweat so that you can create a stunning DIY easy sangria bar. Minor tips and tricks will get it done!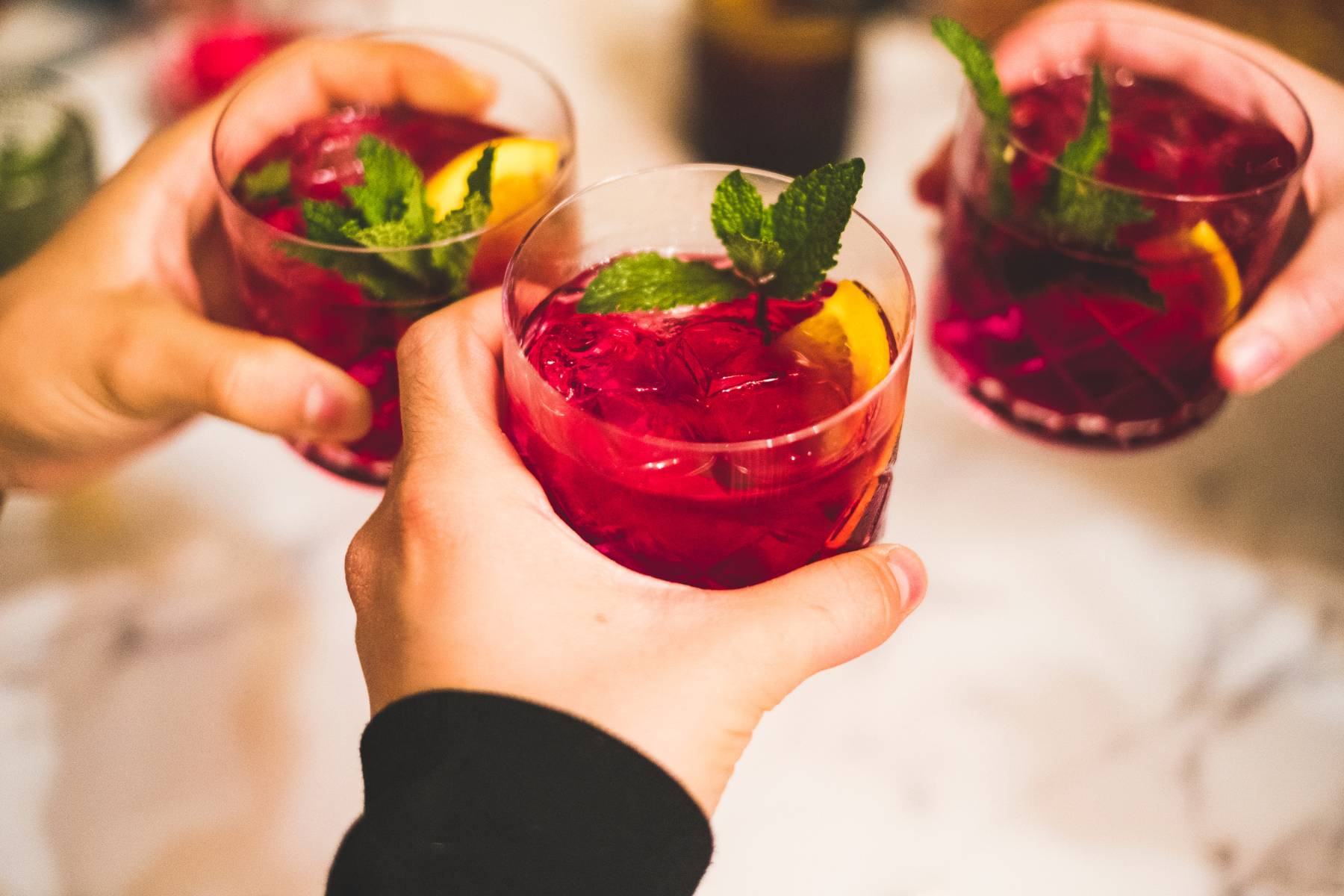 CREATIVE TIP #1: Prepare glasses with fruits instead of just prepping them in an empty glass.
CREATIVE TIP #2: Opt for a universal stemless wine glass. This makes it easier for your guests to hold it and place it down somewhere – especially if you have a more relaxed lounge cocktail event, as opposed to using a stemmed wine glass,
CREATIVE TIP #3: Label your stations and fruits and flavors on the table. Essentially create a menu for your guests to know what is in their drink. You can also include the wine that you used or leave the bottle out for them to see.
CREATIVE TIP #4: Let them make their own mix!
If you're choosing a cocktail event, appetizers or mini sandwiches will be a great combination!
〰️ A DIY Sangria Wedding Bar is the perfect addition to your wedding celebration, bringing a burst of flavor and fun to your special day. By creating a customizable and vibrant drink station, you offer your guests a unique and interactive experience that they'll fondly remember – also, it's also super fun!
Beyond being a delightful and refreshing treat, the DIY Sangria Bar also offers budget-friendly advantages, as you can select wines and fruits that suit your price range. Additionally, it serves as a fantastic conversation starter, bringing guests together and encouraging mingling throughout the celebration.
With all these suggestions, you can purchase online, you need to get apples (or any fruit of your choice!) and ice, and you can easily and quickly serve sangria at your party!
So, whether you're having an intimate backyard wedding or a grand reception, the DIY Sangria Wedding Bar is a surefire way to elevate your event and create lasting memories without breaking the bank!
Cheers, lovelies! DIY Sangria Wedding Bar Ideas!
**This post has Amazon links and as an Amazon Associate, Wedding Planning Resources earn from qualifying purchases.