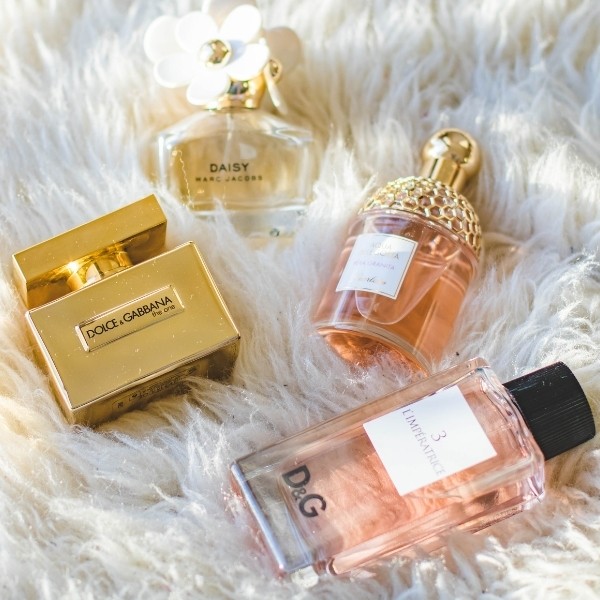 Wedding Day Perfume! Loving your fragrance! Looking for a long-lasting scent for the wedding day? From floral perfumes to classic perfume scents, we curated this list to help you find the best wedding fragrance for you!
More than just a fragrance, your wedding scent will become a reminder of the beautiful memories of your special day whenever you wear it. This makes it more essential to select a fragrance to wear on your big day carefully.
Choosing a beautiful perfume depends on your individual taste. Wearing a perfume that matches your personality makes you feel completely yourself. If you are a Boho bride, a fragrance with amazing woodsy notes is perfect for you. On the other hand, perfume having a fresh flower scent is surely a good choice for classy brides.
As with all other bridal accessories, wedding perfumes are personal to each bride. If you want to go with your signature fragrance, it's completely perfect.
If you are looking for a new signature scent (what perfume to wear on your wedding day), or maybe one that will be reserved for your big day and all those future special days like anniversaries, etc., be sure to check out some of the top wedding perfumes we are listing here.
This site contains affiliate links. For more info please see our full disclosure.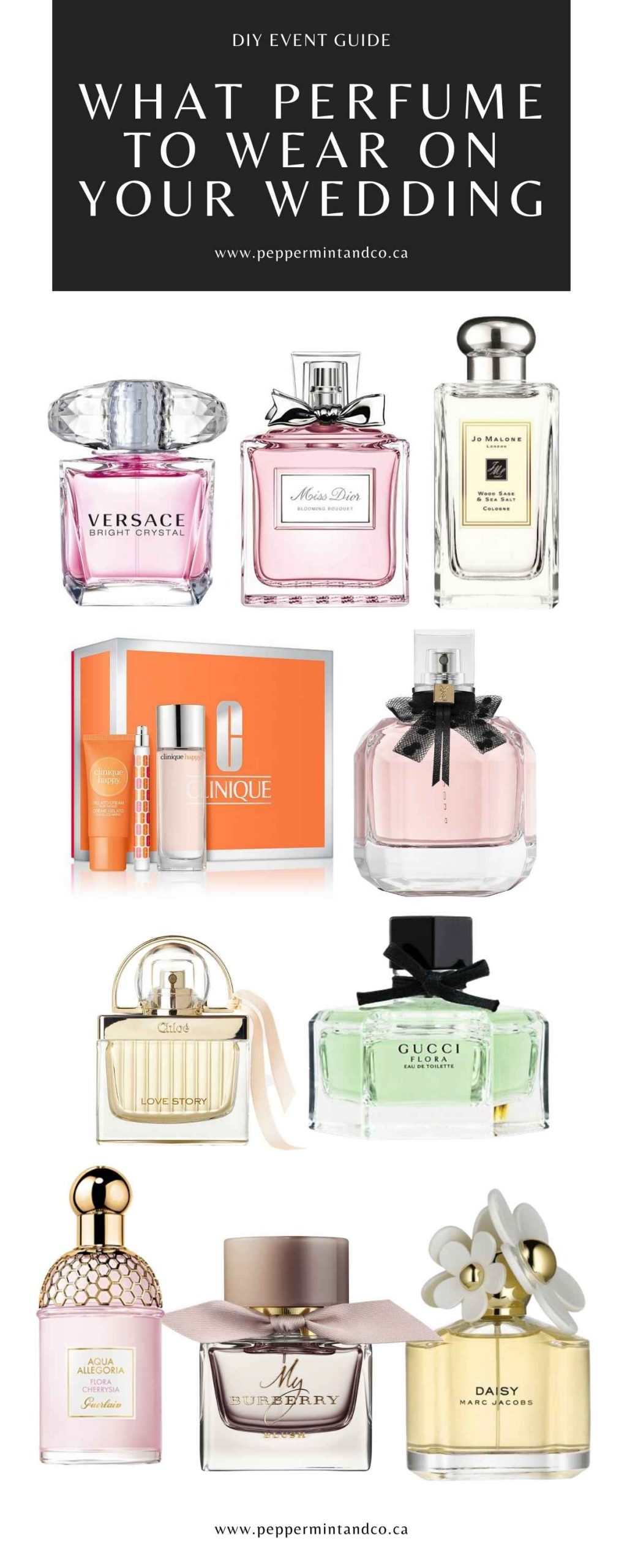 PRO TIP #1: Consider using a full set: body wash, lotion, and then perfume. This is how you can ensure a long-lasting scent!
PRO TIP #2: It might be tempting to choose a fragrance that really stands out, but consider keeping it light and floral. Like just that scent on a beautiful spring day! If you are looking to check out more scents that can make you happy, HuffPost shared more here.
PRO TIP #3: Carry a trial/mini version of your perfume in your emergency kit, or place it on your table! Makes it easy to quickly mist when you feel like you need to refresh. Remember PRO TIP #1? If you have layered and used products with the same scents, your sweat, should still smell like your perfume!
Here are more details about these scents!
Wedding Day Perfume Scent: Top 10
1. Versace | Bright Crystal
Fragrance Family: Florals
Scent Type: Classic Florals
Key Notes: Yuzu Lemon, Peony, Musk
Fragrance Description: Inspired by a mixture of Donatella Versace's favorite floral fragrances, Bright Crystal is a fresh, sensual blend of refreshing chilled yuzu and pomegranate mingled with soothing blossoms of peony, magnolia, and lotus flower, warmed with notes of musk and amber. (Excerpt from Sephora)
2. Dior | Miss Dior Blooming Bouquet
Fragrance Family: Floral
Scent Type: Fruity Florals
Key Notes: Damascus Rose, Peony, White Musk
Fragrance Description: Experience the caress of a fresh rose dressed in peony flowers. This vivacious eau de toilette reveals a tender heart of peony and Damascus rose. The perfume's lingering finish is edged with white musk. A floral springtime signature, perfect for a flirty and irresistibly charming Miss Dior.
About the Bottle: The iconic Miss Dior bottle is inspired by women's couture. The signature Miss Dior bow evokes elegant femininity.
About the Fragrance: Blooming Bouquet is a composition designed like a dress embroidered with a thousand blossoms. It pays tribute to Christian Dior's legendary love of flowers. (Excerpt from Sephora)
3. Jo Malone London | Wood Sage & Sea Salt Cologne
Wondering what perfume to wear on your wedding day if you are not into florals? But looking into wearing something more fresh? Especially if you are going after the boho vibes? Then this perfume might just be the match for you!
Fragrance Family: Fresh
Scent Type: Fresh Aquatics
Key Notes: Ambrette Seeds, Sea Salt, Sage
About: Escape the everyday along the windswept shore where white waves break and the air is fresh with sea salt and spray. Alive with the mineral scent of the rugged cliffs mingled with the woody earthiness of sage, this fragrance is lively, spirited, and totally joyful.
What else you need to know: Jo Malone London colognes are meant to be combined. This means you can layer and mix more than one fragrance to create your own, unique, individual scent. Spray liberally and layer with bath and body products to make the most out of your scented experience. (Excerpt from Sephora)
4. Clinique | Clinique Happy
If you are wondering what perfume to wear on your wedding day, this one is a personal favorite. The mix of citrus and flowers is the perfect "marriage" to give off that good vibes and generate happy feelings!
About: A hint of citrus. A wealth of flowers. A mix of emotions. Clinique's bestselling women's fragrance interplays fresh, vibrant notes—ruby red grapefruit, bergamot—with soft, sensual ones—Hawaiian wedding flower, spring mimosa. Wear it and be happy.
Notes: Ruby Red Grapefruit, Boysenberry Bush Flower, Hawaiian Wedding Flower
Style: Fresh. Light. Uplifting. (Excerpt from Sephora)
5. Yves Saint Laurent | Mon Paris Eau de Toilette
Fragrance Family:
Florals
Scent Type:
Fruity Floral
Key Notes:
Grapefruit, Datura, Rose flower, Patchouli
About:
Love takes flight with this fresh, luminous version of the iconic scent. The sparkling white floral fragrance of the original Mon Paris Eau de Parfum is transformed into an ultra-luminous floral citrus.
A citrus start with juicy grapefruit and raspberry notes brings about a new fruity freshness. The delicate floral heart of white flowers from the signature Eau de Parfum is romanced by orange blossom for a scent that evokes the lighter side of love. (Excerpt from Sephora)
6. Chloé | Love Story
This is not just only fitting (it's called "love story!") to be one of the top choices when it comes to deciding on what perfume to wear on your wedding day, but also, the packaging is beyond elegant! Perfect for photo ops with the bouquets and the wedding dress!
Fragrance Family:
Floral
Scent Type:
Fruity Florals
Key Notes:
Jasmine, Neroli
About:
Chloé unveils an essence of seduction, a declaration of femininity, and a proclamation of freedom. Love Story Eau de Parfum by Chloé is the expression of a free woman: the Chloé woman.
A floral love story, the fragrance opens with the sensuality of orange blossom, luminous and intoxicating like the flush of new love. The stirring femininity of jasmine stephanotis, the flower of happiness, gives the fragrance its heart. The scent is grounded by the sensual strength and freshness of cedarwood, creating an unforgettable essence of seduction.
Love Story comes in a bottle a padlock design to symbolize love and romance. A delicate ribbon knotted casually on the side complements the femininity of the pleated glass. Its elegant matte white case, embossed with gold letters, is circled with a delicate pink ribbon that holds the precious bottle. (Excerpt from Sephora)
7. Gucci | Flora By Gucci Eau de Toilette
Fragrance Family: Fresh
Scent Type: Fresh Florals
Key Notes: Osmanthus, Peony, Rose
Fragrance Description: Gucci Flora is the utterly feminine, deeply sensual fragrance for women, inspired by Gucci's iconic Flora Pattern. The fragrance is characterized by contrasts and is for the classic, modern Gucci woman who has a youthful, feminine spirit. (Excerpt from Sephora)
8. Guerlain | Aqua Allegoria Flora Cherrysia Cherry Blossom Eau de Toilette
Fragrance Family: Fresh
Scent Type: Fresh Florals
Key Notes: Nashi Note, Cherry Blossom, White Musks
Fragrance Description: This fresh floral fragrance evokes the spirit of cherry blossoms sprinkled with refreshing water.
About the Bottle: The pure and refined bottle with a golden mesh is a nod to Guerlain's iconic bee bottle. The bee adorned at the top of the bottle symbolizes Guerlain's heritage and commitment to protecting bees.
About the Fragrance: A sensory escape to Kyoto, strolling amongst the blossoming cherry trees along the sakura river where cherry blossoms celebrate the start of spring. A unique alchemy of cherry blossoms paired with the precious citrus fruit bergamot—an homage to the wonders of nature and the beauty of raw materials. (Excerpt from Sephora)
9. Burberry | My Burberry Blush
Fragrance Family:
Floral
Scent Type:
Fruity Florals
Key Notes:
Pomegranate, Rose, Jasmine
About:
My Burberry Blush steps back into a London garden as it awakens in the first light of day. Capturing the senses, blossoming flowers open with a burst of energy, while dapples of glowing light weave, twist, and turn through the flora.
Created by perfumers Francis Kurkdjian and Christopher Bailey, the fragrance opens with sharp pomegranate fused with vibrant lemon. Delicate rose petal notes are lifted with crisp apple, while a base of jasmine and wisteria round off the scent for an intensely feminine touch.
The bottle is enlivened with a feminine and sophisticated pink hue, reflecting the confident and spirited character of the new scent. Its signature design details remain with a lighter shade horn-look lid—inspired by the buttons of the BURBERRY trench coat—and a hand-tied gabardine knot around the neck. (Excerpt from Sephora)
10. Marc Jacobs Fragrances | Daisy
Fragrance Family:
Floral
Scent Type:
Fruity Florals
Key Notes:
Strawberry, Violet Leaves, Jasmine
About:
Charmingly simple with a signature quality, Daisy Marc Jacobs transports you to a place that's optimistic, beautiful, and pure. The top of the fragrance is infused with succulent wild berries and soft white violets. At the heart, velvety jasmine warms to a dreamy dry-down of sensual sandalwood, for a romantic, lingering finish.
Irresistibly feminine, Daisy Marc Jacobs is the captivating creation of master perfumer Alberto Morillas.
What else you need to know:
Whimsical white daisies abloom on its cap give the iconic Daisy bottle a retro-cool twist—as charming and unique as the woman who wears the fragrance. (Excerpt from Sephora)
** CREDIT: All descriptions are taken from Sephora **
There you are lovelies! Wedding Day Perfume!