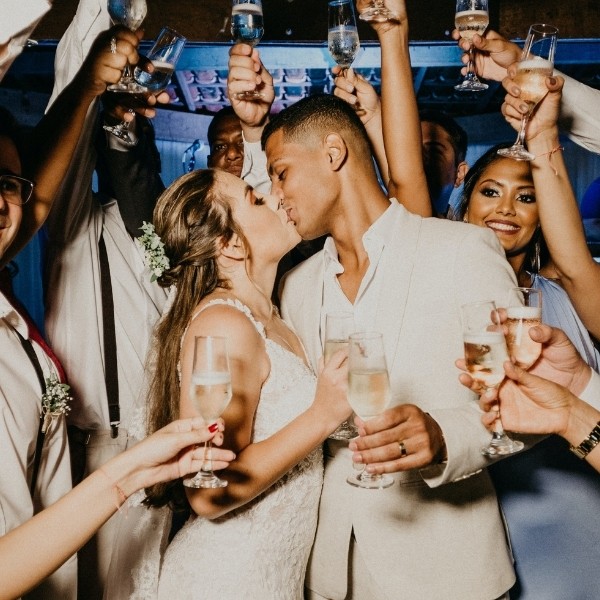 How to Write a Bride / Groom Speech. Thank you to our.. Newlywed speech and toast? Preparing your bride/groom speech or toast? In this guide, we are hearing tips on how to write your groom and bride speech!
And cue the emcee announcing the newlyweds would like to say a few words..
You have already almost checked off everything on your wedding checklist. Now it's time to write the speech!
You and your partner can definitely work together and share the stage and/or mic! We got tips for you and your partner on how to execute this. Short and sweet, or long and endearing, whichever you prefer!
We're here to sort out your problem with these easy tips to help you write your speech and win over your guest's hearts.
How to Write a Bride / Groom Speech
1. Coordinate & Create
Before preparing the speech, discuss with your partner and talk about how you will coordinate accordingly.
Meaning, you will have to determine the flow and style. As well as the length and points to remember. Jot down notes in point form and make a rough draft to understand how you would approach it.
It is also essential that you schedule the speech/es at a time when the crowd and/or guests are in a very "active" state, as opposed to the end of the night when guests had already quite a lot to drink so much or are getting ready to leave.
Consult a wedding planner/consultant when to schedule the speeches at the reception and ensure to include them in your wedding day-of timeline.
.

2. Share your love story briefly
Even if you feel like the guests already know your love story, giving them a brief reminder will set the tone for the next points that you will make.
Starting with a story will help your guests engage better and relate to the following points as you go on with your speech. Adding funny tones and notes within the story will keep the crowd's energy going.
3. The Thank You's
Now from your story, incorporate your thank yous. You and your partner are for sure grateful for your family, friends, relatives, and all your guests for being there. Let them know about thankful you are and honor their presence.
If there are specific people that you would like to name, you can definitely do so. Be mindful as you do this so as not to offend anyone.
TIP: You can use a projector screen and play a video compilation with clear text of the names of the people you wanted to mention specifically. This can be either before your actual speech, like a "pre-speech" video, or you can also use this in conjunction with your speech.
Even when other special people in both your lives cannot make it, still mention them. During these times when not everyone can make it, mention them, and again, per the above tip, include them in a mini-video compilation.
4. Credits (a great top on how to write a bride / groom speech!)
This can be similar to the Thank You's, but credit isn't just about saying thank you, but it's also about commenting on what they have actually done.
Saying something like "Thank you to my sister-in-law for helping out with the decor." is a great way to give thanks.
Adding a credit tone sounds like this: "The beautiful flowers and the elegant decor that we all are adoring tonight is a result of a collaboration with my creative sister-in-law. I don't think this night will be as pretty and special as it can be without your input, and for that, we are very thankful."
Did you feel the difference? Adding those short credit notes truly elevates the thank yous!

5. Address your partner
Don't forget to end your speech with a nod to your partner and your life together. As mentioned above, say thanks and provide credit.
"Thank you for being patient with me not just through the wedding planning process but every single regular day, even when I am the crankiest. You always find a way to see through me and get to my heart with your love and understanding."
"I'm sure everybody here will agree that you are always beautiful, inside and out, but today, you are extra radiant and glowing."
Mention something particular that you know your partner will appreciate and be very happy that you have voiced out loud in front of the 'world' to hear!
Nailing their 'love language' during this public moment will also leave a bigger impact!
.

6. Prepare
We don't want to sound so scripted and stuck up. But going over your speech/es will help you be comfortable with the flow and the words you are to use.
Write the speech you will make alone FIRST. If you would like to speak side by side, you can then incorporate both speeches with a good flow, and/or you can take turns accordingly.
Time it. Decide how long you want your speech to be. 5-7 minutes (8-10 minutes combined!) is a safe timeframe that you want to stay in. Per mentioned tip, consider creating a complimentary video presentation that will help keep your guests engaged and visually appealing!
Practice! Go over the speech with your partner. Check the parts you want to "make better." This is not a professional performance that needs hours and hours of practice, but you sure would like your guests to understand your message clearly.
Use strategic props. Especially nowadays, when we use our phones for everything, it might be tempting to use them for speeches. But if you have the challenge of speaking fast, reading off your phone will not make it any better.
If you use index cards, the act of switching the cards is actually a "pause" that you have to make, which will automatically slow you down and gives you a chance to look up to your guests and even add in some funny and witty adlibs!
If you are all about electronics, you can use your phone, but not on notes or messages, but as a PDF document where you only do 1 paragraph per page with larger fonts so you can 'turn' to the next page for a 'pause.' The key is to be strategic and creative.
Don't put too much pressure on yourself to make this perfect! Be yourself and have fun at your wedding!
There you are! How to Prepare a Bride/Groom Speech!