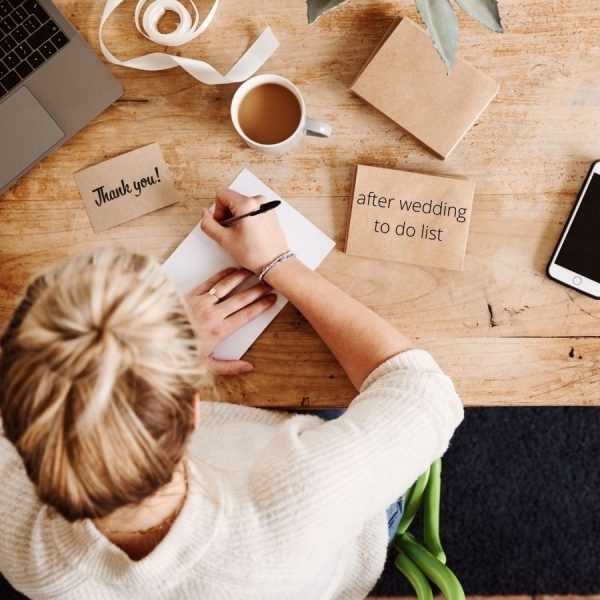 What to do after your wedding.. After "I do".. Amazing wedding night, now what? What plans do you have after your wedding? What are things you should do now? Last name change? Post-wedding brunch?
Following an unforgettable night of dancing, celebrating, and of course, getting married to the love of your life, it's understandable if you want to spend a lazy day as a newly wedded couple. On the other hand, you may still be on a post-wedding high and wish to continue the celebrations with family and friends (obviously, this depends on your budget and guest list). Whether you're planning to get some downtime before your honeymoon or throw a bash, we've summed up some of the things you can do the day after your wedding.
This site contains affiliate links. For more info, please see our full disclosure.
What To Do After Your Wedding
5 THINGS TO DO DAY/S AFTER
Let's go over these points in detail!
1. Have breakfast in bed
An amazing night may have drained your energy, especially if you've always been on the go weeks before your wedding. So, one of the best things that you could do as a couple is to sleep in, relax, and enjoy the stillness after a crazy experience of planning and hosting a wedding. If you're staying at a hotel, it might be wise to book for another night so you can enjoy an extra day without feeling rushed to check out. Probably consider ordering room service and enjoying breakfast in bed. Not a bad idea, right?
2. Deposit Monetary Gifts (an important thing to remember when planning What To Do After Your Wedding!)
If you have collected monetary gifts, we suggest getting them accounted for (having a guest list spreadsheet to access your phone will help!) and deposited asap.
The last thing you want is to have a bag of cash and cheques around when you have many other bags and packages to pack. If you have a weekend wedding, the INSIDE the banks are usually open at the same time as the mall hours. It will be a good idea to head to the bank and get those deposits done and SAFE!
3. Head to the spa
Getting a massage is always nice, and it's even more perfect for getting one after your wedding day. Book a couple's massage and get pampered with your new spouse—this is a great reward after your months of planning for your big day.
Another option is to have a spa day with your bride squad as a way to thank them for their help in preparing for your wedding.
4. Check in with the venue coordinator
Just before the day's end, check in with your venue or event coordinator. This is beneficial if you have much DIY stuff done and rentals that needed to be picked up/returned.
You don't want to be slapped with some cleaning bill, missing products, or late fees weeks after the wedding. A quick check-in will be great for your peace of mind.
If you have rented dresses (like from Fitzroy Rentals), ensure to store them in a safe place and label them accordingly if possible so that you won't forget anything.
5. Host a brunch
This is especially nice if you have guests who traveled far to be a part of your celebration. Hosting a brunch with family and friends (think: waffles, bacon, and mimosas—yum!) will allow you to spend more time with them before you part ways or before you head off to your honeymoon.
DIY BRUNCH EVENT: BUDGET FRIENDLY: HOW TO GUIDE
6 THINGS TO DO WEEK/S AFTER
Let's go over these points in detail!
1. Gift management
If you have set up a registry with products, you might want to revisit these products and check what you want to keep and return.
You usually have 30 days from purchase to return, depending on your registry set-up. Check on the products and re-audit them to ensure you actually need these products; if not, it's best to get organized and start the return process.
2. Make it official
Another fun thing to do a day after your wedding is to announce that you've officially tied the knot on social media! Update your relationship status to "Married" and even update your username, too, if you're choosing to change surnames. (Updating your legal name, IDs, bank accounts, etc., will come in next, so you might as well do the easiest thing first!)
3. Send out thank you's
If you do have the time to do so, start working on sending (mail or electronic) out thank you cards to your guests—they took time to share this precious moment with you after all. The general timeframe is to send out the cards at least 2 months after your wedding.
This means you have enough time to work on making hand-written personalized notes, which your guests will surely appreciate. Also, the memory of the wedding is still super fresh!
4. Send feedback to vendors
Show your appreciation to the people behind your magical day by leaving reviews for your vendors (from your event planner, stylist, photographer, etc.) who worked tirelessly with you for your wedding. As you know how important client feedback is in choosing vendors, you might help other couples discover great wedding professionals like those you had at your wedding!
5. Post wedding lunch / barbecue/ brunch
This is definitely dependent on your wedding process. If you had many people involved in your wedding and truly helped you out along the way, hosting a simple luncheon or bbq is great to celebrate these special people. Also, a great way to view photos (if they are already available from your photographer), you can view it on a big screen and have fun!
This can be a super laid-back event/get-together, just having everyone around you and having a good laugh. You can also prepare a heartfelt speech to get everyone crying! Lol.
DIY MICRO CELEBRATION: SET-UP & DESIGN GUIDE
6. Preserve your wedding dress
Besides videos and photos, another wonderful wedding memento is your wedding dress. Whether you're keeping it as a memory or for your future daughter, it's a good idea to get your wedding attire preserved and stored properly. You can purchase available kits to clean and preserve your wedding dress yourself or hire a professional to do it for you. Additional tip: Another thing you may want to preserve is your bouquet! You can have the flowers pressed and framed or placed inside a shadow box so you'll have another beautiful keepsake of your special day.
To close, every wedding and family dynamics are different, and these things are the most common things that are needed to be done. You will most likely need to incorporate your own "to-do" with this list!
There you are! Tips on What To Do After Your Wedding!
What are you planning to do after your wedding?