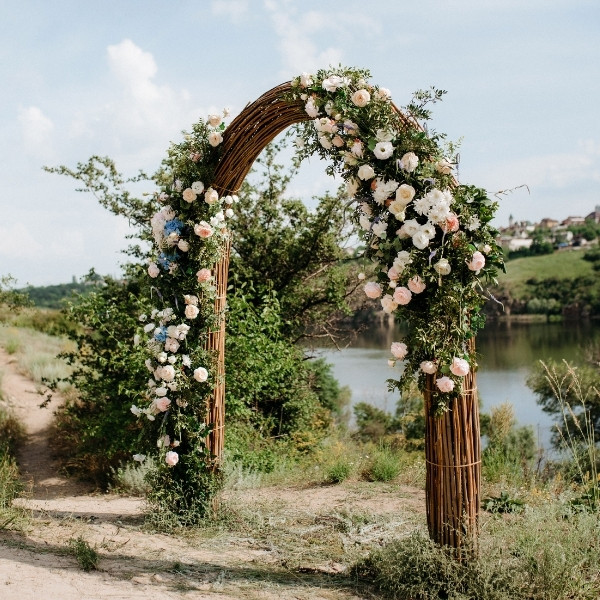 DIY Wedding Ceremony Arch! Beautiful ceremony designs! Looking for DIY wedding ceremony arches? You got to the right place! Whether you are going for a rustic or a floral arch, we've lined up wedding ceremony arch DIY ideas that will make for a beautiful backdrop to help you save on your wedding budget!
This site contains affiliate links. For more info, please see our full disclosure. This post has Amazon links and as an Amazon Associate, Wedding Planning Resources earns from qualifying purchases.
If you are DIY-ing a wedding ceremony arch, it will help to have a sandbag to keep the wedding arbor/pergola/arch steady, especially for outdoor use. You can conceal it with greenery or moss.
Let's get started creating a beautiful wedding ceremony arch perfect as the perfect wedding background!
PRO TIP: If you are using mostly silk flowers (which means you won't risk the flowers wilting!), ask your venue if it's ok to set up the night before, so won't have to worry about it the day of your wedding! They might be ok with it or might also ask for a small fee. If there is a wedding before you, this might not work. But if you are the first wedding on that day, there is a possibility that your venue might allow you to set it up the night before.
DIY Wedding Ceremony Arch

1. Classic Greenery + Roses Arch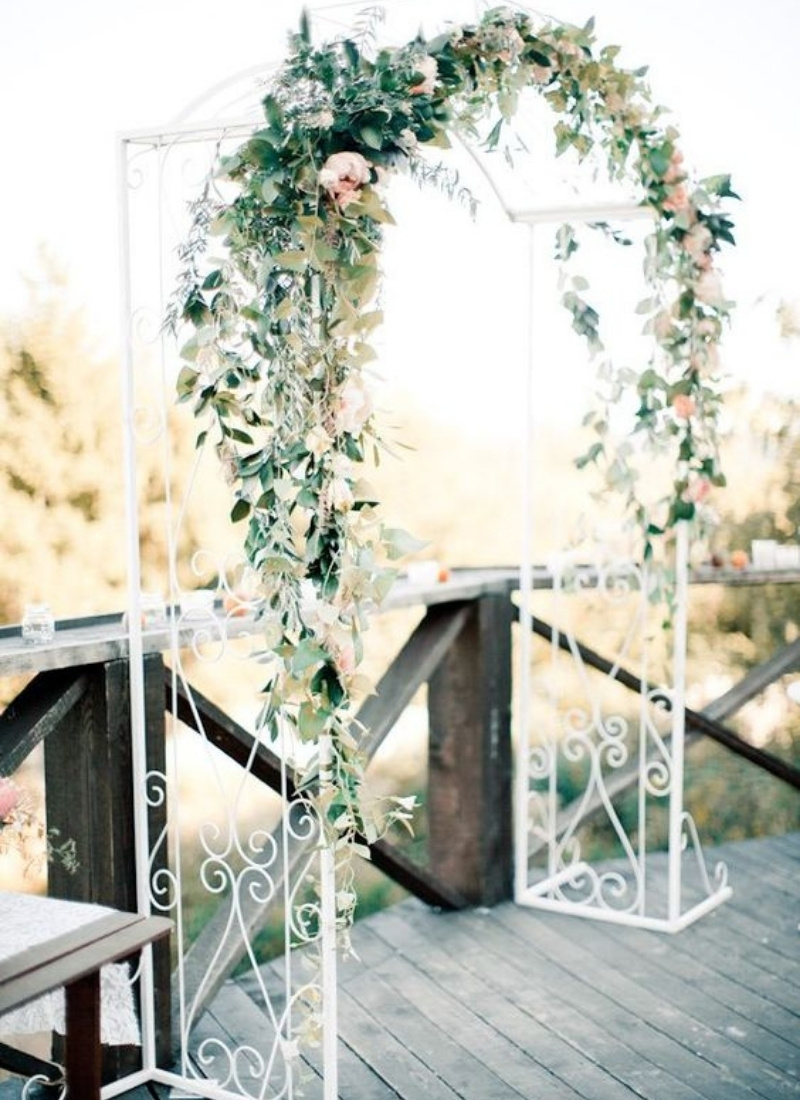 This is probably one of the easiest, quickest, and most affordable versions that a DIY-er can pull!
You can start with a classic arch that you can purchase online and assemble on-site.
With regards to wedding flowers, you can purchase garlands or preserved flowers online and PRE-BUNDLE them.
Once the arch set-up is done, you can attach the pre-bundled flowers and greenery on-site using clear zip ties.
This is such a classic wedding backdrop! Perfect for romantic wedding photos!

2. Boho + Pampas Grass Love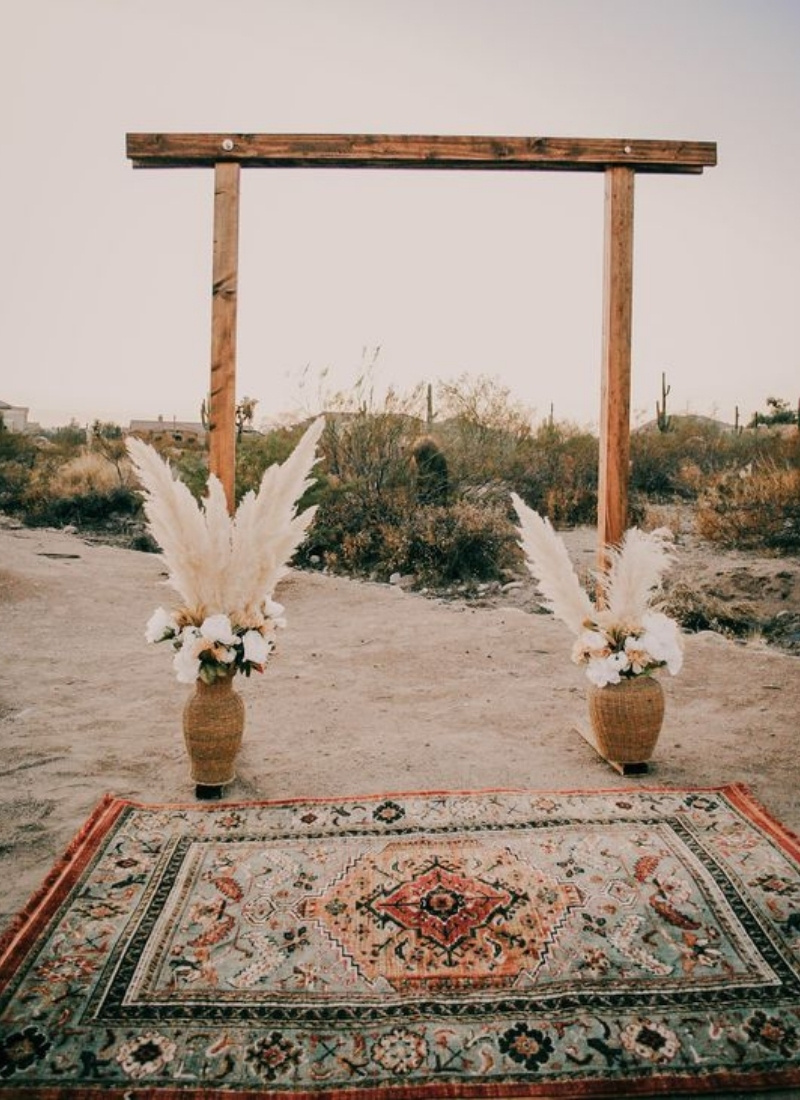 How beautiful is this boho wedding ceremony arch? The wooden arch and the carpet can be rented, and you can DIY the pampas grass. Or you can also DIY everything by purchasing an arch and spray painting it with a wooden color!
Purchase a super wedding chic boho carpet, a pre-made pampas grass bouquet, and voila!
You got yourself a beautiful boho chic wedding arch!
You can have the arbor assembled on-site or rent a van to transport it assembled.
Start adding the stones at the bottom of the wooden basket to ensure it stands on its own and will not easily be blown away.
Add a plastic lining and place the floral foam. Stack the floral foam up to 3/4 of the way up to add height!
Loop through some burlap ribbon on top of the basket to keep everything in place.
Now you get on arranging the flowers!
Stick the pampas grass first more on the backside. Then add the tulips around the front!
Cover the green foam (wherever it is visible) with the moss.
Then voila! You got yourself a beautiful boho chic wedding ceremony arch design!
3. Cherry Blossom Chic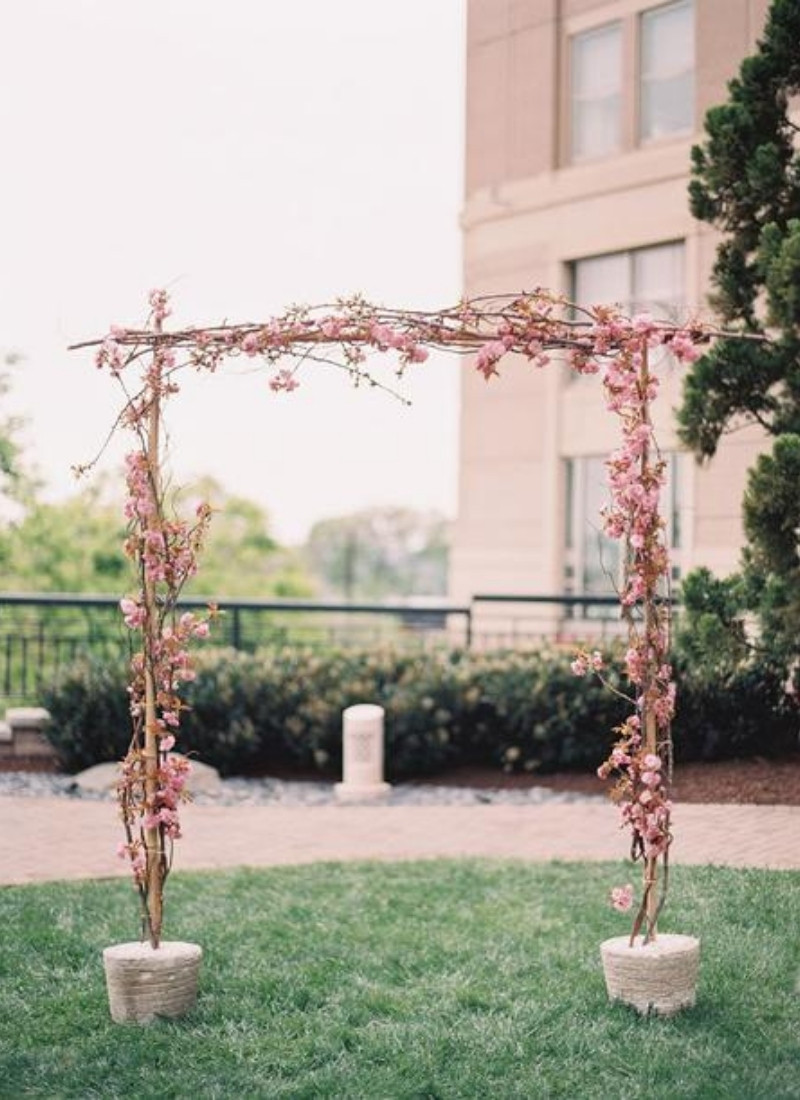 This is an easy DIY wedding project, but it will most likely need to be assembled on-site and will need a little bit more time and assistance.
TIP: If you use a black arbor/pergola/arch, black zip ties will better conceal the stems! You can also use a white pergola but keep in mind that the cherry blossom stems are brown. It's easier to blend it well with a black arch.
As you attach the cherry blossom stems to the arbor/arch/pergola, bend out some of the stems to make it look more natural and add area and movement! Giving it a more realistic feel!

When DIYing wedding arches, it is important to understand the timing and effort needed. Include the practice time and the possibility of error. This means you might need to re-buy the items until you perfect them.
Include these into your budget and also decide if this is a DIY wedding project you can make the time and effort to execute.
In addition, the delivery and teardown/pick up is also something that you will need to do or ask someone to help you with.
Like with any DIY wedding project we share here, ensure to estimate the time and money involved and then add extra because it will always take longer than anticipated.
If you are up to the challenge, then we are here for you! Sending all the best and good vibes your way!
There you are! Our top 3 Wedding Ceremony Arch: DIY! Stay tuned for more DIY wedding ceremony arch designs!
**This post has Amazon links and as an Amazon Associate, Wedding Planning Resources earn from qualifying purchases.