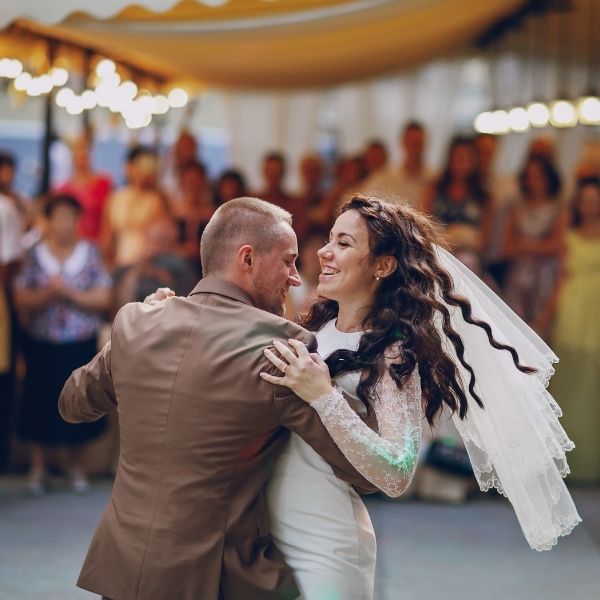 Dance mode on! Wedding First Dance Song Ideas: 25 Classic & 15 R&B
Deciding on what song to dance to? It does get pretty tricky. Doesn't it?
We've gathered a few tips to help you decide, as well as rounded up our top 25 classic and top 15 R&B wedding first dance song ideas!
(1) You can start by listening to many songs and getting a feel of which one you both love, get giddy and excited about, or could say, "that's our jam!" as soon as it plays. You can choose a song with a special meaning to you both; this could be a song you have some memories with or a song you heard on your first date.
(2) You could also choose a song that reminds you of a holiday or a special occasion; if you don't have any special memories attached to a song you can choose a song according to the wedding theme. Choosing a song by your favorite artist or band is also a great idea.
(3) You can also consider picking multiple songs and put them together in a shorter version. If you are doing some choreography and working with a dance instructor, have the mix of songs professionally edited so that you can get on that choreography on the beat!
(4) Don't feel bad about picking songs that have already been played or used at a wedding you went to. You are allowed to be corny and re-use songs repeatedly; they are used because they are meaningful. There's a reason why they are a wedding first dance favorite.
PRO TIP: Get your song/s edited and shorter – only play the highlights of the song. If you have your guests standing while you are doing your first dance, you can also give them a little break by playing a 2-3 minute song instead of a full 5-6 minute song. Unless you are doing a dance choreography where everyone can dance to it or sit down while watching you, then yes, a 5-6 minute song sounds great!
Here are our top 25 classic list:
.
GET YOUR FREE WEDDING PLANNING KIT

Here are our top 15 R&B list:
There you are! Wedding First Dance Song Ideas: 25 Classic & 15 R&B!