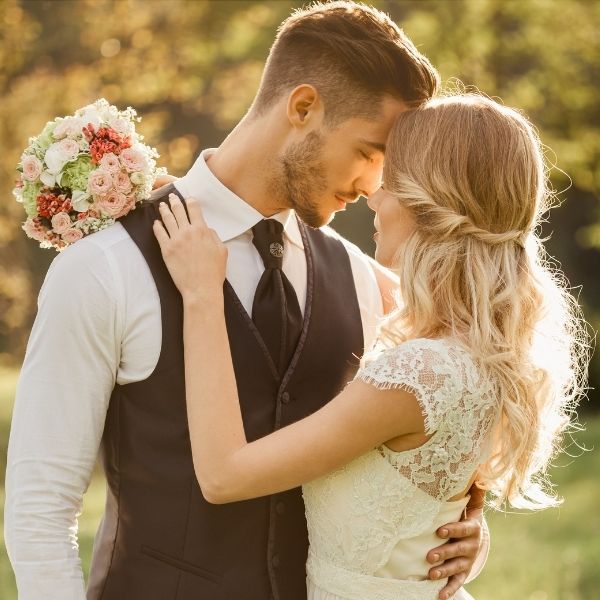 How Long Will it Take to Plan a Wedding? The real timeline! Wondering what a real wedding planning timeline looks like? What does a wedding planning process look like? How do you choose a wedding date? A wedding dress? Your guest list? Wedding party? How long do all these take? What is the process of getting married entails? In this guide, we are sharing an overview of how long it will take to plan a wedding.
Yay! Your fiancé has just proposed to you, and you are looking forward to having the wedding of your dreams!
Every couple has different wedding planning timelines depending upon their personal preferences and circumstances. We are here to share ideas on how long a task will take.
Even if it is an at-home wedding, planning a wedding is exciting but not so easy. It requires a lot of work and effort.
We worked with a couple who planned their wedding for 2 weeks, and it was absolutely gorgeous! It worked out perfectly! They were, of course, a little bit more open to possibilities and design options since they know that the 2-week window is already a challenge on its own. But they chose us to help them and we absolutely delivered!
Although it is tempting for us to say that planning your wedding will take an "x" number of months, there really isn't a magic number that will work for everyone, since every situation and circumstance are different for each couple.
However, we have discussed some key elements that will give you an insight into the approximate time required to plan your wedding.
This site contains affiliate links. For more info, please see our full disclosure.
How Long Will it Take to Plan a Wedding?
Commit to a vision
Generally, the ultimate wedding planning timeline for any couple is considered to be 12 months or plus. This gives you enough time to set up the budget, research, organize, finalize and execute. With all the cute inspirations on Instagram and Pinterest, you may get slightly overwhelmed, but this ideal time is considered perfect for you to plan your wedding smoothly and evenly.
We say commit to a vision because once you start planning and taking actions like looking for venues and vendors, it will coordinate your vision.
Vision can be a style. You don't have to commit and be final with the decor and the details, but you certainly have to commit to a vision and style.
Moving forward with a clear and committed vision (meaning if you are looking for white and airy, you won't be checking out black and red elements) will make you more efficient and move your wedding planning smoother.

Career / Job Commitments
Do you and your precious other work full hours and live busy lives? If yes, you might need to sit down, take a break, sip coffee and take some time off to dedicate to your wedding solely.
Taking time off doesn't necessarily mean that you have to book actual days off (unless, of course, needed!), but what this means is carving time through the day, even in smaller chunks, to pay attention to your wedding plans.
Break down the tasks and schedule them to work around your career and job commitments.
You can also schedule site visits, consultations, and other appointments in one single day. For example, you can book back-to-back appointments on a Saturday. Set a maximum time for each appointment and communicate it with the person you are meeting to plan their presentation or talk better to make the most of your time.
You can set a timeframe of 3 months, for example, to do all the research, consultations, contract reviewing, booking, and finalizing.
This is definitely doable, as long as you schedule the tasks accordingly and in harmony with your career/job commitments.
You can also always consult with a wedding consultant or planner to help you design elements, do vendor research, review, book appointments, check contracts, and site visits.
Budget / Funding
Knowing where and when the money is coming will also be a factor in planning a wedding.
Are you saving for it, or are the funds ready now? Are you able to book specific vendors right now and come up with the rest of the money when the final payments are due?
Knowing your budget and understanding how to manage funds and incorporate them with your wedding planning timeline will also help determine how long your wedding planning will take.
Plan financial progress. How much time will you both need to achieve the wedding goals without experiencing financial pressure?
There is no hard and fast rule for planning a wedding; it varies for every couple. Some like to have it extravagant, while others prefer it to be simple and intimate. These things are definitely up to you.
The time frame for this is totally up to you. However, you can consider booking the venue first, then set all the rest of the vendors on dates that will coincide with your budget/funding schedule.
Venue Research
The venue research then takes a little bit longer as these things have to be seen in person to really understand if it does, in fact, match your vision, or at least has the possibility that will enable you to execute your vision.
You might consider giving yourself a little bit longer to research, visit and decide on the venue. Venue and catering are where the bulk of the budget will be spent, and it is helpful to spend some time on research to ensure that the budget and the vision somehow meet reasonably.
Reverse Engineer
Going back to the career and budget points mentioned earlier, an approach is to consider reverse engineering.
Whether you are planning 12+ months or less than 3-6 months, knowing your deadline and working backward and in harmony with your schedule will help lessen the possibility of challenges coming up.
Setting up a timeline that you can easily see will help. Consider setting up a wedding website where you can view your progress better.
Again, understand that the major vendors that will have to be secured ASAP will be the venue and the catering. For the rest of the vendors, you can plan to book them accordingly.
Although, if your choice of vendors tends to be popular and sought after, you might need to book them sooner than later. If you are open to up-and-coming talents, then there might be a more relaxed decision deadline.
Time Constraints (important tip on how long it will take to plan a wedding!)
If you are really busy and are constrained with time, consider speaking to a wedding planner or even a consultant.
Seek help. Planners and consultants can help you research and filter vendors before sending them your way to have a consultant or meet. This will save you time, and also, their expertise will help you work with vendors that they can vouch for and have proven track records.
If you feel indecisive, you can give yourself a break but still be conscious about your timeline. We find that when there is a reasonable deadline that you give yourself and your partner to decide on something, the more focused you get and the more likely you will commit.

Waiting Game
As much as sometimes the waiting game tends to be annoying, you will find that the sooner you are done with planning and all the details, the more tempting it is to keep looking – and almost drag the planning longer.
Enjoy your progress and readiness!
Don't look back (unless necessary, of course!) and change things around, as this will make you feel like the wedding planning will always be "unfinished," even if it is already.
Final thoughts
Consider following a wedding planning timeline that best suits your personal preferences and circumstances.
Ask yourself if you are someone who can get it done quickly no matter how limited the time is.
Or if you're someone who likes to be organized, feels relaxed in ticking out the checklist, and requires abundant time to plan a wedding?
Be as realistic and as "reasonably" flexible as possible, and that's it! You should be able to manage, and more importantly, enjoy your wedding planning journey.
You can take comfort in the fact that you can get your wedding planning done, no matter what! We are here for you if you need some questions answered!
There you are! How Long Will it Take to Plan a Wedding?!