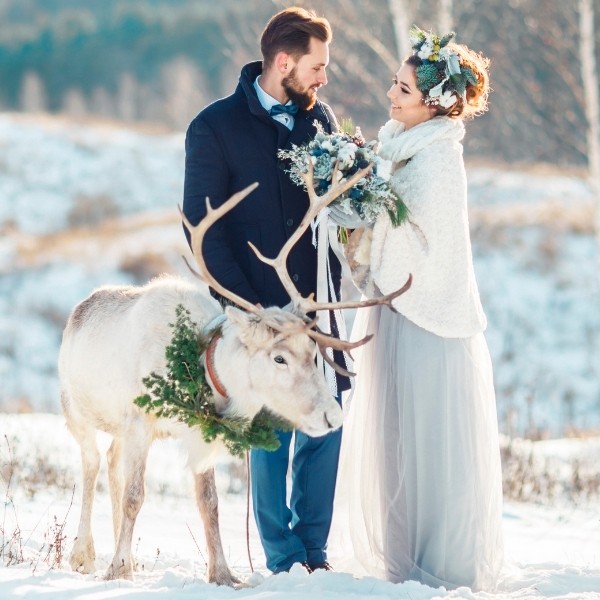 Winter Wedding Tips and Guide. Pretty cold here! Getting married in the cold? It can get pretty tricky. This is why we are sharing this guide with tips on how to make your wedding planning for your winter wedding "warmer." Let's get on planning your winter wonderland wedding with these wedding ideas!
Thinking about planning your wedding in winter? That's a great idea. Imagine the romantic atmosphere and all the cozy designs you can try out with your decor. This would make the most fascinating yet chic wedding of your dreams.
As you know, depending on where you are, the winter season can get pretty rough. The snow, the mud, and just the cold weather in general.
We've come up with some important tips to help you plan your winter wedding and navigate possible challenges that might come your way!
Winter Wedding Tips and Guide
1. Venue
Whether you are using 2 separate venues for your ceremony or reception, or just one venue for both (which is a good option, especially during winter!), we got tips to consider:
Storm areas/doors are always great to have. So your guests can shake off the snow or stomp their shoes to clean it up without disrupting other activities going on at the venue.
Book the same

venue

for your wedding ceremony and wedding

reception

, so you don't have to worry about traveling, especially during the snowy weather where roads are most likely unpleasant.
❄️
And in case of high traffic, your guests might get late to arrive at the reception venue; if you keep a separate one, add a buffer time before the reception starts, or you can also

schedule

a longer

cocktail

hour.
If you're having an

outdoor

event, make sure your venue provides portable heaters and related stuff to keep the guests warm.
Coat checks or a coat room will help a lot, so your guests won't need to carry their coats around (especially those fresh off from outdoors!)
2. Outfit/s
Opt for an outfit that goes well with your winter wedding theme and keeps you warm and protected from the elements.
Layer your wedding dress and/or gown. We've rounded up great accessories you can use for your

winter

wedding

.
For the

suit

wearer, you can wear something underneath your

suit

to keep warm, and as the room gets warmer, you can then take off layers accordingly.
❄️

Shoes

are also important if you are walking outdoors. Have boots handy to help you trail the snow and change back to your original shoes when you settle indoors.
.

3. Self Care
Whether it's prepping your skin for the big day or saving yourself from the cold, take care of yourself.
Winter weddings mean dehydrated skin and chapped lips; make sure you keep moisturized when you can (not too much that it gets sticky and messy!)
Communicate with your make-up artist on how your skin tends to change during winter. This way, they can select the products they use appropriate to your skin type.
❄️
As mentioned earlier, layer with products that you can easily take off when the surrounding gets warmer.
Pack hand warmers, some tissues, and a lip balm in a separate bag to fight the cold.
4. Guest Care (one of the important winter wedding tips!)
Choose products, activities, and certain accommodations that will help your guests during the cold weather.
Set a basket full of cozy blankets and throws so the guests can take one if they feel cold.
Ensure someone takes the guests' coats when they come and give them back when they leave.
Serve hot beverages upon arrival, like hot chocolate or hot tea.
Consider hot mini soups as appetizers. Pair tomato soup with a mini grilled cheese sandwich! A perfect combo to warm the heart and body!
❄️
Your guests will appreciate welcome bags with mini lip balms, hand warmers, and hand lotions.
If you can, consider adding these welcome bags or stocking your

wedding bathroom kits

to your

wedding budget

as they can also double as wedding favors.
Please share with your guests or announce/

email

about weather conditions, i.e., where they can park (underground), valet options, transportation options, warmer areas, etc.
You can also add these notes on your wedding

stationery

or wedding

website

to inform your guests of what to expect.
---
---
5. Hire extra help
During winter, especially if your wedding has many moving parts (which they all do!), the weather/cold makes things run a little slower. Sure you can ask for your wedding party to help you, but that even on its own might not be enough.
Even if you try to arrive 1 hour earlier, there will be some delays, which can easily double during the winter. Having more people at your wedding helping out will ease the demand to keep up.
Working with a day-of coordinator/consultant or even having extra servers and helpers will help crowd control. Your coordinator can help you handle things behind the scenes.
Servers and helpers can attend to your guest's needs better and faster, which means the crowd will move along better, avoiding further hold-ups or delays.
6. Speak to your vendors
Working with professional wedding vendors will give you peace of mind as they will have their own winter wedding setup and execution plans that have worked for them and your venue.
Whether it be speaking to your florist and decorator about great options that will hold up during the cold wedding day while still in sync with your vision.
It won't hurt to check in with them regarding their contingency plans.
For an outdoor snow photoshoot, coordinate with your photographer on other location options if the snow gets to be unmanageable.
Add enough time for transitions and 'touch-ups' as you see fit when planning your wedding timeline.
There you are! Winter Wedding Tips and Guide!