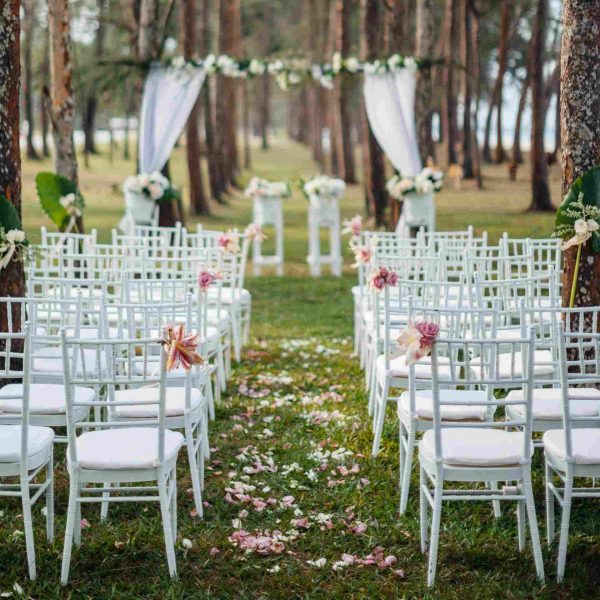 Evening Outdoor Wedding Tips. Chose an outdoor wedding venue? Maybe a garden wedding? Planning an outdoor wedding? Looking for wedding inspiration? In this guide, we are sharing tips on how to navigate an outdoor wedding and ensure your wedding guests are most comfortable!
Evening outdoors weddings are magical! Imagine saying your "I do's" with a beautiful sunset as the backdrop and dancing the night away with the love of your life under the shimmering starry night—how romantic!
There are definitely many perks to having your special day outdoors. However, as there are pros, there are also drawbacks that you would want to consider and prepare for.
To help you get ready for your big day, we've listed some of the dos (✔️) and don'ts (✖️) for outdoor weddings that would go on until the evening.
Evening Outdoor Wedding Tips: Do's and Don'ts
Do:
Don't:
Let's go over these points in detail!
Do: Consider the timing and the weather
This is the most vital thing to consider if you're holding your ceremony outside. You don't want you and your guests to freeze or be drenched in sweat at your wedding. We could say that the ideal seasons for outdoor (and probably tented!) weddings are spring, early fall, or summer. Spring and early fall are still doable with outdoor heaters.
One tricky thing about outdoor weddings is that, even if it does not rain on the day of the wedding, BUT it DID rain 1-2 days before, there is a possibility that the soil is still wet.
SO, having said that, the transitions, area selection, plan B planning, timing (date and time!), and staff to execute are essential to break down and map out.
It's actually perfect to begin the ceremony in the late afternoon when the sun isn't too harsh and then proceed to the evening's reception.
Plus, the time before sunset is what photographers call "the magic hour" to give you the best lighting for beautiful photos. A great transition from a later afternoon ceremony to start the reception is great lighting! Right when romantic lights turn on, it is reception/party time! Your evening outdoor wedding will be a blast!
Do: Get a good photographer
Speaking of photographers, you really must not skimp on this because *obviously* you will want to keep wonderfully captured moments of your once-in-a-lifetime event.
Professional photographers and videographers are amazing at shooting in different lighting conditions. So, consider setting aside a budget to hire a professional and experienced photographer, especially if you're planning for an evening outdoor wedding.
Do: Opt for a more comfortable attire
Would it be too cold and windy or hot and humid at the time of your wedding? This is another thing to consider, especially when choosing your wedding dress/attire and setting your wedding guests' dress code.
Also, do plan to provide guests with lap blankets or portable heaters, especially if it would get chilly in the later hours of your evening outdoor wedding. Still advise your guests to bring their own coats and have a coat rack ready to get organized.
Having "flooring" helps a lot if you and your guests will be wearing heels. You can also give out heel protectors if you'd like to opt out of "flooring" your wedding space.
Do: Be considerate (important to remember amongst the Evening Outdoor Wedding Tips!)
This is important if you're holding a backyard wedding that will go on until the evening. Remember to inform your neighbors beforehand about your plans for having a wedding on your property.
When planning an evening outdoor wedding at a rented space or an estate, ensure signs and accessible necessities like washrooms, sinks, etc. Bigger estates might need a longer walk than usual; consider having a golf cart handy if that is the case. A dedicated walkway – with slabs of cement can be very helpful if the soil is still wet from the rain so that your guests will not be mudded walking around.
Another thing is to consider pest + insect + bug control. At night, depending on the season, these things come about. Be ready with citronella candles, bug stickers (that you can also personalize!), or any other necessary measures to get these bugs out of your guests' way.
Do: Plan around safety protocols
With your guests and yourself wearing masks and practicing social distancing, you can also rent stanchions to ensure physical distancing is practiced. To take things further for extra safety, you can also rent clear dividers (you can also decorate them!) to put in between tables.
Another option is to provide clear face shields that they can still wear, should they need to take the mask off to eat and/or drink. Adding extra preventative measures is always a good idea.
Check with your local government and public health officials about any guidelines, protocols, policies, and/or regulations that you need to meet if you will be holding an event.
Don't: Forget to put a plan B in place
As with any event, it is wise to have a Plan B (or even Plan C or D). This is most especially true for evening outdoor weddings because you won't control the weather conditions. One thing that you could prepare for is to have a backup area/space where you can transfer your event to.
If you're doing an outdoor wedding, the food stations/kitchen has to be considered. When you move to plan B, will the kitchen/serving staff still prepare/serve/manage accordingly?
If the guests move to plan b, how much interval/moving time is needed? Is there enough staff/help to execute this move?
Is there entertainment or cocktail stations while guests are waiting?
If it indeed rained, is there a drying station? Are there towels (also great as favors!)? Are there umbrellas (you can rent these!)?
Will the decor be applicable as you move to plan B?
Remember that you might want to consider having coverage, like wedding insurance, to give you extra peace of mind if you are serving alcohol.

If you opt-out of hiring a wedding planner or coordinator but need an extra server, set-up help, and/or bartender, there are staffing companies like Staff Shop, where you can hire help directly and not worry about other things needed to be executed on the day of the event.
Remember not to underestimate the work and hours needed, as well as things that are still to be done on the day of your wedding, even if you have everything planned already.

Don't: Stress yourself too much
No matter how much you plan for your evening outdoor wedding, there will always be things that are out of your control. How you plan the event will definitely help you not to overthink and stress too much. Creating actionable steps and plans will help you manage stress.
If uncontrollable things happen, remember to keep the main thing the main thing—and that is enjoying one of the most precious moments that you will share with the love of your life, family, and your guests!
There you have it! Evening Outdoor Wedding Tips: Do's and Don'ts!