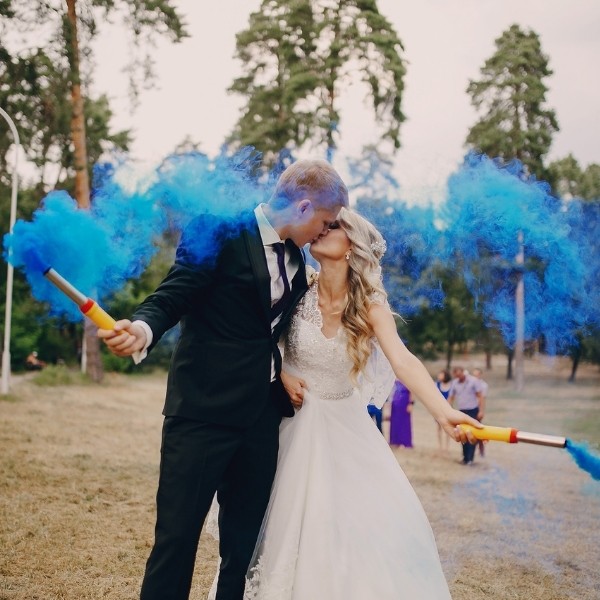 "Something Blue" Ideas For Your Wedding. Blue & Pretty! Looking for wedding ideas for your wedding day to add that "hint of blue?" In this quick guide, we're sharing small "something blue" details that you can add to your wedding!
"Something old, something new, something borrowed, and something blue."
You might think this is too traditional (Old English tradition that is supposed to bring good luck!) and no longer fit modern times, but honestly, it is still super cute to have "something blue" at your wedding!
So let's add a touch of blue to your wedding day with these ideas!
This site contains affiliate links. For more info, please see our full disclosure.

"Something Blue" Ideas For Your Wedding
1. Shoes
Whether you opt to wear heels, slingbacks, or pumps, why not incorporate "something blue" using your wedding shoes?

2. Accessories
Choosing the right type of accessories can surely amp up your overall bridal look. You can do so by adding "something blue" to your accessories;
A blue sapphire ring would look flawless with your white dress
Wear a powder-blue lace veil
Add a statement blue necklace that compliments your dress
A bold navy-blue clutch would be a perfect touch of blue to your wedding
Wear a blue sash or ribbon around your dress
How about ditching the traditional nude colors for your manicure and going for turquoise or ocean blue nails? Also, what do we think about blue tips instead of the french tips?
** PRO TIP: Try out the accessories before your wedding to ensure you get any reaction from the material! Especially if you are using them for the first time!

3. Gown / Dress / Outfits
Because why not? It's your wedding! You can make your own rules!
Skip the traditional white dress and add something blue to your dress. Midnight-blue or a dusty blue dress will make everyone awestruck, by how wonderful it'll look on you!


4. Decor Details (one of our fave "something blue" ideas for your wedding)
Don't feel like wearing blue? No worries. Add it to your decor!
If you want to keep it low-key, replace the white table napkins with light blue ones
You can also add blue-colored plates for you and your partner only, so you both stand out as newlyweds
Light blue place cards? Great pop of color!
A velvet navy blue box for your rings would make the perfect blue addition to your wedding
If these are too "overwhelmingly blue" for you, read on, and we have the easiest and fastest "something blue" ideas for your wedding!

5. Flowers
Adding blue flowers would be a wonderful idea for something blue. No need to go all-blue if you are not into it. Opt for "pops" of blue only so the blue won't overwhelm the flowers, and you can still stick to your original theme.

6. Subtle Hints
Don't want to go too far with adding blue to your wedding? How about getting your initials or your wedding date embroidered on the inside of your wedding gown? So you know it's there to add the lucky charm and a great keepsake.
Also, what better way to honor your loved ones who cannot make it to your wedding than with a photo charm that you can add to your bouquet?

7. Cake & Sweets
Let your wedding cake add "luck" and prominence to your wedding charm.
You don't need to go all out on the blue, but adding hints like mini butterflies, flowers and bows can elevate the look of your cake, as well as bring in that "something blue."

8. Stationery & Styling
Consider adding pastel blue to your invitation cards. Small details like blue flowers or something like using a blue-lined envelope will absolutely add that touch of blue that you are aiming for!
You can also purchase blue ribbons for styling. This blue ribbon can be used in so many ways and the EASIEST and FASTEST way you can incorporate "something blue" in your wedding!
Tie the pieces of the wedding invitation suite together
Put a bow around your champagne glasses for toasting
Wrap it around the bottom of your cake or your money box
When you style ribbons creatively, they can do wonders!

9. Surprises
Use smoke bombs, balloons, candies, drinks, or even blue bags as wedding favors!
Balloons are great decor addition to your bar! There are classy and sophisticated balloon arrangements that will definitely NOT make your wedding look like "another party!"
These little surprises are a great way to add "something blue" seamlessly!

There you are lovelies! "Something Blue" Ideas For Your Wedding!