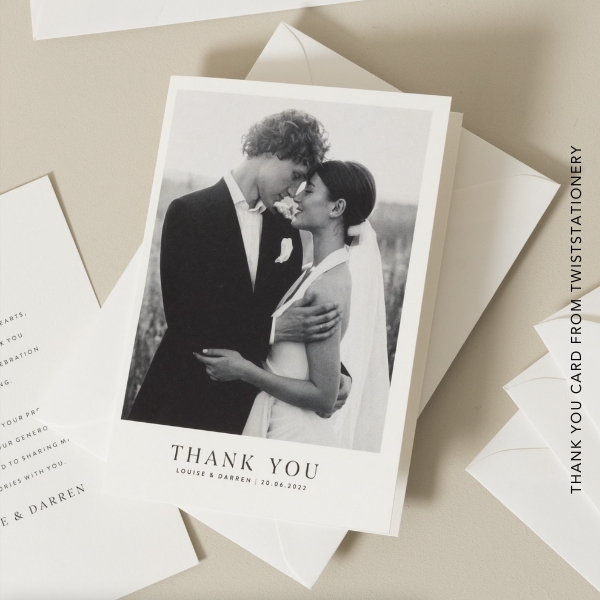 Organize Wedding Thank You Card List: How To. How to create systems when writing wedding thank you cards. Tips for organizing your wedding thank you card list. Gifts, love, and gratitude. Saying "thank you" to your wedding guests.
This site contains affiliate links. For more info, please see our full disclosure.
Now you are officially a married couple, it's time to extend gratitude to the people in your life who showed up and supported your wedding journey.
Expressing your gratitude to those who shared on your special day is important.
Sending out personalized thank you cards is a heartfelt way to show appreciation for the love, support, and gifts you received.
It's generally recommended to send out your wedding thank you cards within three months of your wedding day.
This timeline allows you to strike a balance between sending them timely – so the wedding memory is still fresh in your guests' minds and hearts – while also having enough time to handle the various post-wedding tasks that can come up.
Writing wedding thank you cards can be a lot of work. But this is not just any other "task" – this is showing appreciation to all the people who have supported you and were generous and kind enough to send gifts – both their physical presence as well as monetary gifts.
To make the process smoother and more enjoyable, organizing your wedding thank you card list is a "must!"
In this post, we'll guide you through practical steps to help you stay organized and ensure no one is left without a heartfelt thank you. Plus, you'll have fun in the process!
Organize Wedding Thank You Card List: How To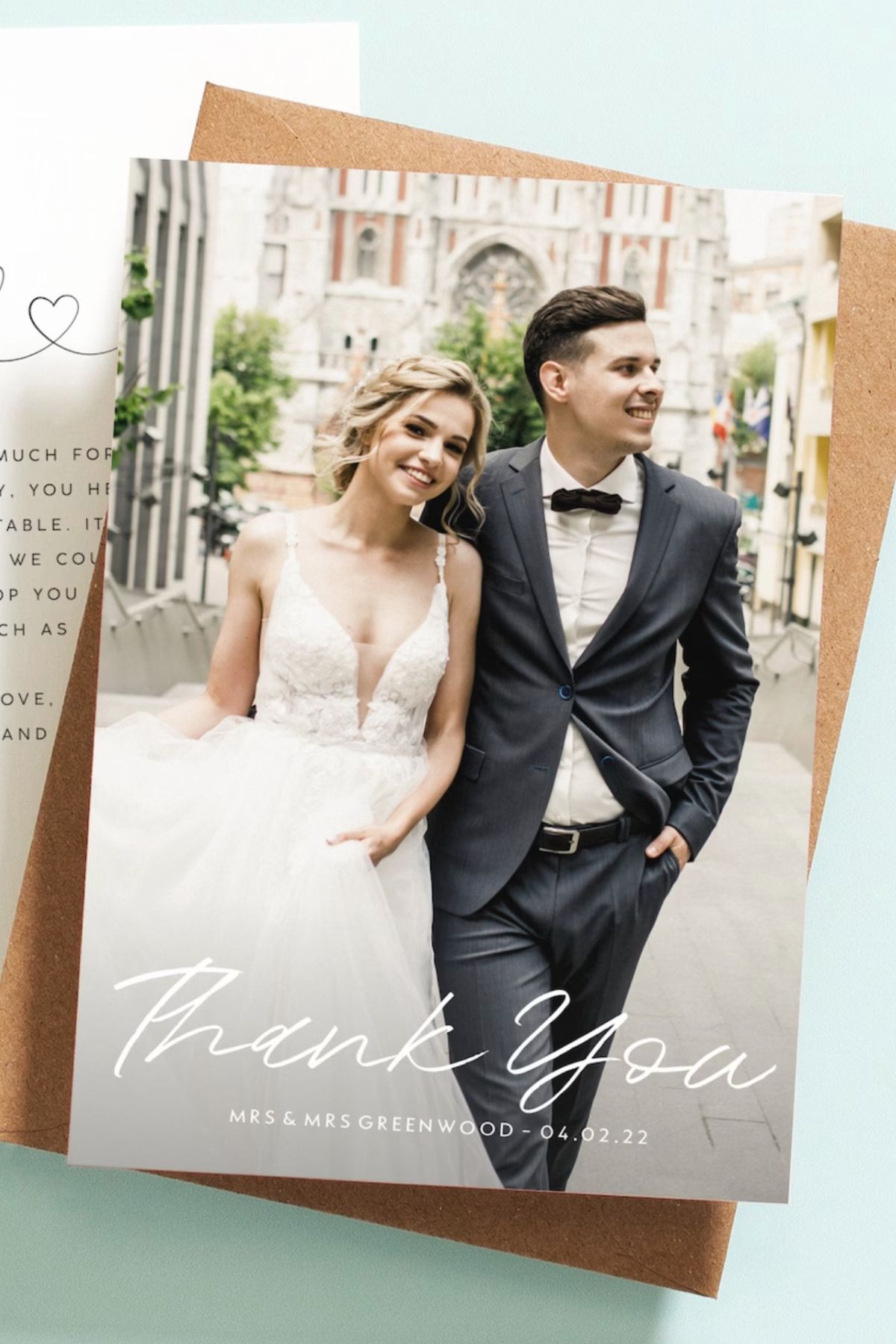 Comprehensive Guest List
Before diving into the thank you card list, ensure you have a well-organized guest list
You probably already did when you started planning your wedding.
This list should include the guests' names, their addresses, and any additional relevant details.
You can go as far as categorizing the list by family, friends, colleagues, and other relevant groups to make it a little bit easier.
If you are using printed thank you cards, you might want to add some extra details to the ones that are closer to you and the ones that have spent more time helping you through your wedding journey.
Note Gift Information
To make your thank you cards more personal, remember to cross-reference your guest list with the gifts you received.
You can add a note to each of the guest information in your guest list and include the specific gift that you received.
This will allow you to tailor your thank you notes to mention the specific gifts and express genuine gratitude.
A spreadsheet or a note-taking app can be handy for this step, helping you keep track of who gave what.
QUICK TIP: You can streamline the thank you card writing process by adding a column in your guest list spreadsheet that will include the gift they gave. As you move down the spreadsheet, you can fill the column with a different color to ensure you don't get confused and mix things around. Also, it's just easier on the eye altogether.
Set A Timeline
If you've been here before (if you haven't, welcome!), you know that we love suggesting breaking down tasks into smaller chunks and setting clear timelines.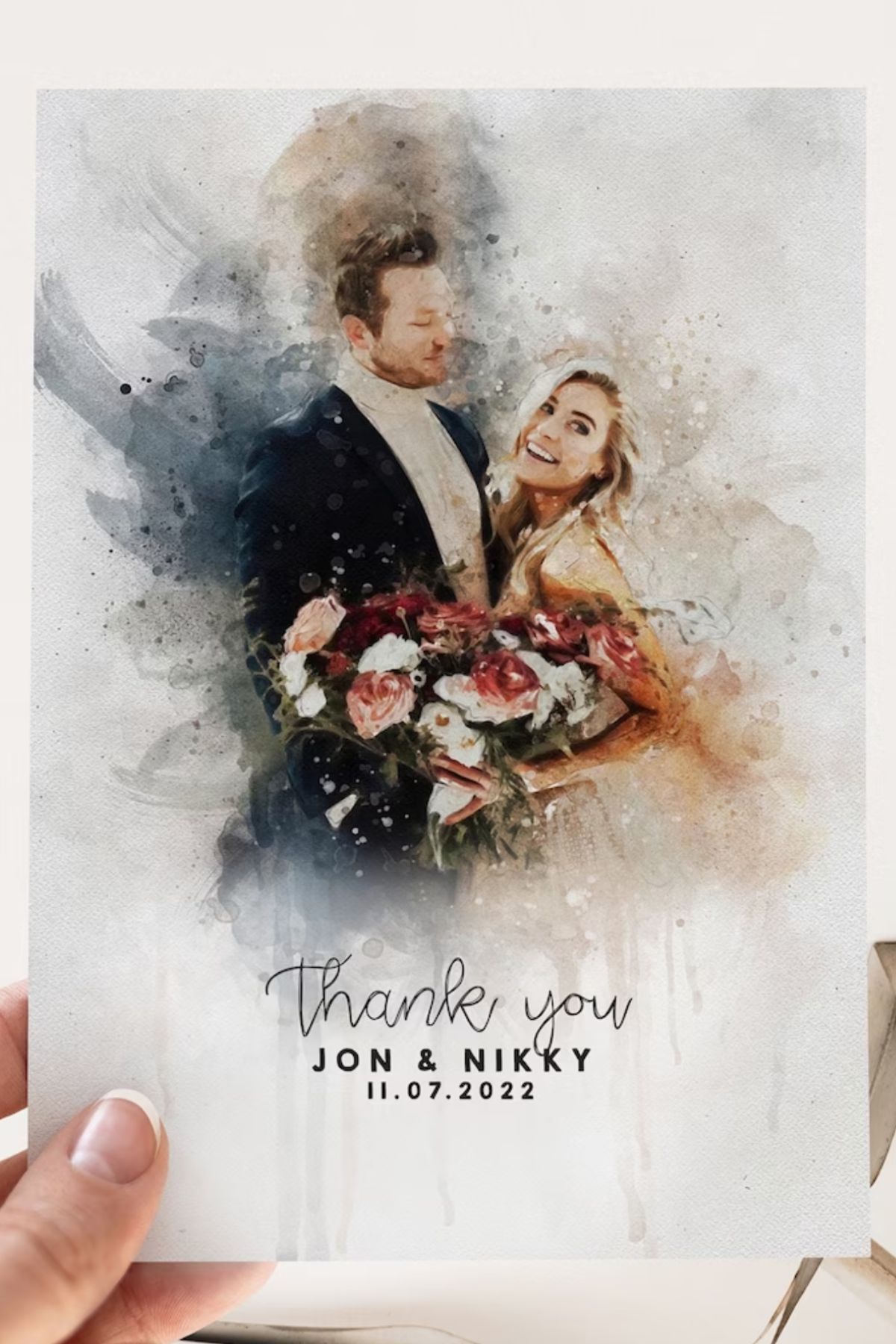 Engage Technology
There are various apps and tools designed to help you manage your guest list, track gifts, and even schedule when you intend to send your thank you cards.
Websites like WEDSITES can help you organize everything much easier.
These tools can send you reminders and ensure you stay on top of your gratitude game.
If you want to use a classic spreadsheet, you can do so! Honestly, I am still a pen-and-paper person, so I still want a lot of things written and scratched off with my pen.
But remember, you are handwriting your thank you cards (if you are!) – that means you are already writing A LOT! So some technological help will be beneficial for you to enjoy the whole writing process.
Break It Down (important on how to organize wedding thank you card)
As mentioned earlier, you have got to break it down for your sanity.
Segment your thank you card list into smaller, manageable chunks. Allocate a certain number of cards to write each day or week. This prevents you from feeling overwhelmed and ensures a steady pace of progress.
If you want things done in one blow, why add 5 more days when you can finish it in 2, or even 1 right? Well, that's fair. But remember to set breaks in between to avoid overwhelm. Still, chunk the tasks within your time frame – whether it be 2 days or a week.

Personalize Your Thank You Cards
Personalization is key when it comes to thank you cards. Mention the specific gift you received and how much you appreciate it.
Adding a cute story or memory that you shared with that person will elevate the feel of the thank you card. Talk about a real personal touch.
This not only makes the card more meaningful but also shows that you genuinely cherish their presence.
Take the time to craft heartfelt messages that express your genuine gratitude. A well-thought-out thank you card is always appreciated, no matter when it arrives.
Don't be afraid to "Google" similar messages. You are not essentially copying and pasting them, but you are using them as a guide and inspiration so you can craft your messages.
Remember to thank those who contributed to your wedding in ways beyond gifts, such as family members, friends, and vendors who went above and beyond. This can include anyone who assisted with the planning, organization, or execution of the event.
You can include a small token of appreciation for those special people who showed up for you. A gift card from their favorite store is always a great surprise and add-on to the thank you card.
QUICK TIP: If you have created great relationships with some of your vendors, you can also send them thank you cards. You might want to foster that relationship if you are planning to have more events in the future (baby showers, parties, anniversaries, etc.)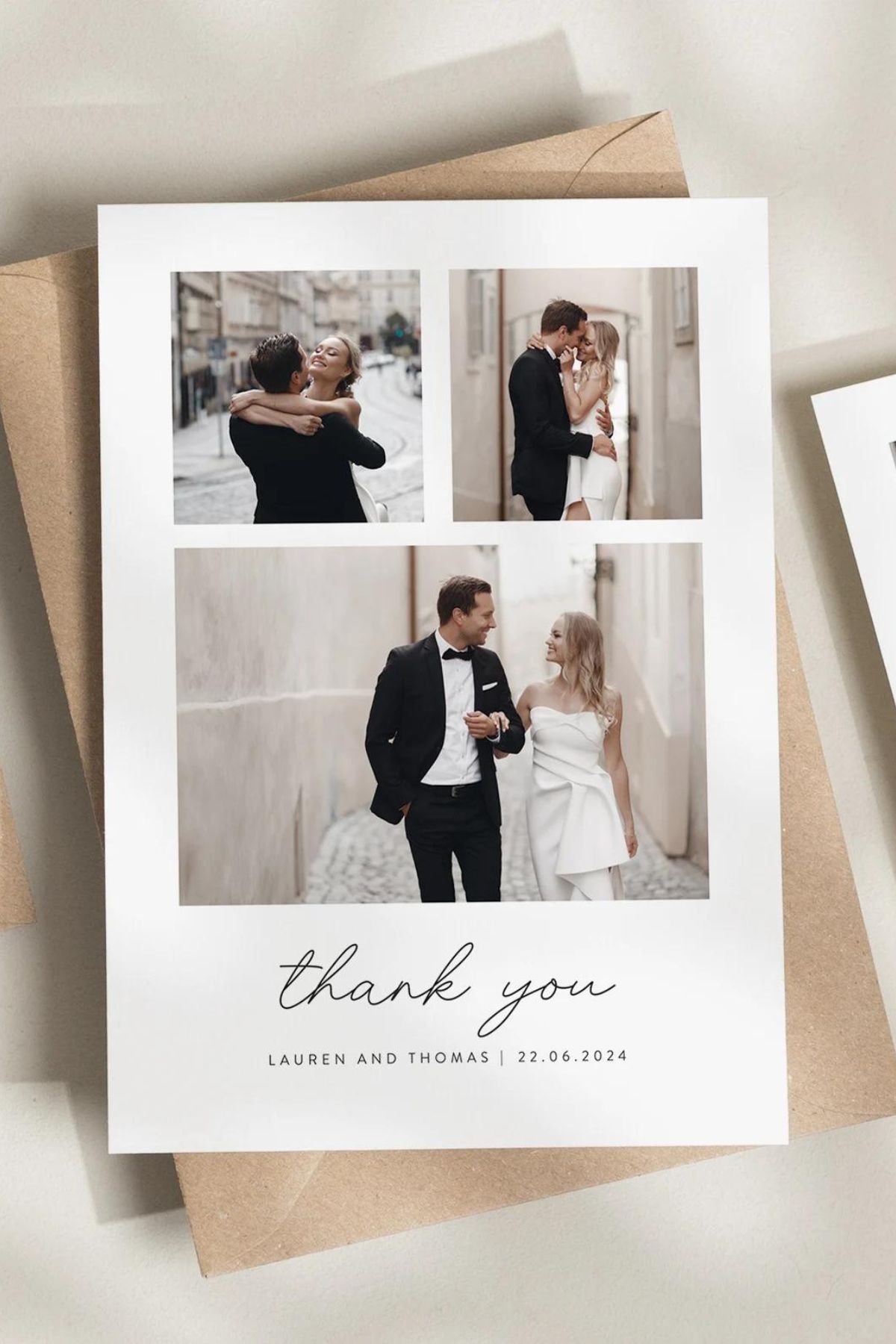 Keep Track
This is where spreadsheets can help as you can easily fill a column when you have done that guest's thank you card and still go back later on a little bit easier once you are done.
Keep a record of your progress. Mark off the names as you go along to avoid duplicates and ensure no one is left out.
Ask For Help
Don't hesitate to ask for assistance from your partner, bridal party, or family members.
This might not include handwriting, but organizing and putting things together will help you a lot.
You can export the names and addresses of the guests and print them into a white or clear address label to help you with addressing the envelopes.
These tasks of sticking the address labels and sealing envelopes are something that other people can help you with and honestly, it's quite an easy task, so this can be more manageable than you think.
You can separate the time chunks or days to help you. This can look like:
Friday: printing address labels
Saturday: writing cards
Sunday: addressing envelopes (sticking the address labels on)
Monday: drop off cards to your local post office for mailing
This is assuming that you already did an inventory of your gifts and have already noted it on your spreadsheet or wedding binder.
〰️ Sending out wedding thank you cards is a beautiful way to extend your gratitude to those who shared in your happiness.
With the help of these steps and staying organized, you can ensure that every guest receives a heartfelt thank you.
Remember, the effort you put into expressing your appreciation will be cherished by your loved ones for years to come.
There you are lovelies! Organize Wedding Thank You Card List: How To!