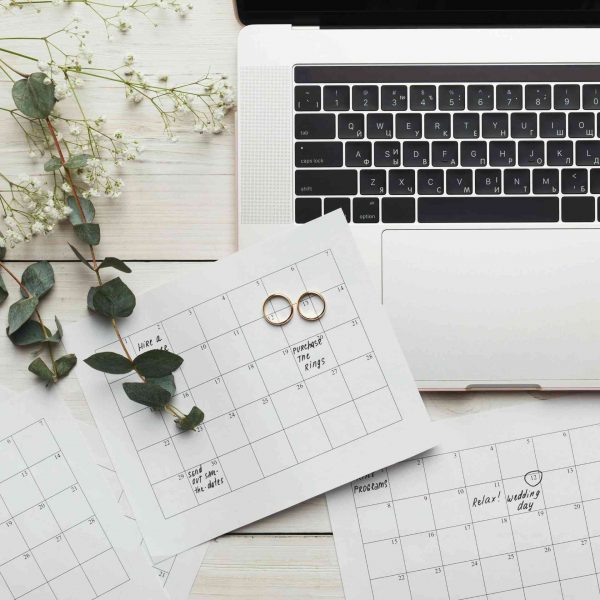 Let's get organized! You might have decided that you will not hire a wedding planner, and will DIY and plan your entire wedding on your own. That's pretty amazing! All the power to you, my love! We're here to help you with a Step by step: Planning a wedding: Breaking it down guide!
Sure, there are binders there that you can download, and you can list "generic" tasks. It is still up to you, however, to break it down further. But, not to worry, here's a sample of how to REALLY BREAK IT DOWN, actual steps in planning a wedding!
GET YOUR FREE WEDDING PLANNING KIT

Here are 6 steps on how to plan a "to do" for your wedding: Breaking it down:
What type of steps in planning a wedding are we about to breakdown, you ask?
HOW TO PLAN A WEDDING ON A SMALL BUDGET
IMPORTANT: Always set a schedule and deadline for each task.
Well, we're giving a specific example. So here's how you can do it, instead of just saying "BOOK PHOTOGRAPHER," you can create a sub checklist under it that will say:
1 ] * research top photographers for 4-5 hours with your partner, rank them accordingly (grab a glass of wine too and cast it to your TV so that you can really enjoy this time together!). I would suggest to come up with 6-8 choices;
HOW TO STICK TO YOUR WEDDING BUDGET
2 ] * reach out to the top 5 photographers based from your research;
3 ] * based on the responses you receive from the top 5 photographers you reached out to, schedule a meet/virtual consultation with only the top 3 (oh yeah, we are chopping down the list American Idol-style lol!) out of the top 5 photographers that were contacted;
WHY YOU SHOULD CONSIDER HAVING YOUR WEDDING AT A RESTAURANT
4 ] * discuss with your partner who will be the best choice and make the final decision to book (you can spend another 1-2 hours on this); at this point, you can ask your photographer of choice a few more questions to validate your decision;
WEDDING HACKS THAT WILL SAVE YOU MONEY: TOP 30
5 ] * put down an initial payment and sign the contract;
6 ] * file away and move on to the next task in your steps in wedding planning;
See how that was broken down in detail? The breakdown helps you tackle the big goal instead of just saying "book a photographer" step by step, and just by looking at it, it makes you feel good that you have a road map on how to do so. This helps break down the steps in planning a wedding.
WHY YOU SHOULD HAVE AN INTIMATE OR A MICRO WEDDING EVEN WHEN THERE IS NO PANDEMIC
SIDE NOTE: research mentioned in (1) includes studying their portfolio, packages, previous client experience, their peers in the industry, where they have worked before, etc. When you're discussing (2) with your partner, consider how you guys felt in your meeting, were you comfortable, did you guys have a good laugh? Since you have already established that they are amazing photographers, you have to evaluate the personal aspect; do you feel comfortable around them? Do they get your jokes? Are they positive?
You can create a similar step-by-step process when booking other vendors; again, when your steps in planning a wedding have a breakdown, this helps you have a better flow. Set standards and limits and follow through with them.
PRO TIP: SPEAK TO A PRO WEDDING CONSULTANT. Even if you are not planning on hiring a full wedding planner, speak to a wedding consultant to help you organize your thoughts and plans. This can also help you with the execution moving forward.
Speaking to a pro puts many things in perspective and gives you pro insights to help you move forward with your planning, ensuring you got the process working for you!
PRO TIP 2: Create your own wedding email. Create an email account specifically for your wedding – "the.wedding.joe.and.jane@gmail.com" (this is just an example). This will help you put everything together in one place. Also, manage the calendar for bookings and deadlines.
When you book appointments on your wedding email calendar, invite your personal email to see them on your personal calendar! Having a separate personal/work and wedding email will make you more focused and organized!
Later on, as you start putting things together and think you will need more help, you can consider hiring a day-of coordinator.
20 CREATIVE WAYS TO SAVE MONEY ON YOUR WEDDING
There you are! Steps in planning a wedding: Breaking it down!