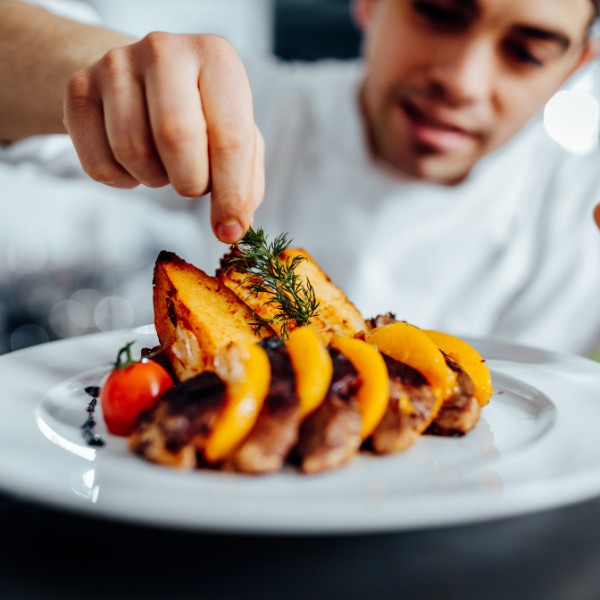 Questions to Ask Your Wedding Caterer. Interviewing your potential wedding caterer? We got a checklist of questions for you! In this guide, we are sharing suggestions to help you how to select a wedding caterer.
Let's talk about your wedding food, shall we?
After all, food is the major concern for everyone at your wedding, say the experts in the field. Whether you are planning a sit-down dinner or cocktail hours, your food and drink selection should be planned to its excellence.
However, finding a caterer for your big day is quite a task as you have to consider your budget, menu, and guest count. So it's better to work on it as early as possible.
Take social media help, research creative caterers, check the reviews, work out your budget, and interview a few caterers before coming to a final decision.
Here is a list of questions you must ask your potential wedding caterer before signing the contract.
Cover the Bases
Do you have a license or are you able to cater our wedding reception at our venue? (this will ensure that they have met local health department standards or not and if they have liabilities insurance or other requirements to cater)
Do you have liquor liability insurance? (most likely they have, but double-check, also this is something that they. can purchase for your wedding!)
How long have you been in this business?
Have you catered for a wedding at our venue with our guest count?
Can you provide a reference from their previous clients? (testimonials, reviews, and even previous events that they can tie with yours!)
Are you available on your wedding date?
Do you book multiple events per day, if so, does it work for you?
What is the required space that you will need at your wedding venue?
How much time do you need to set up and clear up your venue?
What are their specific needs to set up in your wedding venue?
About Them (Questions to Ask Your Wedding Caterer)
Will you provide a manager to coordinate meal services for our wedding?
Will you provide all waitstaff for the wedding? If yes, then what will be the server-to-guest ratio? (great caterers should be able to advise if you need more staff to avoid lineups and crowding)
How many bartenders will you provide? (if they are serving drinks)
What will the waitstaff wear on our wedding day?
Do you provide tables, chairs, silverware, etc.?
Do you provide table settings, linens, etc? If yes then can they show you the designs and color schemes they have? (they should be able to refer you to their suppliers, usually, this is better especially if they have worked together in the past and have a great relationship)
How far in advance do you need to know the final guest count?
Can we go through the contract together?
Do you have any package plans for weddings? (as you can get good discount deals if they have them)
(if you are looking to customize) Based on our budget and goals/needs/theme, are you able to come up with or develop something similar that will work for us, outside the standard menu?
What are the payment plans/schedule?
What do the cancellation and rescheduling terms look like?
Can you break down all the charges that we are to pay, from the time of booking up to the conclusion of the wedding?
What methods of payment do you accept? Which payment method will be of some advantage to both of us?

Food, Service & Presentation
Do you have any specialization in a specific cuisine or certain type of food such as organic food, gluten-free food, etc?
Can you prepare separate meals for a small number of guests such as kids' meals, kosher, halal meals, or food with various dietary/allergy requests? (dietary restrictions)
What do you think is the best option for us in terms of food choices to maximize our budget?
Do you prepare food on the site or bring it to the wedding venue?
Will there be an ingredient list? Just in case some sensitive guest/s asks?
What is their standard portion size?
What do you do with the leftover food?
Can you provide a sketch or sample of how the

buffet

table will look like? Including set-up and decor?
Do you offer specialty displays such as a chocolate fountain or espresso machine etc?
Are you able to help us with the food stations?
Do you offer food tasting? And if yes then when will it take place? And will there be a charge for the food tasting?
If coffee, tea, and other drinks included in per-person meal charges?
Will you be able to pair our food with alcoholic drinks? – are you able to provide those alcoholic beverages?
Can you share with us the bar options? (hours, alcohol options, number of bartenders, etc.)
Are you able to accommodate custom cocktails at your request?
Generally, the best way to approach this is to work with the in-house caterer from your venue. It will be much easier to work around logistics, decisions, styling, and other details when vendors have already worked before and understand the "lay of the land."
If you are sourcing a caterer, still ask your venue for their 'preferred vendors.' There is a reason why these vendors are preferred. They have built a solid relationship and have been tried and tested by the venue already.
Meaning it will be less likely that you will encounter problems. Now, of course, nothing is perfect in this world. But experienced, creative, and professional wedding vendors will ensure they will work on your wedding as close to perfection as possible!
There you are! Questions to Ask Your Wedding Caterer!