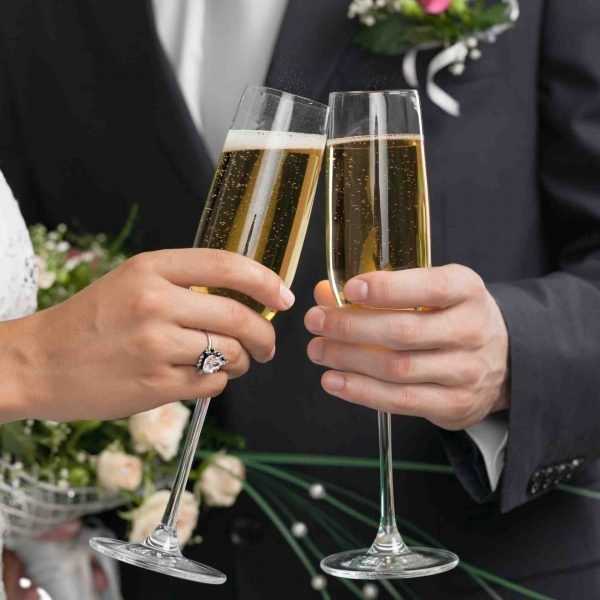 Peace of mind… Do I Need Wedding Insurance: Why and Why Not. Definitely lots of big words floating around wedding insurance: host liquor liability, wedding insurance coverage, wedding cancellation insurance, wedding liability insurance, special event insurance, wedding insurance policies, wedding liability coverage, cancellation coverage… I mean aren't these all overwhelming?
In this guide, we are sharing the basics of wedding insurance, liability coverage, how to get covered through insurance companies, as well as what do these policies cover.
This site contains affiliate links. For more info, please see our full disclosure.
Like weddings, big events require a lot of planning and a huge amount of time and effort (and a big investment!). As you may have tons of things to take care of and dozens of items to cross off your to-do list, the last thing that you will probably think about is getting event insurance.
However, if there's one thing that the year 2020 has taught us, anything can happen. And even though you don't want to think about it, unforeseen circumstances could happen even in a well-planned wedding. So, event insurance is something that you may want to consider.
What is a wedding insurance?
Wedding insurance is a type of event insurance that protects you from losses incurred from situations beyond your control.
Generally, there are two types of coverage for wedding insurance policies:
Liability Coverage
This protects any liability for damages to the venue or when someone in your party gets sick or injured during your event. Some insurers also offer host liquor liability (PAL, party, and alcohol liability coverage), special events liability (bodily injury and property damage), property coverage, and even custom ones that you can purchase depending on your event's need.
There are different liability insurance types; make sure you discuss them with your insurance broker to find what is best for your event. Even if you are renting a space for your wedding, it is good to have rental insurance.
Here is an example from our partner Duuo Insurance, of what an Event Insurance Policy may look like.
TIP: Check with your venue if they require you to provide proof of PAL insurance (party, alcohol, liability). This is something you must factor into your wedding budget.
.
GET YOUR FREE WEDDING PLANNING KIT

Cancellation Coverage
This type of policy protects you from the expenses of having to cancel or postpone your wedding. Some situations that are often covered by this policy include: issues with vendors, accidents before the wedding, extreme weather, and other extraordinary circumstances, like a global pandemic (sounds familiar?) This is a particular coverage, be sure to find the right broker that provides this.
TIP: Be sure to check your postponement and cancellation clause with your vendors (venue, photographer, caterer, etc.). Compare it to the cancellation clause that your potential insurance broker is offering and cross-check the coverage.
Why you need a wedding insurance
For your peace of mind – Your wedding is one of the biggest days of your life, not to mention the most expensive. You never know. Getting insurance assures you that you are protected by whatever happens during your special day. As with any insurance coverage, it is not always 100% covered, but to know that you have assistance through your insurance, is still a big help.
TIP: Check with your vendors (e.g., venue, caterer, etc.) if they already have existing insurance. This will help prevent you from paying for what's already covered, and it also assures you that you are fully covered with your policy.
Depending on the coverage you need, event insurance's cost might not be that big of an investment as you think it is. Ask for quotes, and compare coverages. The cost of wedding insurance varies depending on the scope of coverage and type of event. However, it is still minimal compared to the possible expenses you may incur should anything unforeseen happen.
** IMPORTANT: Consult with a professional insurance broker to discuss the type of insurance you are looking for and discuss the right fit for your event. Understanding the coverage of your insurance is very important. Speak to a professional insurance broker or advisor to determine what is right for you. **
If you're looking for an event insurance provider (not including cancellation) for your big day, our partner Duuo Insurance has the easiest online platform so that you can get a wedding insurance quote in just a few minutes.
Use our PROMO CODE: PeppermintCo2020 TO GET 15% OFF on your premium!
There you are! Do I Need Wedding Insurance: Why and Why Not?