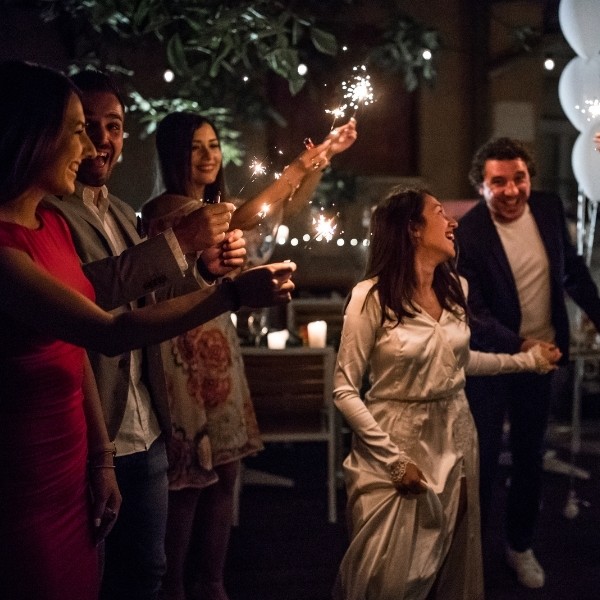 RSVPs and Seating! How To Manage A Wedding Guest List.
As much as we want to invite everyone we know, that won't be easy to manage! I mean, it is possible and reasonable, but that might strip a lot of "meaning" and "special connections" that we want to achieve and feel at your wedding.
We're here to help you manage the decisions that you are about to make. So we've compiled a list of tips and techniques to help you maintain a "balanced guest list" at your wedding.
Prioritize & Divide
Prioritize, meaning who are the "must-have" guests at your wedding. We are talking about the most important people in your lives; it might be your family, relatives, and special friends.
Now that you have that list, you can now deduct that number from your "total" guest count. This "must have" guest lists, are more often than not, almost 95% sure to come and attend your wedding.
The remaining number, you can distribute accordingly. Speak to your partner and family. Say give your partner 6 seats for co-workers or sports buddies. You can also give your family 10 seats for their closest friends that somehow played a part and helped when they were raising you. (somewhere along these lines!)
If there are extra seats that are needed, creatively share how you are already at a "max" number that the venue can hold and it might be harder to add more people. Or if you would actually want to add those people in, you can either politely ask for contribution for those seats.

Plus One? Yay or Nay?
This can be tricky. There can be a lot of combinations and circumstances that can come up when deciding this. But there must still be a line drawn, especially for single guests.
A year of dating might seem ok to invite the "plus one." You can also navigate around it, and if you have not really "hang out" and/or had a real conversation with the "plus one," then you technically do not "know" them and might not necessarily be an "automatic" plus one.
This is a very subjective decision, and absolutely up to your and your partner's discretion.
No kids allowed?
This decision will come with some consequences because if you do not allow kids, some guests (especially the parents!) might not have an option but to decline their attendance or come but will have to leave earlier than usual.
It is definitely fair to note this with your guests. Most especially there are venues that are also not child friendly.
If you do allow kids as guests, depending on the number of kids you are having at your wedding, you might need to set up some activity and set up specifically for them to let them enjoy themselves so that you can enjoy your wedding.
HOW LONG WILL IT TAKE TO PLAN A WEDDING?
GET YOUR FREE WEDDING PLANNING KIT

B-list can hurt feelings
One of us has probably been on the B-list. Sometimes we don't know it, but for the most part, we know.
It can definitely hurt feelings; both ways. They will get a little hurt that they were on the b-list and you will also get hurt because they will most likely say no.
Invite the people up to the max number of people allowed or what you have the budget for. Even if you have 10-20% of guests who cannot make it, you will still not have an empty room.
Even if 30% are unable to attend for whatever reason, you can increase the size of the dance floor or create a seating plan that is 6-8 seaters only, which will still fill up space (or you can also choose centerpieces that are in groups to occupy more table space, again, so it won't look empty.)
Create a checklist
Going through important points as you figure out your guest list with your partner can help "qualify" a guest. Here are some points that you can go over:
Met once or twice, but never hang out? Probably a no.
It's been 1.5-2+ years that you have not spoken? Probably a no.
You are inviting this person because you went to their wedding before, but no longer have the same closeness? Probably a no.
The troublemaker? Probably a no. It can be a yes, as long as that person is seated with the "responsible adult" gang to be "watched over" because they can actually be fun too (they usually are the best hype people!)
You and your partner can make up your own "criteria" for qualifying guests. It might seem a little too much. But when you have a big circle, there will be a limit that you will have to work around (unless you, of course, want to invite everyone, which is also totally ok!)
HOW TO PLAN A WEDDING IN 3-6 MONTHS OR LESS

Last-Minute Requests
Just when you are about 70 or 80% done/finalized your wedding guest list, you get a request or someone remembered someone, or you went somewhere and picked up a new friend you feel like you've known forever, do you make an exception and give in?
This is totally up to you. But if you would like to fill in your guest list or venue up to the rim, sure. Or if you have an extra 10-20% space from the non-attenders, it would be great to fill up space (this is such a creative take on a b-list!), then totally go for it!
As per usual, every wedding is different and we hope this guide will help you navigate around creating and managing your guest list!
There you are! How To Manage A Wedding Guest List!