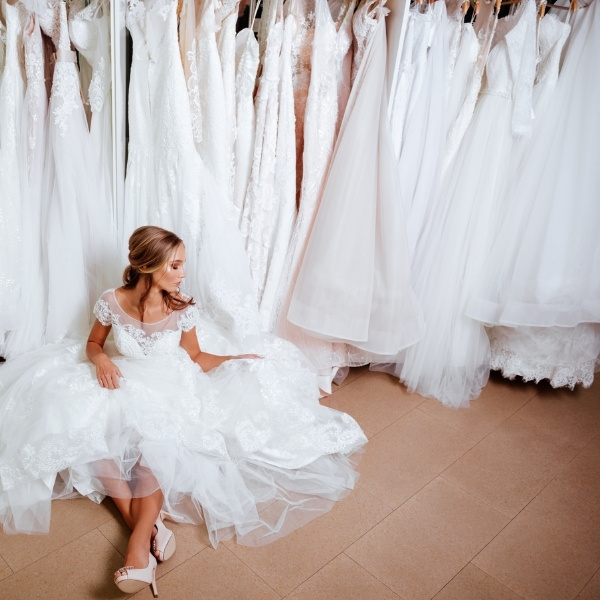 Prepare for Your Wedding Dress Shopping. Ready, set, go! In this guide, we're sharing tips to help you shop for your wedding dress in a stress-free and fun way!
It's finally here! Prepping to shop for THEE dress! After months of research, pinning, and figuring out your style and vibe, now you actually get to try it on – and of course, have a glass of bubbly with your entourage!
From your dreams (Pinterest board) to reality, here is a complete guide to your wedding dress shopping.
How to: Prepare for Your Wedding Dress Shopping
1. Set a Budget
This goes without saying. Any bridal shops you walk into will first ask you about your budget. This will help your bridal dress consultant pull the dresses that will meet your budget.
I mean, we've all seen Say Yes! To the Dress! – and it might be tempting to try out your "dream" dress even if it is outside your budget. But this will have a not very settling consequence – you will most likely fall in love, and it will be hard to get over it!
Research the bridal shops that you booked. The best bridal shops also have great consultants and selections. They will be able to pull something within your budget that is similar to what you have in mind (or on your Pinterest board).
PRO TIP: Be realistic. If you want all Swarovski crystals and unique handmade materials, expect your dress to be on the higher end and require a higher budget. As mentioned earlier, your bridal consultant should be able to pull something similar that is within your budget.
PRO TIP 2. Know what you want, but be open. There will be lots of variations of your dresses. Some of them might be good on paper, but you might actually find something that will surprise you, and you might fall in love with it unexpectedly!
2. Visualize Your Dream Dress
Have a look at your Pinterest board for your dream wedding dress. Do they look cohesive? Is there a style that stands out?
Before booking your appointment, narrow down your choices. Set your non-negotiables – like a modest neckline, sleeveless, etc. Does the brand/designer matter more than the style? What are you ok being flexible with?
You might be surprised by other things that might be a better choice than what you initially think. Know what you like, but also be open to surprises!
What silhouette are you most comfortable with? The style that you feel most sexy and confident in? These are questions that you would want to ask yourself before planning your wedding dress shopping.
PRO TIP: If you have already shopped for your wedding shoe, or at least know how high your wedding heels will be, bring a similar shoe! This will give you an idea of how the whole outfit will look like!

3. When to Start Bridal Dress Hunt
Typically wedding dress shopping should start 10-12 months before your wedding. Choosing a wedding dress is not easy to finalize, and even if you are good at making decisions, it takes at least 6-8 months for it to get ready. It may need some alterations, which can take up some time as well.
PRO TIP: Set a max number of bridal stores to visit. Shopping for dresses can be a great time and sometimes we might take longer to decide than expected, and it is ok. Setting the maximum number of bridal stores to visit will help you commit better. The more you go to many stores, the more you see, the HARDER it will decide.
4. Print out (this will help a lot as you prepare for your wedding dress shopping!)
When you get to your appointment, it will be easier to print out instead of showing your phone on your Pinterest board.
Having a printout also helps you narrow your top 5-8 choices and stick to it. Your consultant will also have an easier time understanding your vision and pulling the closest dresses to your vision.
5. Consider weather and location
Great consultants ask you about your wedding details, like when and where. Your dress choice in the hard winter will be slightly different if you go off to the Bahamas for a destination wedding.
Let your consultant know when and where you are getting married. They will have great suggestions that will complement your dress of choice.
6. Your entourage
Choose your friends whose style sense matches yours and understand you enough to bear your indecisiveness or specific style. They should be as excited as you are about your wedding dress. They should help you with your decisions and not force their choices on you.
No negative vibes on your wedding dress shopping! You can even go as far as to set some rules – like no use of negative words or no sly comments. Setting the mood and the vibe is essential.
7. Undergarments
One more important thing to remember in preparing for your wedding dress shopping is to make sure you wear the undergarments that fit you properly. Nude is the right choice of color to keep it neutral and not add too much contrast when trying your dress on. Going strapless helps a lot when you are trying to envision yourself in a dress.
Remember that most dresses on the rack are not always going to match your size, so there will be clippings on the dress to make it fit your body shape. Choose undergarments that are tight to your body to avoid any mishaps.
8. Minimal Make-Up
Do minimalist makeup when you are going to try out dresses to avoid makeup stains. Understandably, you might want to see yourself in full makeup and the dress together, but you can still do that on your final fitting.
You can bring your make-up artist and stylist (as applicable) if you like to help you with your overall look!

9. Documentation (this is important as you prepare for your wedding dress shopping and make that final decision!)
Don't forget to take pictures in every dress you try on from all possible angles. These pictures will help you compare the dresses and help you decide which one suits you best. You can also show these to your stylist and have their opinion as well.
PRO TIP: Why not dance in it? Try and see if you are comfortable moving around with it! Be a little cautious to avoid any rip or tear on the dress, but worth feeling if you can move around with it!
10. Add to calendar
Set reminders and add important dates to your calendar.
Suppose you are making a second appointment, and you have your entourage to accompany you. In that case, you can also invite them on your calendar reminders so it will be easier to update them.
11. Share the details
You should always talk to your makeup artist, hairstylist, and stylist about your dress and decide on the makeup and hairstyle to complement your dress. It is essential to determine the overall look so that you will not scramble on the wedding day.
There you are! How to: Prepare for Your Wedding Dress Shopping!