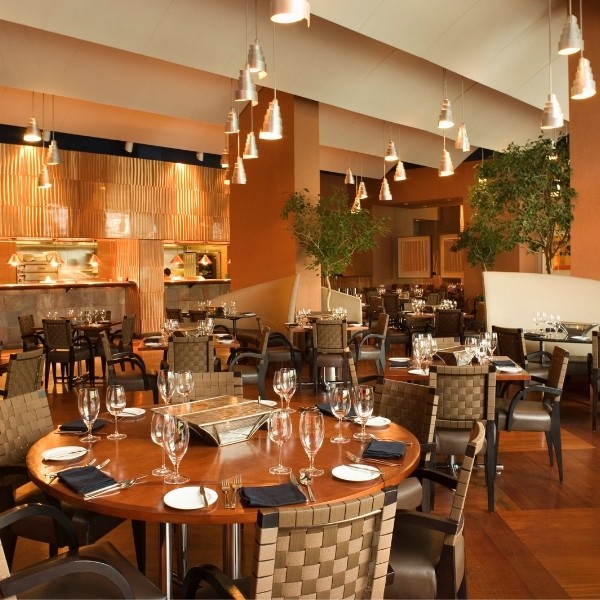 Wedding At A Restaurant: Why You Should Consider? Is it cheaper to have a reception at a restaurant? How much does it cost to rent a restaurant?
In this guide, we are sharing tips on why you should consider having your wedding reception at a restaurant!
Restaurants are only often associated with celebrations and events but not weddings, which is understandable. After all, weddings usually require more tables, a dance floor, a DJ booth, a space for the bar, and other requirements!
But that's not always the case, is it? There are amazing restaurants with great layouts that allow you to work around your own floor plan goals. Some restaurants can accommodate your wedding and can also possibly save you money!
You got great food in-house, you can plug into their existing sound system, you can have bar access, great staff, an intimate vibe, and just all the good stuff! It's just a matter of finding the right restaurant!
We've rounded up reasons as to why you should consider having your wedding at a restaurant!
Wedding At A Restaurant: Why You Should Consider?
1. Quality of food
If you've eaten at this restaurant before and you absolutely loved the food, then this might be a great decision for you! You can have a wedding reception at one of your favorite restaurants.
The flavor and quality of food is the most important factor you should consider while booking a restaurant. It might even be the restaurant where you and your partner had your first date or anniversary dinner. It can be more than just a restaurant but a venue with a personal significance to you and your partner.
In addition, you can also have appetizers on the table and have your guests share and only pay for the mains and dessert.
2. Great for intimate weddings
Restaurants with a great layout is a great space for intimate weddings. Working with a wedding consultant/designer will help you see design and layout possibilities. You will be surprised by what you can do and achieve in a restaurant setting!

3. Pocket some savings (our fave thing about a wedding at a restaurant!)
This is also good for your wedding budget! You don't need to hire more vendors as there is built-in catering, decor, and music; however, if you need to make it fancier, you can further spend on decoration.
Restaurants have great decor already as it is that you can make use of. You can easily add some dried flower arrangements and rent candles to make the restaurant perfect for your wedding.
It is good to mention that to book a restaurant; there is usually a minimum spend. That means if you are to book it on a Saturday night, you will have to meet their minimum spend requirement.
With your guest count, per plate price, and alcohol selection, more often than not, you can reach this minimum with no problem. You can also select how you'd like to pay, you can pre-pay a percentage of the total, and if you'd like a consumption bar, you can also do that and settle the bill at the end of the wedding.
If you're not assuming your guests drink more than usual, a consumption bar might save you a lot of money!
4. Little to no rental is needed
If you have decided to go with a restaurant that already has amazing decor and in-house furniture, you might have to work on the layout and re-arranging them, but not necessarily need to rent extra chairs, tables, linens, etc.
It is good to note that restaurant tables are narrower and more rectangular/square in shape, which means you will need less table decor. You can fancy it up with dried flower arrangements, minimalist decor, and rent flameless candles.
As well as you can consider easy DIY affordable wedding centerpiece ideas here. Or also have a look at pre-arranged wedding flowers like those from The Bouqs.
5. Less Managing
Restaurants usually have their shift manager and event planner on-site for each event and wedding. They know the kitchen well enough to get things going.
Most restaurants also have in-house DJ/band/performers that usually play on the days you have it bought out; ask the restaurant if they can refer you to them, and you will most likely get them at a better rate than going searching for vendors on your own.
6. Create your own dancefloor
The questions always lie, where can we put the dancefloor? Which is absolutely fair. Depending on the restaurant you choose, most lounge restaurants have extra space for a dancefloor and a band/DJ, as they probably do those on the weekend anyway.
Another thing is that you can easily move things around and create a space for the dancefloor. Label the dancefloor with a monogram or outline – you can easily order these online. You can DIY this or get printed, as they can be removed easily right after the event!
As we have mentioned before, when you work with a wedding consultant/designer, they can see past what is there and give you ideas and designs that will blow your mind! They will be able to show you the possibilities that will help you achieve your vision!

7. Multiple areas/sections
Depending on the number of your guests, if the restaurant of your choice has multiple floors, you can use it for different activities for your wedding: cocktail hour, dancing, lounging, and a photo booth.
Another reason why you should consider having your wedding at a restaurant is that most restaurants have great accessibility, as well as parking- even valet services. They also have an in-house front desk that can assist your guest with seating and if there any directions needed to be provided.
Other areas/sections in the restaurant can be used as a "getting ready" or even a "family area," especially if you have some elderly or kids as guests.
8. Privacy (a great perk when holding your wedding at a restaurant!)
Since you are buying out the restaurant, unlike bigger venues with multiple rooms, you have the whole space to yourself— there is a lot of personalization/customization, and of course, privacy/exclusivity.
9. Creative seating and layout
The best thing about a restaurant is that you can creatively seat your guests and create your own floor plan.

There will be a lot of possibilities you can play around with. Speaking with a wedding consultant/designer can help you develop ideas and non-traditional layouts and decor to create a unique experience for your guests.
There you are! Why you should consider having your wedding at a restaurant!