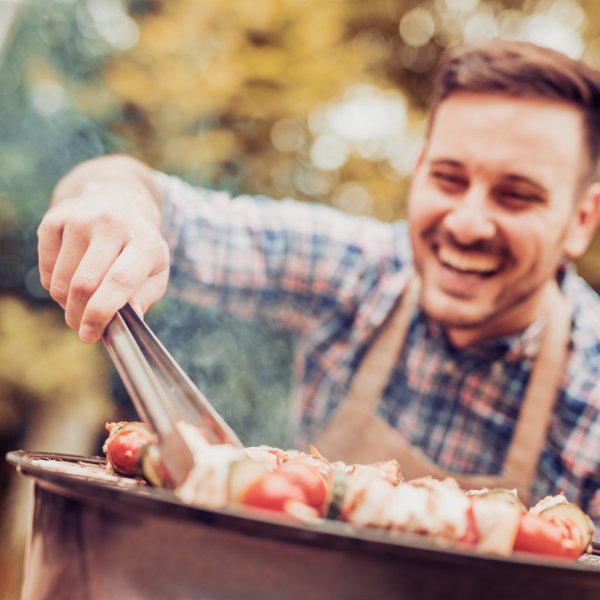 Cookout Wedding Reception? What is that? Backyard barbecue wedding? Grilled food wedding reception? The perfect blend of love and BBQ. Love on the grill. How to create a memorable cookout wedding reception. Experience a fun cookout wedding reception with these tips!
Cooking out for a wedding reception can be a great way to create a fun and relaxed atmosphere for your big day. With some preparation and planning, you can create a memorable experience for your guests.
If you are trying to be unique with your wedding reception, there are quite a few options available out there to consider. One of the best ideas would be to have a cookout wedding reception.
PRO TIP: Yes this post mentioned that this is for a wedding reception, but you can use this cookout reception setup at any event. Whether it be your bridal shower, engagement party, or rehearsal dinner. This reception style promotes mingling and bonding for yourself and your guests.
This site contains affiliate links. For more info, please see our full disclosure.
Cookout Wedding Reception? What is that?
A cookout wedding reception is a casual reception, which is usually held outdoors or in a backyard, where food is usually cooked on a grill. Usually held during late spring, summer, or early fall!
The main attraction is usually the food, which is typically cooked over an open fire or barbecue. Guests can enjoy a variety of grilled meats, vegetables, and side dishes.
Serving steak medallions, grilled lobsters and the like are usually the choices for a cookout wedding.
Guests who come to the wedding reception will be able to bring their cooked dishes as well.
Many couples choose to have live music, lawn games, and other activities to keep their guests entertained.
In general, the dress code at a cookout wedding reception would be more casual.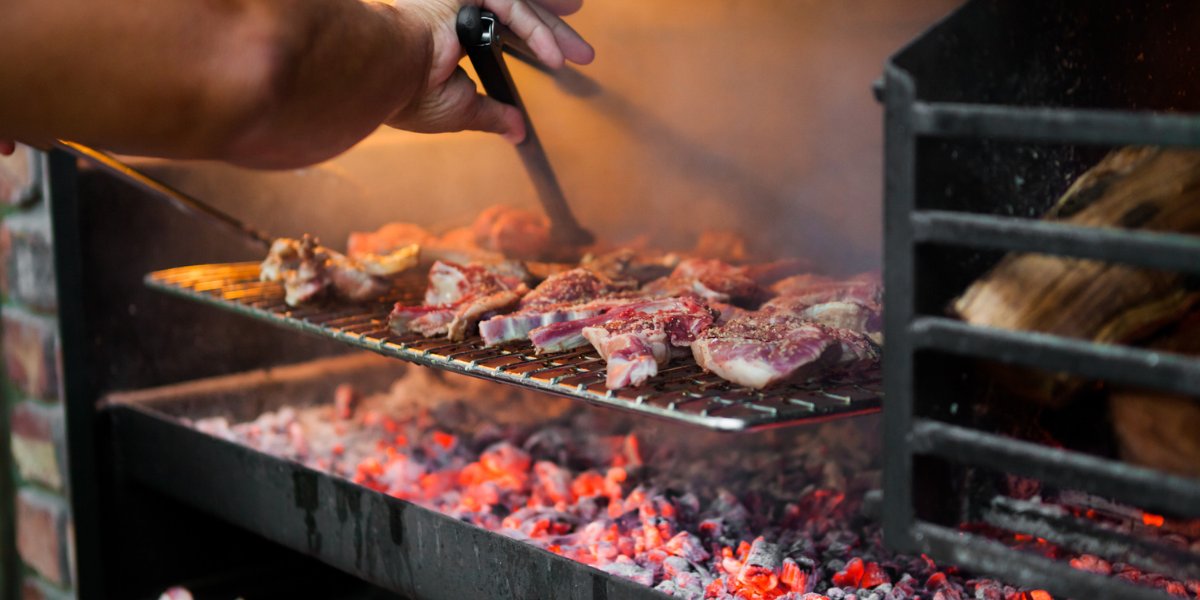 How to prepare for a cookout wedding reception?
Now that we have discussed what a cookout wedding reception is all about. While keeping that in mind, let's take a look at the steps on how to prepare for a cookout wedding reception.
Choose a suitable location
Make sure the area is large enough to accommodate the number of guests you plan to have, and that the cooking equipment you plan to use is allowed. It can be at-home or at an actual wedding venue.
A mix of the indoor (reception and seating) and outdoor (where cooking can be done) venue is also a great idea!
Don't forget to tell your guests about the type of reception you are having so they can also prepare and dress accordingly. You can include this in your invitation or mention it on your wedding website.
You can either have them dress up casually or elegantly, depending on the setup and vibe that you are going for.
Book wedding vendors
Suitable vendors that have a lot of experience working outdoors will be your best bet! Outdoor weddings tend to have extra detail that needs to be attended to.
For example, if you are setting up tables, you might need flooring for the tables to be stable. There might be extra power needed to plug in for extra lighting.
Same with setting up an outdoor kitchen and a DJ booth/sound system. Work with vendors that have already experienced this setup and they will be able to guide you better on what the requirements are.
With the way you will set up your reception, you can still choose to upgrade your presentation to a more upscale classy outdoor cookout, or you can also prep it so casually for a great chill cookout wedding reception.

Plan the menu
The very first thing you should do when you are planning to have a cookout wedding reception is to properly plan the menu.
The menu selection should vary depending on the crowd size. However, a cookout wedding reception is usually intimate and small.
If there are quite a few guests, it will not be possible to have the steaks of everyone on the grill at the same time.
Smaller cuts of steak and perhaps mini burgers will be fun for your guests! Bite-size pieces will also make it easier for your guests to manage their plate/s and also mingle.
Having a chef or a catering service come to help you out with serving the "main" food will move the crowd along faster and avoid "hangry" guests.
You should also pay special attention to finger food. Quick and easy appetizers on stations are great for guests to start on while waiting on the "main" food. An easy buffet setup will help as well!
An easy-to-put-together salad station will also be a great addition to your menu! Use a cooler or ice bucket to store your salad dressing bottle/s to keep them cool.
Food choices that are still good to consume while cold will save you money since you won't be needing food warmer trays.
DIY-ing your side dishes, drinks, and salads – but hiring a caterer or a cook/chef to do the barbecue/grilling will still save you a lot of money!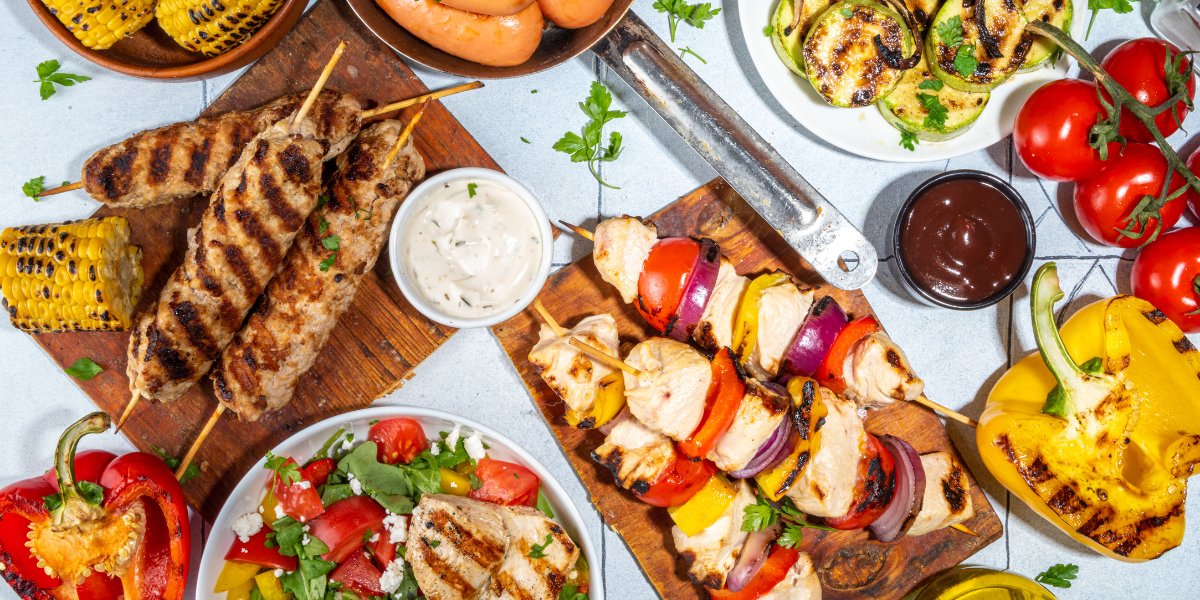 Choose your configuration
Based on your menu, are you planning to do a sit-down reception seating? Or a cocktail reception?
Is there enough space for the dancefloor? Setting up the grilling/barbecue stations? Appetizer station? Drinks/bar?
Plan your configuration around your guests' safety and comfort. Consider how the smoke from the cookout can affect guest experience and configure settings accordingly.
Get ready with all the serving essentials
For a cookout wedding reception, you would need to have more flatware and plates than you would expect.
On top of that, you will also need to have lots of tongs and serving utensils as well. This will help you to stay away from cross-contamination that can take place when using the same scooper for multiple dishes.
Don't forget to find ways to help with bug control. Knowing that this will be outdoors, there will be a chance of bugs flying around depending on the season. Something to think about and remember.

Decide the drinks as well
Similar to food, you will also need to decide on the drinks that you are going to serve at the cookout wedding reception.
You can serve alcohol to the guests. However, you will have to spend more money to get an open bar.
Moreover, you may think about offering top-shelf brands to the guests in honor of your occasion.
It is also possible to mix up alcoholic beverages with many other non-alcoholic beverages. Drinks such as champagne mocktails would look fancy, and you can easily impress your guests
If you are looking to save money, you can set up a sangria station or a welcome signature drink table for your guests to help themselves.
Garbage and cleaning up
If you are using disposable utensils and plates, you will need to have a "decent" looking garbage bin in more than one area. Your guests will need to have access to garbage bins so they won't be leaving those plates lying around the table.
Ensuring that garbage is sealed and moved out of the way as quickly as possible is key. Or it will start accumulating and the smell will start to come out, and the bugs will then be attracted to that stench.
Even if you were to use ceramic flatware, there is still a need to clean up. This is where hiring a busser or a cleaner will help so that there will be no pile-up of dirty dishes on the tables.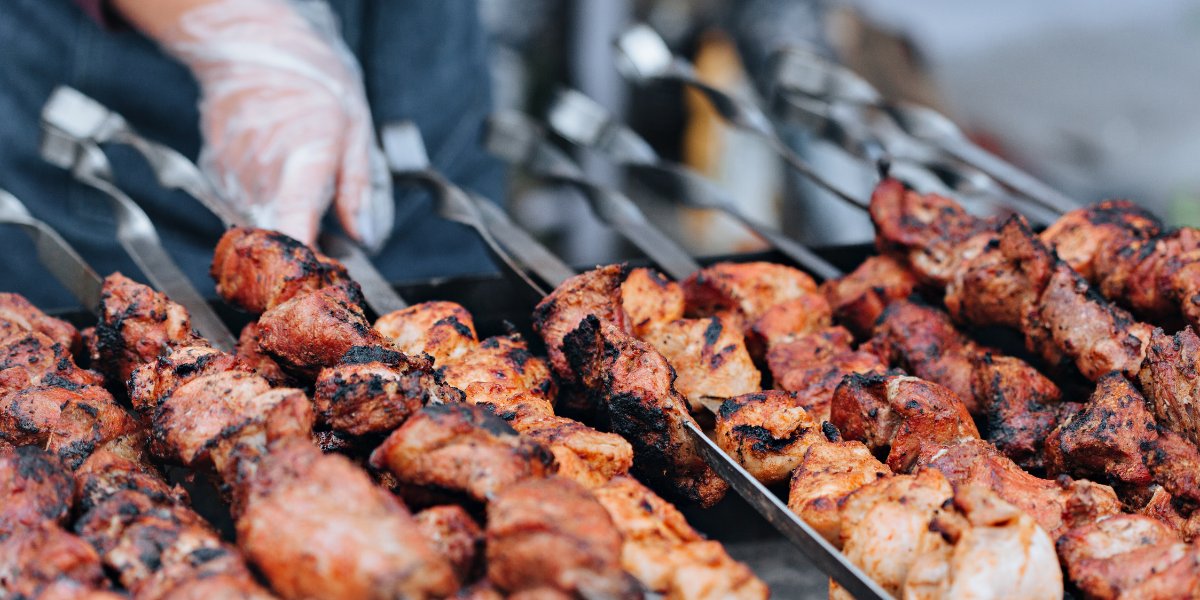 Create a clear timeline (important when planning a cookout wedding reception)
A specific timeline will be a great help to your vendors and guests. Especially when cooking your food at the reception itself, timing the "start" of the cooking and the arrival of guests is essential.
When will the grilling/barbecue start? When will the salads be available? How about the appetizers? The drinks?
For your activities like the first dance, cake cutting, other activities/entertainment, and dancing – these also have to be timed accordingly.
Are you serving late-night snacks or setting up stations? Will there be enough food and drinks for the rest of the night? Or are you cutting the reception shorter than usual?

Have fun outdoors
A cookout wedding reception is a great opportunity for you and all your guests to have fun outdoors.
Therefore, you need to think about getting the most out of it. If there is enough space, you may think about setting up spaces for fun like ring toss or bocce ball. Or, you may also think about getting a bigger dance floor and extra space for a photo booth.
Entertainment will help your guests have fun!
If there is a backyard pool and you want to make this extra casual and fun, you may ask the guests to come with their swimsuits. Then they will be able to have a dip and enjoy the wedding reception.
As you can see, having a cookout wedding reception can be unique and fun. It's a great way to have a memorable experience at your wedding celebration!
There you are lovelies! Our answer to your question "Cookout Wedding Reception? What is that?"