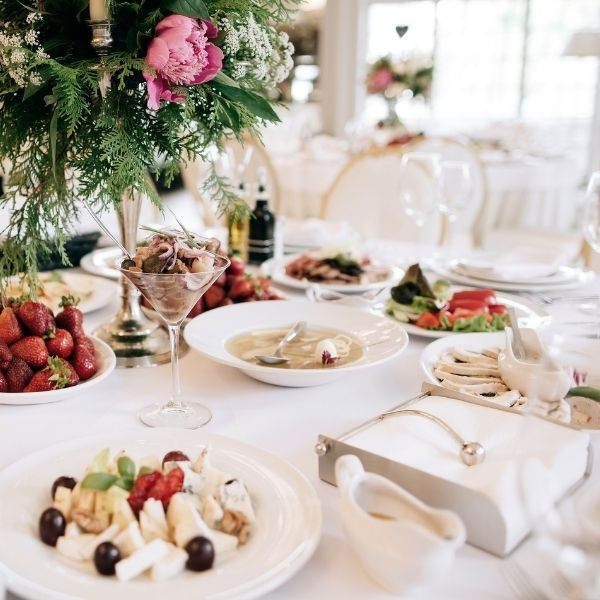 BUDGET WEDDING FOOD IDEAS. Affordable Wedding Food? Wedding Reception Food Ideas On A Budget. Looking for cheap and budget-friendly food options? n this guide, we are sharing wedding food ideas on a budget that your guests will love! From a simple wedding menu to inexpensive wedding food, this list will help you find the best menu for you!
Planning a wedding on a budget? We feel you. After allocating funds for the venue, the entertainment, and the decor, now it's time to finalize your menu. Catering expenses can add up, so we've rounded up great ways to keep your food and beverage finances in check without letting your guests go hungry.
Budget Wedding Food Ideas
1. Two or Three Courses
A two or three-course meal that contains a soup or salad, entree, and finishes with a wedding cake is enough of a meal for your invitees. Remember, most people don't even order this much food, even on their own, at their favorite restaurant.
Two-course meals that include a salad/soup and main will be enough. You can then build your own dessert bar or even purchase a cake and have the kitchen slice it and serve it as dessert. There is usually an extra fee for cake cutting and serving, but it is significantly lesser than a per plate dessert cost.
2. Cocktail Hour – Comfort Food
Choose appetizers that are filling. Comfort food like fries, mini-burgers, mini-sandwiches, etc., are filling but are definitely budget-friendly, compared to fancy appetizers like shrimp, specialty meats, etc.
These comfort foods can be elevated with their presentation, and the guests will absolutely love them. If you are up for it, you can also DIY these appetizers!

3. Hearty Soup
As long as it's not scorching outside, offer a hearty, locally suitable soup option to fill guests up before dinner. Creamy clam broth or savory tomato bisque is far more economical per serving than seafood ceviche or Caprese salad.
4. Minimalist Bar (one of our readers' fave budget wedding food ideas)
Wedding bar costs tend to be expensive, which is why this is one of our readers' top tips as part of wedding reception food ideas on a budget. Instead of hosting a fully-stocked, top-shelf open bar for your invitees, only go minimal with beer and wine. It is more budget-friendly. If you'd like to incorporate your own signature drink, that will be great as well!
5. Simple Serving Stations
Elevate your buffet service by setting out modest, themed serving stations with one or two food choices. You can have a pasta station and a meat/fish station. You can creatively mix them both – and make them filling for your guests.
6. Consider Family-Style
If you don't like buffets, consider decreasing labor costs for dinner prep, plating, and service by offering family-style meals. Family-style service means seated invitees serve themselves out of shared dishes placed on their tables – an immediate conversation starter and an opportunity for portion control.
Items that work fine for family-style service also happen to be cost-effective. Consider:
Lasagna
Mac and cheese
Stir-fry
Casseroles
Pulled meat snacks
Fajitas
Rice-based items
Heavy hitters and fillers are great for family-style. They don't need much of it, but it will surely be enough for your guest to feel full.

7. Choose heavy hitters for your buffet
One of our fave wedding reception food ideas on a budget is heavy-hitters a.k.a. fillers. Serve great comfort and filling foods at your buffet like:
Potato salad
Mashed potatoes
Rolls
Steamed vegetables
Casseroles
Restrict protein choice to a few reasonably priced meat and vegetable protein choices, such as:
Grilled tofu. portobello mushroom and eggplant
Chicken breast
Cod fillet
Pulled pork
Stir-fry
8. Consider a brunch wedding
Most lunch or brunch meals are 20-30% lesser than that of a dinner meal. Choosing a brunch wedding at a restaurant will cut prices on your menu. You can choose your choices from the dinner menu but purchase at a lunch menu price – of course, if you choose a brunch wedding.
There you are! Budget Wedding Food Ideas!