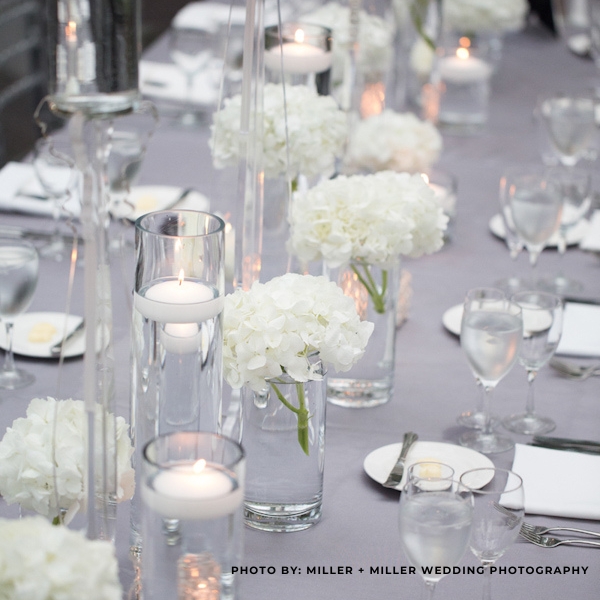 Cheap DIY Wedding Centerpiece: Easy Ideas. Elegant and budget-friendly! Charming and affordable. DIY decor ideas to wow your guests. Thrifty and beautiful. Decor that looks so luxurious without splurging. Creative and inexpensive. Wedding design ideas that won't break the bank.
This site contains affiliate links. For more info, please see our full disclosure. This post has Amazon links and as an Amazon Associate, Wedding Planning Resources earns from qualifying purchases.
Welcome to the world of creativity and cost-saving solutions for your wedding centerpieces! DIY wedding centerpieces offer a fantastic opportunity to add a personal touch to your special day without breaking the bank. By crafting your centerpieces, you not only save money but also infuse your wedding decor with unique charm and sentimental value.
There is usually a negative notion attached to DIY-ing your wedding centerpieces because it does tend to require a lot of time and effort – and that is absolutely true.
In this guide, we'll explore various cheap and easy-to-put-together DIY wedding centerpiece ideas that are both elegant and budget-friendly.
We've rounded up our favorite easy and affordable DIY wedding centerpiece ideas! These are ideas that are quick and manageable to pull.
Of course, you might want to try to get products from the dollar store, maybe even mason jars. But with these ideas, you can elevate the look of cheap DIY wedding centerpieces. We'll provide you with step-by-step instructions to create stunning centerpieces that can look like you spent lots of money on them!
It still requires DIY effort and planning, but it will surely not take too much of your time.
This post is not just about ideas, but we are also sharing PRO TIPS on how to execute them and hacks to make your life much easier!
Let's do this! Here is the list of our top Cheap DIY Wedding Centerpiece: Easy Ideas!
1. Candles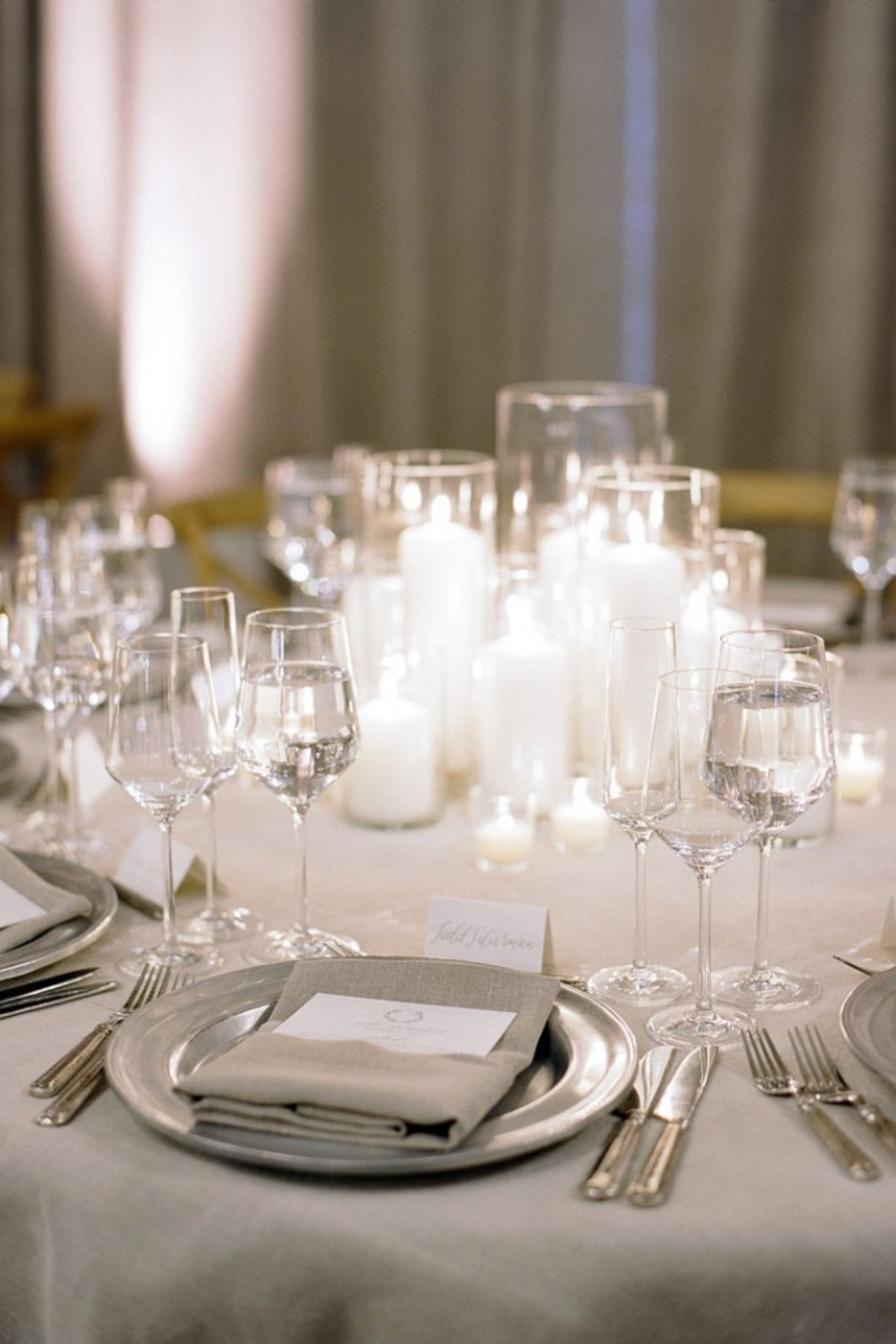 Because really, when are candles never elegant? They are the easiest, super affordable centerpiece idea! Probably the most romantic inexpensive centerpiece idea.
PRO TIP #1: Choose votives! It might be tempting to use floating candles (vases filled with water), but as pretty as it looks, it will take a lot of time to fill up those vases and clean them up after.
Votive candles are the best candles to use! All you need to do is place them randomly (somewhat creatively!) on the table, light them up, and voila! The centerpiece is ready to go!
PRO TIP #2: You can add some height by mixing in different votive heights! For example, mix 2-3 inch votives in with 5-6 inch votives to create that "height" and "movement," so it won't be just lined up "flat."
PREP TIME: Little to none. Only place them on the tables and then light them up 20-30 mins before the reception doors open. Just enough time for the candle to be really lit up.
RELATED: CANDLE CENTERPIECE WEDDING IDEAS
2. Greenery (this one is readers' favorite when it comes to cheap DIY wedding centerpiece ideas)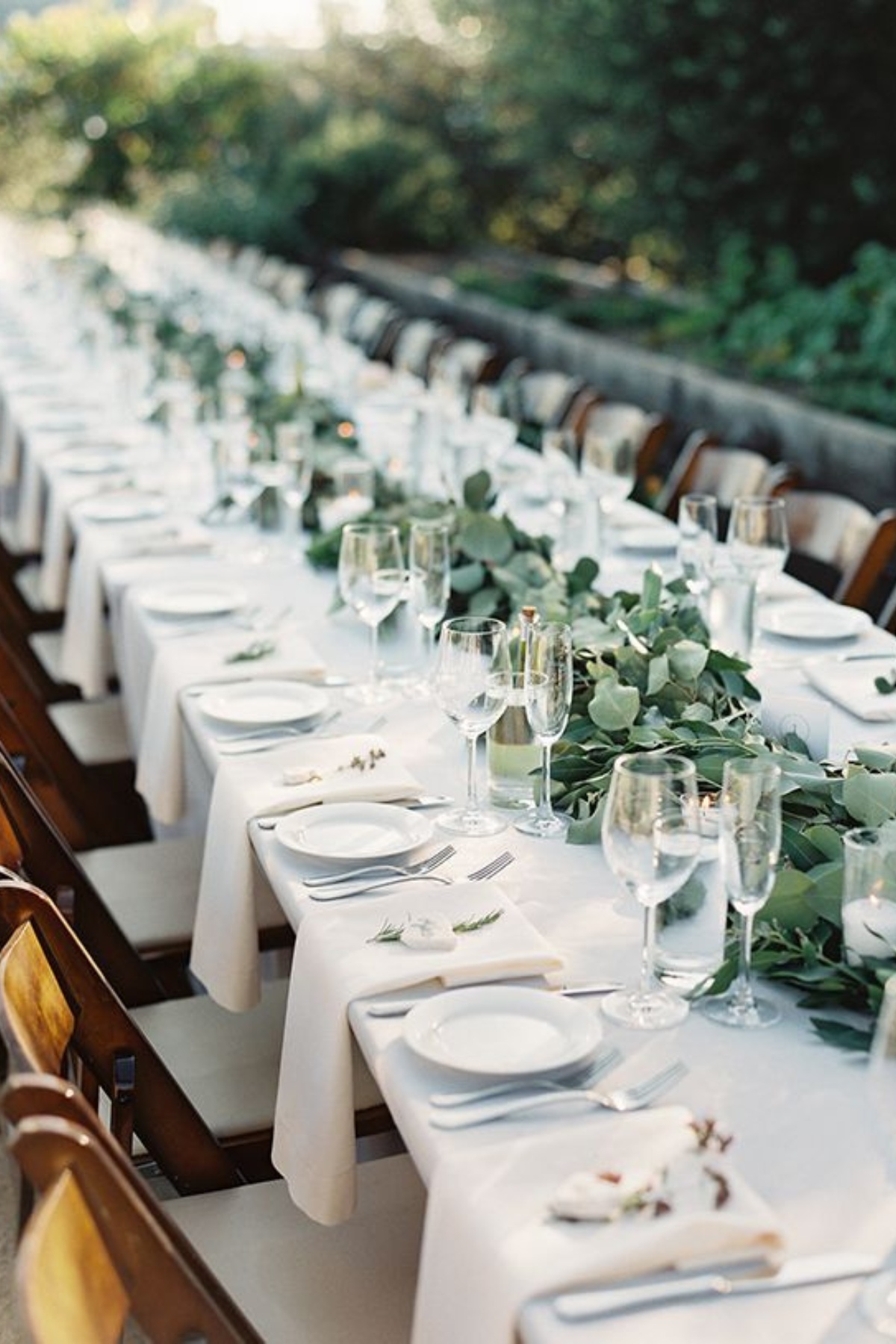 We have talked about this a lot in this article. This is one of the easiest wedding decorations for the tables! We made a greenery centerpiece DIY guide here that details how to design and execute this centerpiece.
But to give you some ideas here, the best 2 varieties to use for your greenery centerpiece are Ruscus and Salal; check more about these greenery varieties here.
You can also shop for fresh wholesale greenery and flowers over at JR Roses.
PRO TIP #1: This is also a great addition to the candle centerpiece.
Add a few greenery stems to add some "earthy" and "garden" vibe to your table!
PRO TIP #2: If you consider using silk/fake greenery, ensure to find something that has some coating or is a "mint" color.
Using something that looks less plastic and not shiny will help minimize the "fake" look.
PRO TIP #3: Instead of silk or real greeneries, you can also use dried or preserved ones!
When purchasing dried greeneries, ensure to read through storing and care instructions so you can keep preserving them!
Especially if you are getting married in the winter, dried flowers will literally wilt and melt when there is moisture! Ensure you check the temperature and packaging to keep them looking good!
RELATED: DIY WEDDING GREENERY CENTERPIECE: STEP BY STEP GUIDE
PREP TIME: Per 8 seater rectangular table, if you are laying down 2 bunches of greenery, it will take about 15-30 mins. As you design more tables, you get faster.
The key is to pre-bundle and pre-cut the stems PER TABLE (meaning you will have a bag of them per table) before heading to the reception, so you can easily and quickly place them on the table.
** PRO TIP: Remember to cut the excess stem at the bottom and only keep the stems with leaves on them and cut all the stems. Photo from FairMileHomeDecor.
3. Cherry Blossoms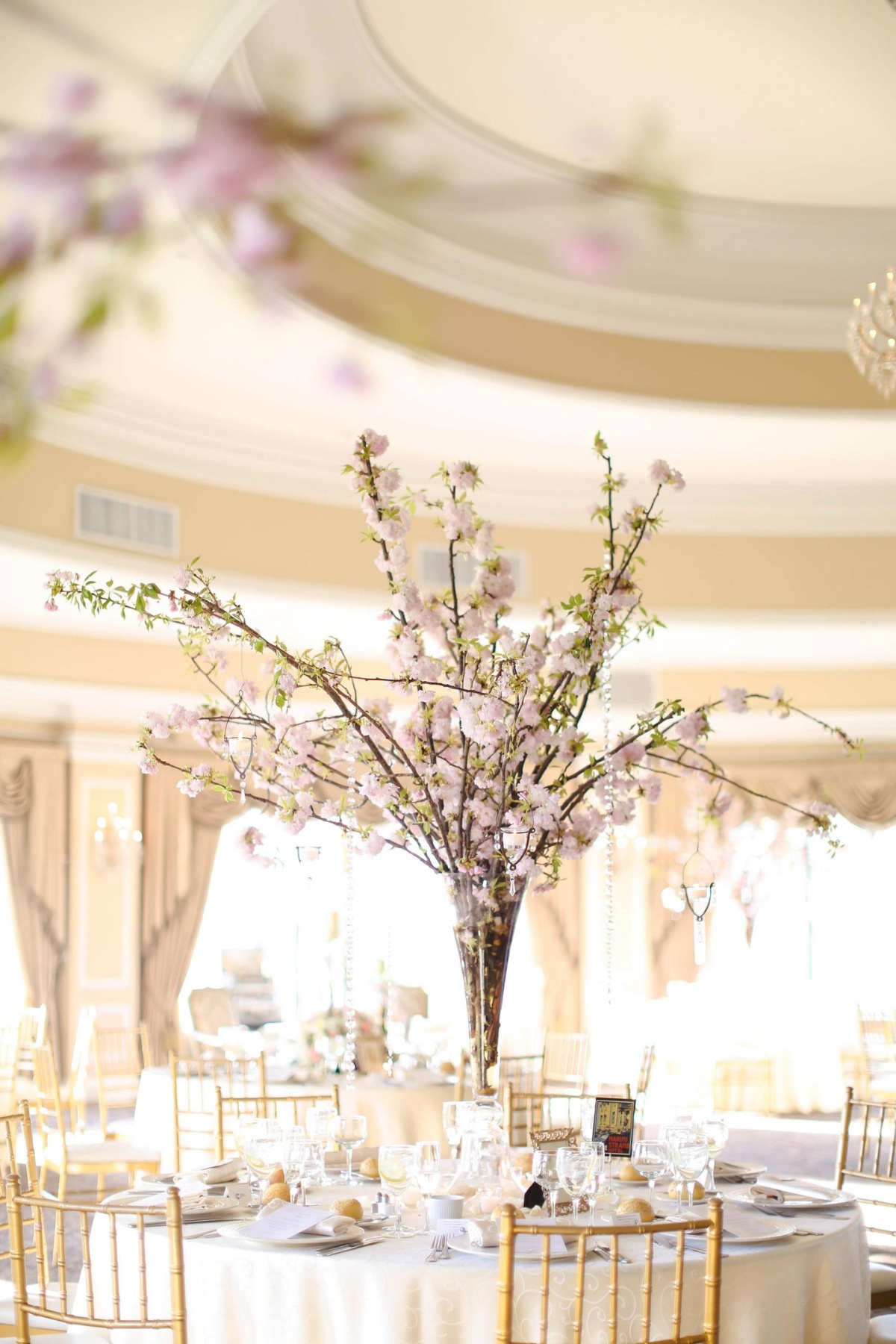 Cherry blossoms (silk stems – fake, not real!) are the best example of stems that you can easily use! Of course, there will be some assembly needed to put this together, but it is certainly easy and fast!
The cost depends on how "fluffy" you'd like it to be. If you want them to be fuller, the number of stems you'll need will increase, but if you are going for a minimalist look, then this will surely save you a lot of money!
PRO TIP #1: Use a tall vase, and if possible, a colored one. If you cannot find a colored one, you can purchase clear ones and spray paint them.
Covering the stems of your silk cherry blossom will "hide" the fact that it is fake/silk and will also provide the "illusion" that the centerpiece is "bigger and taller."
Also, choosing a vase that is not too wide will help make the blooms look bigger!
PRO TIP #2: Don't forget to bend the stems outwards so they won't be standing up "straight." Create movement and mimic what a real cherry blossom tree looks like!
PREP TIME: Spraying the vase will be about 24-48 hours, including the drying time. It will be about 10-20 minutes for about 3-5 stems of cherry blossom to set up per round table.
4. Hydrangeas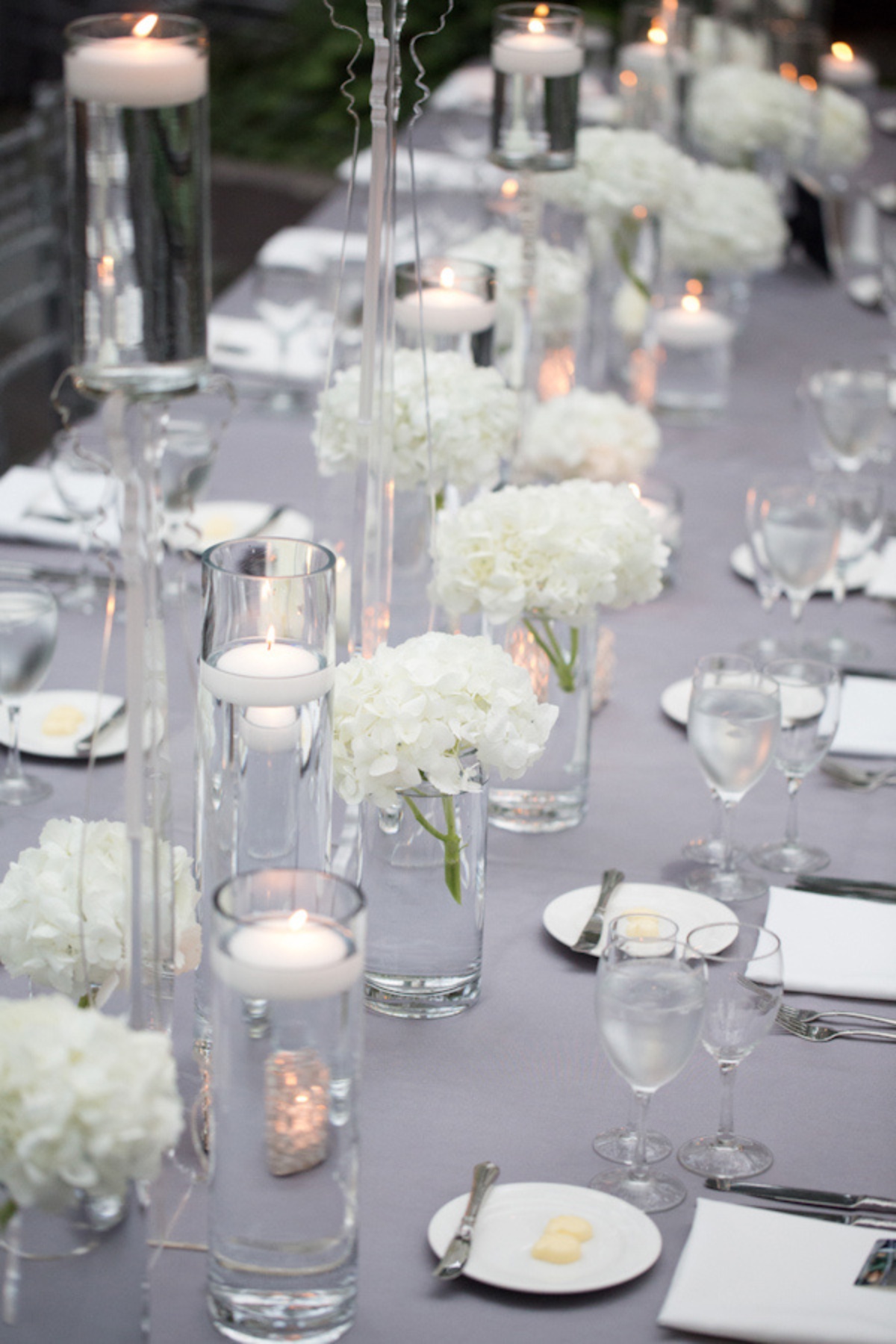 These hydrangeas are super fluffy and can cover many areas that are always great for a centerpiece! You can consider real ones or silk/fake ones! You can check out JR Roses for wholesale hydrangeas and other flowers.
PRO TIP #1: Instead of making one large arrangement, why not consider individual vases or a grouping of them and place only one stem of hydrangea in each vase.
Cutting the individual hydrangea stems in different lengths/heights will create a nice movement and organic look to the centerpiece.
PRO TIP #2: Similar to the cherry blossom idea, using a colored or spray-painted vase will help cover/hide the silk/fake stems!
Choosing a vase that is not too wide will help make the blooms look bigger! Also, remove the green plastic-looking leaves as they are usually the telltale sign that the flower is fake!
PREP TIME: Per round table, if you choose a 6″ cylinder with 4 stems of fresh hydrangeas, including cutting, filling the vase with water, and wiping them clean, it will take about 20-30 mins per table; especially if you have not done this before.
Practice is key. Practice before the wedding.
RELATED: HYDRANGEA WEDDING CENTERPIECE IDEAS
5. Potted Plants & Herbs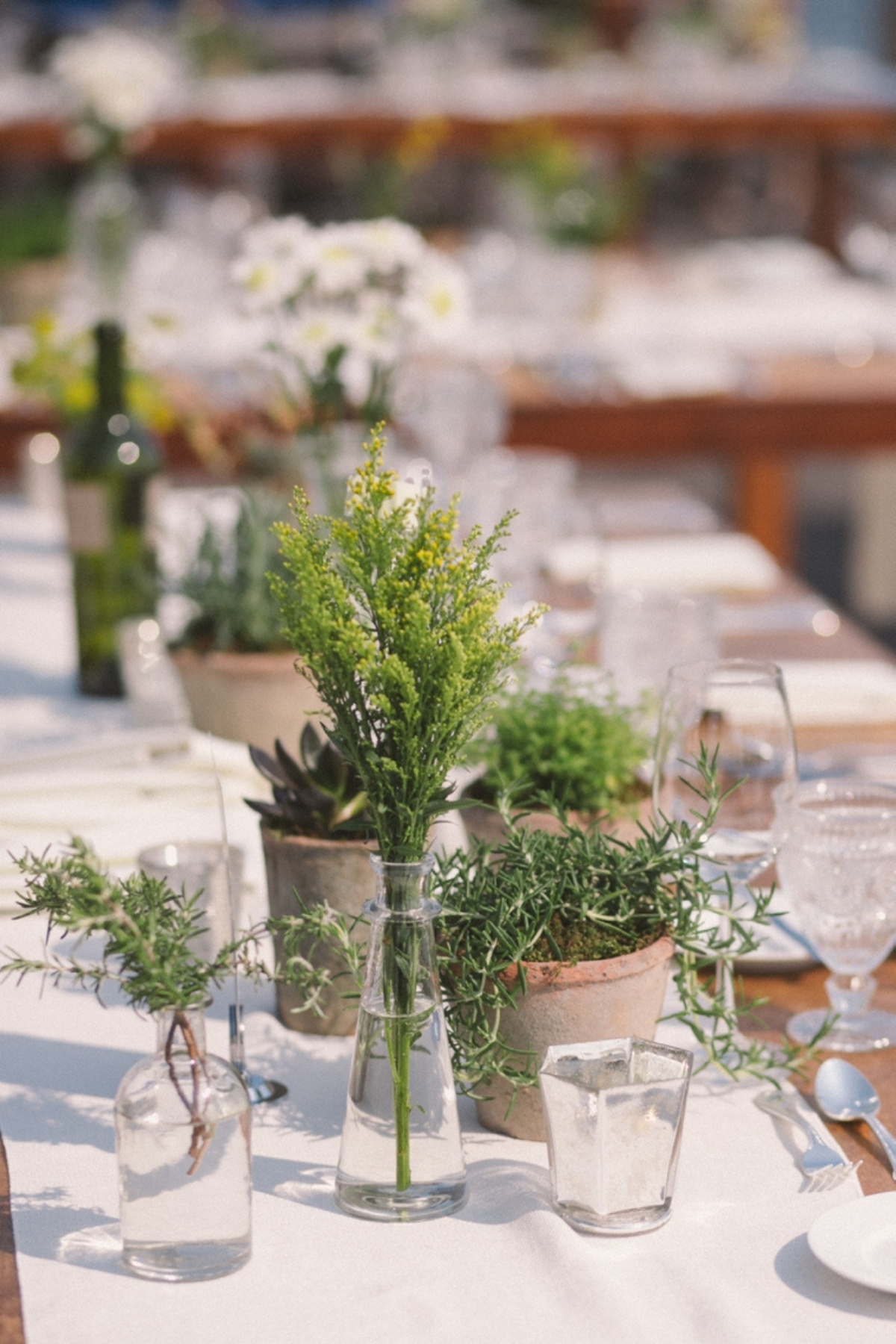 Super straightforward and easy! Purchase bulk from your local garden center or floral shop, and they will already come in trays, so it will also be easy for you to transport them! Definitely a rustic DIY wedding centerpiece favorite!
PRO TIP: Beware of the soil getting scattered on the table! There is a tendency for the soil (for real potted plants!), and we have to avoid this!
Not only is it unsightly, but it can also get unsanitary. What you can do is purchase coasters! So even if some soil will fall off the pot, it will be on the coaster and not on the table!
So even if some soil will fall off the pot, it will be on the coaster and not on the table!
HERB TIP: Be conscious of the herbs' scents. Don't use the ones that have heavy scents. It can get overpowering, and you want to keep the scents at a minimum so your guests can still enjoy their meal without getting distracted by the smell.
PREP TIME: Very little time. Place the coaster first, and then place the potted plant/herb on top. You might need some time to clean up after yourself. Check around to ensure there is no soil spillage anywhere.
6. Dried Flowers / Pampas Grass
One of our fave Easy DIY Cheap Wedding Centerpieces is Dried Flowers!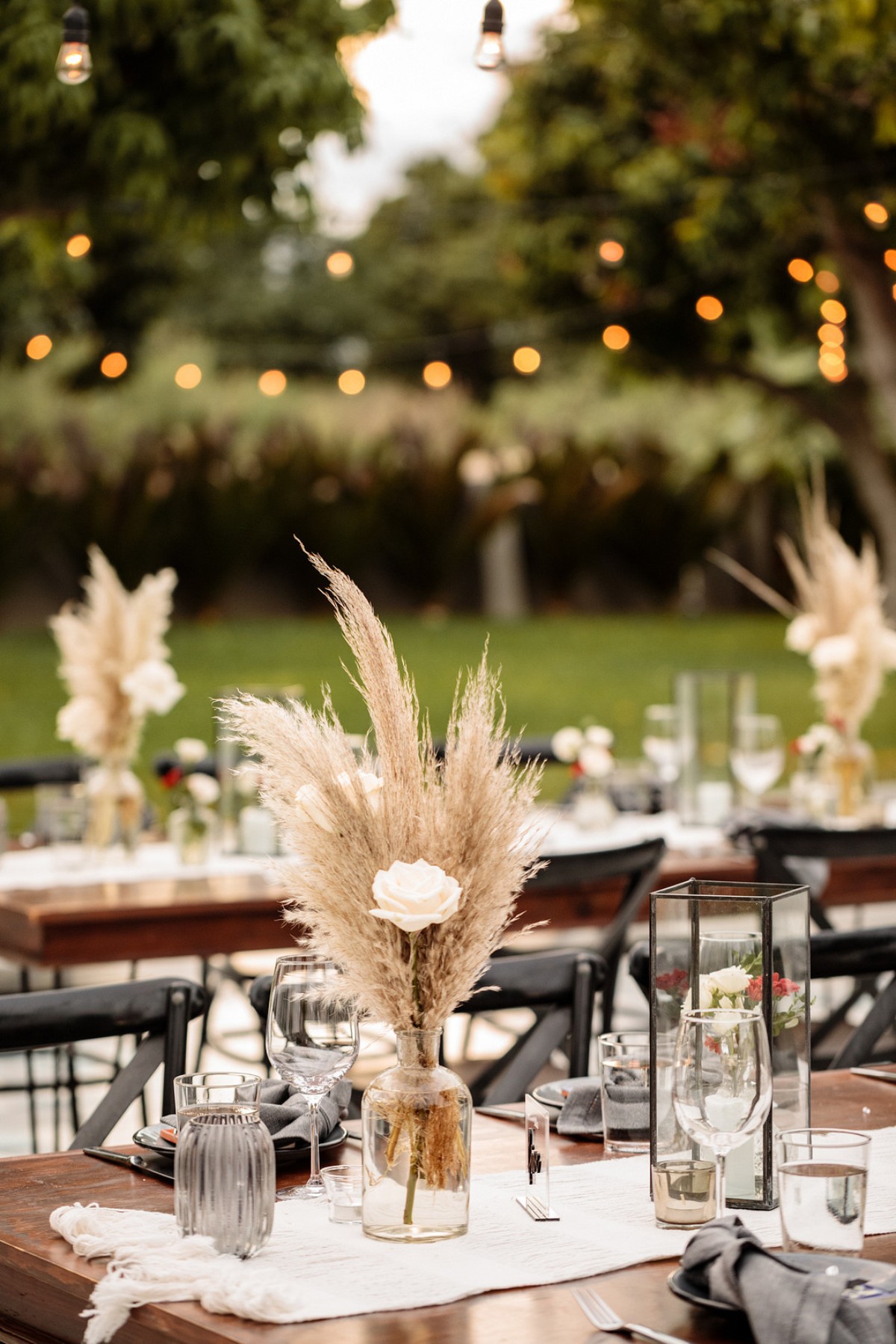 This is probably our favorite out of our easy and affordable DIY wedding centerpiece ideas list: Unique, preserved, beautiful… DIY dried flower arrangements!
Pampas Grass is probably one of the easiest and quickest centerpieces to work with!
PRO TIP #1: Pampas grass is usually shipped in a bundle, and it comes very tightly wrapped in plastic.
To fluff, it, use a hairdryer (low heat) to soften it and makes it easier for you to fluff it. The fluffier, the better!
PRO TIP #2: When working with DIY dried flower arrangements, and you'd like them to look more spread out, opt for a vase that has a wider opening.
This way, the stems will be spread out more, covering more area, and giving the illusion that it is bigger. Insert them into the vase sideways around the rim first, and build from there.
PRO TIP #3: If you are working with a rectangular table, try using vases with multiple heights. Cut the pampas grass (or your choice of any dried flower variety!) accordingly to create a high-low effect, adding movement to your table.
Always check your height combination first before cutting by volume!
PRO TIP #4: If you are using a mix or looking to design your own bundle for your easy DIY cheap wedding centerpiece, you can pre-design and pre-make the bundles and tie them together using a chenille stem/pipe cleaner.
This will make it easier to set it up on the day of your wedding!
PREP TIME: Initial prep time to fluff the stems will be about 5-10 mins per stem. But on the day of the wedding, it can be super quick! You take these babies out of the box and put them in the vase, and voila! You are all set!
〰️ Cheap DIY wedding centerpieces are a fantastic way to add a personal and meaningful touch to your wedding decor while staying within your budget.
These DIY centerpieces offer a world of creativity and versatility, allowing you to tailor your designs to match your wedding theme and style.
Remember, DIY projects also provide an opportunity to involve friends and family, turning the process into a memorable bonding experience.
Whether you're planning an intimate backyard wedding or a grand celebration, cheap DIY wedding centerpieces allow you to create beautiful and memorable focal points that reflect your love story.
So, embrace your creativity, get inspired, and have fun crafting the perfect centerpieces that will make your wedding day gorgeous, fun, and unforgettable!

For DIY centerpieces, you can store the finished products in boxes from your local hardware store with rubber non-slip liners for dry centerpieces.
If you are filling up the vase with water, only fill it out halfway through so the water won't spill while in transit.
Looking for boxes that you can stack will make it easier for you to transport them. Non-slip rubber liners in between boxes will be your best friend to avoid any slipping while in transport.
If you are not able to stack, you can pre-bundle the flowers using pipe cleaners and stack them gently in a box. This way, when you get to the venue, you can assemble, fluff, and set them up easier and faster.
Don't forget to label boxes and have a "visual" sample of how things are supposed to be set up as a reference.
Before committing to a DIY project, it's important that you evaluate what's on your plate and estimate how much time it will take you to complete a task.
By the same token, also consider "phantom costs" associated with DIY projects like supplies. packaging, storing, transportation, and most importantly, being open to mistakes and re-doing things, which means you might need to re-purchase things to start over.
There you are! Our favorite Cheap DIY Wedding Centerpiece!
** This post has Amazon links and as an Amazon Associate, Wedding Planning Resources earns from qualifying purchases.