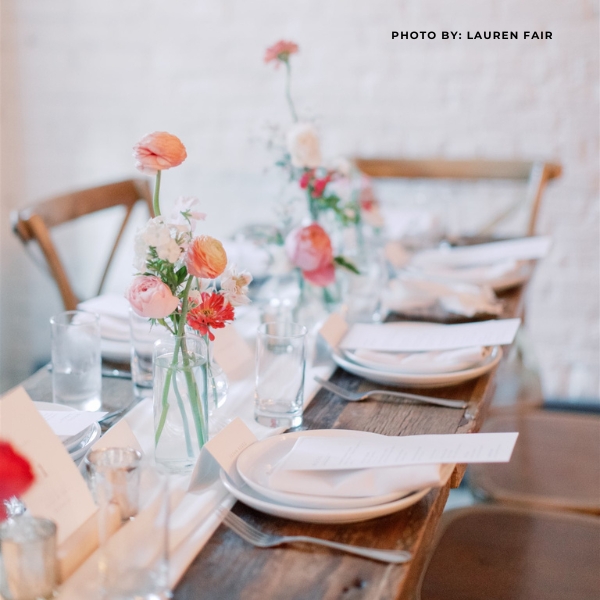 Bud Vase Centerpiece Ideas. Sophisticated & Elegant! Minimalist and simple elegance. Whimsical and charming wedding centerpieces. Timeless grace. Save money with luxurious bud vase centerpiece designs. Organic style wedding decor.
This site contains affiliate links. For more info, please see our full disclosure. This post has Amazon links, and as an Amazon Associate, Wedding Planning Resources earn from qualifying purchases.
These bud vase centerpiece ideas do not only help you save money (budget-friendly!) We all know that wedding flowers take up a big chunk of your wedding budget, and if these centerpieces can inspire you with something, it is that lots of wedding flowers aren't the only way to go to achieve that "wow" factor on your wedding reception.
Maybe you are planning some tall centerpieces or even full and lush greenery garlands, but the budget might not necessarily be able to support it.
You can rent these bud vases and candles. Your florist can supply the flowers, or better yet, they can also provide you with these rentals. The thing to consider with these smaller items is they so save you some money, but you can also expect to be charged some extra set-up and delivery fee.
These little babies need some extra time and team to set up as they have to be done and arranged on-site (for the most part), but the savings are still significant compared to that of a full flower arrangement wedding centerpiece.
Just because they are bud vases, doesn't mean they don't hold any power. You can have a hundred or three or 2 of these and you can manage how much impact you want to you. Of course, also how much money you want to spend.
Style these bud vases by using them in clusters. You can add lots of candles, or just a few.
Use tapered, votive, and pillar candles. Add some greeneries like eucalyptus and ruscus, or simply set it up with your favorite blooms like roses, garden roses, anemones, peonies, stock, orchids, daisies, ranunculus, lisianthus. How about dried flowers like white ruscus and pampas grass.
Whether you are planning to DIY your wedding centerpiece or have your florist design them, in this set, you will find something you'll love! Enjoy these bud vase centerpiece ideas lovelies!

DIY with these products:
Using silk flowers? A great tip to remember is the greenery attached to the stem or to the bloom itself of a silk flower is usually a telltale sign that it is fake. Also, they look very plastic.
Removing the greenery (all of them!) and just using the bloom will help make it "look" like an "almost real" flower.
If you really want to have some type of greenery, choose something like eucalyptus that has a "coating" and a "grey-ish" shade to it so it won't look so plastic! Hide the fake stems by using white or colored bud vases!
There you are lovelies! Bud Vase Centerpiece Ideas. Part 1. Stay tuned for more wedding centerpiece inspirations! Until next time lovelies!
** This post has Amazon links, and as an Amazon Associate, Wedding Planning Resources earn from qualifying purchases.