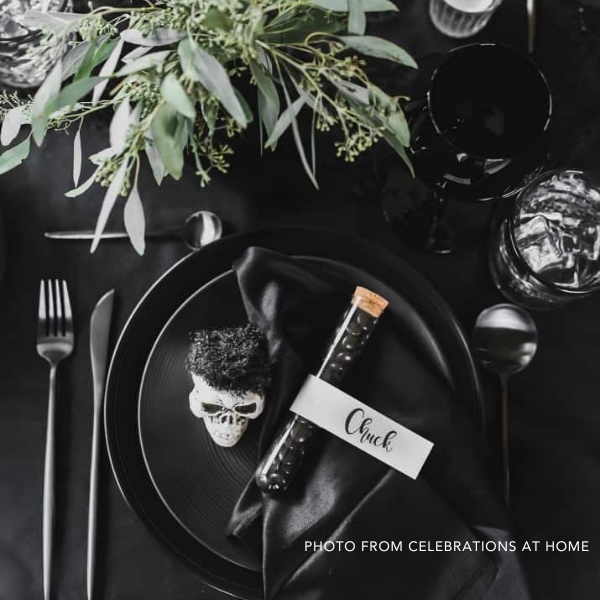 DIY Halloween Wedding Ideas. To die for.. Ghoulishy glamorous. Hauntingly beautiful. Haunted happily ever after. Chic and creepy. Crafting wedding love spells through spooktacular ideas.
Welcome to the world of enchanting possibilities and bewitching romance – the realm of Halloween weddings.
This site contains affiliate links. For more info, please see our full disclosure. This post has Amazon links and as an Amazon Associate, Wedding Planning Resources earns from qualifying purchases.
Considering a Halloween wedding can offer a range of unique and exciting benefits that set your special day apart.
A Halloween wedding is sure to stand out in the memories of both you and your guests. It's a distinct and memorable way to celebrate your love.
Whether it's an elegant masquerade ball or a rustic haunted barn, you can incorporate opulent details that add flair and grandeur to your DIY Halloween wedding.
It's almost fall! While most weddings during this time usually incorporate the vibrant colors of fall into their theme, other daring couples embrace another special holiday during this season—Halloween!
You can also introduce unique entertainment elements, such as fortune tellers, magicians, or even haunted house attractions.
If you're a big fan of all things dark and spooky and planning a Halloween wedding, then you're in for a treat! We've scoured the internet to gather some of the chicest and most straightforward DIY decor ideas for your Halloween wedding.
DIY Halloween Wedding Ideas: DIY. Let's get started!

The Table Setting
Orange and black isn't the only color combination that you can use for your big day. If you want to achieve a more stylish look, you can mix black, and deep purple with a gold touch like this gorgeous table setting.
Add the white flowers and greens; you can use darker tones and mix with some whites to soften your floral centerpieces. If you're looking for a more minimalist (and budget-friendly!) feel, you can opt to do all-black linen (with some silver or gold flatware details!) tapered black candles, and a candle holder for your tablescape. Perfect for your DIY Halloween Wedding.
DIY TIP: Cannot find a black candelabra? No worries! You can easily go to your discount store, get any color candle holder you can find at the best price, and then spray paint them black and add some classic white tapered candles!
If you're going for a more rustic feel and less "Halloween-y," all-black tableware with a silver silverware plate will look marvelous on a wooden table or a burlap tablecloth. Adding an "earthy" vibe helps "break off" the too much black. Definitely one of our favorite Halloween centerpieces for tables.
Dried greenery with tapered black candles and some votives around would complete a stunning table setting. It is a DIY Halloween table decoration (also works well if you are doing a Halloween wedding!) – elegant and scary!
Check out our easy greenery garland tutorial step-by-step how-to guide here.
The Skull Guestbook
Simply set up these skulls on your wedding welcome table together with your place cards or seating charts. Add some black candles for a more dramatic look. Your guests can easily sign and leave messages on them.
After your wedding, you can use them as tabletop decorations in your home!
The Spooky Cake
These cakes you can easily pre-order from any bakery near you and then prop them up on a nice and dramatic black cake stand. The best part, you can choose a cake topper that best represents your theme and style, and just like that, voila! You have a beautiful cake!
Here are more inspirational ideas:
There you are! DIY Halloween Wedding Ideas!
** This post has Amazon links and as an Amazon Associate, Wedding Planning Resources earns from qualifying purchases.