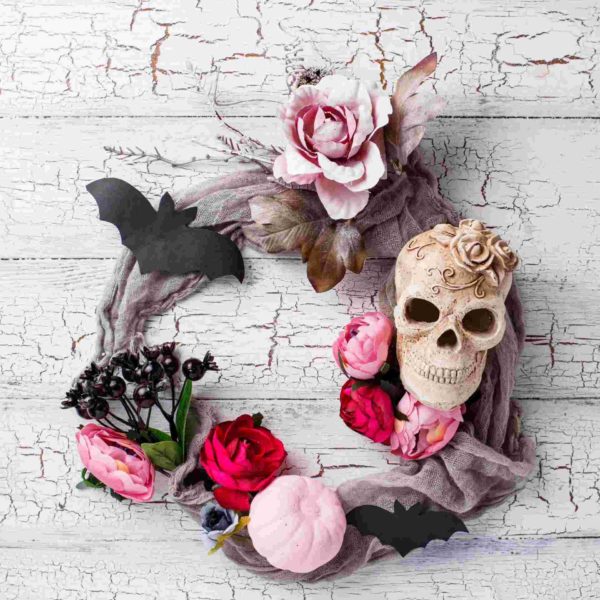 To die for.. STYLING & DECOR that is! DIY Halloween Wedding coming right atcha!
It's almost fall! And while most weddings during this time usually incorporate the vibrant colors of fall into their theme, other daring couples embrace another special holiday during this season—Halloween!
If you're a big fan of all things dark and spooky and planning a Halloween wedding, then you're in for a treat! We've scoured the internet to gather some of the chicest and straightforward DIY decor ideas for your Halloween wedding.
NOTE : This site may contain affiliate links in which we may receive a small commission, at absolutely no cost to you, when you decide to purchase through those links. Please see our full disclosure for further information.
Easy DIY halloween Wedding Decor. Let's get started!
The Table Setting
Orange and black isn't the only color combination that you can use for your big day. If you want to achieve a more stylish look, you can opt to mix black, deep purple with a gold touch like this gorgeous table setting.
Add the white flowers and greens; you can use darker tones and mix with some whites to soften your floral centerpieces. If you're looking for a more minimalist (and budget-friendly!) feel, you can opt to do all-black linen (with some silver or gold flatware details!) and tapered black candles and a candle holder for your tablescape. Perfect for your DIY Halloween Wedding.
DIY TIP: Cannot find a black candelabra? No worries! You can easily go to your discount store, get any color candle holder you can find at the best price, and then spray paint them black and add on your classic white tapered candle!
If you're going for a more rustic feel and less "Halloween-y," an all-black tableware with silver silverware plate will look marvelous on a wooden table or a burlap table cloth.
Greenery with tapered black candles and some votives around would complete a stunning table setting. It is a DIY Halloween wedding, so really, you can add any Halloween decor you have lying around your house.
The Pumpkin Guestbook
We found this great idea for a unique guestbook, and it is so easy to make! All you need are 2 faux pumpkins, some glitter, decoupage glue, and Sharpies, and you'll have a one-of-a-kind guestbook! Also, great to bust out as house decor every Halloween! Double duty, baby! Perfect for your DIY Halloween wedding.
OUTDOOR FALL WEDDING ESSENTIALS: FOR YOUR GUESTS
The Spooky Cake
These cakes you can easily pre-order from any bakery near you and then prop them up on a nice and dramatic black cake stand. The best part, you can choose a cake topper that best represents your theme and style, and just like that, voila! You have a beautiful cake!
*The execution of your event using our guides will depend on how open you are to alternatives, other options, and unexpected products/design/ideas. It is suggested to do a concept trial and set your comfort level to make it a much easier and faster execution.**
SAFETY PROTOCOL EXTRA TIP: Together with having your guests and yourself wear a mask and practice social distancing, you can also rent stanchions together with signs to ensure physical distancing is practiced. To take things further for extra safety, you can also rent clear dividers (you can also decorate it!) to put in between tables. Another option is to provide clear face shields that they can still wear, should they need to take the mask off to eat and/or drink. Adding extra preventative measures is always a good idea.
Check with your local government and public health officials about any guidelines, protocols, policies, and/or regulations that you need to meet if you will be holding an event. All safety practices are ultimately up to you and your guests.
HAPPY SPOOKY YET CLASSY ( DIY ) HALLOWEEN WEDDING!