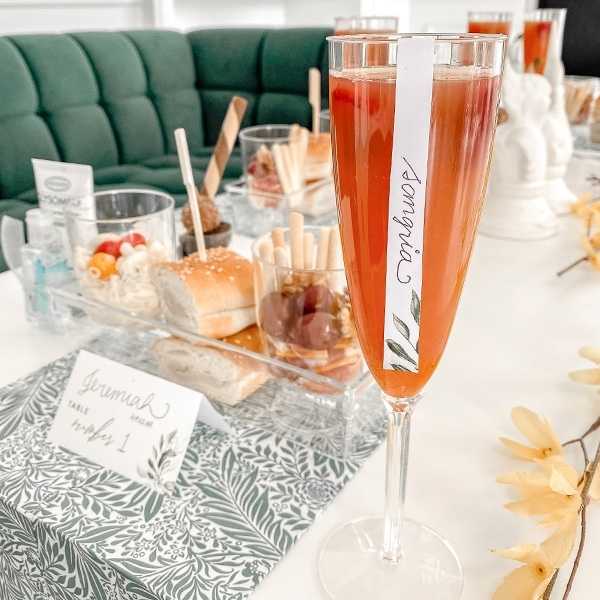 You can execute! We're sharing this quick and easy DIY micro celebration set-up guide! This super-easy guide will help you put together this fun and classy (also super affordable!) spread! Easy to pull-off DIY micro wedding ideas! Whether you choose your home as your wedding venue or decided to DIY a small wedding in a rented space, your guest list will love these ideas!
This site contains affiliate links. For more info, please see our full disclosure.
This guide works best to plan an in-home or backyard micro celebration or even a combination of both in-home and virtual events!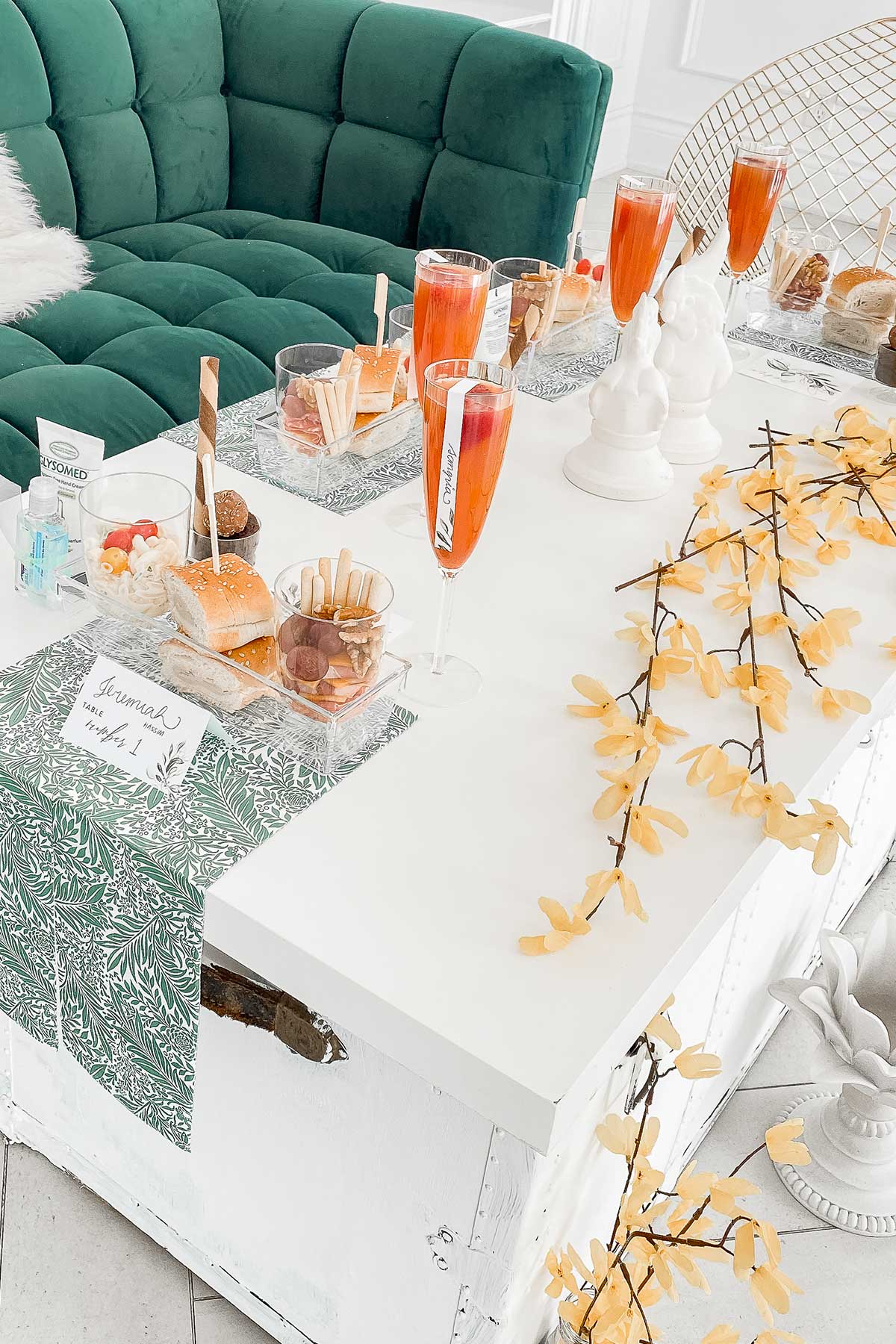 Seating and set-up
We love a mismatched set! Use your existing couch, existing tables, random chairs, random tables, and get creative with mismatching!
We found this old wooden chest and spray-painted it white to be a great base for the table. You can use any old furniture lying around that you can paint to give it a "new" life so it would feel set-up, especially just for your DIY micro celebration.
To get a solid flat surface, we then unscrewed the top of a regular 🌿 white office table from Ikea and placed it on top of the painted chest! Then voila! We got a makeshift yet stylish table set-up!
Tablescape
So much fun BREAKING THE TRADITIONAL RULES for this table setting! We used a printed paper disposable napkin, and to make it look wider and bigger, we put them side by side! You can let the other side hang – right where the fold is.
The stationery and labels we used are from the printables freebies!
Keeping up with the times, we gave away a sanitizer and lotion duo!
We pulled these stems from old fake flower arrangements that we found in the basement for table decor! Their length and color added such a great accent to the table, elevating the vibe for your DIY micro celebration.
The "glassware" we used isn't really glass! We've chosen non-tacky (classy and great quality!) plastic champagne flutes for the sangria!
How we've put together the "meal" will be broken down later on in this post, but for the elbow macaroni, the mini charcuterie, and the dessert, we used a shorter disposable wine glass.
To put all of these details together with the sandwich, we used a super non-traditional cabinet organizer bin (you can get this for a better price at your local discount store!) The organizer makes it easier for the cups to be secure and not tip over, for the sandwich stack to be presented nicely, and of course, it will also be easy to carry around. Since it is a DIY micro celebration, you can get creative and use products that you might not have considered as something that can be part of a "tablescape."
We chose food and beverage that complement each other and that also only need a skewer to eat! Making us able to skip the cutleries/flatware altogether!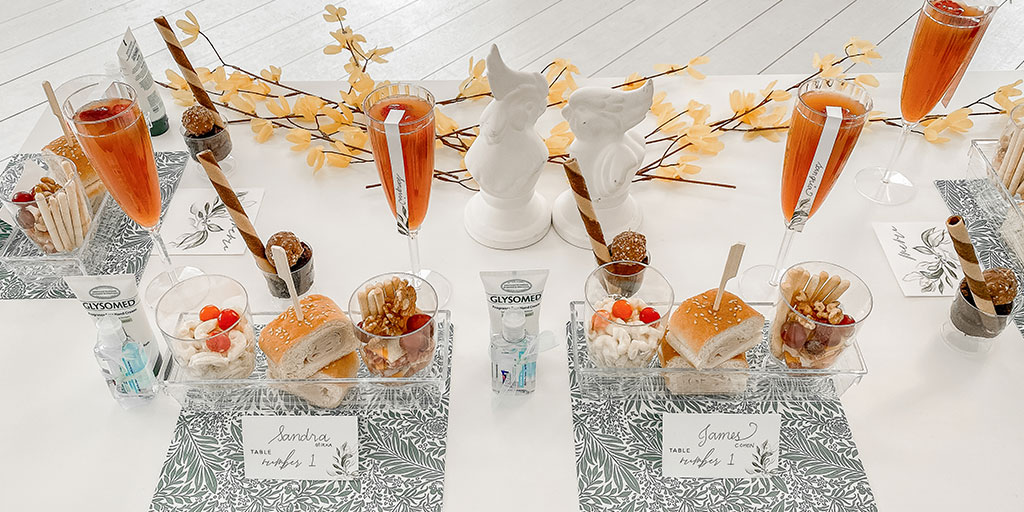 Food and Beverage
Let's start with the MINI CHARCUTERIE CUP. Essentially we stacked up cured meats, cheese, grapes, mini breadsticks and topped it with walnuts in a short wine glass! Super easy and creative!
The ELBOW MACARONI also went into a short wine glass, and we topped it with mini cherry tomatoes.
For the "MAIN," we have a (rather healthy!) TURKEY SANDWICH. You can choose a sandwich of your choice! We suggested choosing something that is not heavy on dressing so the bread won't be droopy. You can add dressings on the side if need be.
The BROWNIE DESSERT is small but mighty (and yummy!)! Woot! We stacked up 2 mini brownies, topped them with a Ferrero Rocher chocolate ball! Push a toothpick through this stack so they will stay in place! If you want it to be extra fun, you can also add chocolate sticks!
Our choice of beverage? Our ever fave SANGRIA! You can, of course, also leave a bottle of wine on the table so your guests can adjust the level of alcohol. Even if it is a DIY micro celebration, it is still a celebration!
Plug in a Bluetooth speaker and play your fave songs! You can also prepare a slide show and go through memories together!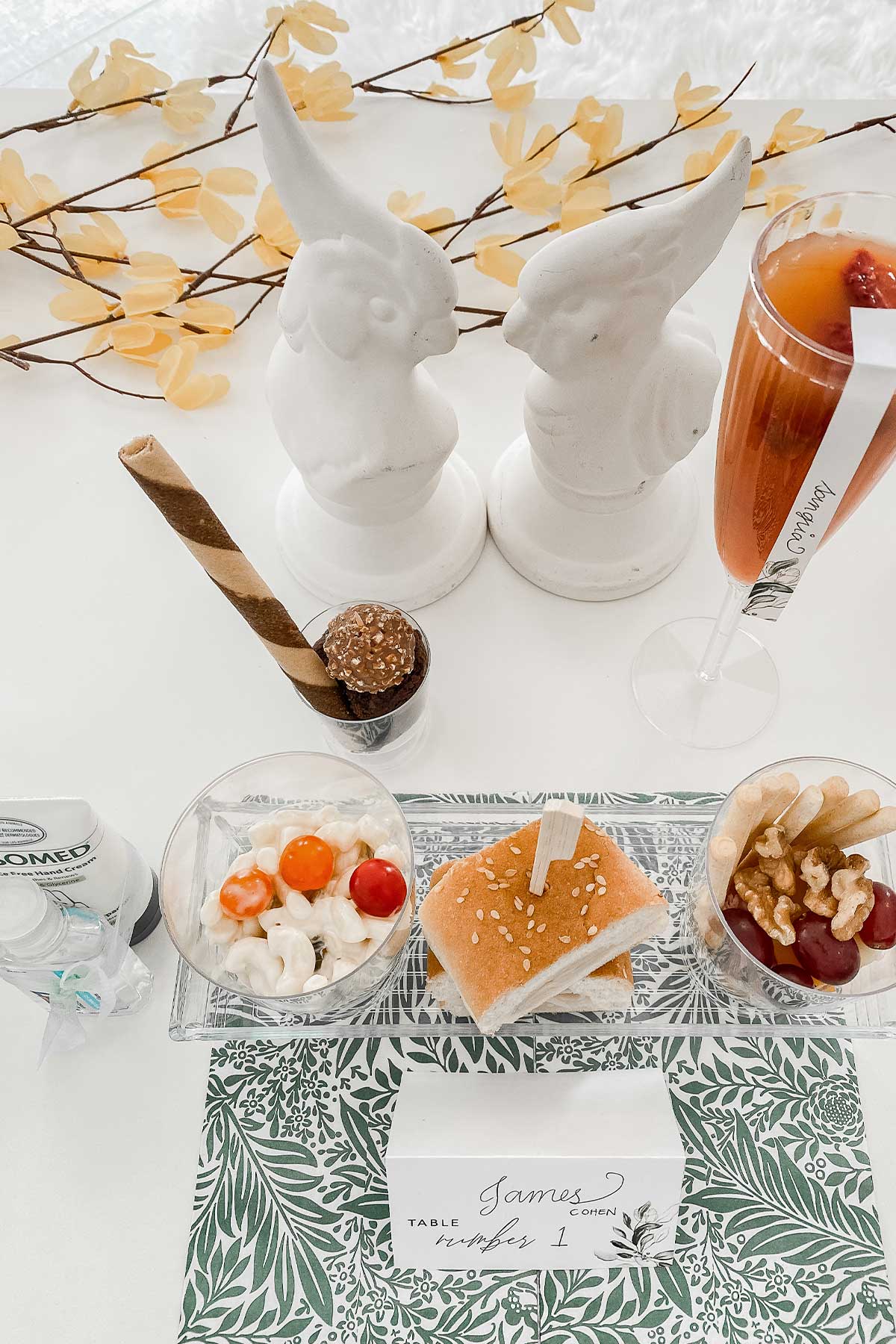 We hope this guide will open you up to other creative ideas and re-purposing products you already have at home that you would otherwise not "consider" for your DIY micro celebration because 🌿 "WHY NOT?" right?
There you are! DIY Micro Celebration: Set-up & Design Guide!