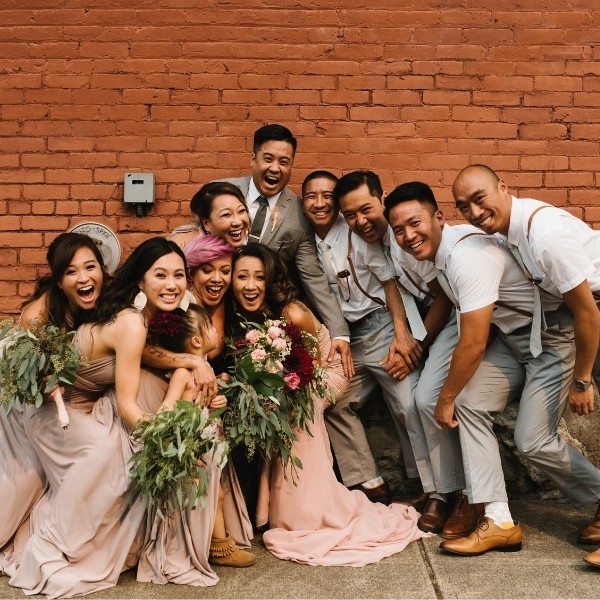 Wedding Party Roles Guide. ve your party! Wondering what your bridesmaids and groomsmen are doing? Looking for generic ideas on wedding roles and responsibilities? Who does what at the wedding party? List of wedding roles? In this guide, we are sharing the most common and generic wedding party roles and responsibilities!
Without any doubt, your wedding is a celebration of your love and affection for each other.
So you two are the center of attraction, but your wedding party includes some important people that truly were involved in both you and your partner's lives.
Determining your wedding party might seem like a challenging task, but keep in mind to choose the ones who genuinely care for you. It's your wedding, so you should be surrounded by people with whom you feel comfortable. Forget the tradition and do what you like!
We've compiled this wedding party roles guide to help you out with the responsibilities of the people from your wedding party.
There are no "hard rules" on any of these, of course! So instead, we've listed the most common responsibilities that each part of your bridal party "usually" has. And you might not even want to have a wedding party, which is also absolutely fine!
Wedding Party Roles Guide
Maid or Matron of Honor
When we talk about the bride's ultimate support system, we mean the maid or matron of honor.
Usually is a sibling or a best/close friend.
The main support of the bride, helping with wedding planning tasks, fitting, fashion choices, and emotional moments (basically support all around!)
Leads the bridesmaids: fashion (shopping for bridesmaid dresses) and sharing of responsibilities
More emotional and moral support on your wedding day (lol!)
Planning of

bridal shower

and bachelorette.
Best Man
The best man is the groom's right-hand and a counterpart to the maid of honor.
Usually is a sibling or a best/close friend.
The best man manages the pre and post-wedding planning tasks for the groom.
Arranges the bachelor party.
They are responsible for the marriage license and keeping the rings safe for the special day.
Bridesmaids (one of the most important wedding party roles guide!)
Bridesmaids are the bride's close friends or relatives.
They help the maid of honor in planning the

bridal shower

and bachelorette party.
Take care of some other wedding-related tasks like giving out favors, arranging the stationery or helping with the decor, etc.
Assist as necessary (also moral and emotional support!)
SIDE NOTE: We know we said there are no hard-set rules, but this might be our non-negotiable responsibility for the wedding party, and it is to GET THE PARTY STARTED! Get everyone on the dance floor, or at least get yourselves on the dance floor and get grooving!
In addition, be aware of the moments that need "cheering" and "applauses" and be the hype peeps for the newlyweds-to-be!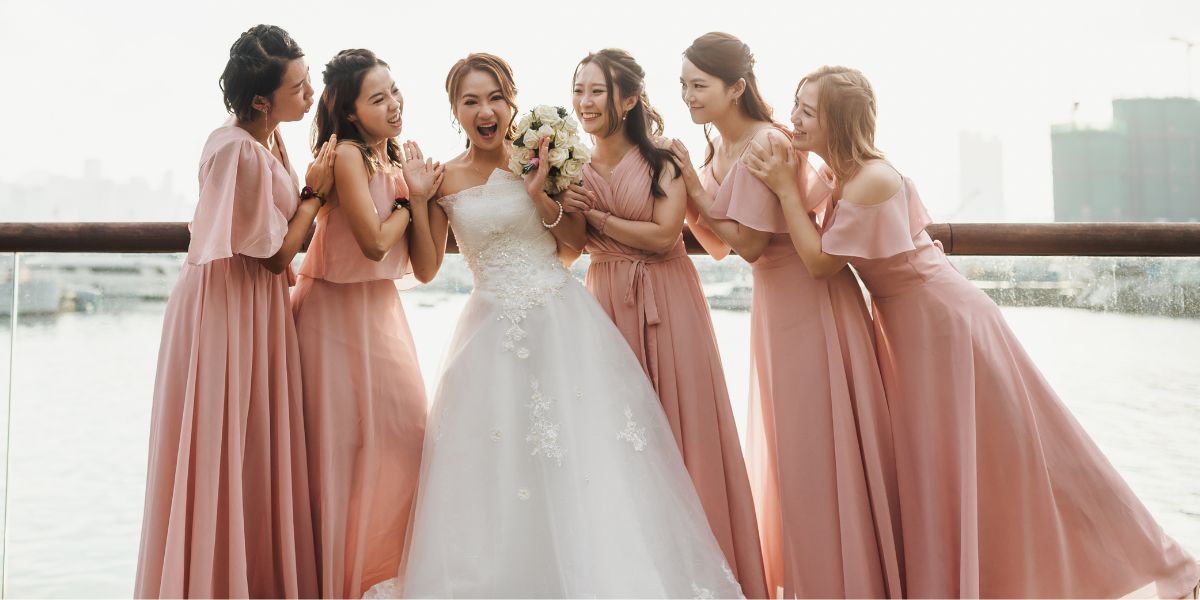 Groomsmen
Groomsmen are the equivalents of bridesmaids.
They are usually the groom's close friends or relatives.
They have the same job as bridesmaids which is to assist the best man in wedding planning tasks.
Groomsmen are also responsible to perform the job of ushers if you don't have one. They'll receive the guests and guide them to their seats.
Flower Girl
Having a flower girl walking ahead of you on the aisle adds a mesmerizing scene to your wedding. So if you ask us, we would surely say yes! Super cute!
The flower girl can be any of your younger siblings, cousins, or family members.
Cute little antics and just being super adorable altogether
Ring Bearer
Usually leads the bridal party holding the tray of rings for newlyweds-to-be. You can choose a separate ring bearer or have any of your wedding party members do it for you.
Parents of The Bride / Groom / Newlywed-to-be
This is a very touchy part because every family has different dynamics, and again, there are no hard-set rules. Helping and supporting (however this looks like) the newlywed-to-be is definitely what is "expected" and is almost unspokenly given, unless, of course, there are specific requests.
Walking down the aisle, managing family affairs, reception dances, and the like.
As usual, these are the "traditional" responsibilities. It is your wedding, and you set the rules! Enjoy and have fun!
We wanted to end this article on a note that these are not just "responsibilities." These are also memories that you will create with your bridal party. So please make the most out of it, have fun, and enjoy!
There you are! Wedding Party Roles Guide!