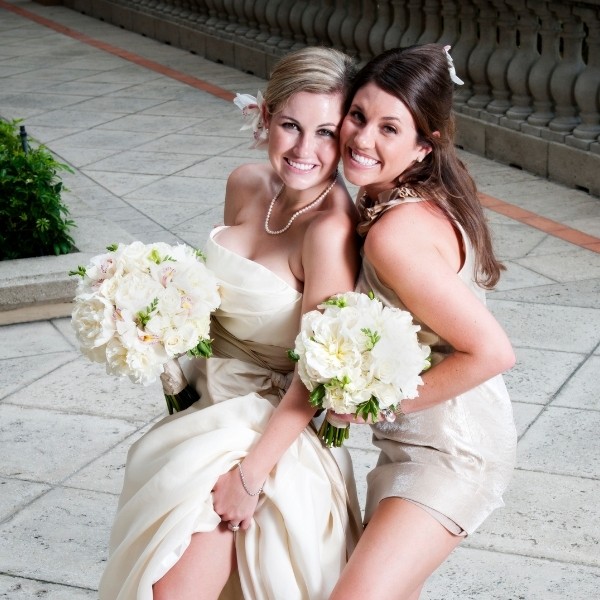 Maid of Honor Duties. I appreciate you! Are you a newlywed-to-be and wondering what you can ask your maid of honor to help you with? Or maybe you have been chosen to be a maid of honor and wondering what will be expected of you? In this guide, we are sharing the most common maid of honor duties!
There are no "hard" rules and "responsibilities" on what a maid of honor is supposed to do. Sure, we have enlisted here the traditional "duties," but note that every relationship has its differences. An open and kind discussion is always the best way to understand where you stand and how you can help.
We have listed them below for all the other "most common" duties to help you plan events and activities with your newlywed-to-be / bride.
Maid of Honor Duties
1. Presence
Being there to provide emotional and mental support, by far, are the most important task of all. Most likely, anxiety will rise during the wedding planning, and there might be days that you will need to provide support not just in terms of patience but in terms of silence and understanding, meaning just "being there."
Listening and being attentive to the "moment" and the "circumstance" call for is essential. Providing a "no judgment zone" is one of the best things you can offer.
There will be moments when you might need to give the confidence to make decisions and fully support them. To provide laughter (fun!) and check in on things that you know might be challenging.
You might have been already providing this for the longest time, which is why you were chosen to be the maid of honor; you are trusted and a source of great support and love.
2. Being there during pre-wedding activities
Make a list of all significant pre-wedding activities, dress shopping, such as engagement parties and rehearsal dinners, so that you can plan accordingly. Although you might not be in charge of organizing these activities, you should certainly attend to show your support; and even ask if you are needed in some areas.
Dress shopping, brainstorming, and vendor meetings are some of the pre-wedding activities you might be "asked" or already part of.
If some projects and DIY ideas need assistance, you will most likely be needed on those too.
It is "generally" considered for the maid of honor to plan the BRIDAL SHOWER and BACHELORETTE PARTY. Fairly so, this might be one of the "must" pre-wedding activities that will be your main responsibility.
This takes quite an effort to gather information and idea and share responsibilities with the bridal party.
Of course, being the "leader," you will also have to bring up the "money" or "budget" talk. But as mentioned earlier, when you have started an open and kind communication with the bridal party, the bachelorette party planning and logistics will be manageable.
Don't forget to bring the fun and help make these activities extra memorable!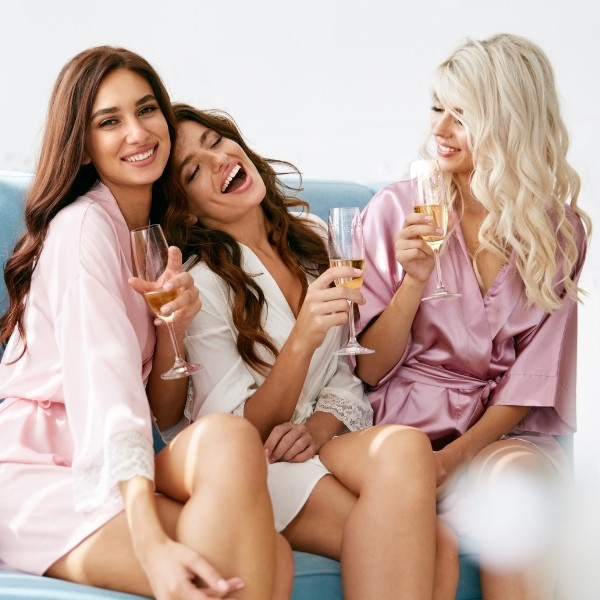 3. Point Person
Most likely, you will also be appointed as the "point person" for any questions and inquiries.
Starting with the bridal party, the bridesmaids will most likely reach out to you for questions. If you know everyone at the bridal party, that's great! But if not yet, ask your newlywed-to-be / bride to provide you with the bridal party contact info and introduce yourself.
Opening up that channel for communication and discussion and extending your friendly and kind vibe will jump-start an amazing and fun relationship!
Some family members you already have a relationship with will most likely contact you to confirm details, request changes, or even discuss plans in further detail.
The same idea, if you can introduce yourself to some family members, the easier that communication will get from the engagement party or announcement.
Being the point person can extend even to the wedding vendors. If you are indeed tasked with this, ensure to discuss the wedding timeline in detail with your newlywed-to-be / bride to ensure you understand her visions and what needed to be executed.
You can go as far as discussing possible alternatives with the current plan so you can decide and advise on things faster on the wedding day.
4. Getting ready (one important maid of honor duties!)
This goes without saying; you will be needed while getting ready, and it is definitely one of the important maid of honor duties. From the morning (or even 2-3 days before), you will be by the bride's side. Keeping her organized, happy, and just spreading that good vibe all around!
Help with ensuring meals are eaten, and important details like rings and garter are remembered.
This is a good time to put together an emergency kit and keep it handy with you.
Here are some ideas for activities to do on the morning of the wedding day.
5. Touch-ups, fluffing, and fixing
Before walking down the aisle, it will help determine if there are touch-ups to be made, fluff the train of the dress and fix anything that might need some adjustments. Adjustments like how the bouquet is held, some hair falling on her face, or maybe the earring is a little crooked.
Holding the bouquet, tissues handy, etc. Just these details that you can look out for.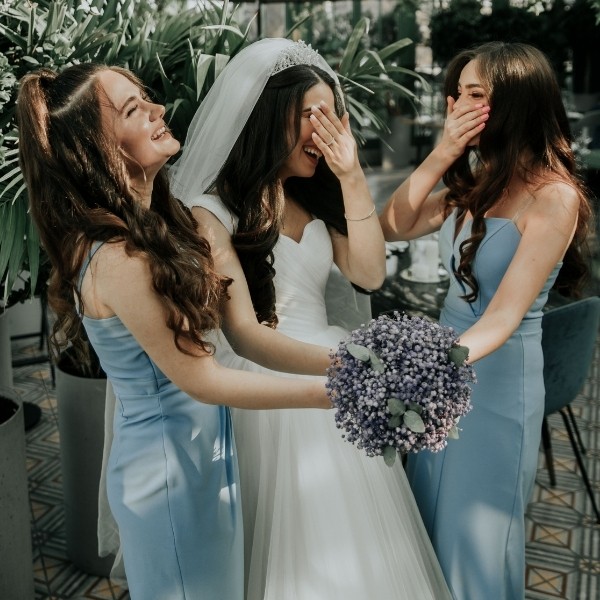 6. Remind, Lead & Hype
Remind about little things like the gifts/presents (and who will keep/handle them!). Even reminding about what is next on the wedding timeline. Time checks are also important, i.e., the speech is getting longer than expected – what can you do to help, etc.
Also, reminding who is up for photos/portraits next will help the photographer since you will most likely know everyone involved and scheduled to be photographed.
When the wedding is wrapping up, reminding everyone (especially the newlywed-to-be / bride!) to ensure they pack up the essential things, accessories, products, etc.
Leading the bridal party on what the activities are is also one of your maid of honor duties. Ensuring they know what to do next, reminding them of their speech/es (and yours too!), and fixing anything that might need your attention. Also, leading the guests/crowd when it's time to move from cocktail to dinner and the like are ways to help lead.
Hyping is super important. Be the first one to clap, cheer and get the crowd going. Then, once the dancefloor opens, be the first to dance and invite other guests to do the same!
7. Be present
Remember that becoming a maid of honor is an honor. You are CHOSEN to be there in the closest way possible, and that means a lot.
Be present and soak in fun! Although there is the maid of honor duties, responsibilities, and tasks, know when it's time to enjoy! Your newlywed-to-be / bride will want you to enjoy and be present with THEM on their wedding day.
Share BIG LONG HUGS. Laugh hard. Party hard! Create amazing memories! Maid of Honor Duties!