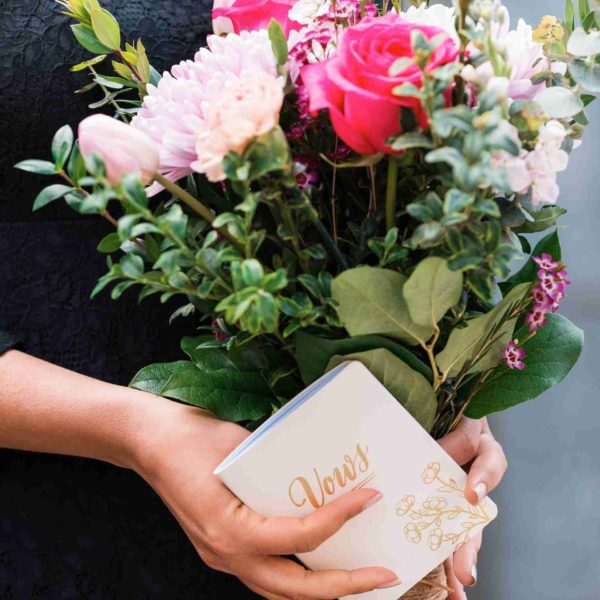 To have&hold, forever… Writing wedding vows? We got amazing tips for you! Whether you are writing religious, traditional, funny or your own version wedding vows, this guide will help you layout a great foundation! From this day forward, your life together will be officially newlyweds! Why not write your vows and promises at your wedding ceremony using these tips!
Writing your wedding vows is a fantastic (and super sweet!) idea. While customized vows make weddings a lot more special, it is also one of the most overwhelming tasks that soon-to-weds face when planning, coordinating, and preparing for their special day.
Writing Wedding Vows: The Dos and Don'ts.
To help you, we've listed the dos (✔️) and don'ts (✖️), so you can write wedding vows that you and your loved one would treasure forever.
Do:
Don't:
Let's go over these points in detail!
Do: Speak from the heart
Keeping a cue card on hand for you to read your vow is a wise idea, more like a bullet form, not a paragraph. However, use what you've written only as a guide. You don't want your eyes glued to your notes. Allow yourself to speak from the heart and share the precious moment with your partner and your guests.
Do: Agree on format and tone
Discuss with your partner how you would want your vows to be—would it be romantic and formal? Or do you want to add a little humor? How many words/points would your vows be? Also, the time frame. How long will it be?
Do: Keep it short and sweet
Understandably, you want to share with the world how much you love the person you're marrying and what lengths you'd go for them. However, you don't want your guests (and even your partner) to lose interest in what you're saying because you've kept on rambling on how special your love is. Keep it to a maximum of 2-3 minutes. Remember, you have a lifetime to prove to your other half how much s/he means to you.
Do: Practice in front of the mirror
Do not skip this part! You must read aloud what you've written several times, so you're already comfortable when you actually recite your vows during your wedding ceremony.
Do: Creative Approach (must read!)
If you feel like writing your wedding vows in a day or even a week is too much, try writing the vows right after getting engaged. Too much? Ya think? Hear me out. Write a sentence expressing either how much you love him or something special he has done each month, from the day you got engaged, just like a mini-documentary. If you're really feeling creative, snap pics to support what you've written.
If you actually recall details of specific moments that really stood out for you, even before you got engaged, write those down as well, as you remember them. Even if you don't include everything in your speech, you can then "renew your vows" every year on your anniversary. Yep, I just gave you an idea of what to write on your anniversary card. Yeah, you might not even need Hallmark! Uhm. Right? How sweet is this?
PLANNING A WEDDING: DO'S AND DON'TS
Don't: Forget to promise to..
Writing your wedding vow is not just about sharing your relationship and demonstrating how much you love the person you're marrying. It's also about making commitments *obviously, that's why they're called vows* that you intend to keep for the rest of your married life. Try to include general promises such as, "I will always be your support system," and some specific ones like, "I promise to try to wake up early and exercise with you."
Don't: Go overboard on jokes
While it's OK to share some funny antics about your partner or your relationship, the last thing you want is for your vow to turn into a huge joke. Find the right balance between humor and the more meaningful part of your commitment to your loved one. Write your wedding vow with sass and humor, but be cautious not to go overboard with the jokes.
Don't: Overshare
Yes, writing your wedding vows should be personal, but don't make it too personal. Remember, you'll be reciting them in front of family and friends, leaving the intimate details and inappropriate details out of it.
Do: Remember the most important thing!
THERE ARE NO RULES in writing your wedding vows. You guys are the only 2 people that know each other well. Your guests will appreciate you guys being true to yourselves and showing your personality. This is your day; you can laugh, cry, and be crazy. Everyone around you will feel your happiness and love if you guys are your true selves. These Do's and Don'ts help you write the vows, but ensure your love and personality shine through! HAVE A BLAST! IT IS YOUR DAY! Yay! Super excited for you!
Writing personalized wedding vows adds more magic to many lovely feelings, and we hope that our tips would help you write your vows for your big day!
There you are! Writing Wedding Vows: The Dos and Don'ts!