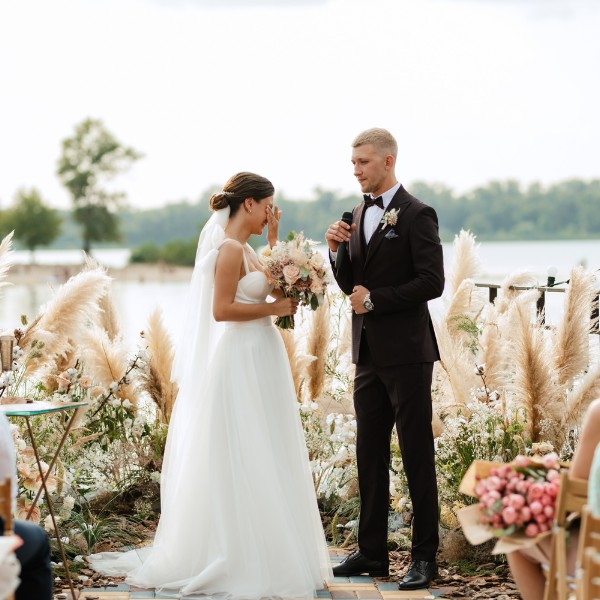 How To Write Wedding Vows. Crafting your wedding promises. Deliver your wedding voes with confidence and love. Reflecting on your love story on your wedding day. Finding meaningful words and sentiments for your vows.
Among the cherished wedding traditions that make this day truly unforgettable, the exchange of wedding vows stands as a heartfelt and personal expression of your love and devotion to one another.
Writing your own wedding vows is an opportunity to share those deep emotions, the promises you hold dear, and the dreams you envision together – and proclaim them to the world.
In this journey of self-expression and vulnerability, we will explore the art of writing wedding vows that capture the essence of your love story.
From finding inspiration and selecting the perfect words to infusing personal anecdotes, funny moments, and promises; your vows will become an authentic testament to your commitment to a lifetime of love and happiness.
This site contains affiliate links. For more info, please see our full disclosure.
How To Write Wedding Vows: The Dos and Don'ts
To help you, we've listed the dos (✔️) and don'ts (✖️), so you can write wedding vows that you and your loved one will treasure forever.
Do:
— SAMPLE WEDDING VOWS YOU'D WANT TO STEAL: CLICK HERE! —
Don't: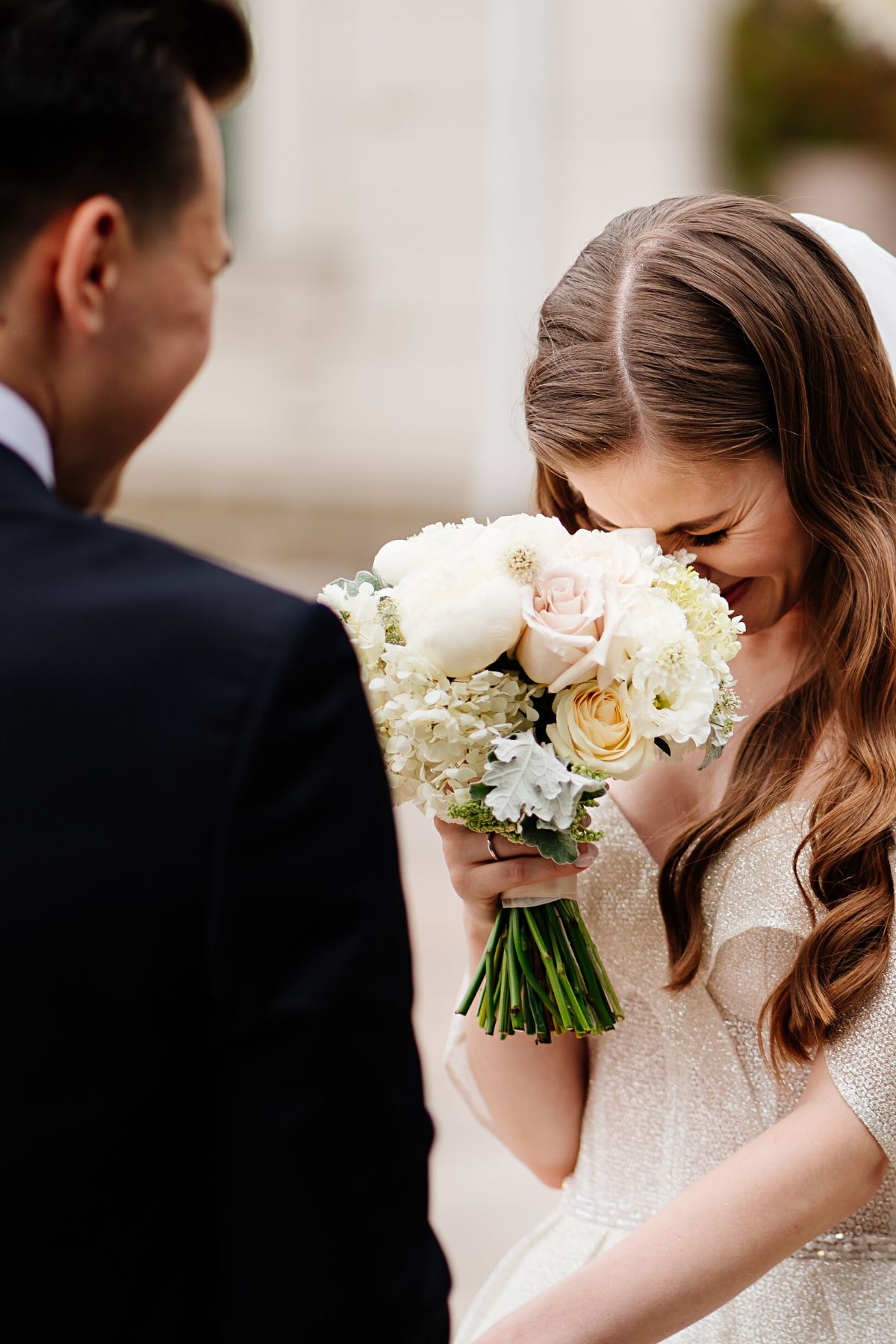 Do: Speak from the heart
Reflect on your relationship. Think about your journey as a couple (are you already tearing up?) and what your partner means to you.
Remember all the experiences you shared and the positive effect of the love you both share.
Write your wedding vows with confidence. Keeping a cue card or paper (lots of selections on Etsy!) on hand for you to read your vow is a wise idea, more like a bullet form, not a paragraph. However, use what you've written only as a guide.
You don't want your eyes glued to your notes. Allow yourself to speak from the heart and share the precious moment with your partner and your guests.
PRO TIP: If you are using your phone, make sure to add spacing deliberately. Finger spacing (like back in grade school!) will help you to pause without sounding so nervous!
This spacing will automatically slow you down as your eyes read the words. If you tend to get nervous and speed through the reading, this *strategic* spacing will help you pause without overthinking it.
Do: Mention milestones and everyday details (how to write wedding vows)
Of course, it's great to mention milestones that you have hit together (and even individually!), but marriage is an everyday commitment. Mentioning things that you share every day and how those are special to both of you.
Things that you notice that might only be significant to you. Personalize your vows by including specific moments, memories, or qualities that are unique to your relationship. Share anecdotes or stories that are meaningful to both of you.
Unexpected compliments like how your partner always puts gas in your car, checks the hair curler or shaver to ensure it is unplugged, makes your favorite sandwich, memorized your Starbucks order, knows when to order takeout (without being asked!), etc.
Share how you knew your partner was "THEE" one. How you can't wait to spend the rest of your life together. How adventures are more memorable and exciting because you get to share them with your partner.
Remember that depending on where (institution-wise) you are getting married, you might need to go with their traditional wedding vows, instead of your own wedding vows. This might also mean that you are to expect religious wedding vows to be followed.
In this case, you can still incorporate your personalized vows at the wedding reception when you do a "toast" or "speech."
Do: Agree on format and tone (important to remember when writing wedding vows!)
Discuss with your partner how you would want your vows to be—would it be romantic and formal? Or do you want to add a little humor? How many words/points would your vows be? Also, the time frame. How long will it be?
Do: Keep it short and sweet
Understandably, you want to share with the world how much you love the person you're marrying and what lengths you'd go for them.
However, you don't want your guests (and even your partner) to lose interest in what you're saying because you've kept on going on about how special your love is.
We get it, it's like when the floodgates of warm fuzzy emotions open, they just keep going, but this is why you also have to set a maximum time.
Keep it to a maximum of 2-3 minutes. Remember, you have a lifetime to prove to your other half how much s/he means to you. This will also help keep your wedding ceremony on schedule.
Do: Practice in front of the mirror
Do not skip this part! You must read aloud what you've written several times, so you're already comfortable when you actually share your vows during your wedding ceremony.
A side note on this, it is good to practice enough times but don't spoil it so much so you will still sound natural and emotional on the day of the wedding. When you rehearse too much, it will eventually sound like a presentation – and we know how boring that can get.
Do: Creative Approach (must read!)
If you feel like writing your wedding vows in a day or even a week is too much, try writing the vows right after getting engaged. Or perhaps 2-3 months before the wedding. Too much? Ya think?
Hear me out.
Write a sentence expressing either how much you love him or something special he has done each month, from the day you got engaged, just like a mini-documentary. If you're really feeling creative, snap pics to support what you've written.
If you actually recall details of specific moments that really stood out for you, even before you got engaged, write those down as well, as you remember them.
Even if you don't include everything in your speech, you can then "renew your vows" every year on your anniversary.
Yep, I just gave you an idea of what to write on your anniversary card. Yeah, you might not even need Hallmark! Uhm. Right? How sweet is this?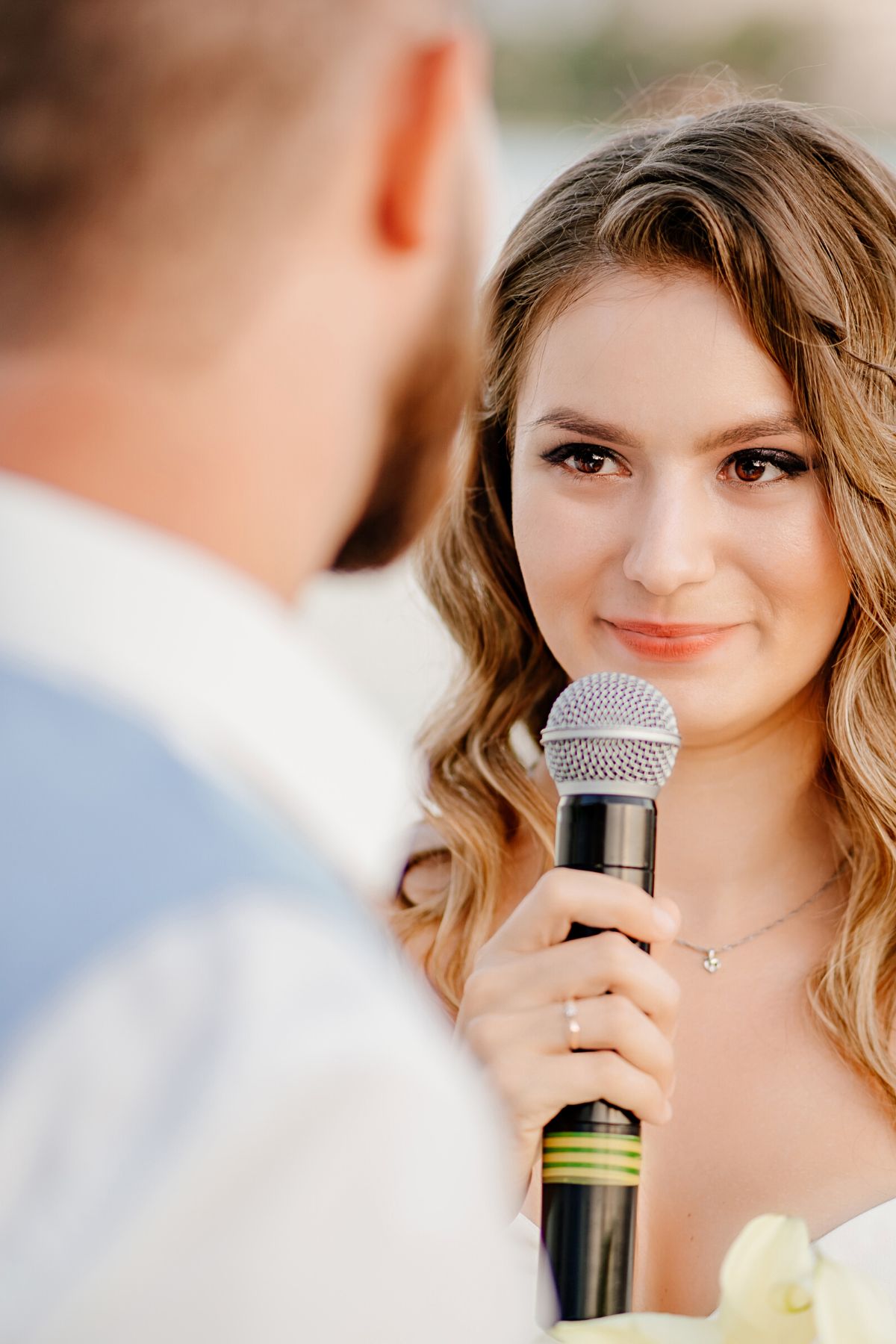 Don't: Forget to promise to…
Writing your wedding vow is not just about sharing your relationship and demonstrating how much you love the person you're marrying.
It's also about making commitments *obviously, that's why they're called vows* that you intend to keep for the rest of your married life.
Try to include general promises such as, "I will always be your support system," and some specific ones like, "I promise to try to wake up early and exercise with you."
Here are samples you'd want to steal

:
I will be there for you at your best, and I will love you more when we go through the worst.
I will love you as you evolve and discover more of yourself while always keeping a special place for our inner child.
I promise you that there is a line that I won't ever forget no matter what happens- and it goes like this "can I please get a venti pumpkin spice latte with oat milk, extra pumpkin topping, light whip, and extra hot.."
There will be days when it will suck, it will be hard and we'll wonder what the f*ck we're doing. And in all those moments, I will be beside you, you'll never be alone. I will hold you steady as we go through storms, and for all the other days, I'll be dancing with you through all our emotions- no matter what.
I promise to be patient with you as you memorize my Starbucks and Chipotle orders. I promise to look away on Tuesdays and Thursdays when you leave your socks on the floor – however, all the other days I will say something. I promise to learn more about the Avengers series so I won't keep asking questions when we watch the new Marvel series.
I promise to appreciate your dad jokes and your long-winded stories that can be literally told in 2 minutes but you choose to stretch out for 10. I promise to watch you when you play basketball, as long as I can shop on my phone while waiting. I promise to buy extra large blankets so you will have some left for yourself at the end of the night.
I knew God (or the universe or any religion/belief) loved me when you showed up in my life. I love how God let our paths cross and our souls meet. I love you for who you are and will continue to evolve and change with you as we grow older.
Don't: Go overboard on jokes
While it's OK to share some funny antics about your partner or your relationship, the last thing you want is for your vow to turn into a huge joke.
Find the right balance between humor and the more meaningful part of your commitment to your loved one. Write your wedding vow with sass and humor, but be cautious not to go overboard with the jokes.
Don't: Overshare
Yes, writing your wedding vows should be personal, but don't make it too personal. Remember, you'll be reciting them in front of family and friends, leaving the intimate details and inappropriate details out of it.
Do: Remember the most important thing when writing wedding vows!
THERE ARE NO RULES in writing your wedding vows. You guys are the only 2 people that know each other well. Your guests will appreciate you guys being true to yourselves and showing your personality.
This is your day; you can laugh, cry, and be crazy. Everyone around you will feel your happiness and love if you guys are your true selves.
These Do's and Don'ts help you write the vows, but ensure your love and personality shine through! HAVE A BLAST! IT IS YOUR DAY!
Writing personalized wedding vows adds more magic to many lovely feelings, and we hope that our tips will help you write your vows for your big day!
Do: Backup
Always save a backup. You can either email it to your maid of honor or bridesmaid/s to ensure that you can pull it when you need it (just in case!)
〰️ Remember that there's no one-size-fits-all formula for writing wedding vows. Your vows should be a true reflection of your love and commitment to your partner, and they should feel authentic and meaningful to both of you. Writing your own vows can be a deeply moving and memorable part of your wedding ceremony.
There you are! How To Write Wedding Vows: The Dos and Don'ts!