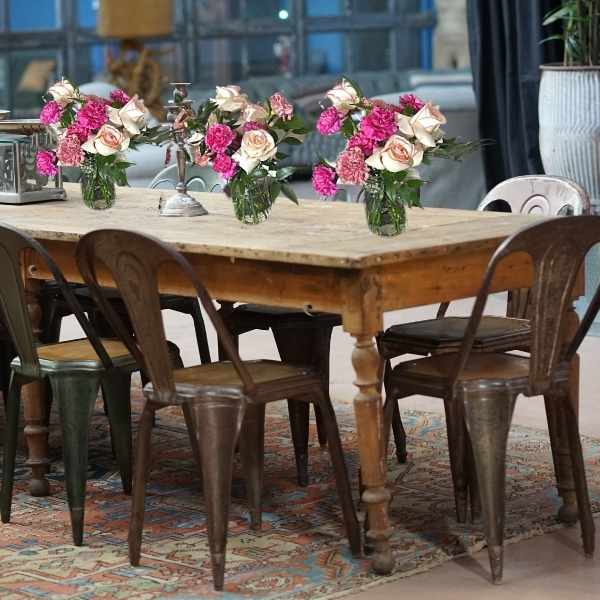 DIY Wedding Centerpiece Using Grocery Flowers – Under $15. Organic Garden Style! Wondering how to make a centerpiece or wedding bouquet from supermarket flowers? DIY grocery store bouquet? Grocery store flowers for your wedding centerpieces? In this guide, we are sharing how to make a DIY wedding centerpiece using grocery flowers – the best part? It will come out to be under $15 per centerpiece!
We created these easy, gorgeous organic garden-style centerpieces using grocery flowers! The total flower cost for each centerpiece came up to only $15!
Now it is hard to tell what will be available at your local grocery store flower shop. This is why what we used are the staples. These flowers are usually readily available at your local grocery store, or you can also pre-order them from the nearest flower shop (if that's easier for you!).
To make your own DIY Wedding Centerpiece Using Grocery Flowers, scouting which grocery store has the best varieties will help!
In these arrangements, we used roses, carnations, and greeneries.
Scroll down to the bottom of this article to watch the full how-to video (or click here)!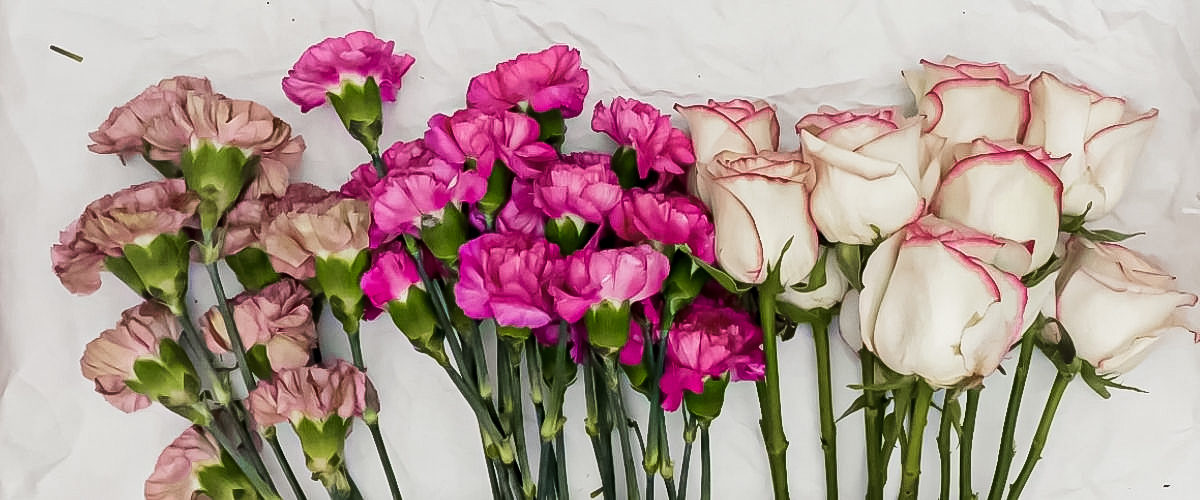 For the roses, we found creamy roses with light pink tips! So gorgeous and they look delicate and sophisticated!
We found them in the grocery flower shop for $24 a dozen! (almost $2 per stem!) Not too bad!
The carnations we found were shades of pink. We also found an antique pink shade that we fell in love with!
Guess where we found these carnations? We found them in the clearance section! So we got them 50% off per bunch or 3 bunches for $15! Of course, we had to go with the 3 bunches! What an absolute steal!
Greenery stems were a little hard to find, so we had to ask the florist what they have, and they said that they have Italian Ruscus for $3.50 each. These greenery stems are long and can be cut into pieces, so we only had to get 2 stems!
TOTAL FLOWER COST BREAKDOWN
Roses: $24 per dozen ($2 per stem)
Carnations: $15 per 3 bunches
Italian Ruscus Greenery: $3.50 each x 2 stems = $7
TOTAL: $46 ($15.33 per centerpiece, total of 3 centerpieces)
In terms of the vases, the grocery store flower shop only carried mason jars, and they were $4.99. Purchasing vases from your discount craft store will save you more money, but for this easy DIY grocery flowers centerpiece guide, we use what the grocery store has available and work with it!
Let's get started designing! We've added as many details to the DIY how-to video below to make it easy for you to follow along!
What's shown (a.k.a. "how to") in the video?
Process and flowers from the grocery
Remove guard petals from the roses
Open & Reflex Roses
Pull out dead petals from carnations
Open up carnations
Arrange an organic garden-style arrangement (super easy!)
.
Interested in using silk flowers instead? We got you! Here is a guide to help you out!
There you are! Our top tips for your DIY Wedding Centerpiece Using Grocery Flowers!