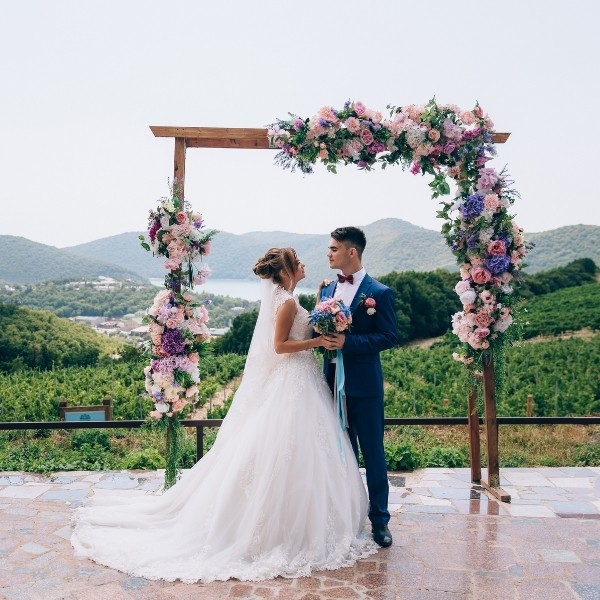 Wedding Ceremony Guide. From this moment. Looking for a wedding ceremony outline? Perhaps a wedding ceremony timeline? Looking for a simple way to break down your wedding ceremony? Plan your order of ceremony with this guide.
Your wedding ceremony is the most important part of your wedding that signifies your married life and love for each other. While many religious wedding ceremonies might seem similar, each of them has something unique.
Of course, you can always customize or create a new custom or tradition for you and your partner. If you are about to embark on an interfaith wedding, consider starting to talk about creative ways to respect and incorporate both sides.
Whether you are going for a traditional, denominational or religious ceremony, we've rounded up a general guideline that will help you set up your wedding ceremony effectively (and less stress!)
Wedding Ceremony Guide
What are you going for
Start with deciding on what you are going for in terms of the type of ceremony. Speak to your partner and go over what is most important to you and the people around you.
If it is a possibility, check and talk about paying respect to previous traditions and customs. You can incorporate them in little ways; they do not have to take over the whole ceremony.
This should be decided early on in your wedding planning to ensure that the rest of the plans line up accordingly.
Once you have decided how to move forward, it will be much easier to follow through with the next steps.
Learn
Specific wedding ceremonies have more details than others. Learn about them, whether through consulting counselors, wedding planners, or even the officiant themselves.
This will help you better understand what is required, the time frame, and other details that you might miss. Speaking to a pro is always helpful.
The Venue/s
Once you're clear about your wedding theme, it would be easy for you to choose a venue for your wedding ceremony.
Now, this depends on you whether you want to have a single venue for your wedding ceremony. If you are going for one way only, meaning you might need only one wedding if you are going for a Christian wedding.
However, mixed ceremonies might require more than one venue. You might need a church for a Christian wedding and another venue for a Chinese Tea Ceremony, for example.
There are, of course, options on how you can bring them all together in one space. This is why speaking to a counselor about interfaith and mixed ceremony weddings will help a lot.
In addition, consulting a wedding planner/consultant will also help you develop creative ideas on how to integrate everything without having your guests travel to multiple locations.
.

Configuration / Seating (a great wedding ceremony guide tip to help your guests see better!)
Plan your seating configuration. There are ceremony details where your guest can participate effectively if they are seated in certain ways.
Even if this is as simple as adding a stage so that your guests can clearly see you, your partner, and the whole ceremony.
Signs & Programs
Having signs and programs printed out (you easily print online through Vistaprint or Canva) can help your guests better understand what they are walking into. Help them and give them a chance to participate.
Procession
The procession marks the time for everyone to settle down and for you, your partner, and the bridal party to make the entrance.
For a traditional procession, we got a guide here to help you plan. If you're having a religious wedding ceremony, you might need to follow a specific tradition.
Speak to you and your partner's families to determine specific requirements or orders regarding the procession. As mentioned earlier, give you and your partner a chance to learn more about the ceremony(ies) to help you plan.

Ceremony Details (consider this essential part of this wedding ceremony guide!)
Pre-wedding, there will be specific details that you might need to drill down asap, like readings, traditions, customs, and the like.
Certain ceremony officiants will usually provide you with paperwork to go over and decide which is best for you and your partner.
These are essential to determine the timings and will have a great impact on your wedding timeline. Ensure to choose the right things accordingly to enable you to stay within your booked times, both for the ceremony and reception.
If you are having a more detailed wedding ceremony, it will help your guests a lot if you have some program guide that you hand out. This will help them follow through and be more "involved" during the ceremony.
Officiant Guidelines
If you would like to incorporate or create a new tradition, speak to your officiant about navigating and integrating this seamlessly into the existing program.
Note that certain ceremonies are strict in their program, especially religious ones. But don't have discouraged; you can always create your own new tradition at the reception, before all the guests arrive, or consider doing it privately before the religious ceremony starts.
There are also specific details that might need to be considered depending on the tradition, religion, and custom; check these details with the officiant and have a coordinator or a point-person on the day of your wedding to 'manage' and ensure that these are not forgotten.
PRO TIP: If possible, have your officiant welcome the guests and provide them with 'what to expect from the ceremony that is about to happen. This will invite more guests to participate (if necessary) and perhaps be more present as the ceremony is happening.
Vow Exchange (an important part of this wedding ceremony guide!)
The vows of your wedding ceremony represent the promises of loyalty, faithfulness, and love for each other. It is up to you whether you choose to recite the ones that everyone does, or you can write your own.
Time your vows (read in your head only) to see if it does fit the timeline you have set.
Rings Exchange
After both of you have made promises to each other, here comes the sweetest part of your wedding ceremony. The officiant guides you to exchange the rings, which means you are now just a few steps closer to being pronounced newlyweds!
Marriage Pronouncement
What else can define a wedding ceremony guide well than the marriage pronouncement? With the exchange of rings, the officiant would then pronounce you as a married couple.
With your marriage announcement, now comes the moment that had always given you butterflies in the belly every time you thought of it. Your first kiss as a newly married couple!
.

Closing Remarks
The officiant wraps up the wedding ceremony with closing remarks.
Whether it is through a blessing, prayer, or a tradition, this part means that you are officially a married couple and that it is almost time to celebrate the night away!
Recessional
Wrapping up the ceremony! Recessional marks are the end of your wedding ceremony, and they wrap the event with you and your partner walking down the aisle.
There are still some details that are needed to be planned during the recessional. Plan who walks out first and where they go after they walk out. The last thing you want to have is a crowded spot or a guest area without flow.
EXTRA: Photos
Another thing you might want to consider when crafting your wedding ceremony guide is photo ops. The ceremony might require specific photos in and around the ceremony area. Consider allocating enough time for this and adding this activity to your wedding timeline.
There you have it! Wedding Ceremony Guide!