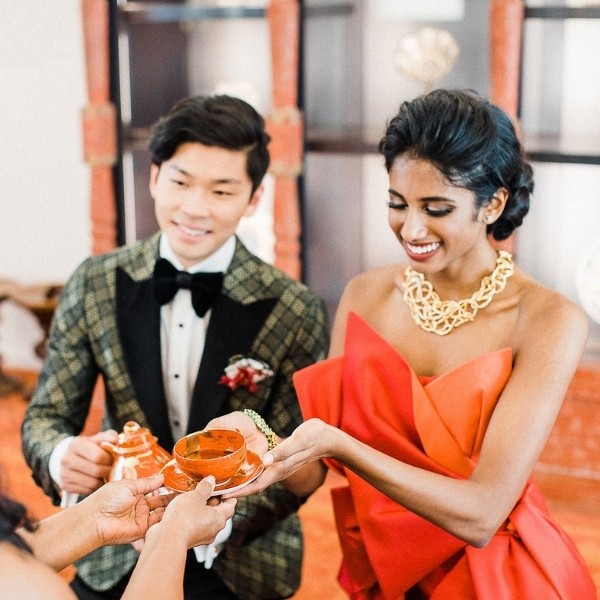 Interfaith Wedding Tips. Incorporate & Respect. Getting married and having different religious backgrounds? Planning an interfaith wedding ceremony? Interfaith marriages can definitely be manageable because love is love. We're sharing tips on how to manage wedding planning with different religious approaches.
Article thumbnail photo credit here.
You're getting married to the love of your life. Marriage is a union between two different souls and between different personalities, beliefs, and sometimes faith.
Because love is real, and it doesn't choose who we fall for. Interfaith and inter-belief can and will happen, and love will always find a way to make things work.
There has to be openness, understanding, and respect from both sides for the actual wedding ceremony because of the differences. Navigating and finding ways to incorporate and respect both sides is definitely possible.
Every religion has its customs, traditions, and beliefs, especially for the 'actual' wedding ceremony/vow. So if you're about to navigate an interfaith wedding, we've put together a few tips that will help you get started!
Interfaith Wedding Guide and Tips
1. Being a good listener and extra understanding
Discuss your beliefs. Talk openly with your partner about your religious beliefs and how they will be incorporated into the wedding ceremony.
Being respectful and not judging each other's traditions is key.
Both of you are in love and want to spend the rest of your lives with each other, but before you move toward making it official. Take time to understand each other's faith and beliefs.
At this time, it is most likely that you both have a "general" idea or have already been "introduced" to each other's faith, customs, and traditions; since this is now the actual wedding, it is time to dig deeper and have a better understanding.
Try and plan this part much sooner than later. Add this to the top of your wedding planning timeline.
Visit each other's family, and have dinner/lunch with them (with your partner if you prefer!) Learn and listen to traditions. Take (literal) notes so as not to miss any important detail.
Attend courses or some religious classes about your partner's faith so you can have a better idea about their religion.
TIP: Schedule the above activities at least days, if not weeks apart.
This will help you not feel overwhelmed. Because this is a lot to take in, not just to take in, but also to practice and incorporate. Give you and your partner a chance to digest the information so both of you can manage it better.
This is not a time to question new ways because this is about blending. Blending and incorporating faith requires going into the conversation open to learning new things.
You are not giving up your own belief, but you are incorporating and respecting the new family that you will be a part of, the same way that they will also respect and incorporate your beliefs, traditions, and customs.

2. Go over your learning and discoveries with each other
Once you now have a lot of information and had a chance to dig deeper into each other's faith, customs, and traditions, take a chance to sit down and actually speak about what you've learned.
When you and your partner speak about what you have discovered, an honest and heartfelt discussion will unfold, and their importance will be more evident.
When you hear your partner talk about these customs and traditions, it will mean more to you, and you will be more open to incorporating and appreciating these new learnings and discoveries.
3. Speak to a counselor and/or interfaith guide
Seeking help from a wedding counselor and/or an interfaith guide is the best way to plan a successful interfaith wedding because they can help you the most here.
Visit a counselor who specializes in dealing with interfaith couples so they can better advise you on how to incorporate and blend effectively.
A counselor can also help you navigate which faith you will raise your kids or other family matters that will be helpful beyond the wedding, but also moving on with a life together. These things are essential discussions before your wedding.
4. Find appropriate officiant/s
An officiant is responsible for conducting your wedding ceremony, so finding an officiant trained in interfaith marriages can execute it better.
Their personality is also essential when choosing your officiant. You want them to make both families comfortable and also very well respected.
You can also appoint two officiants, each from both faiths, so traditions from both religions can be incorporated. TIP: Ensure to communicate effectively how the ceremony flow; take advice from your interfaith wedding guide.
If you opt to have, two officiants make sure that they have interacted before the wedding, or better yet, have a sit-down meeting with them and do a full rehearsal with both families.
Since you both belong to different faiths, both sides of the guests and families might struggle to understand the rituals. So you can ask your officiants to explain the significance of activities and the concept behind every tradition to the guests briefly so they can fully participate.
5. Plan the tradition, customs, and rituals (one of the most important Interfaith Wedding Tips)
Before discussing this further, it is important to note that the best venue to choose is a neutral one. Or if you are able to do both ceremonies in one day at two different institutions/religious places, that will be better. But as you know, that might not always be possible.
This is where working with your interfaith counselor/guide and a wedding planner/consultant will be able to help you plan around this part seamlessly.
Also, having a neutral third party to consider both sides will help show both of you and your families the bigger picture.
Creating a dedicated timeline for this part of the wedding. Since there will be most likely 2 officiants involved and both families also involved in activities, it will be best if there is a timeline that everyone can follow and know their "part" better.
Choose an officiant who is comfortable and experienced with interfaith ceremonies.
You may consider having two officiants, one from each faith, to perform the ceremony together.
6. Incorporate as much as you can
From decor to dresses/outfits, personalize and incorporate everything about your wedding to make it worthwhile for both of you.
A creative wedding designer/consultant can develop decor and design beautifully that will complement both faiths.
Again, this is where working with multi-dimensional vendors can create something that is not a "generic" beautiful approach but with an open mind incorporating as much as they can to respect both families.

7. Involve and ensure families are heard (within reason)
Involve both families (within reason) and connect them with your plans.
Showing that you are trying to incorporate and respect everyone's traditions and customs (again, within reason) will start a great relationship, especially in interfaith marriages.
Incorporating 2 families with different faith, tradition, and customs take some navigating. But the marriage is a good start to having a solid foundation and setting the tone for bigger love, understanding, respect, and openness.
RELATED: Dealing with family conflicts during wedding planning
8. Come Through
What we mean by this is, that as much as it is great to have respected both sides' traditions and customs, you and your partner can also create "something" for both of you.
Whether it be a sand or candle unity or even something creative like paint pouring, don't forget to incorporate something that also represents the two of you, no matter how short that part will be at the ceremony.
Together with the interfaith blending of families' help, coming through as the couple is like completing the puzzle.
Everyone involved (especially the two of you!) gets to have their own special connection to the big picture, a.k.a the wedding experience as a whole.
Here are more inspirational pictures for one of the interfaith weddings we worked on with August In Bloom and photographed by Alice Xue Photography.
There you are! Interfaith Wedding Guide and Tips!