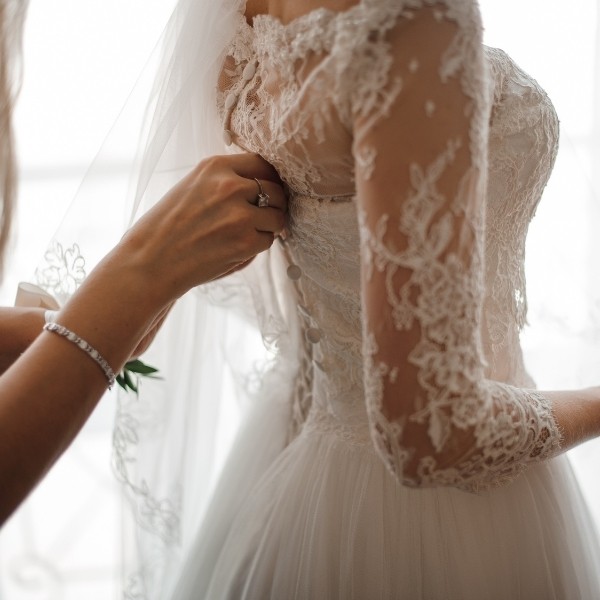 How To Shop for a Wedding Dress. Find THEE dress! Shopping time! In this guide, we are sharing tips on how to shop for a wedding dress! Buying a wedding dress? We got tips for wedding dress shopping to get you started on your journey to find your wedding dress!
Yay! One of our fave parts of the wedding is seeing the bride find THEE dress! What a fun and exciting experience to share with your closest friends and family!
To help you shop for THEE perfect wedding dress, we have some tips for you to clear your mind and focus on the kind of dress you want.
As much as it is a fun and exciting experience, it can get pretty tense, especially if you are in the actual "process" of trying it on, and of course, making the final decision.
We got tips for you to clear your mind and enjoy the wedding dress shipping experience!
How To Shop for a Wedding Dress
1. Find Inspiration
Before even starting looking at WHERE to shop and which bridal boutique to go to, find the generic style and aesthetic you are leaning towards.
Nothing concrete, but a general idea of what you "picture" yourself in. Make an inspiration board. You can start with many ideas, but don't forget to narrow it down to at least 5-8 options.
TIP: When you are finding inspiration, don't forget to consider your location and weather. Even if it doesn't affect the dress entirely, there might be accessories that you will need to adjust to the location and weather of your wedding.
2. Set a budget
You can't settle on a wedding dress unless you've set a budget because you are going to see thousands of dresses with different price ranges that might not suit your pocket. So always set a budget!
Avoid trying on dresses exceeding your budget. Take into account alterations and other costs (like accessories!) in this budget.
TIP: If you are going for a specific designer, check out the price range first and see if it is within what you expect to spend. If not, shop around and look for similar designs by designers that will fit your price range.
I mean, we've all seen Say Yes! To the Dress! – and it might be tempting to try out your "dream" dress even if it is outside your budget. But this will have a not very settling consequence – you will most likely fall in love, and it will be hard to get over it!
3. Shop timely (important tip on how to shop for a wedding dress!)
Depending on the dress you are looking for, there might be chances that they take longer to make or even alter.
On average, a safe window is at least 6-10 months before your wedding. There might be dresses that are readily available but might take 1-3 months to alter.
Don't spread out appointments too far so that you can be fully immersed in the feeling, and the memory and "feeling" of the dresses you tried on will still be fresh. This will help you come up with a decision much better.
4. Determine the "feeling"
You can and WILL feel and look beautiful on many, if not all, dresses that you try on. But also be "conscious" about the "feeling" that you want to have – whatever that may be.
Being 'aware' of how your body and your heart respond to the dresses (and not just the opinion of others, although they, of course, count!) will help you decide better on what is best for you and what will make you feel like how you feel about your partner on how you found 'the one!'
5. Describe the dress
With the help of your narrowed-down inspiration board, describe your overall 'aesthetic' and 'style'
Are we looking for chic, classy, rock-and-roll? Even the shape you are looking for will help. Are you looking for a mermaid, a-line, ballgown, or a stylish mix?
Having the inspiration board and description will make it easier for you to communicate what you are looking for with your bridal consultant.
6. Keep it micro
Before you even set out to book bridal appointments, choose your squad first. A group of 4-5 people at most will be a good number, not overwhelming, but also a good solid support team to have.
7. Schedule your appointments
Whether you want to do virtual or in-store, check in with your micro squad to see what days they are generally available so you can have a complete team when you make your appointments.
TIP: Weekdays are great if you have time for this as it is less busy, and you might be able to extend your original time frame to enjoy the fitting more.
TIP #2: Pack the day accordingly. If you can book 2-3 appointments during the day, that will be best. As a matter of fact, 1-2 stores might work better to help you decide better and avoid any more confusion. In the same token, don't also overbook your day. Be productive, but also give yourself enough time to digest and enjoy the process.
8. Prep & Enjoy (having an inspo printout handy is a great tip on how to shop for a wedding dress!)
Be and feel your best when going in for your appointments. Prepare and schedule your day accordingly so you won't feel overwhelmed and really have a chance to enjoy the process!
TIP: Have a printout of your inspiration ready! Although it is easy to show your phone or tablet to your bridal consultant, it will be a great help if you have a printout for them to use to pull out dresses for you more efficiently!
9. Embrace surprises
Yes, you have your inspiration board narrowed down. But when you speak with your bridal consultant, they might have options for you that will fit you better, both in terms of style and budget.
It doesn't necessarily mean you have to give up everything you wanted, but be open, and you might be surprised about something unexpected turning out to be the best thing!

10. Confirm across the board
Confirm your appointments accordingly. Advise the squad of your plans, like if you want to have lunch somewhere or if you want to have dinner afterward. This way, they know what to expect and plan.
If you do have lunch and dinner plans, ensure to make reservations for that, especially if you are coming in as a group!
11. Take Pictures
Pictures are the best option when you want to look at yourself while you try different wedding dresses.
Mirrors might give you a front or rear view of your wedding dress, but pictures bring out the details and curves to your attention. Ask your shopping squad to take pictures of you in the wedding dress from different angles so you can have a better idea of how it looks on you.
Pictures also help you compare different dresses afterward, and you might end up finding your perfect wedding dress.
Decide on which one feels the most magical! Speak to your bridal consultant to help you out with the accessories needed to make it "extra" magical and fit you perfectly!
There you are! How To Shop for a Wedding Dress!