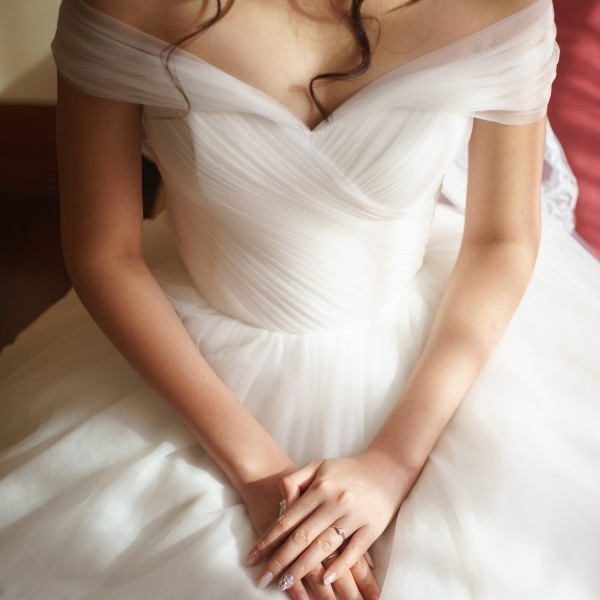 Chic and Casual Wedding Dresses. Love your style! TOP 5: Looking for a casual outdoor wedding dress? How about short casual wedding dresses? Maybe planning a backyard wedding and looking for a chic outdoor wedding dress. In this guide, we are sharing our top picks for chic and casual wedding dresses!
The wedding industry offers us a plethora of bridal gown choices, creative minds pushing the limits of the traditional, and surprising us with awe-inspiring pieces of art.
While some navigate towards a lush and grandiose appearance, others are more in line with the contemporary aesthetic, celebrating clean lines and a silhouette flattering simplicity.
If you don't feel drawn to ballroom gowns with tons of layers and lace, and you have difficulty discovering a gown that praises the modern Muse with minimalistic yet stylish flair, we are more than happy to assist you on your quest!
We've carefully curated a list of the top 5 chic and casual wedding dresses that are guaranteed to bewitch your senses!
This site contains affiliate links. For more info please see our full disclosure.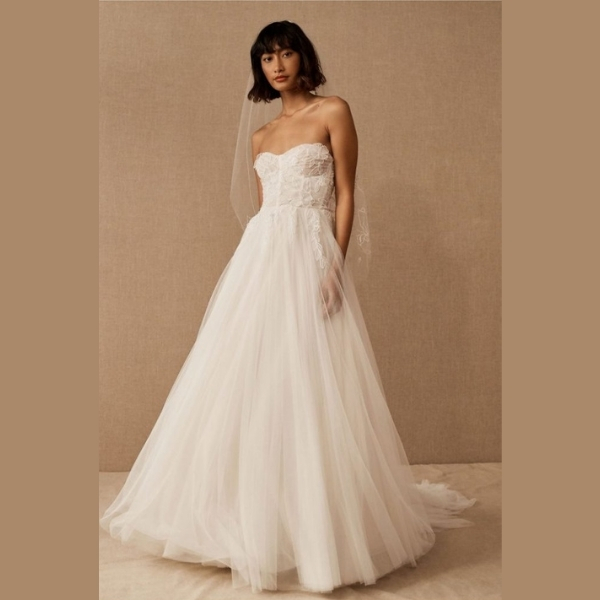 We are swooning over the whimsical feel of this A-line gown!
Those ethereal layers of tulle are a beautiful embodiment of contemporary aesthetic, elevating the casual wedding dresses romantic-wise.
The designer bodice channels the gentleness of nature with its airy floral appliques that dreamily descend toward the waist and bottom.
Visualize yourself wearing this gown in combination with cascading florals, either with gentle pastels, light blue, neutrals, blush, or simply all whites composed of different textures.
Because of its romantic versatile nature, you can complete the look with almost any hairstyle. Feel the lightness of this gown as it gently sways while you walk down the aisle!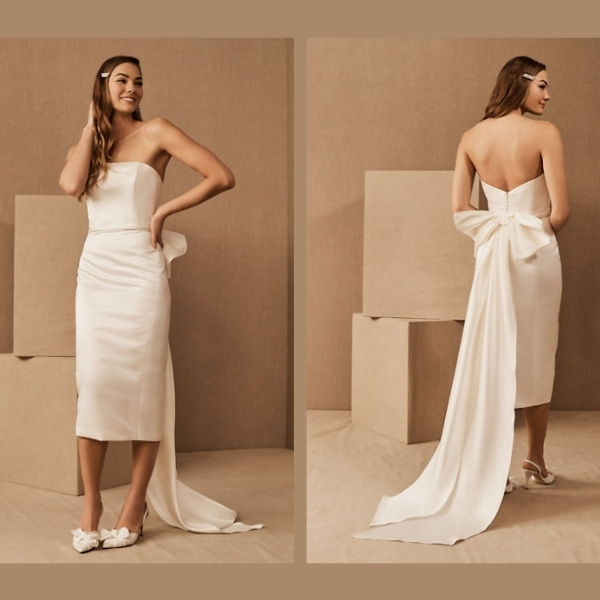 Nothing says chic like a dramatic bow on the back of your dress!
The front of this designer dress gives the feel of timeless elegance, while the back leaves a grandiose statement.
Another fantastic feature is that you can detach the bow when going for a more minimalistic elegant look and wear it for many more events besides your wedding – talk about stylishness and functionality!
We are in love and we know you are too!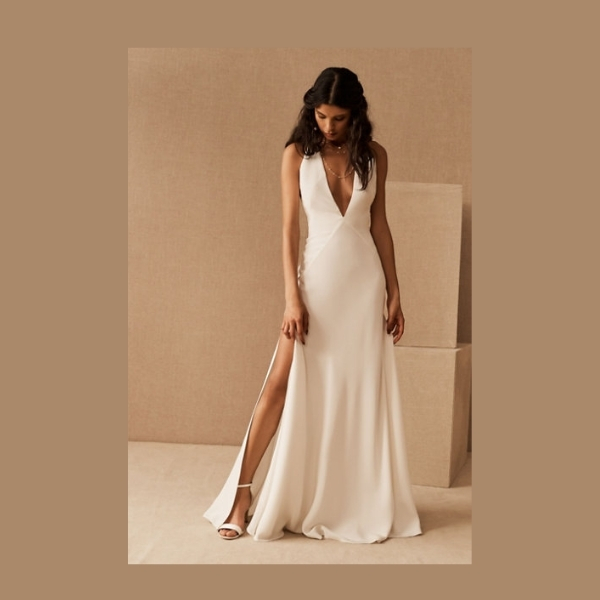 It is more than obvious why this dress has found its spot in our top chic and casual wedding dresses.
The way its luxurious silk crepe drapes the silhouette and the back straps reveal sensual feminine lines, we cannot help but give it our full adoration.
And we are all thinking it – that bold slit is just divine!
This design's simplicity gives you the liberty to experiment with various accessories for a summer theme or even complete the look with a sheer cape, portraying your beauty like a modern goddess!
Ahh, such elegance and sophistication weaved in a clean-line dress with a voluminous ballgown silhouette and off-shoulder magnificence.
The unembellished satin gives this design eloquence, while the bodice and neckline beautifully frame the feminine figure.
Simplicity in its finest form – which we utterly love!
If you are a modern bride who seeks refinement, we suggest these types of designer pieces that give a classy touch to the aesthetic of chic and casual wedding dresses.
Also, whoever said that ball gown couldn't also be casual? This is 2021; wearing a ballgown even at a backyard wedding is definitely ok (unless, of course, it's not your vibe!)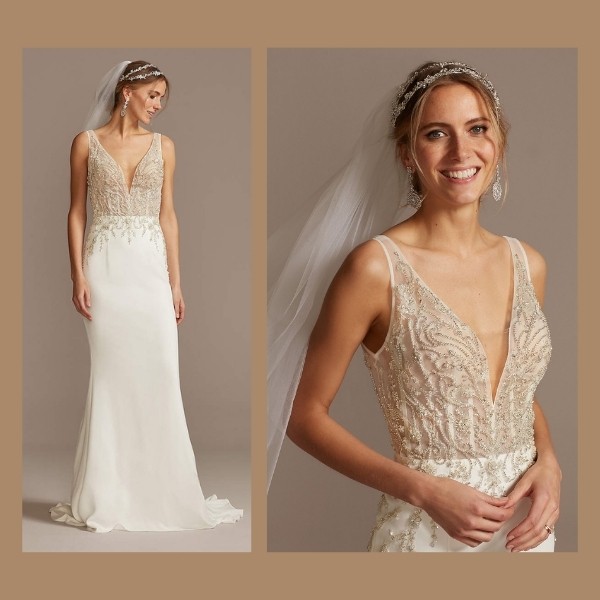 Isn't it simply magical?! The fact that it has been hand-beaded with over 18.000 sequins takes casual wedding dresses to another level.
Even though that sounds and obviously looks impressive, we admire the modern flair of the sheer bone-corseted bodice combined with the minimalistic stretch crepe skirt, achieving an enchanting contrast of romantic glam and simplicity.
If you loved our selection of chic and casual wedding dresses (we mean, how can you not!), we invite you to browse through our page for more stylish tips for your dream wedding vision.
There you are! Chic and Casual Wedding Dresses: Top 5!