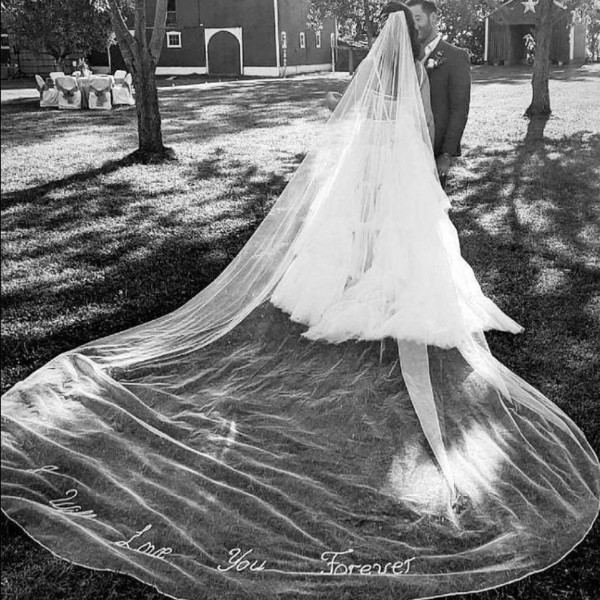 Personalised Wedding Veils You'll Love. Custom wedding veils tailored to you. One-of-a-kind keepsake. Add a personal touch to your wedding veil. A touch of sentimentality. Reflect your style and vibe by personalising your wedding veil.
This site contains affiliate links. For more info, please see our full disclosure.
We all know how we can complete your wedding look with a stunning wedding veil, but why stop there? You can add custom words, initials, monograms, and dates on your wedding veil, making it EXTRA special.
If you have been here before, you know how much we love finding amazing and beautiful custom products over at Etsy.
Whether you are looking for a cathedral veil, lace, floral, tulle, silk, pearl, or classic styles, personalizing it makes it something that is only significant to your wedding. Different-length veils also show the wordings differently which is another exciting way to incorporate your style!
Having a personalized wedding veil can add a touch of uniqueness and sentimentality to your wedding attire, making your special day even more memorable. There are several reasons why someone might choose to have a personalized wedding veil:
Personalizing your wedding veil allows you to incorporate meaningful details or symbols that hold significance for you and your partner.
It could be initials, a special date, or a hidden message that adds sentimental value to the accessory.
A personalized veil can be designed to reflect your individual style and personality. Whether you prefer a modern, classic, bohemian, or unconventional look, a customized veil allows you to express yourself and stand out on your big day.
You might have a family tradition of passing down veils or specific heirlooms from generation to generation. Personalizing the veil can continue this cherished tradition and add a sense of family history to your wedding ensemble.

There you are lovelies! Personalised Wedding Veils You'll Love!