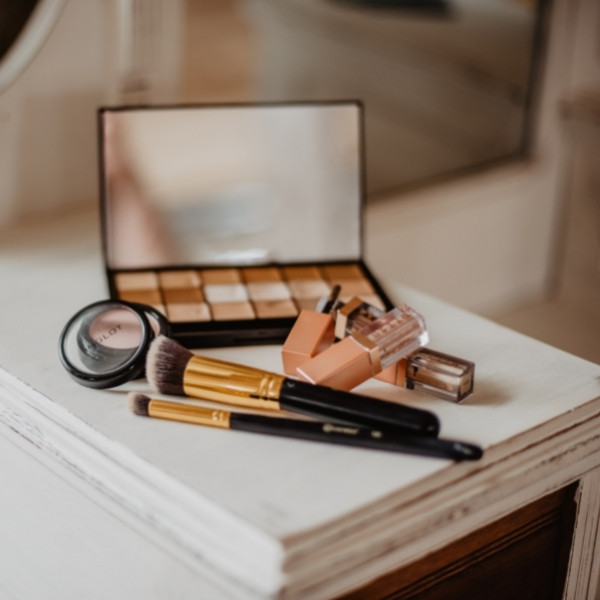 Wedding Day Makeup Touch-up Kit. Keep it fresh! Already got your wedding makeup product essentials and just looking for other ways to help your DIY bridal makeup to stay fresh all day? In this guide, we are sharing this curated list with mini/travel size wedding day makeup touch-up kit items!
This site contains affiliate links. For more info, please see our full disclosure.
Yay! It is almost your wedding. You've already ironed out most (if not all!) tiny details, from the wedding venue, the wedding dress, the wedding decor, up to the little table decor like your wedding escort card and wedding favors!
Now that you have all those wedding details in place! Let's talk about little things that you would want to keep handy on your wedding day. Yes, we are talking about your wedding day touch-up kit, a.k.a. your wedding makeup kit!
Freshening up once in a while throughout your wedding day will help keep you looking less oily and, of course, photo-ready! This is for you if you have decided to do your own makeup for your wedding (DIY Bridal Makeup)!
If you have a makeup artist doing your makeup, show them your touch-up kit to ensure that it works with the products they initially used. This will help avoid any shade discrepancies and too much cakey-ness. They may even go above and beyond, and if they have the same or similar products in their kit, they can use it, so it matches perfectly with your wedding day makeup touch-up kit.
These are things that you might already have in your makeup kit, but in this curated list, we include the perfect mini-size makeup that you can easily pack into a tiny wedding purse!
Wedding Day Makeup Touch-up Kit:

Foundation
Lightly touching up your foundation is essential. You don't want to look so cakey and thick as the day progresses. Of course, the best way to keep fresh is to start with a good base. However, if you have oily skin or are getting married in the summer, it will most likely be that you will sweat a little – or maybe a lot. Keeping light powders to touch up will help you keep looking fresh and matte.
PRO TIP: When touching up with a powder product, pull out as much paper towel as you can and cover your dress, especially sitting down. If you are standing up, create a bib-like cover to ensure no dusting gets on your dress!
Concealer
We don't want to overdo this one as well! But, if you are touching up the foundation, you might want to do your concealer as well, especially if you are targeting some spots or some problem areas to cover specifically.
This Nars concealer and blush duo is so handy and such a good deal!
Eyeliner
This will come in handy for you. Now a word of caution, if you have not done this professionally before, or at least have not practiced it before, you might want to skip this altogether.
If your original makeup has an eyeliner that you can quickly draw over, then you might be able to get away with this. Remember, though, that writing over a liquid eyeliner will make it crack and look weird. If you use a pencil, that might be a much safer bet.
Mascara (the smallest thing to carry in your wedding day makeup touch-up kit!)
Mascara is perhaps the only item that makes your eyes appear brighter and wide awake. Whether you want to add length or volume to your lashes, mascara is a must-have in your wedding day makeup kit or glam bag. There will be some tears shed (happy tears!) on your wedding day, so waterproof mascara is always a good idea.
If you are already wearing strip lashes, instead of packing mascara, you might want to pack extra strip lash, as well as lash glue. These from Velour have tweezers already, and also, you don't need to trim them! Easy peasy!
Bronzer & Blush (our personal fave essential in our wedding day makeup touch-up kit)
There are several fantastic bronzers on the market, and you may choose one in a cream, mousse, or powder form, as well as the tint that you desire. However, a convenient package will be better for your wedding makeup bag.
A blush will quickly give you the appearance of a healthy glow, making it an essential addition to your wedding day makeup touch-up kit. If you have dry skin, consider using a cream blush—just a few dabs will give you a dewy radiance. If you have normal or oily skin, the powder blush is a must-have.
This Nars bronzer and blush kit come with a mini brush! Making everything easier for you on your wedding day!
Brow Pencil
Oh yes! Throw in that brow pencil for your wedding day makeup touch-up kit! We want to keep those brows in place and not be sweat-drenched!
Contour Kit
If you love a solid jawline effect, as we do, having a contour kit handy will get those jawlines and cheek contour looking sleek and sexy.
Lipstick
This goes without saying; of course, your lips should not be forgotten! You can bring your own or purchase a mini version of it for your wedding day makeup touch-up kit!
Brushes & Bags
If you are not into carrying purses on your wedding day, you can pack these minis and have your bridesmaids or a trusted friend hold on to them until you are ready for a touch-up. This can also sit under your sweetheart or head table or even in your bridal suite.
The best thing about this wedding day makeup touch-up kit is that you can always keep this with you or even leave it in your car or your office desk, so you always have it handy. We're saying that you can get your ROI (return of investment) by maximizing their usage!
There you are, lovelies! Wedding Day Makeup Touch-up Kit!