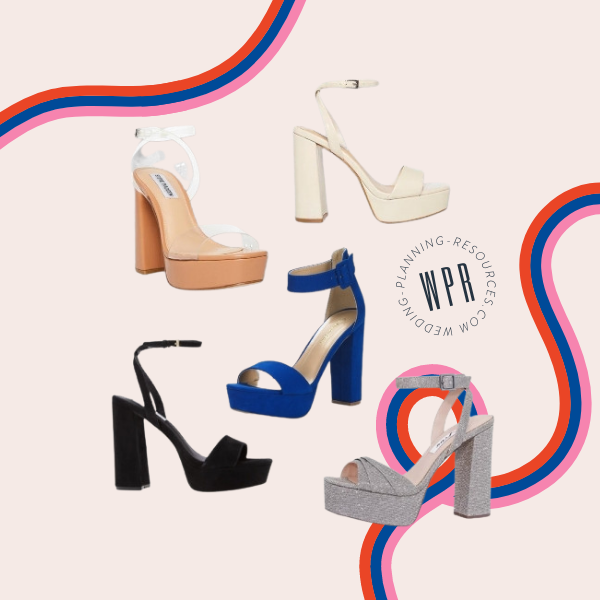 Chunky Platform Heels: You Can Actually Dance In. Oh yes. We love going to parties, attending weddings, and showing up for events. If we're being honest, we usually *almost* always can't wait to get to the party! You know, that part where we get to dance and move our bodies?
This site contains affiliate links. For more info, please see our full disclosure.
But of course, attending these parties usually means we are dressed up. Lovely dress and high heeled shoes. You know, the higher the heels, the closer to God (lol!) – But seriously, as much as we love a sexy pointed stiletto, we know how much it is a *real* pain to party in.
How am I going to bust a move in a stiletto without getting nervous that I might fall and lose my balance? Yeah. There is probably no way.
These platform chunky heels, on the other hand, come on, I mean look at how gorgeous they are! And how much balance I will have! Lol. I have the Steve Madden Lessa Platform Ankle Strap and I have no problems dancing. LOVE LOVE this!
Having a strap also help with pulling a Cinderella that night (you know, losing the shoe? lol!). The strap helps hold the shoe in place.
Add non-skid shoe stickers on the bottom sole and you are a sticky my friend! Well, by that we mean, you are going to hold up on the dancefloor and enjoy the night away without falling off or getting sore the next morning. I mean, you'll get sore from dancing, but not because your shoes were so uncomfortable.
Chunky Platform Heels: You Can *Actually* Dance In
You can choose from the classic black closet staple to bold colors and embellished ones, whichever you choose, you'll be comfortable the whole night!


Another tip before you go, check the arch of the shoe. If you see a big gap between the shoe arch and your foot, you might need to add a shoe arch support. This one is a clear version so it won't be too obvious. But here's the thing, if you sweat a lot, the adhesive might come off – especially for sandals, for shoes, it might stick longer.
You can add extra adhesive to the arch support if you sweat much more than usual – well especially when dancing.
There you are lovelies! Chunky Platform Heels: You Can *Actually* Dance In!