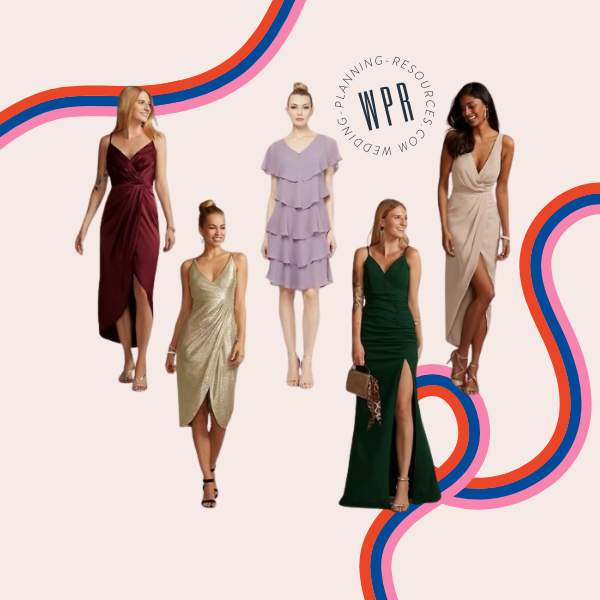 Flattering Wedding Guest Dresses Under $200. Looking for what to wear to a wedding? Perhaps cocktail wedding guest dresses? Affordable wedding guest dresses? Cocktail dress to a wedding? Looking for ideas on flattering and best dresses to wear to a wedding? In this curated list, we are sharing our top fave flattering wedding guest dresses you'll also love!
"Flattering" is different for different body shapes. But typically, these are the types of dresses that will "usually" flatter your figure:
Waist Halter Dresses with Ruffles and/or Tie/Belt details
Draped Waist and Ruched Details
Babydoll and/or Swing Dresses
A-line silhouette
Cinched Empire Waist
Pleated Dresses
Wrap Dresses
Adjustable Belt
Of course, "flattering" types of dresses are all dependent on your body type. Try them on and mix and match!
For example, you can purchase a babydoll dress and add a belt to clinch the areas you want to be highlighted!
We've rounded up our favorite flattering wedding guest dresses under $200 from David's Bridal to help you be at your best for your next wedding/event!
This site contains affiliate links. For more info, please see our full disclosure. Product descriptions are sourced from the manufacturer/brand/seller's shop as linked accordingly.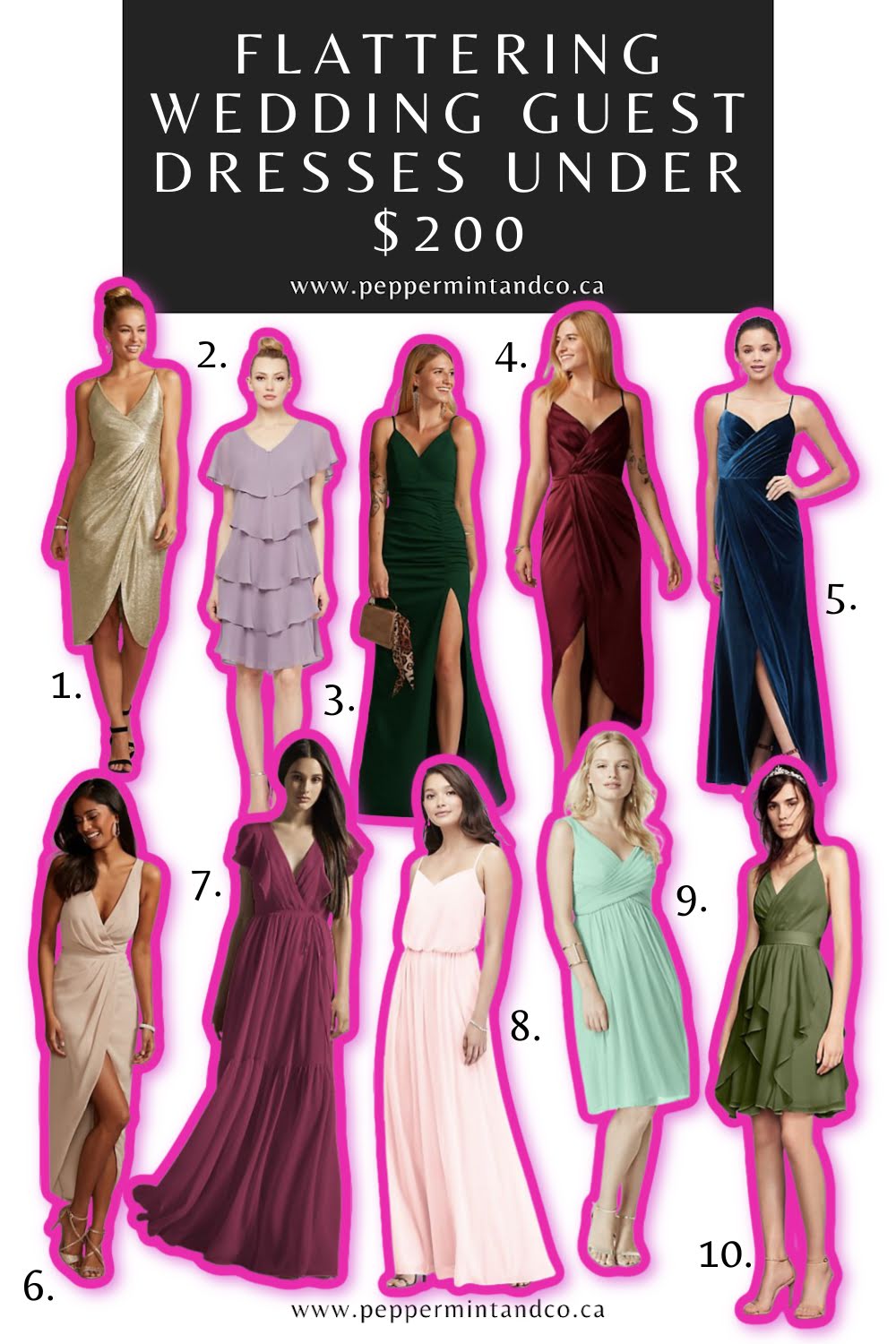 Love the list!
(1) Metallic Spaghetti Strap Midi Dress with Draping | A draped tulip skirt gives this curve-hugging metallic sheath midi dress figure-flattering definition. Finished with spaghetti straps.
(2) Georgette Tiers Short Capelet Dress | A faux capelet with sheer fluttering sleeves and crystal closure top this stunning knee-length dress with cascading tiers of georgette ruffles.
(3) Crepe Spaghetti Strap Gown with Ruching | You'll be ready to celebrate anything in this crepe gown with spaghetti straps, flattering ruching, and a side slit.
(4) Pleated Bodice Spaghetti Strap Satin Tulip Dress | Perfect for parties and bridesmaids alike, this on-trend satin dress features figure-flattering pleating both along the faux-wrap bodice and cascading from the waist of the tulip skirt.
(5) Velvet Faux-Wrap Spaghetti Strap Gown with Slit | This elegant spaghetti strap dress, made from oh-so-soft velvet, will certainly be a show-stealer on any occasion. A front slit completes the look.
(6) Tank Draped Chiffon Tulip-Hem Dress | Modern yet romantic, this chiffon dress features a V-neck, faux-wrap bodice draped with delicate pleats, and a midi-length high-low tulip hem skirt.
(7) Flutter Sleeve V-Neck Tiered Dress | With romantic flutter sleeves and a flounced hem, this chiffon dress is both boho and sophisticated. A blouson bodice, a skinny belt, and a V-back complete the look.
(8) Spaghetti Strap Mesh Blouson Dress | Dainty spaghetti straps and a soft blouson bodice add dreamy details to this long mesh dress.
(9) Short Mesh Dress with Cowl Back | This tank dress is full of fun details. The crisscross bodice and statement-making cowl back pair perfectly with the swingy mesh skirt.
(10) Short Chiffon Dress with Cascade Skirt | A sleek dress for the modern fashionista, this surplice-bodice, short chiffon dress from White by Vera Wang is suspended by skinny halter straps and adorned with cascading ruffles. A satin sash finishes the look.
Find more flattering dresses over at David's Bridal! Flattering Wedding Guest Dresses Under $200!