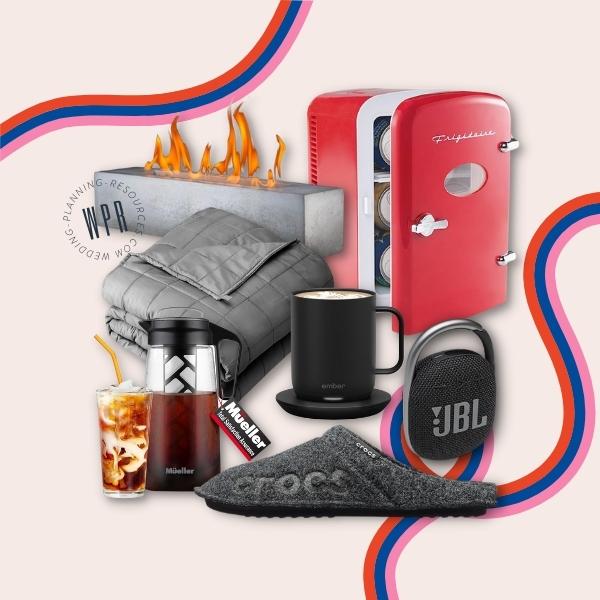 Last Minute Christmas Gift Ideas For Anyone On Your List! Quick and creative. Don't stress, impress. Wrap it up in no time. The art of speedy Christmas shopping. No time? No problem. Here are last minute presents for the special people in your life!
This site contains affiliate links. For more info, please see our full disclosure. This post has Amazon links and as an Amazon Associate, Wedding Planning Resources earns from qualifying purchases.
As the holiday season approaches, the race to find the perfect Christmas gifts can sometimes lead to a bit of last-minute shopping panic. But don't worry, because we're here to help you discover thoughtful and delightful presents that can be purchased or prepared in a jiffy.
We've combed through Amazon and curated these last minute Christmas gift ideas for anyone on your list! And yes, these ideas are great for any preference! We love Amazon for the reason that it does help us with our last minute needs! However, as you know, nothing is really guaranteed, this is why we included similar products that might be able to cater to your urgency better!
You're not the only one who forgets or is really busy. We are here to help you out and come up with Christmas gift ideas easily and quickly so you can check off your list as soon as possible! Order it a week or two before Christmas and you will still be able to get it on time!
With your end-of-year work, the hosting, cooking, and all other activities and events around the holidays, gifting – which includes wrapping them, can be outsourced. Amazon can get it wrapped for you as well!
PRO TIP: Personalize your gift by writing or including a heartfelt note. Notes that relate the gifts to the person you are giving them to. Mention a memory or a situation in which you know this gift will come in handy.
In this list, you will find great last-minute Christmas gift ideas for anyone on your list: spouse (wife, husband, or partner) mom, dad, brother, sister, in-laws, relatives, friends, co-workers, and really, about anyone that is special to you!
PRO TIP #2: if you are worried about the gifts arriving early at your house- especially if you are living with the intended recipient, you can send them to your office address first or the nearest post office/depot/pick-up center, this way you can keep it as a surprise!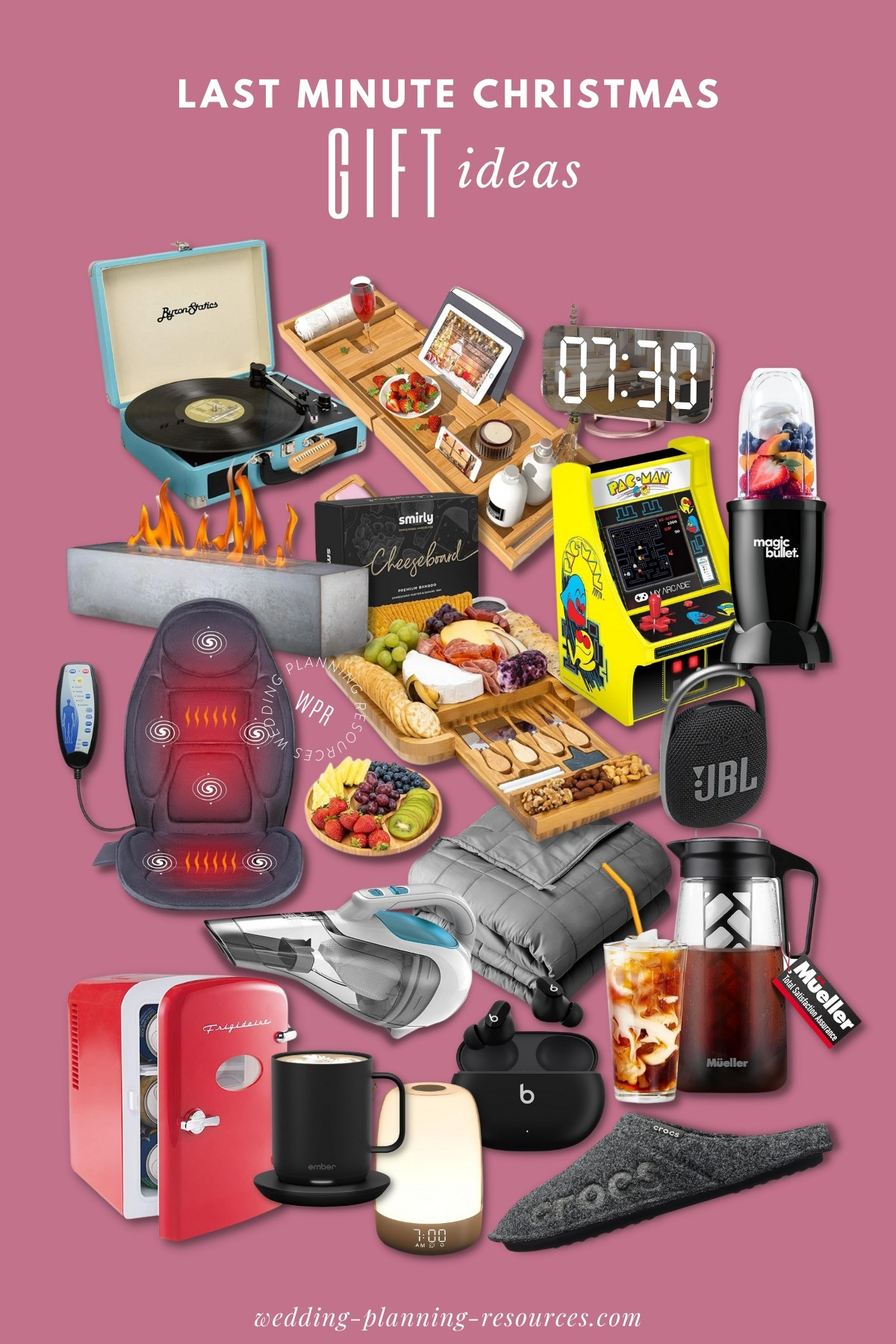 Last Minute Christmas Gift Ideas For Anyone On Your List: Amazon
Speakers
There can not be enough speakers around. In the room, car, bathroom, or even in the office, especially for the music lover, placing a speaker in every room is a MUST.
Clock + Lighting
Since we are also approaching the new year, what better way to get motivated than with a new clock and lighting? Set the mood right and start strong with these options!
Juicer
For that person on your list that is always on the go and on a healthy eating journey! Also, while you're at it, why not get one for yourself as well?
Wireless Earphone (check out the reviews on these last minute Christmas gift ideas!)
This is another one of those gifts where you can never go wrong. You cannot possibly have enough of these. You'd want to have one in any drawer where you can easily reach for it- whether for a call or a quick music boost!
Massager (one of our fave last minute Christmas gift ideas)
A relaxing moment knows no age and no gender. Anyone would love to have a moment of peace and relaxation. These massagers will come through for anyone on your list – because anyone (including you!) deserves to feel amazing!
Bath Tub Tray
Who does not want to have a long warm bath while watching your favorite show and sipping wine? Or maybe reading your favorite book while being serenaded by your favorite music playing in the background.
Tapas + Charcuterie Board
For the wine drinkers on your list, or really, any drinker (beer, tea, or coffee!) this board is a great gift for them to enjoy their drink as they pair it up with their favorite appetizers and tapas!
Retro Turntable
Not just for the obvious reasons of playing vinyl records, but also because this is a great decor and statement piece. Perfect as a "family" or "couple" gift!
Mini Retro Arcade Games
The kid at heart WILL love these nostalgic mini retro arcade games! Small enough to bring anywhere, yet, always brings in that extra fun!
Puffy Blanket
How about a blanket that is packable, portable, and most importantly, provides so much warmth and comfort?
Counter Top Pizza Maker
Freshly made pizza anyone? To that person on your list who loves to host, cook and hang out in the kitchen, this is an absolute win!
Cold Brew Coffee Maker
Almost everyone already has a coffee maker, that's true. But do they have a cold brew coffee maker? Uhm. Probably not. Let that coffee lover on your list enjoy a cold brew with these coffee makers!
Portable Tabletop Fireplace
Don't you love it when a product has more than one use? These tabletop fireplace options are not just great to give warmth, it is also a great decor and statement piece idea! Also, an easy way to gather the family and group together to make S'MOREs memories! (did you get that pun?)
Everyday Tablet (another one of our fave last minute Christmas gift ideas!)
Why not watch your fave movie while cooking in the kitchen? Sure your phone can probably do that, but why not have an everyday tablet to stream your movies and shows, anytime, anywhere?
Coffee Warmer
Because who wants a lukewarm coffee? Well, unless that's how you want it, but for the most part, coffees are made to be enjoyed hot. These coffee warmers will let your recipient enjoy their coffee, especially on busy days, much longer.
Charging Station
Why not have a charging station at every corner of the house?
Weighted Blanket
The Sleep Foundation mentioned that weighted sleep blankets can help ease and soothe anxiety, improve sleep quality, and calm the nervous system. Every person can benefit from that.
Portable Cooler/Fridge
With these coolers, your recipient can ALWAYS reach for a cold drink. Sometimes, even while lying in bed. How can a small portable fridge bring a such feeling of convenience? Add to cart.
Unisex House Slippers
If you're living in a place where fall and winter can get pretty brutal, these house slippers will help keep your feet (and toes!) warm!
Mini Handheld Vacuum
We all love those powerful vacuums that just clean the floor so efficiently and quickly! But when you have to clean your keyboard or work table, those big chunky ones don't really come in handy, do they? But these mini handheld vacuums do!
Don't forget to include a gift wrap and a personalized Christmas card!
There you are lovelies! Last Minute Christmas Gift Ideas For Anyone On Your List: Amazon!
** This post has Amazon links and as an Amazon Associate, Wedding Planning Resources earns from qualifying purchases.