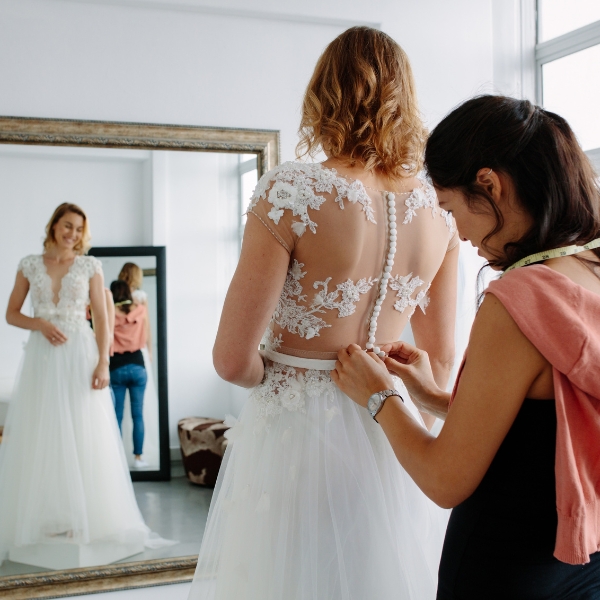 What to Ask Your Bridal Shop Stylist. Dress shopping day. The bridal boutique guide. Styling your dream wedding gown. Your bridal dress shopping journey. What every bride should ask their stylist. Top questions for bridal shop success.
Yay for wedding dress shopping! Let the search begin! Cheers to trying on beautiful dresses and gowns!
Amidst the racks of satin, tulle, and lace, you'll meet a valuable resource on your journey – your bridal shop stylist.
They're there to guide you, offer expertise, and help you say "yes" to the dress that makes you feel like the most beautiful version of yourself.
In this blog, we'll delve into what questions to ask your bridal shop stylist to ensure that your dress-shopping experience is nothing short of magical.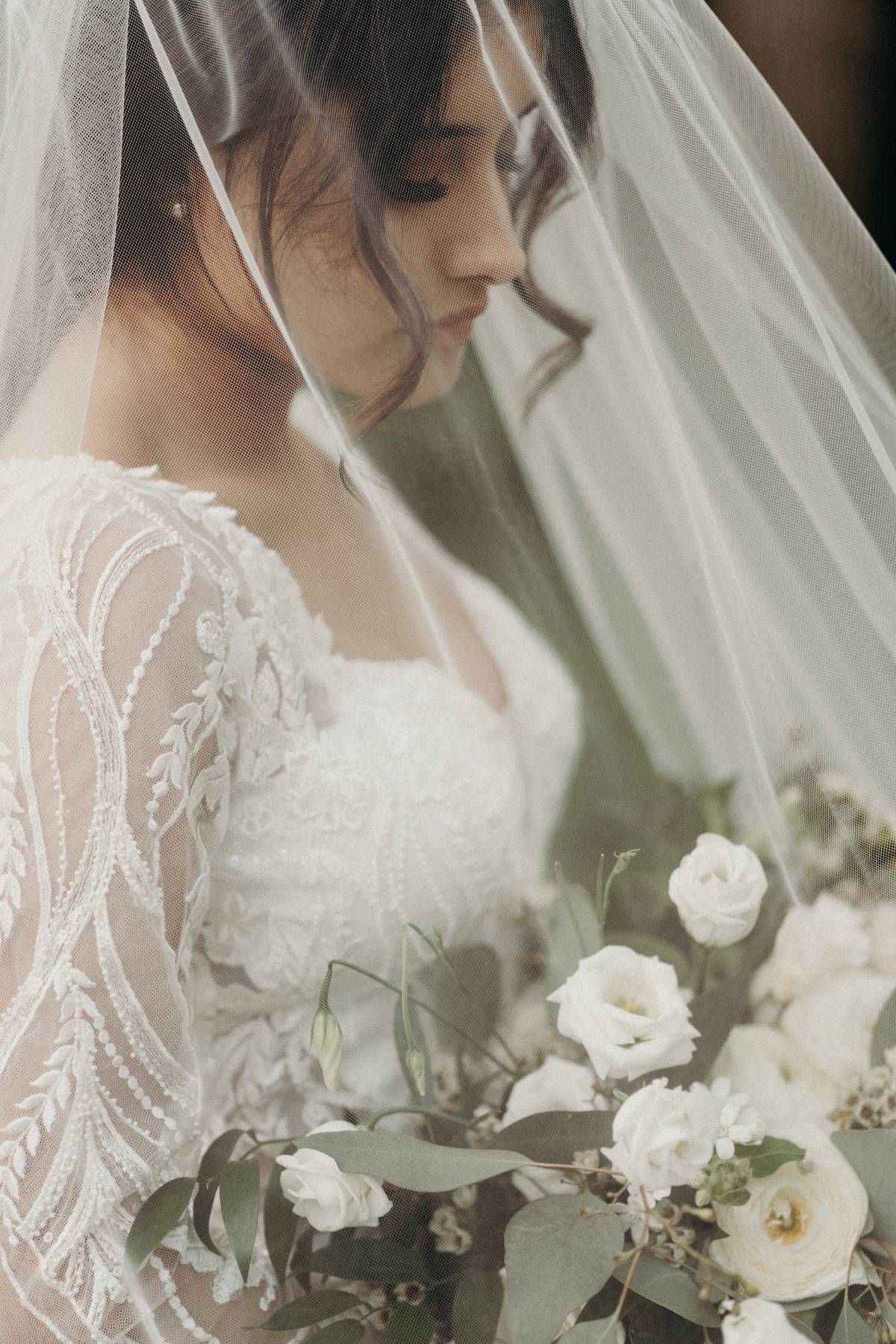 What to Ask Your Bridal Shop Stylist
1. "What styles flatter my body shape?"
Another version of this can sound like "By looking at the top 10 dresses that I want to try on, which style do you think will flatter my body shape the best?"
Start by discussing your body shape. Your stylist can recommend silhouettes and styles that enhance your best features and make you feel confident.
If you have certain areas on your body that you don't want to accentuate, let your stylist know as there might be other options that you can consider aside from just changing your dress style altogether.
2. "Which rack fits my style and budget better?"
Be clear about your budget. Your stylist can help you find dresses within your price range and avoid trying on gowns that are beyond your budget.
There are amazing stylists who can also direct you to similar designs that can fit your budget better. This way you won't have to give up your overall vision.
Perhaps that means that the material can be a mix of high-end and mid-end styles. It can also mean that you might need to consider other designers that carry similar styles but are closer to your price range.
3. "What fabrics are best for my venue and season?"
Your wedding venue and season can influence the choice of fabric for your dress. Discuss these details with your stylist to ensure comfort and appropriateness.
There are dresses where the bottom part can be detachable and can take you from indoors to outdoors easily. Some have lace overlays that can help adapt the look of your dress to the venue and season.
Accessories are a great way to also help you be venue and season-appropriate which your stylist should be able to help you with as well.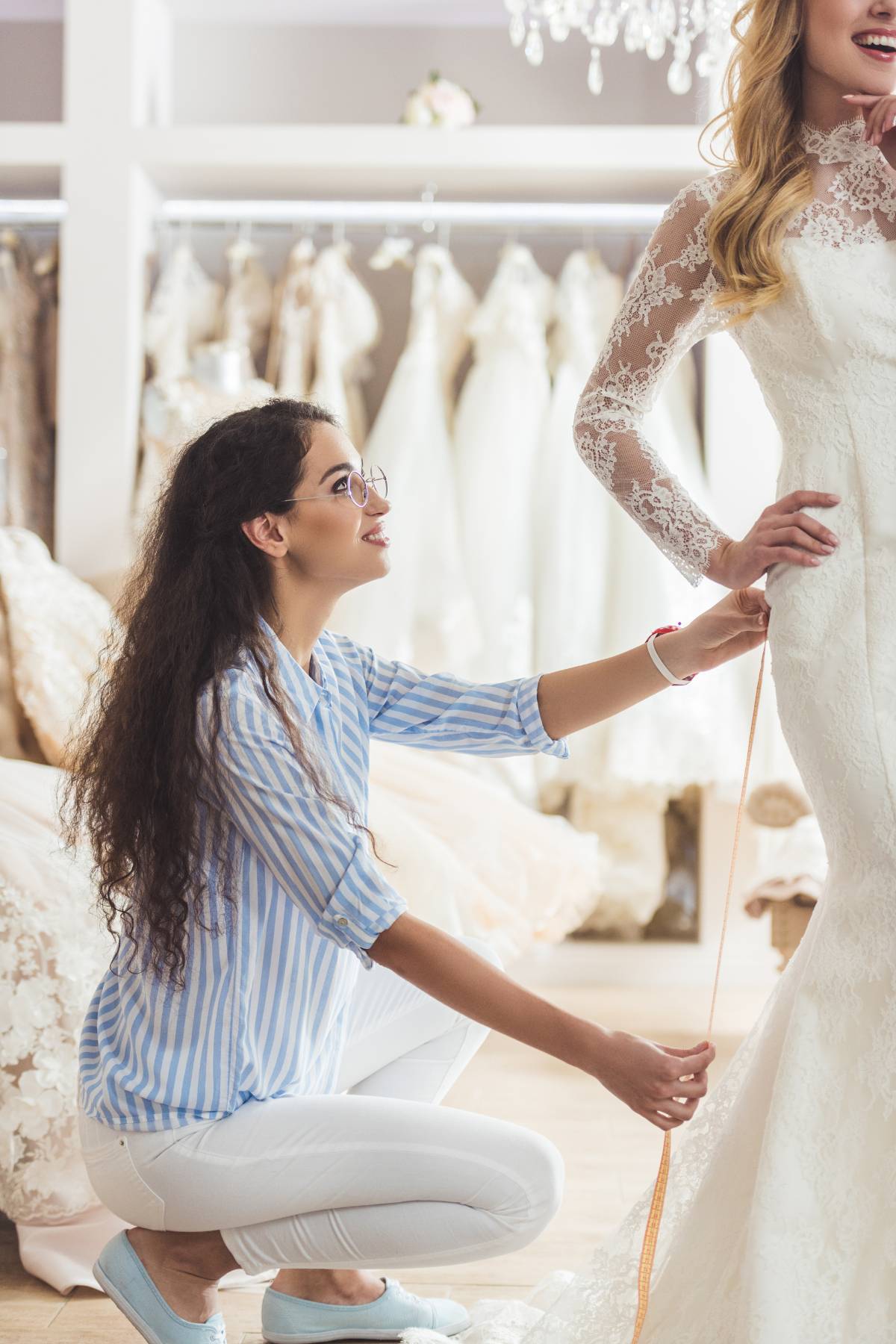 4. "Can you explain dress terminology?"
Wedding dress jargon can be overwhelming. Can you imagine someone just throwing out big words that you are not really familiar with?
Ask your stylist to explain terms like A-line, mermaid, or sweetheart neckline to help you understand your options.
Even if you have seen these all over your Pinterest boards, it is still different when you get to the shop to try them on. How these styles look and "fall" on other people's bodies will most likely be different from how they will on yours.
5. "How do alterations work?" (one of the most important questions on what to ask your bridal shop stylist!)
Understand the alterations process, including what can and cannot be altered, and the associated costs. It's essential for achieving the perfect fit.
At this time, your bridal stylist should already know when your wedding is. With that information, they should also be able to pull dresses that can be altered easily and that will make it for your wedding.
Different materials and styles, and of course, depending on the availability of the seamstress, will have a varying alteration time.
Your bridal shop stylist should be able to tell you the "safe" alteration timeframe so that you won't run into any delays and unnecessary stress.
6. "What accessories complement this dress?"
Ask for accessory recommendations, like veils, headpieces, or belts, to complete your bridal look.
We've mentioned this earlier. Even undergarments that can complement your dress are important for you to maximize the dress on you.
Why would you want it to look good on you when it can look LIT? Get your overall bridal look on fire with the right accessories.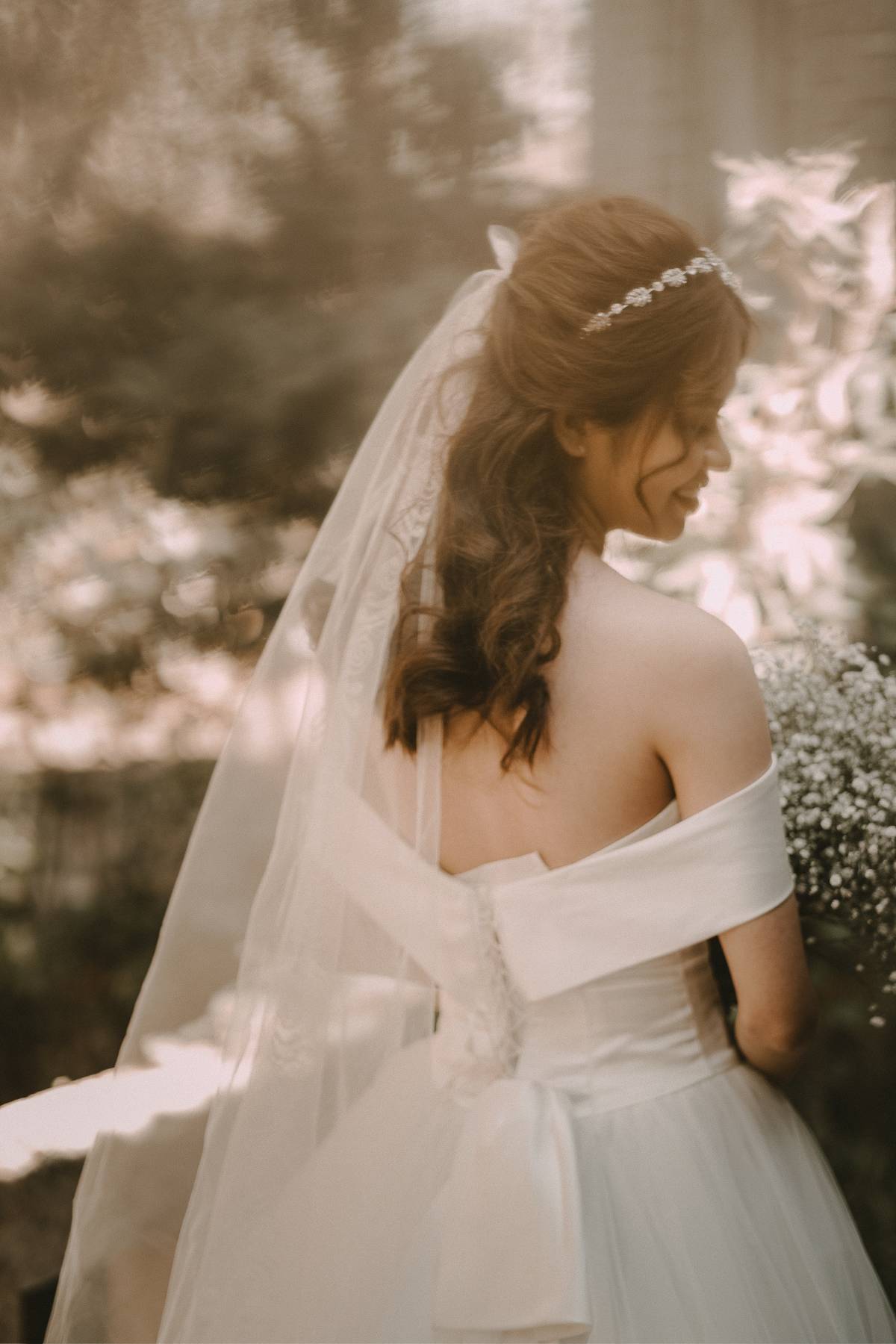 7. "Are there sample sales or discounts?"
Inquire about any upcoming sales or discounts to potentially save on your dream dress.
Now, having said this, it is important to always consider your wedding date. If you are to wait on the sample or warehouse sale, after alteration and other needs, will you make it in time for your wedding?
Also, if you want to wait on sample and warehouse sales, you run a very high risk of not finding "thee" dress.
If you have time to check out the sample sale and try your luck there, then go for it. This means that if you don't find
"thee" dress at the sale, you can still get the one you always wanted at a regular price.
8. "Can I customize the dress?" (one of the most unexpected points on what to ask your bridal shop stylist!)
Discuss customization options such as adding sleeves, changing the neckline, or altering the train to make the dress uniquely yours.
This does not have to be a major change but subtle adjustments that will help the dress not look "off the rack" – not that there is anything wrong with that, but if you want to make it "yours", this is a great idea to consider.
9. "What's the timeline for ordering and alterations?"
Understand the lead time for ordering your dress and how alterations fit into your wedding timeline.
We also touched up on this earlier. Always go by the timeframe that is the safest. Better get your wedding dress a little bit early than stress about it last minute.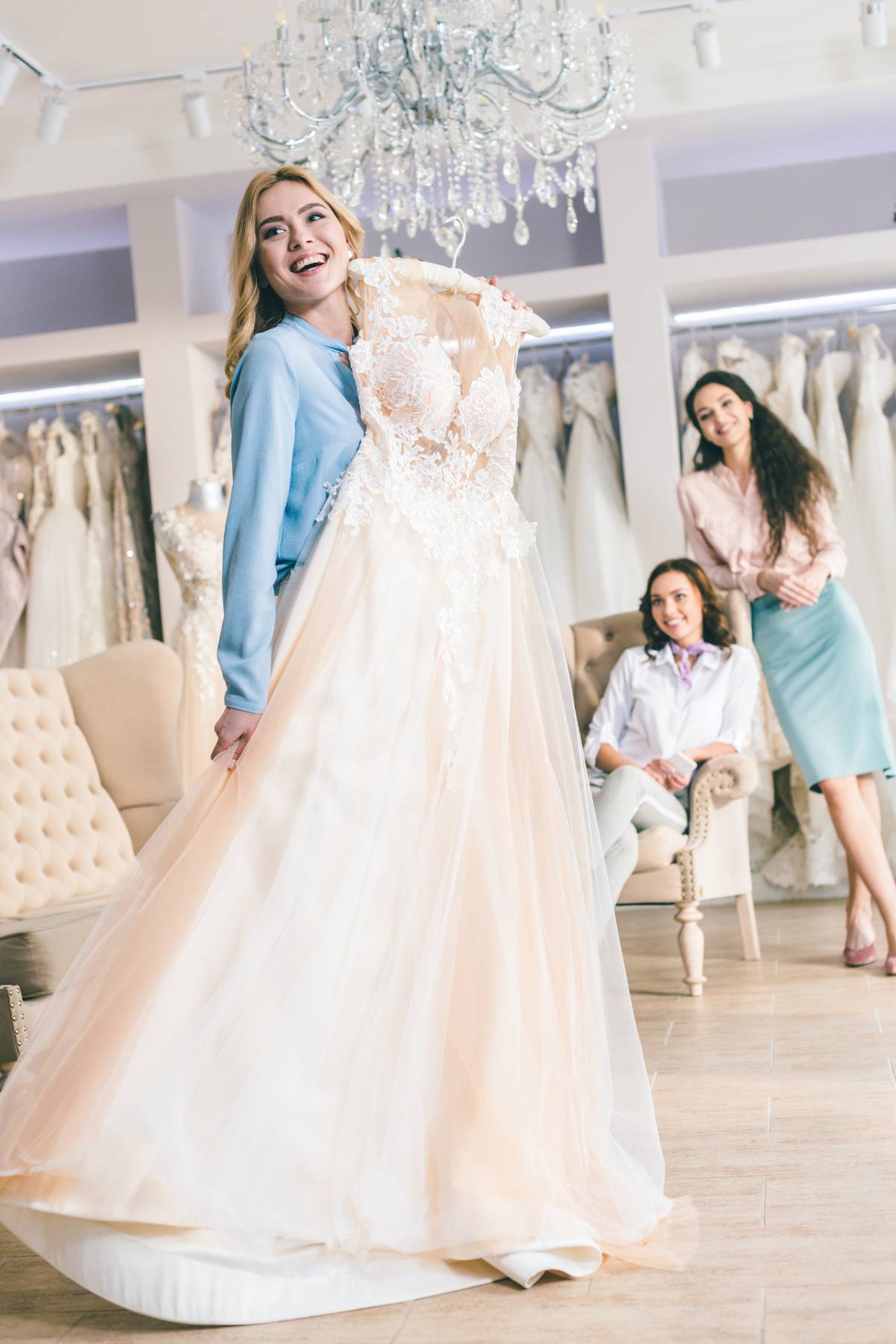 10. "How do I care for the dress before the wedding?"
Learn how to store and care for your dress to keep it in pristine condition before the big day.
If there are necessary boxes, hangers, or accessories that you need to purchase to ensure that the dress will remain golden.
〰️ Your bridal shop stylist is your wedding dress fairy godmother, ready to make your gown dreams come true.
By asking these essential questions, you'll not only receive expert guidance but also ensure a smooth and enjoyable dress-shopping experience.
So, step into the bridal salon with confidence, armed with the knowledge to find the dress that will make you feel like the radiant bride you've always imagined. Happy dress shopping!

Research the bridal shop you are visiting prior to your appointment. See what styles they offer, as well as reviews from previous brides. This will help you understand the "vibe" – as well as the "environment."
Maybe you like a more intimate bridal shop where there are only 2 to 3 brides trying on stuff at the same time. This means that a multiple-mirror showroom might make you feel overwhelmed.
Check out the shop's lay of the land or interior and get a feel of it to see if you would want to be looking for and trying out your wedding dress in there.
Be mindful of the people that you bring to your dress shopping as well. Positive vibes only.
There you are lovelies! What to Ask Your Bridal Shop Stylist!