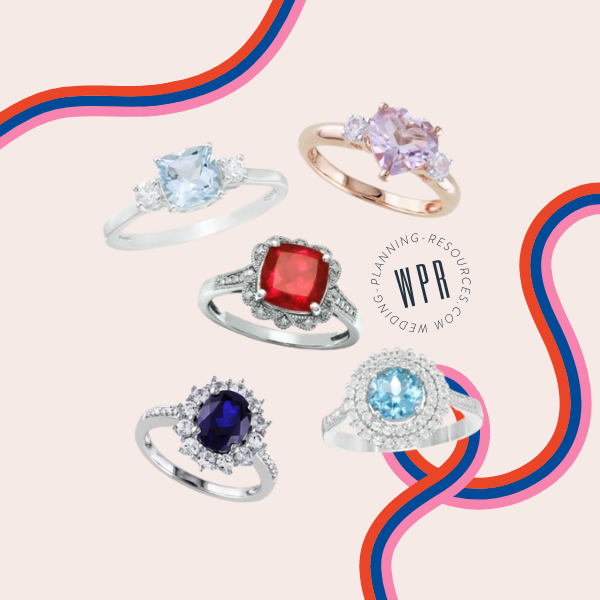 Ring on it! Gemstone Engagement Rings Under $300: Top 5. Considering a gemstone engagement ring? Looking for gemstone engagement rings online? Affordable gemstone engagement rings under $300? In this curated list, we are sharing our top 5 pics for gemstone engagement rings!
Yes, you see all those beautiful diamond rings all over the internet, but maybe diamonds aren't your thing, or maybe you feel like it's not the right time to invest in a diamond.
Diamonds are forever, yes, but the real forever is your love for each other. Any engagement ring your choose will not define your engagement, but what's important is your love story and your life together!
Whichever choice you make in terms of your engagement ring style, what matters the most is the moment that you and your partner decide to start your road forever.
But if you are interested and are considering looking at gemstones as engagement rings, well, then we'd love to help you out!
While some gemstones are a much more affordable choice than diamonds, they don't mean that they hold less beauty or artistry. In fact, many prefer having such a ring instead of the classics because they are just as grand and valuable (of course, their emotional value outmatches everything)!
We are here to provide you with stunning alternatives that are sure to take her breath away! Let us dive in and take a look at our top 5 selection of gemstone engagement rings.
This site contains affiliate links. For more info, please see our full disclosure.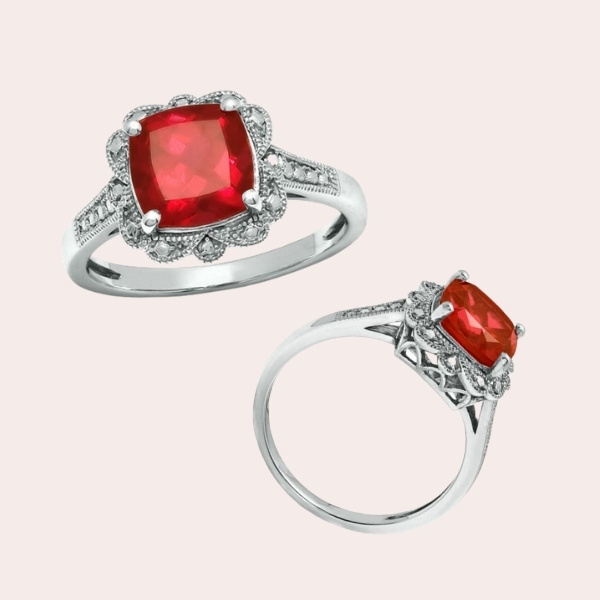 If you are seeking a piece that is a bit more delicate and not over the top but at the same time an absolute show-stopper, this sublime ruby vintage ring is guaranteed to make a statement!
With its cushion-cut shape and wonderfully framed with milgrain accents, it is more than enough to bedazzle your beloved!
The intricate sterling silver beautifully completes the red gemstone, giving off a feeling that you can treasure this piece for many generations to come.
And the most exciting part is that this unbelievable beauty is listed in engagement rings under $300! Amazing right!?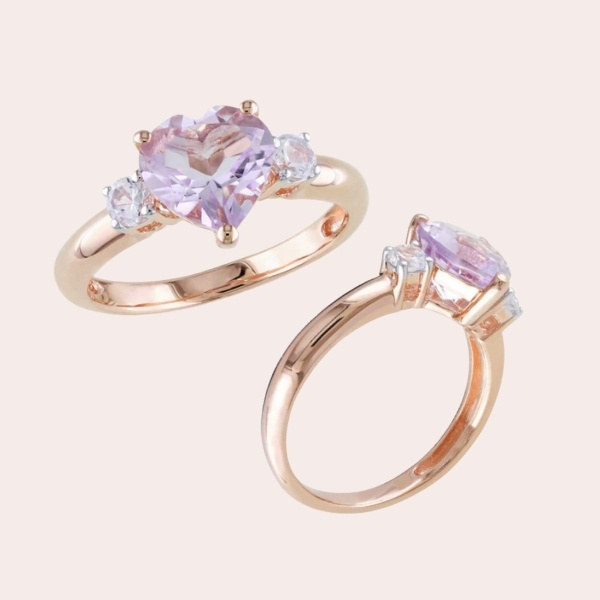 We love this design! It is gentle; it is heart-shaped, it looks magical but not in the cliché way!
It is giving us the ultimate romantic vibes. The heart-shaped Rose de France amethyst is certain to adorn her with the most beautiful smile.
Artistry crafted with seamless sterling silver entwined with rose rhodium plating, looking subtle yet enchanting.
Additionally, the lab-created white sapphires emphasize the heart-shaped amethyst in the most gentle way. What we love about this ring is that it is made to fit your beloved's ring size.
A favorite among engagement gemstone rings!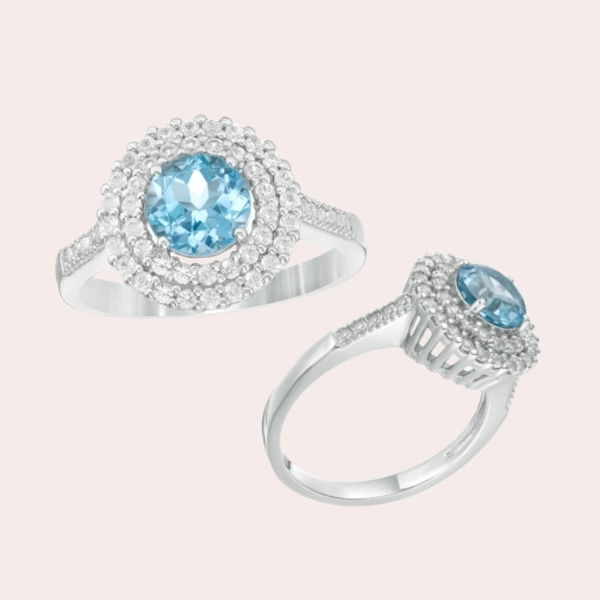 Ahh, how the Swiss blue topaz bewitches the eye of the beholder, impossible not to look at it, isn't it!?
And to make it even more prominent? Just look at those two halos encircling it filled with white sapphires, magnificent.
We already see the future of this ring, and it is becoming your partner's favorite piece ever! Who knew that such luster could be part of engagement rings under 300$.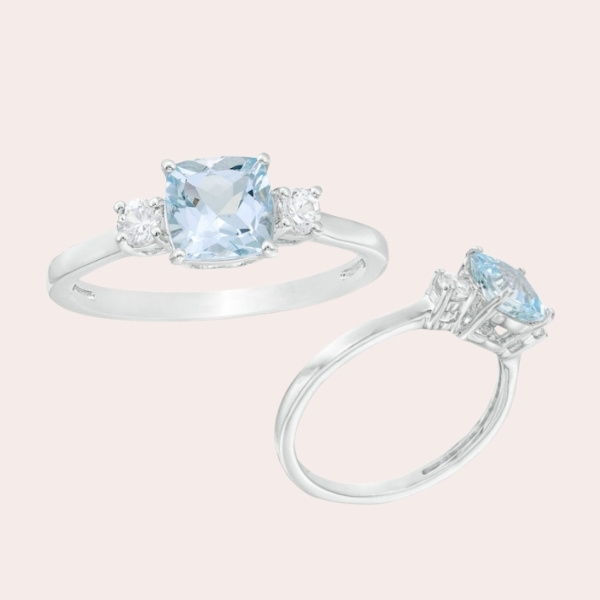 The icy blue aquamarine is sure to lock and freeze your adoration for this gorgeous design! The white sapphires that support its shimmer are the perfect companions.
Soft, gentle, yet strikingly beautiful, this ring would be fit for any occasion because of its smooth polished silver.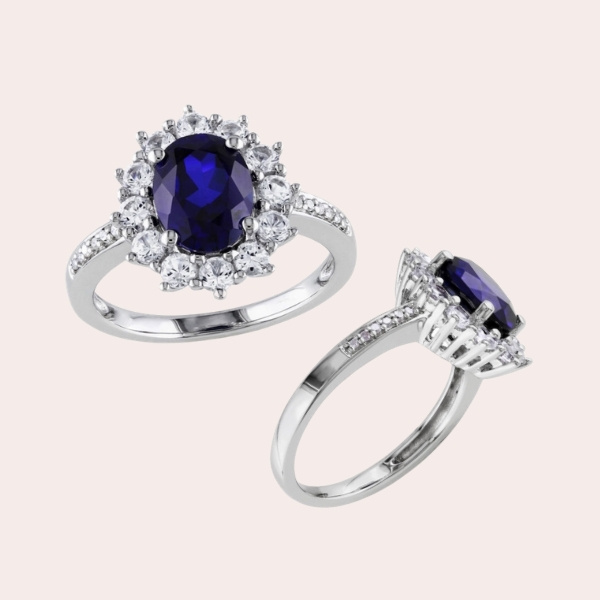 It is easy to see why this ring found itself on our engagement gemstone rings collection!
If diamonds aren't her cup of tea, then proposing with this majestic sapphire will evoke the reaction you are looking for.
A dreamy statement piece adorned with little diamonds for a more opulent grandeur!
Have we sparkled your eyes with our engagement gemstone rings list?
If you like it, feel free to browse for more awe-inspiring pieces – you would definitely love what more the Peoples Jewellers have in their store.
There you are! Gemstone Engagement Rings Under $300: Top 5!