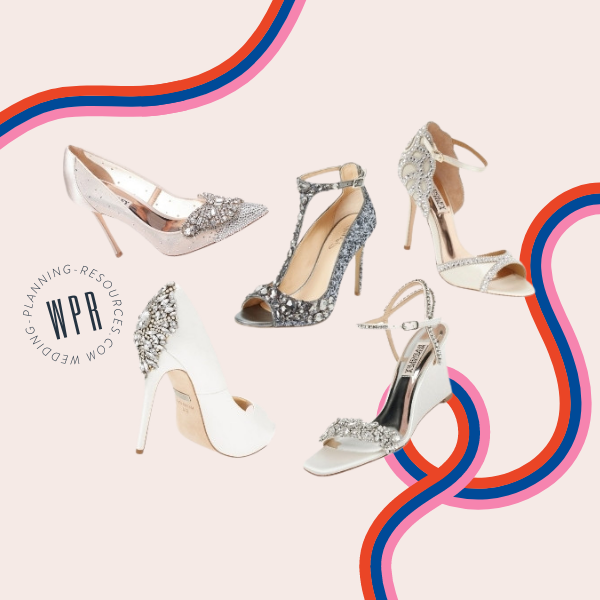 Sexy & Sweet! Badgley Mischka Jewel Bridal Wedding Shoes You Will Love! We all know how popular Badgley Mischka + Jewel wedding shoes are for brides and newlyweds-to-be! In this curated list, we are sharing the top 10 styles you might want to consider!
We rounded it all up for you! We got wedding pumps, wedding flats, wedding sandals, and even wedding wedges! Yep! We got it all to help you choose which one reflects your personality and vibe the best!
You can even mix and match! Pumps for the ceremony and maybe flats for the reception/dancing? Because why not?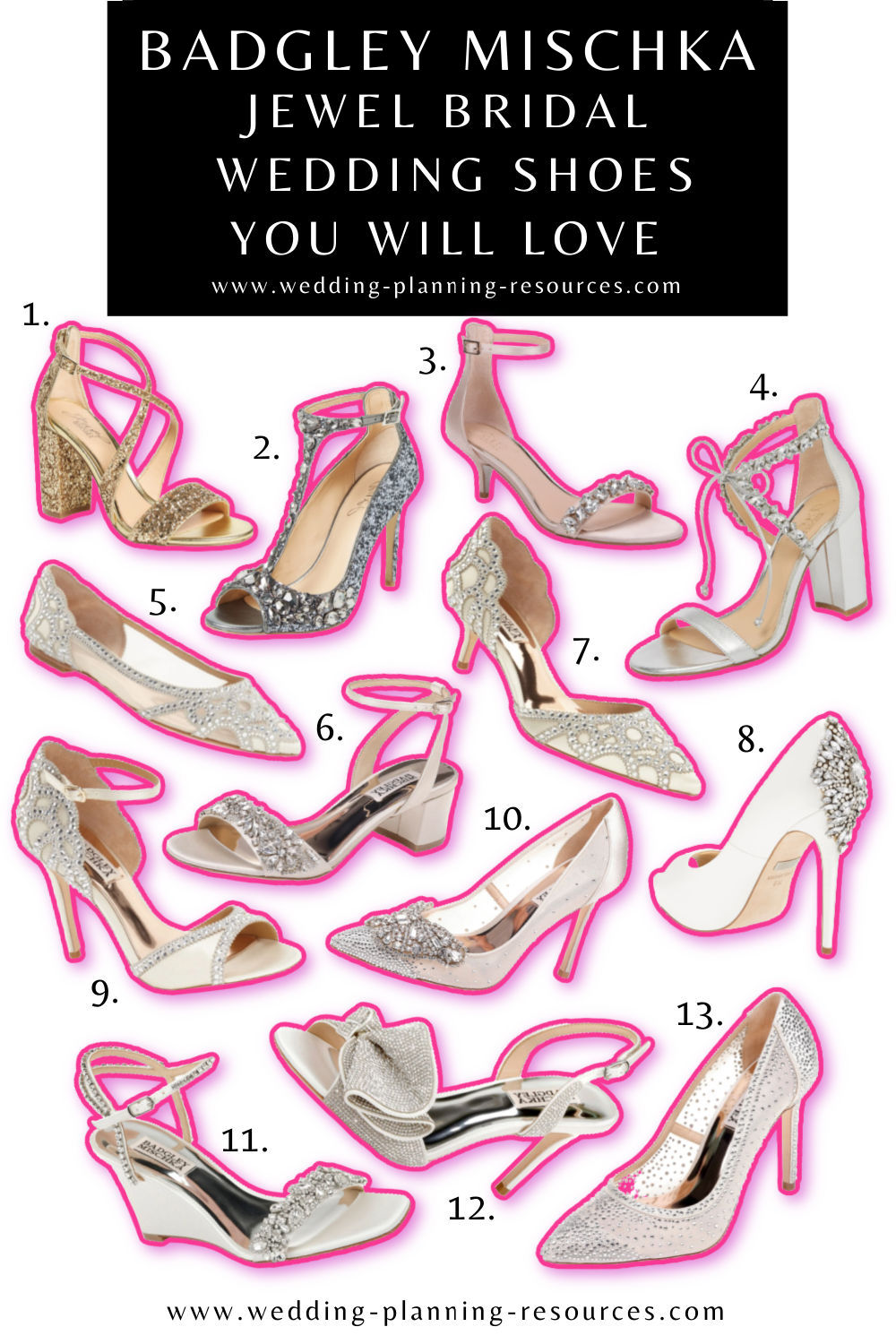 Love the list!
This site contains affiliate links. For more info, please see our full disclosure. In addition, product descriptions are sourced from the manufacturer/brand/seller's shop as linked accordingly.
(1) Cook Block Heel Glitter Sandal | A glitter-encrusted block heel brings trend-right appeal to a gorgeously sparkly sandal bridged with tapered, intersecting straps.
(2) Conroy Embellished T-Strap Pump | Indulgently oversized crystals bridge the open toe and ascend the slender T-strap of an unforgettably dazzling, glitter-encrusted pump lifted skyward by a lofty stiletto.
(3) Dash Embellished Halo Strap Sandal | Jumbled crystals shimmer from every angle at the toe of a kitten-heel sandal wrapped above the ankle with a slender halo strap.
(4) Thamar Embellished Sandal | Faceted crystals add showstopping glamour to an elegant evening sandal lifted skyward by a wrapped block heel.
(5) Badgley Mischka Gigi Crystal Pointed Toe Flat | You'll dazzle in these scene-stealing pointy-toe flats fashioned with a scintillating array of light-catching crystals and subtly scalloped topline at the heel.
(6) Ivanna Ankle Strap Sandal | Sparkling crystals dazzle the toe strap of a glamorous block-heel sandal secured by a tiny buckle at the ankle.
(7) Ginny d'Orsay Pointed Toe Pump | Sparkling crystals ornament the scalloped lines of this lustrous satin d'Orsay pump fashioned with a pointy toe and a demure kitten heel.
(8) Kiara Crystal Back Open Toe Pump | Indulge in decadence with this stunning platform pump. The oh-so-flattering open-toe style is crowned with a dramatic array of crystals that wraps the heel in pure, scene-stealing sparkle. Sure to leave an impression wherever you step.
(9) Roxy Sandal | You won't lack razzle-dazzle in this show-stealing sandal fashioned with a radiating array of light-catching crystals and a subtly scalloped topline.
(10) Quintana Crystal Embellished Pointed Toe Pump | Dazzling placed crystals ornament the pointy toe and pepper the curved sides of a party-ready pump in lustrous satin and breezy mesh.
(11) Jenna Wedge Sandal | Sparkling crystals embellish the straps of a glamorous sandal with a smoothly covered wedge.
(12) Rennie Embellished Slingback Sandal | Glittering crystals and a voluminous bow detail a slingback sandal destined to bring a flash of glamorous sparkle to your next event.
(13) Weslee Pointed Toe Pump | Sparkling crystals shimmer and shine as you glide across the dance floor wearing this mesh pointy-toe pump lifted by a slender heel.
More gorgeous wedding fashion and styles over at Nordstrom Wedding Shop!
There you are! Badgley Mischka Jewel Bridal Wedding Shoes You Will Love! Stay tuned for more wedding fashion ideas!