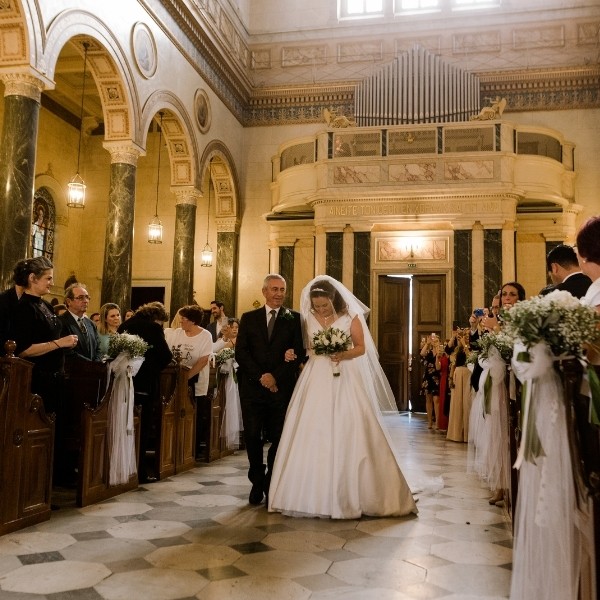 Here they come! Wedding Processional Guide. Wondering about your wedding processional order? Who walks first? Wedding party line up? In this guide, we're sharing ideas for your order of the wedding procession.
Time to plan the processional? Like who is going to walk down the aisle first? And how fast should they walk?
We've put together this guide to help you plan your wedding timeline, specifically the ceremony processional.
The wedding processional guideline and the processional guide depend on other factors like religion, traditions, and cultures.
Here is the most common and traditional processional lineup that you can use as a guide as you customize your plan!
Officiant and 'Newlywed-to-be #1 (the one who proposed)' + Parents
The foremost person to enter into the wedding party is the officiant. Following a subtle approach, the officiant enters the ceremony from the side and leads 'Newlywed-to-be #1' to the altar.
'Newlywed-to-be #1' can also walk and enter with their parents.
Wedding Party
You can do this by partners and/or individually, depending on the amount of time you are working with.
A typical processional order in a wedding is to stand and/or line up behind and/or beside 'Newlywed-to-be #1'.
Special Line-Up
If you have sponsors, specific family members (grandparents, etc.), and/or special friends, this is where you can include them in your wedding processional.
Puppy and dogs? Or any pet, for that matter? You can have them walk down the aisle as well! Walking the pets down the aisle might need someone to accompany them. Great companies like Leash and Paws can manage your pet on your wedding day, so you won't!

The Little Ones
The cutest little ones get to walk down the aisle! If they are old enough to walk by themselves, their parent or guardian should be waiting for them on the altar end to have somewhere and someone to "walk to" and not get distracted with all the eyes of the guests on them.
Younger little ones can walk in with a parent or an adult, or you can also use open strollers or trolleys while ensuring their safety, of course.
These are great moments and usually a great prelude to 'Newlywed-to-be #2' walking in.
PRO TIP: Share your wedding timeline (including processional) details with your photographer and videographer to ensure they can plan and curate creative shooting angles to capture your wedding beautifully!
Discuss the timeline with your band/choir/performer/s, the transitions of your wedding processional to help them stay in sync and get the crowd in the 'flow.'
'Newlywed-to-be #2 (the one proposed to)' with parents
Walking down the aisle with the parents is the traditional way. If you would like a 'moment' by yourself, you have your parents meet you mid-aisle, so you can enter alone and have that 'big reveal moment.'
PRO TIP: You can always re-arrange your lineup to incorporate your religion, tradition, culture, and even if your own style and personality – like maybe walking in and slow dancing as a group to a specific song. You can be as creative as you can.
It is good to note and be mindful of the timings and setting the tone for the ceremony. The pacing of the walking is also important.
We would usually suggest that an announcement be made to ask for the guests to stand before 'Newlywed-to-be #2 (the one proposed to)' walks down the aisle.

Also, another thing to check in when planning your wedding processional is the aisle width.
When you have a pair walking, ensure that the path is clear. Meaning, if you have some aisle decor like candles, flowers, and the like, that there is still enough space to walk, especially if there are dresses worn that are wider than usual.
Having someone direct the processional, like a wedding coordinator is great and will take pressure off you, and you can focus and be in the 'moment' as you walk down the aisle, knowing that the rest is being handled and taken care of.
There you are! Wedding Processional Guide!