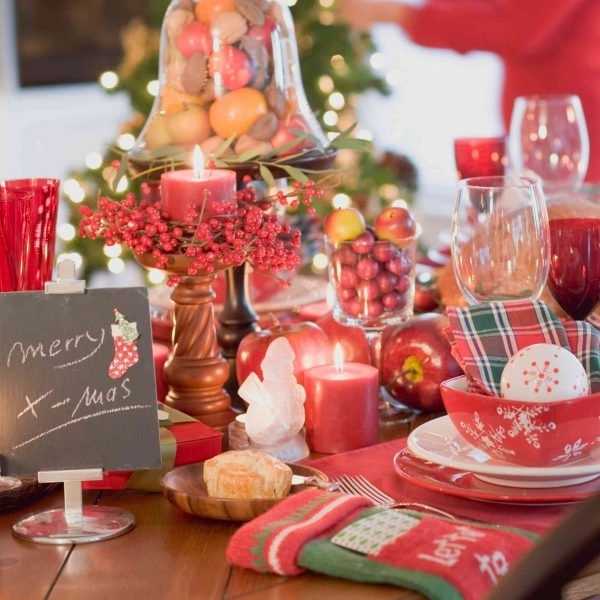 DIY Christmas Centerpiece Ideas! 'Tis the season!.. Deck the halls! Perfect of your Christmas table! From candle holders and Christmas ornaments to pine cones, we got you covered! Feel Christmas-y all through your dining table with these simple holiday centerpiece ideas!
This site contains affiliate links. For more info, please see our full disclosure. This post has Amazon links and as an Amazon Associate, Wedding Planning Resources earn from qualifying purchases.
We've rounded up our top 3 Christmas/holiday centerpiece ideas that you can also use on any table as decor for any event!
Here are our top 3 quick and easy DIY Christmas Wedding Centerpiece Ideas.
Let's go over these ideas in detail!

DIY Christmas Centerpiece Ideas
1. Pine Cones and Pillar Candles
Super easy and adorable (and reusable!) DIY gold pine cones! Perfect for your DIY Christmas Wedding Centerpiece!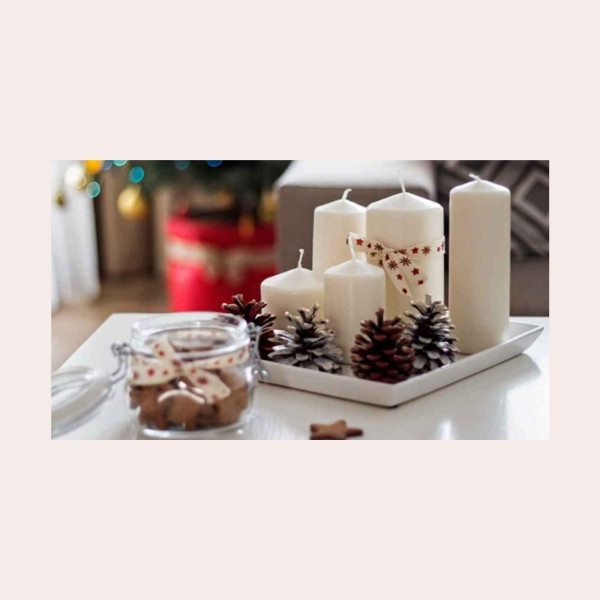 1: We love this tray of pine cones with candles from Kameralna! Super easy, adorable, and reusable!
2: You can start by using any white tray you have at home, or you can also get this cute white tray set that you can use as a breakfast-in-bed table after!
3: Get pine cones of different sizes from your discount store!
4 & 5: You can choose between a scented candle or a regular set of pillar candles. We love the scented candle to really set the mood and get that holiday feeling going!
6: To make it a little more colorful, we can mix gold and white spray paint!
✔️ : Start spray painting your pinecones!
✔️ : Layout how you would like the tray to look. If you use it on a round table, the smaller DIY Christmas Wedding Centerpiece tray will work better. You can also consider using a round tray, it will be more fitting for a round table, but the round tray is harder to re-use and has a more limited workable space. Choose your tray wisely to maximize its reusability!
TIP: Do not overspray them. If you do not cover everything, it is ok. If you only cover the edges, you can add some glitters to it right away if you'd like to add something sparkly! (she's cute, right?!)
2. Mini Trees and Votives Set
These are classic DIY Christmas Wedding Centerpiece beauties! Also, this will not even take you 10 minutes to set up!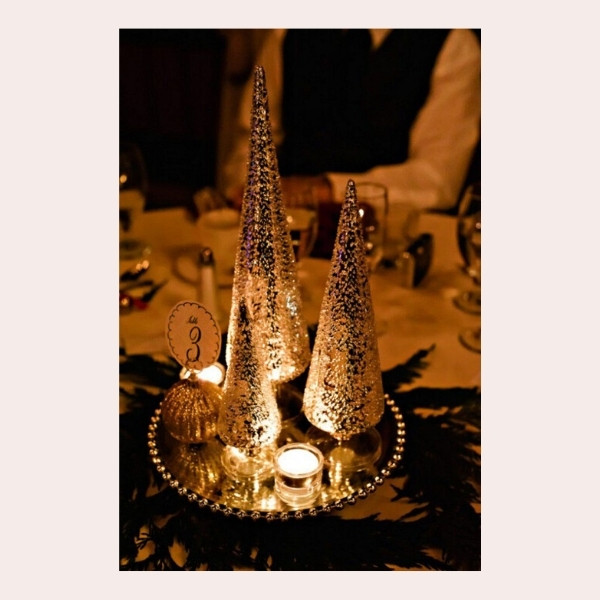 1: Super love this trio of trees with votive candles to set the mood captured by Double Take Photography, featured on Rustic Wedding Chic.
2: These mini trees with snowdrops are super cute and create that effect of a mini Christmas + holiday village!
3: Add mood lighting with these classic votive candles. Just the right amount of lighting and sets that mood!
TIP: Turn off any bright white light to get that candlelit effect! A dim yellow overall lighting will also help! Just avoid bright white lights altogether, or you will miss the whole effect of the candle glow against the trees!
4: If you are using a rectangular table, you really don't need any charger to put them on, and you can spread them along the center and create a staggering lineup.
✔️ : If you use a round table, it will help to have a charger like this to keep the products together and have a strong grouping effect.
If you are no longer using them as centerpieces, you can line them up on your windowpane or also use them as a topper for your gifts! Also, add some dried flower arrangements or maybe silk flower arrangements, to add some volume and height to it!
3. Pastel set
We got you all pastel lovers out there! This super easy DIY Christmas Wedding Centerpiece will elevate your holiday spread using simple gorgeous pastel accents!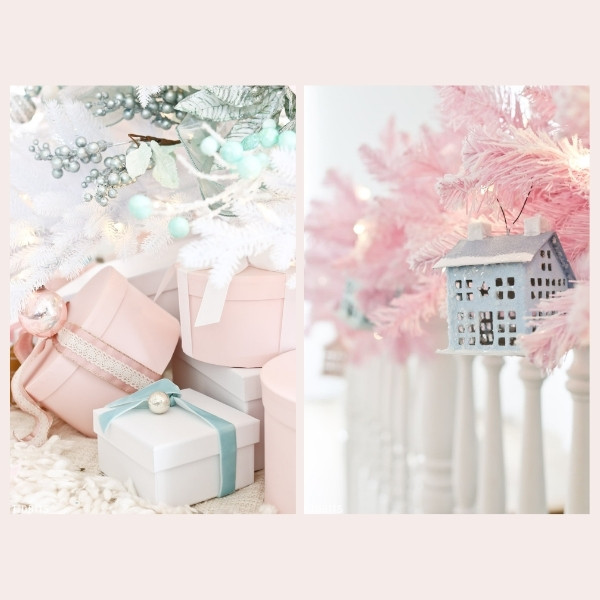 1 and 2: This gorgeous set-up of pastel gifts from Tidbits is love!
Here are the supplies you need:
3: These pastels ribbon package where you get 6 pastel shades! Really bring in that pastel color spread!
4: To add some "bling" and some "shine" to the table, you can add this matte and shiny champagne (not gold!) Christmas balls (ornaments!)
5: To let these pastel colors stand out, it will help to have a white chiffon table runner. Just simply putting it against the regular table will not highlight the pastel colors.
6: These white boxes are great for props! Or you can also actually put something in it, maybe like chocolates or treats that you can hand out to the guests before they leave! Double purpose; great centerpiece and giveaway for your guests! Also, they are delivered collapsed so that it won't take up that much space!
✔️ : Start by lining up the table with the chiffon runner. Tie the ribbon nicely in a bow to the boxes and randomly place them along with the runner *staggered/random*. You can then add the champagne balls to add a little shine and shimmer but still keep it classy (use the champagne instead of gold!) You can also add some pastel blooms if you have them handy at home!
7. Add pastel miniature trees in between to add variation in height and dimension. Also, consider adding some holiday wording to add extra joy!
I hope this guide helped you, not just with ideas but also with "multi-purposing" the pieces you already have!
There you are! DIY Christmas Centerpiece Ideas!
**This post has Amazon links and as an Amazon Associate, Wedding Planning Resources earn from qualifying purchases.