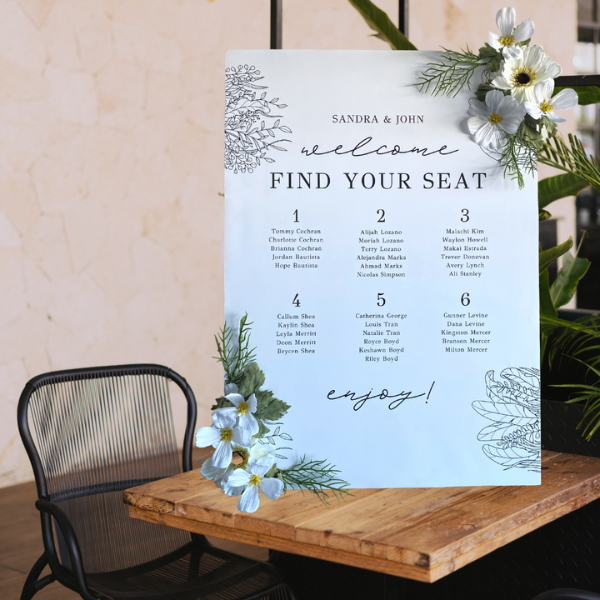 DIY Canva Wedding Seating Chart. Seating chart template. Easy + Affordable! Seating chart maker. Canva Wedding seating chart. Super easy and affordable! As simple as entering your wedding guests' names and editing the table numbers. Edit your name and some wording as you see fit, then voila! Send in your order through Canva!
This site contains affiliate links. For more info, please see our full disclosure. This post has Amazon links and as an Amazon Associate, Wedding Planning Resources earns from qualifying purchases.
Hiring a professional to create a seating chart can be expensive. By doing it yourself, you can allocate your budget elsewhere and have a great fun time creating.
DIY seating charts allow for a personal touch. You have full creative control over the design, colors, and theme, ensuring that it aligns perfectly with your wedding vision.
You can choose eco-friendly or budget-friendly materials when you DIY, aligning with your values and budget constraints.
DIY-ing your wedding seating chart can be a cost-effective, creative, and personally satisfying way to ensure that your seating arrangements are tailored to your vision and the unique needs of your guests. It adds a special, personalized touch to your wedding and can be a memorable part of your big day.
Now, you can start by designing and ordering your seating chart using templates over at Canva. They have tons of beautiful designs and they are easy to edit and print. Making wedding seating chart designing and printing a breeze.
In this DIY Canva seating chart video, we'll walk you through step by step how to get on Canva and find your wedding seating chart template designs, and start working on it!
We've also included similar products that you can also use! Just like with any DIY project, it will help to practice and try your hand at something small. This will make you feel more comfortable as you start bigger wedding projects.
Glue guns can also be tricky to manage and practice is key! High heat and quicky dry is always a great choice! But of course, if you are heading to the dollar craft store, those are also acceptable!
Watch the full tutorial below:

Remember that with fake or artificial flowers, there is a tendency for them to look tacky. Choose varieties that are matte white, as well as the ones with matte or coated (velvet) stems. When the greenery is coated or matte, the lesser it will look less plastic.
If some threads are sticking out, you can give those a good trim to give it a cleaner finish!
Of course, you are still working with fake flowers, that's a given. They will look fake no matter what. But, if we choose the right variety and style, it can look more elegant and less tacky!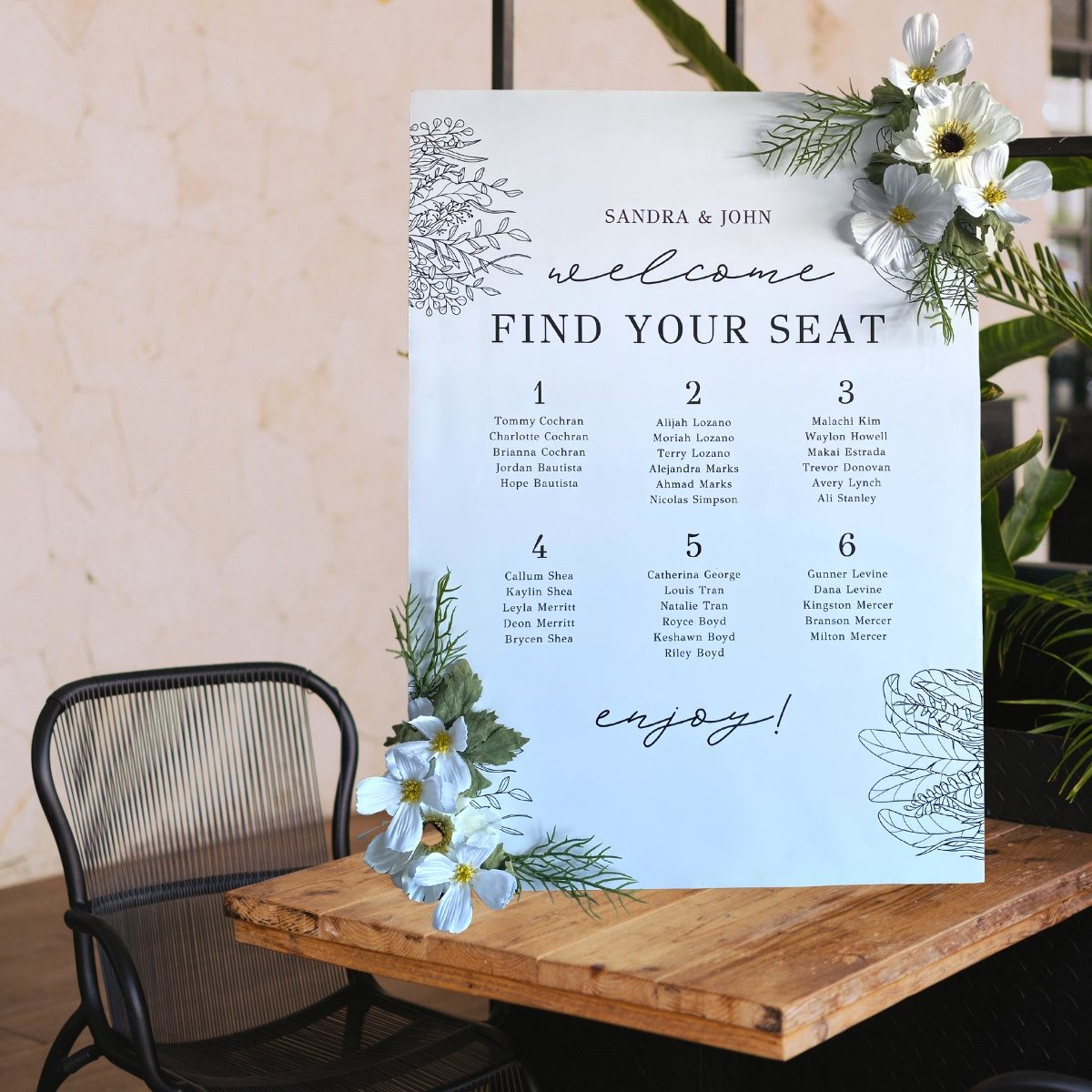 If you have not done any hot glue-ing or if you have not worked with artificial flowers before, you might need to practice on a smaller scale.
Try a smaller board and attempt hot glue-ing artificial flowers on them first. This way you can try your hand and see if you would like to continue to a larger scale.
Once you know you are "ready" and "comfortable" – you can then order the large printout and start designing!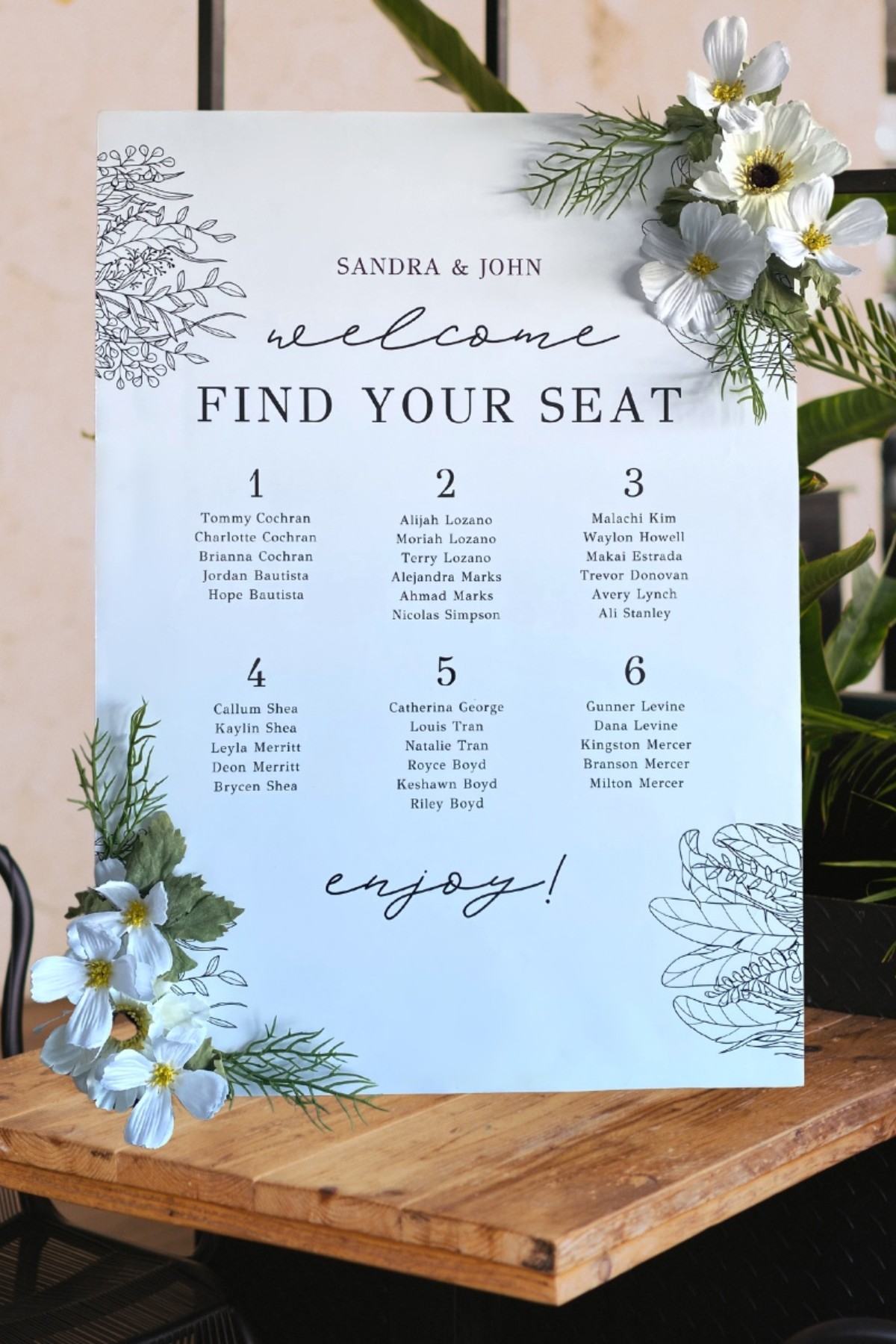 There you are lovelies! Enjoy your DIY Canva Wedding Seating Chart!
** This post has Amazon links and as an Amazon Associate, Wedding Planning Resources earns from qualifying purchases.