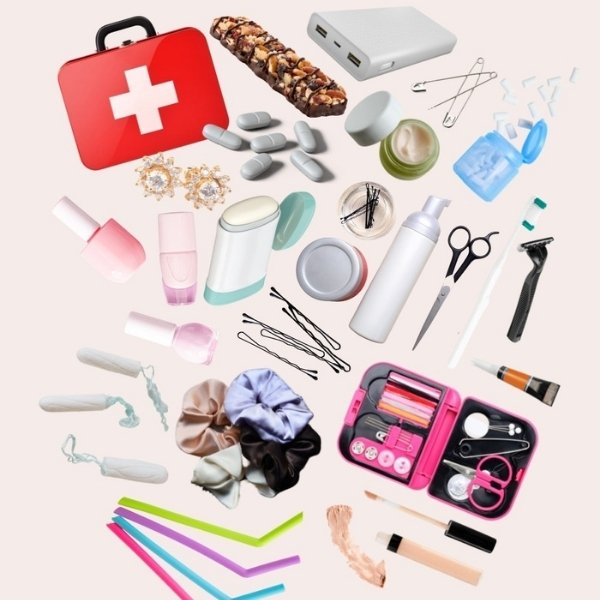 What to put in a Wedding Emergency Kit. Keep safe and have backups! Building your wedding emergency kit? Wedding Emergency kit list? Best bride emergency kit? Bride emergency kit DIY? Wedding day emergency kit? Putting together a wedding survival kit? Wedding day emergency kit essentials?
Everyone dreams of a perfect and smooth wedding day without any trouble. However, mishaps can happen even if you have planned your wedding day to its perfection. You should always be prepared for the worst situations that may arise. Never let the small things steal your confidence on your big day!
A wedding day emergency kit can save you from many disasters. Include all the essential things you may need on your wedding day in your wedding emergency kit to tackle these problems.
We have listed many important things that you, your bridal party, or guests may need to troubleshoot any challenge that comes your way!
This site contains affiliate links. For more info, please see our full disclosure. This post has Amazon links and as an Amazon Associate, Wedding Planning Resources earn from qualifying purchases.

First Aid Kit | Antihistamine | Power Bank | Snack Bars | Pain Relievers
Lash Set (extra) | Earrings/Studs (extra) | Moisturizer/Lotion | Underwear | Hairspray | Mint/Gum | Deodorant (only bring fashion jewelry when planning what to put in a wedding emergency kit)
Insoles | Dental Travel Kit | Concealer | Earring Backing | Nail Polish (great for outfit runs!) | Sanitizer | Safety Pins | Oil Blotting Sheets | Downy Wrinkle Remover
Solemates (heel protectors) | Bobby Pins | Eye Drops | Stain Remover | Super Glue | Hair Ties
Sewing Kit | Fashion Tape | Tampons
Essentials to add:
Don't forget to bring your bottle of water, extra contact lens, and tweezers! You can use your lunch bag to pack them! Reliable handle, durable, straps, and lots of compartments!
PRO TIP: Shop for most of these products in the travel section to get mini versions! Full size is not necessary! If you want to save extra, you can check your local dollar store to get accessories like super glue, safety pins, lint roller, etc.
Should you choose to buy the full-size products, no worries! You can still use them and take them home!
But ensure that if you are packing some facial and body products like lotion, hair spray, etc., to purchase them from your regular drugstore or department store. Don't take any risks with any products that will touch your skin! You do not want any unwanted skin reactions to products!
PRO TIP #2: You can keep this kit in your car even after your wedding! These things are actually handy, not just at your wedding, but in daily life!
PRO TIP #3: You can also get a mini kit that you can carry around easily! Please make sure you check what products are in it and then add what's missing!
There you are! What to put in a Wedding Emergency Kit!
** This post has Amazon links and as an Amazon Associate, Wedding Planning Resources earn from qualifying purchases.